I try to let go of business and finance over my Christmas break but I know I'm an addict and I just can't stop wanting to learn from the greats, who have done what most people only dream of. This 'affliction' forced me to dive into a November-written analysis of a guy who I get up close and comfortable to nearly every day of my life but who I don't know — Ralph Lauren!
Yep, I reckon I have at least 20 of his collared polo shirts in my wardrobe — new ones I wear on special occasions and old ones I just can't throw out. I even have really old ones I mow lawns in. And then there's my special footie jumper that so many people have commented on over at least a 15-year period.
This is the coolest of footie jumpers and its story alone explains why a poor kid from the Bronx who changed his name from Ralph Lifshitz to Ralph Lauren for business success reasons, has been able to create one of the most enduring brands of all time!
The jumper is a rugby style jersey with big navy blue and white bars and it has a royal-looking emblem with "R.L. CRICKET CLUB 381 BLEEKER" embroidered on it!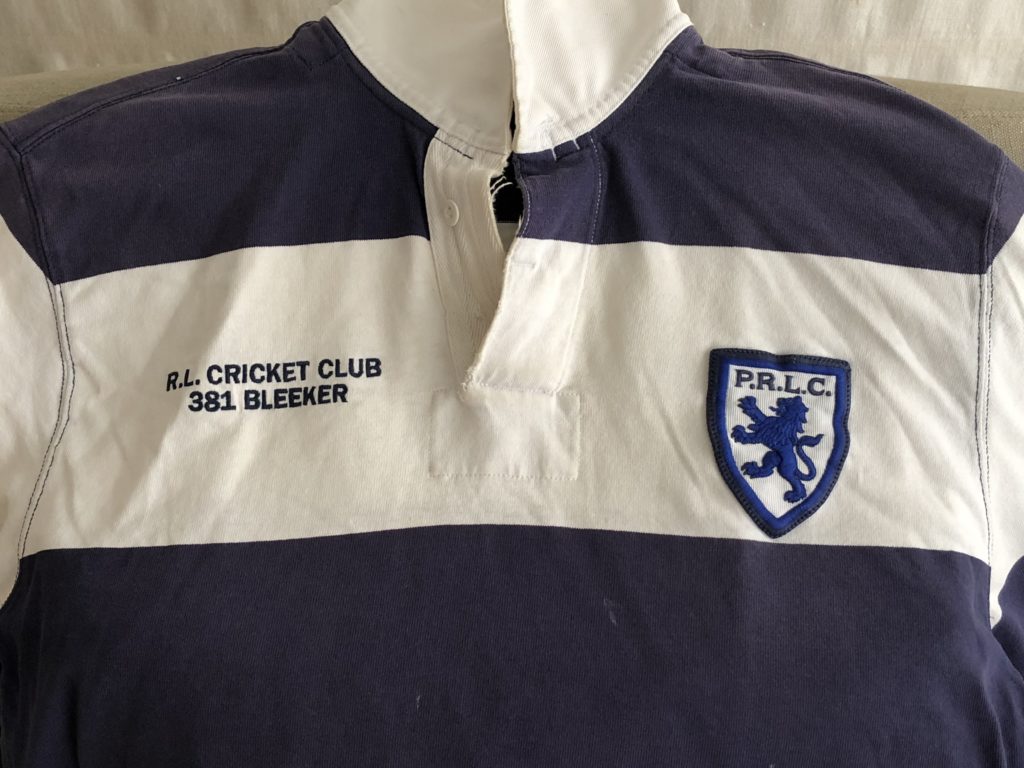 Bleeker St. is in Manhattan and I doubt whether they played cricket there but maybe they did in the 1800s.
What follows was inspired by an AFR interview by the appropriately-named, Lauren Sams, who is the Luxury editor of the finance newspaper. It's a great story that all aspirational people should read but let me pull out the big takeout lessons for business builders like yours truly.
On his own admission, Ralph thinks his self-confidence was a critical reason for him going from a tie salesman at Brook Brothers to becoming a designer of clothes. These fit as comfortably on a public company CEO on his yacht from Sydney to Hobart on Boxing Day as they do on a bloke having a beer cooking a barbecue at Bondi Beach, Burleigh Heads or the back of Burke!
In his early start-up days, the iconic New York department store, Bloomingdales, told him his ties were too wide but he refused to bow to their demands and lost his order, which was a big gamble. But it paid off, when the store's buyer returned and admitted that Ralph was right.
And that's the big takeout for me from the Ralph Lauren story — this guy succeeded because he really knows his customer. Unlike well-known brands like Nokia, Kodak and even those that tried to imitate Ralph Lauren's products (such as Gap), Ralph has always been able to re-invent his designs but even more significantly, he's been able to keep his existing products, such as his polo shirt, relevant for a series of successive generations!
This is something that the local T-shirt company, Mambo, had problems with when young people saw that their dads were still wearing their old Mambo T-shirts. The old "if it was good enough for Dad then it can't be cool enough for me" syndrome worked against sales in the modern setting and it forced the company into a rethink about how it would reinvent itself. And I don't know if Mambo has actually done that, even now.
But all this makes you ask: how did Ralph straddle the generations, the classes of society and keep doing it successfully for over 50 years?
This has always been my driving interest when talking to, interviewing or reading about great business builders because I want to know what I can do to make my products/services loved by my potential customer base of readers, listeners, viewers, subscribers and financial service clients.
Sams got it right when she noted: "It's an ideal Lauren has built his whole career on, and one that is unusual in the world of fashion: inclusivity. Most fashion is about pricing people out. What Lauren did was make fashion – or, as he puts it, style – democratic and attainable."
That's a brilliant understanding of his potential customers and is a lesson for us all.
I also love this takeout lesson from Ralph about how he was able to beat the doubt syndrome that holds back people with big dreams. "Confidence comes from growing," he says. "I always believed in what I was doing, but I got more confident as I grew."
Success comes from the snowball but sometimes you have to try harder than others to get the ball rolling.
My doctor has an unbelievable practice in Bondi Junction in Sydney. Dr Theo Aroney is a great doctor and great business builder.
Unlike most doctors he joined the Entrepreneur's Organisation, which put him in great company and he's learnt a lot about business.
He recently told me that young specialists have asked him about how they can build their business or patient database? He tells them to work over December and January and connect up with the local GPs to let them know that you're available.
However, most of them say: "But that's when I go on holidays!" The good doc simply looked at me and said: "They simply don't get it."
The price of success is being non-ordinary. Of course, some people call it being extraordinary, which explains Theo and the likes of Ralph Lauren.
And extraordinary people create extraordinary things and businesses, such that someone like Sams writes: "The stores are not just stores; they are temples of retail. The clothes themselves are wearable and familiar."
These success story legends not only know what their customers want, they take risks on the back of their judgment calls.
In the 1970s he backed his forecast that standalone designer stores would take business off department stores. And he did it in one of the priciest shopping strips in the world — Rodeo Drive, Hollywood!
He got into athleisure clothing before it took off a few years ago and he pioneered the branded lifestyle website in 2000.
Ralph came from nothing and borrowed $50,000 to start his tie business in the late 1960s and turned over $500,000 in his first year. When asked how he did it, Sams says he points to the importance of self-confidence but he gives us a lesson anyone who wants to succeed should never forget. "Everyone looks for the mystery but the secret is that I worked hard. You have to prove yourself."
Ralph took punts that paid off and of course he had losers but the winners have more than made up and what has been left behind is not only a great business making wonderful products but an inspiration for anyone who wants to make it big!
You can find Lauren Sams story at here
And if you want more stories of success like this go to www.growyourbusiness.com.au