Share markets had another rough week as uncertainty around the impact of Omicron on global growth continued and Fed Chair Powell and other Fed officials flagged a faster slowing of the Fed's bond buying the case for which was supported by November jobs data. For the week US shares fell 1.2%, Eurozone shares lost 0.5% and Japanese shares fell 2.5% but Chinese shares rose 0.8%. 
The weak global lead and the arrival of Omicron in Australia pushed the Australian share market down 0.5%. 10-year bond yields fell on safe haven buying and concern the Fed may start to tighten too early. Iron ore prices rose, but metal prices fell, and oil fell on concerns about the growth outlook with OPEC agreeing to proceed with a January supply increase but subject to Omicron's impact on demand. The $A fell to its lowest since November 2020 on global growth concerns & as the $US rose due to haven demand & expectations for a faster Fed taper. 
Still too early to know how big a problem Omicron is
While its clearly more transmissible than Delta with a higher risk of reinfection and has rapidly spread globally it's still not known if it results in more or less severe infections and how significant the impact will be on vaccine effectiveness. So far it seems to have resulted in mostly mild cases in South Africa but this is just anecdotal, it may be because it's mostly infected younger people and given the lags, it could be too early to tell the true picture. Hospitalisations are picking up again in South Africa but it's early days yet in the Omicron wave.
And while the head of Moderna said new vaccines would be needed given the number of mutations in Omicron, the makers of the two other main vaccines indicated existing Pfizer & AZ vaccines should still provide some protection against serious illness. If it turns out Omicron is more transmissible but results in milder cases, then it could come to dominate the other variants and turn out to be a good thing. So, share markets would quickly rebound as it could speed the end of the coronavirus threat (the Optimistic Case).
If alternatively, it is more transmissible, results in more severe cases and new vaccines are needed which will take at least 3 or 4 months then share markets could have much more near-term downside (the Pessimistic Case). Ultimately though this downside is likely to be limited and turned around as central banks and governments would yet again provide more support (prioritising growth over inflation concerns). Of course, there could be variations in between these two scenarios. We should get a better idea in the next week or two.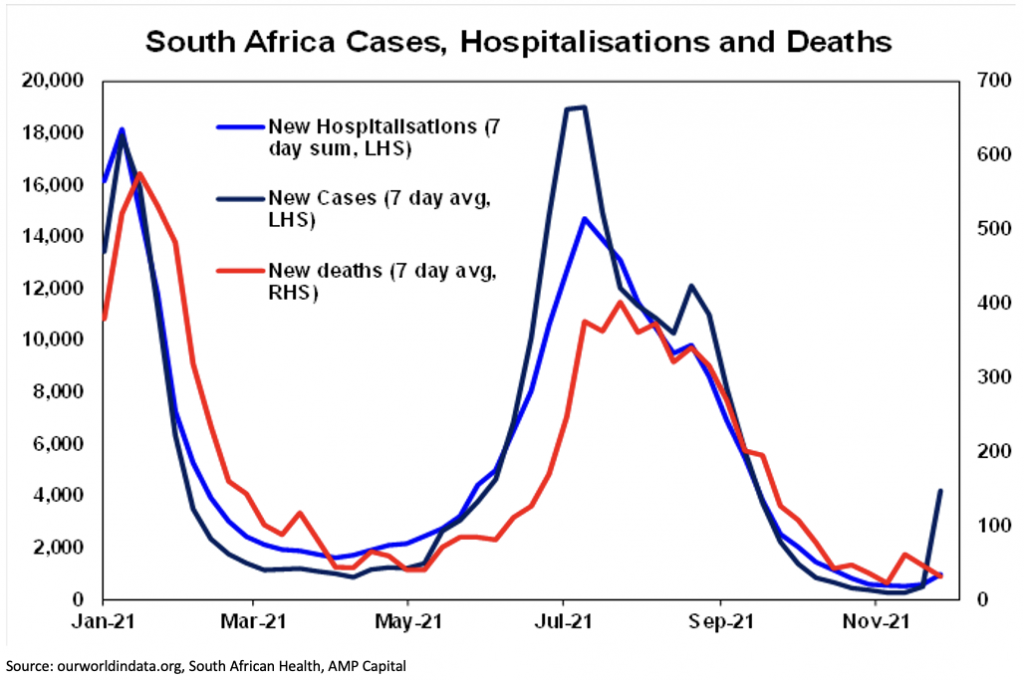 Flags faster taper decision
Fed Chair Powell ditches "transitory" and flags a faster taper decision at its December meeting, but much will depend on Omicron. As we noted last week, a faster taper could clear the way for US rate hikes starting mid next year. November jobs data showing another sharp drop in unemployment added support to the case for a faster taper. However, the Fed meeting is still two weeks away and much will depend on what we learn about Omicron between now and then. If it turns out to result in more severe cases against which existing vaccines are far less effective, then a decision on a faster taper will likely be pushed into next year. But even with a faster taper and three Fed rate hikes next year we will still be a long way from tight US monetary policy and the ECB, BoJ and RBA are lagging the Fed.
Congress passed another stopgap funding bill
In other US policy developments, Congress passed another stopgap funding bill averting a government shutdown, but resolving the need to raise the debt ceiling is tied up with the passage of the Build Back Better bill in the Senate and so may not be resolved till later this month or early next year.
Signs of supply bottlenecks easing
Meanwhile, there are more signs that we are seeing some easing in supply bottlenecks with the Baltic Dry index and commodity prices well down from their highs, the US ISM index showing some decline in order backlogs, supplier deliveries and prices paid and China's PMIs showing reduced input prices. And while the inflation spike has gone beyond what the Fed originally meant by transitory and is likely to continue for a while yet, it should start to slow by the second half of next year. 
Normal share market correction happening
So far, the 5% or so pull back in share markets just looks like a normal correction after markets had become overbought again. Historically share market seasonality turns more decisively positive in December, particularly from mid-December. Of 22 cases of negative Novembers in the US share market since 1950, 19 were followed by gains in December. Of course, much will depend on Omicron as noted above.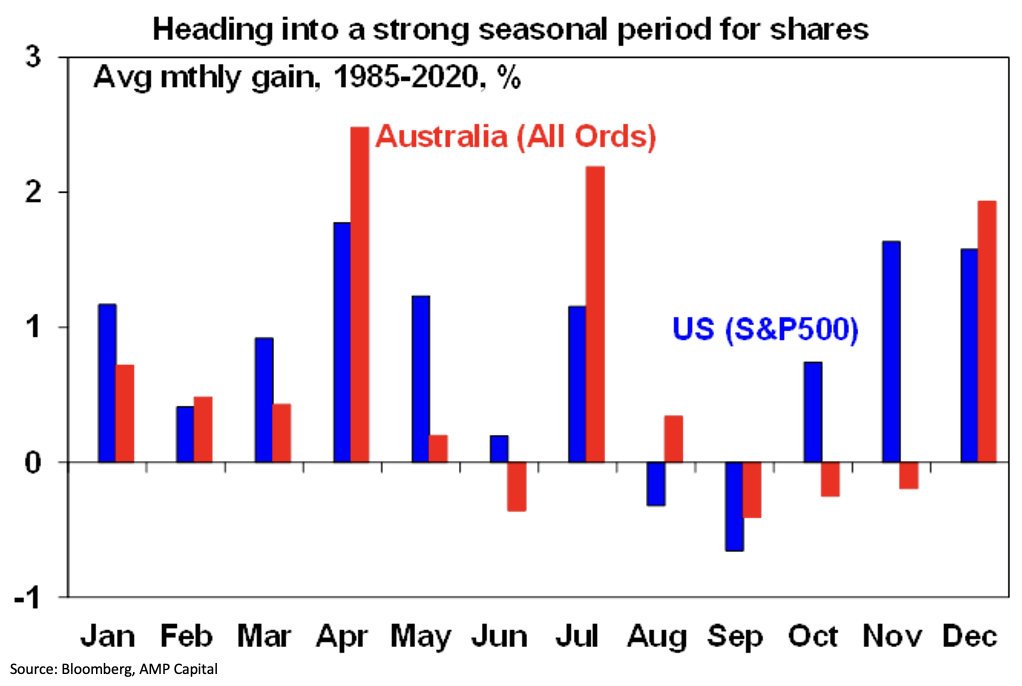 Elvis from Hawaii via Satellite
1973 was a major highpoint in Elvis' career with his Hawaiian concert beamed via Satellite around the world and watched by an estimated 1 billion people (although they may not have watched it all at once). Apparently, Elvis wanted to go on a global tour but Colonel Tom Parker his manager talked him out of it because the Colonel didn't actually have US citizenship so feared he would be not be allowed back in.
Hawaii was chosen because of its suitability for beaming into the Asian time zone. Given the risks associated with the technology back then (no one had yet beamed a live full concert around the world) a "rehearsal" version was first filmed for use if a problem occurred with beaming the live version. Both are now available, and some might say it's a bit hard to tell them apart. The highlights would have to be Something and Suspicious Minds.
A few years ago, in Adelaide, I met a lady who actually went to the concert as a child because her father was working on the Ala Moana shopping centre in Honolulu and the construction company gave the workers tickets to attend the concert. Now that would have been something!