If you're shocked at how slow service is at your favourite restaurant and how prices have jumped, even for coffee from your friendly barista, well, you need to understand that it's Coronavirus related. Not only are some workers hesitant to work or not allowed to work in a world of anti-vaxxers, the simple fact is we're unbelievably dependent on foreign workers who've gone home.
A story in the AFR tells us that "Free flights to Australia could become the price of hiring staff". While this might shock the normal Aussie, anyone who owns or runs a business knows how important foreign workers are.
Since the borders shut in March last year, more than 500,000 temporary migrants left the country, according to a report by a parliamentary committee on migration. And many were skilled migrants. "Before the pandemic, people moving to and from Australia resulted in the Australian population growing by about 200,000 each year," abc.net.au revealed in October. "Since Australia's borders closed, that's gone into reverse. Last financial year, net migration fell by 70,000 people: This year it's expected to drop by 20,000."
The federal government's Centre for Population forecasts positive migration will only return in the 2022-2023 financial year.
Belinda Wright, KPMG's head of immigration services, said she had many clients unable to find workers in Australia with the skills they needed, and the border closures aren't helping us restore the migrant worker inflow. But the borders are set to be more open by Christmas, provided Omicron doesn't change things, so employers will be trying anything to lure foreign workers here ASAP.
The AFR's travel editor, Fiona Carruthers, said that Emirates One&Only Wolgan Valley resort is thinking about flying in trained Kiwi hospitality workers to fix their labour supply shortage. And this is no surprise, with stories that dishwashers are being paid $50 an hour nowadays. Carruthers says some are holding out for $90!
What this story reveals is not only the reason why some employers are going to their rival's businesses and offering staff incentives such as higher pay, to secure workers, it also shows why there are inflation fears afoot.
And it also rams home to Aussies just how important foreign workers are, to not only the growth of our economy and the jobs they create rather than take, but how our social life is going to be annoyingly uncomfortable when we want service.
If you have long queues shopping for Christmas in department stores, it might make you buy online, but the question is: will the delivery businesses have enough workers to get the present to you in time for December 25 gift giving?
Our total workforce number is about 13 million so losing 500,000 workers equals about 4%. But many foreign workers are casual in pubs, cafes, tourism, building and so on and the total workforce there is only 2.6 million!
That's why some employers are even thinking about paying for foreign workers to fly in from overseas! Undoubtedly, other 'outside the square' thinking will be used by bosses to build up their staff as their customers are loaded up with savings that they'll be eager to spend in 2022, provided Omicron doesn't turn ugly and create lockdowns, restrictions and closed borders.
The chart below shows what sectors were smashed by the Coronavirus. Note how white collar jobs were pretty well reserved but others, where a lot of casuals are employed, were devastated. These below the line bars will reverse and go above the line as we open up, and the demand for these workers will go through the roof!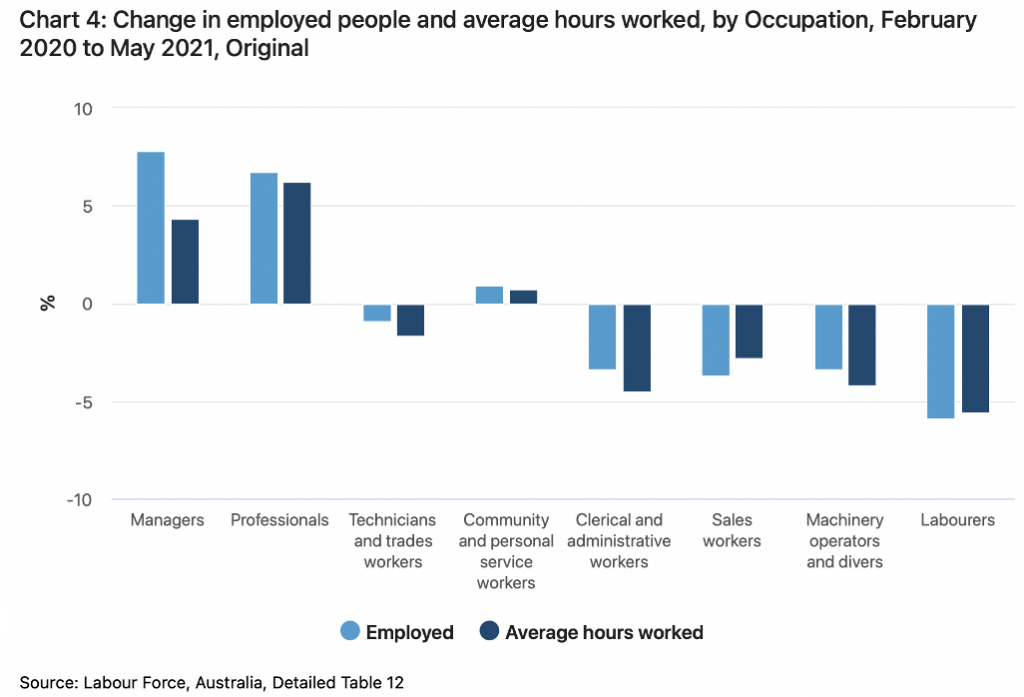 While immigration and the need for workers will be an election issue, I wonder if our politicians will be forthcoming in telling us all just how important foreign workers, students and travellers are.
JobKeeper saved us from knowing how bad a recession can be, but as Federal and state governments start paying down their big budget deficits, foreign workers and immigrants generally are going to be crucial for the economic growth that provides the income for the taxes that will pay off the national credit card bill that got us out of a terrible economic drama, where our lives changed but were not smashed.
When you hear a foreign accent at your favourite restaurant or café, think about how important foreign workers are to you. Without them, your dishes might not be as clean as you'd like them!