On Thursday morning I stumbled on an old story from February that made me ponder whether I'll miss Google if they take their football and go home because that 'nasty' Australian Treasurer Josh Frydenberg is playing hardball over the search engine's free ride on the work of news publishers worldwide.
As a publisher and media owner, I know I'm biased against Google and its parent Alphabet, but I do love how Google has made my life easier. And that story I happened upon underlines both the value and the threat that Larry Page and Sergey Brin's creation poses for people like me. This was the headline from voanews.com: "WHO Chief Urges Countries Not to Close Borders to Foreigners From China."
This was an OK plea if the story was dated 2 February 2021, with China seemingly doing OK fighting the virus, but the date on this yarn was 3 February 2020.
Yep, that often bagged director-general of the World Health Organization (WHO), Tedros Adhanom Ghebreyesus, is on the public record (thanks to Google) basically saying "don't close your borders" to Chinese travellers because the Coronavirus is manageable!
This is what he actually told us and it explains why people like me weren't pumping out "be scared" stories in February: "There is no reason for measures that unnecessarily interfere with international travel and trade. We call on all countries to implement decisions that are evidence-based and consistent. WHO stands ready to provide advice to any country that is considering which measures to take."
This failure by WHO to understand how serious this virus was is especially galling as I wrote a number of stories pondering the seriousness of the Coronavirus in February, but good old Tedros kept me calm — too calm!
Good old Google tells me that I wrote a story on my Switzer Daily with the headline: "Will the Reserve Bank use the Coronavirus to justify a rate cut today?"
If Tedros was more on the money tipping the seriousness of the virus, my headline in early February would've been: "RBA has to cut to beat the Coronavirus!"
As you can see, people like me have been able to use the resources of Google, and its YouTube channel has helped me build up a subscriber base for my Switzer TV Investing programme, which now numbers 15,200, and growing at a rate of knots for all those stock hungry investors looking for insights from some of the best company analysts in the country.
As you can see, I'm conflicted. I reckon Google should be paying its way fairly and it currently isn't. And Switzer could be a possible recipient of some Google payments, but on the other hand, it's not all bad. In fact, it's a damn good source of information, provided you learn to sort the cream from the crap.
Let me give you an example by looking at an issue that some of my financial planning clients and radio/TV listeners and viewers often ask me about: the escalation of debt, thanks to the Coronavirus.
A little over a year ago, The Guardian ran a story by Phillip Inman entitled: "Debt will kill the global economy. But it seems no one cares."
He said the IMF summed up its concerns this way: "… almost 40% of the corporate debt in eight leading countries – the US, China, Japan, Germany, Britain, France, Italy and Spain – would become so expensive during a recession that it would be impossible to service. In other words, tens of thousands of businesses, employing millions of people, would have gambled with high levels of borrowing and lost, making themselves insolvent."
It came as the World Bank said "… emerging-market and developing economies (EMDEs) had pushed their borrowing to a record $55 trillion (£42tn) in 2018."
But wait, there's more, because this was the situation at the end of 2019 and the Institute of International Finance estimates global debt has increased by $19.5 trillion, taking us to levels of indebtedness not seen since World War II!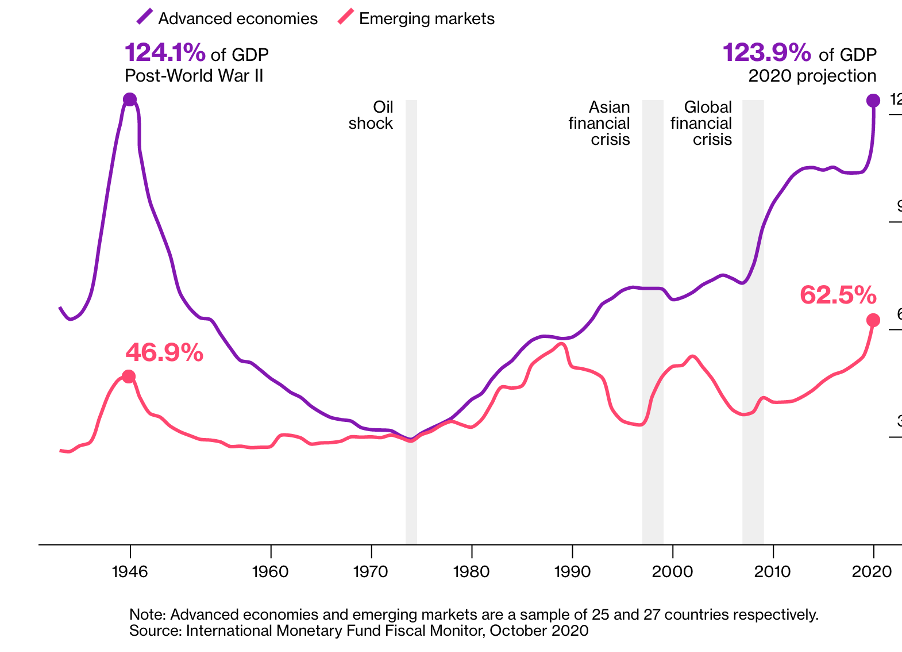 Via Google and Bloomberg, we learnt this from Federal Reserve Chairman Jerome Powell: "Huge borrowing by governments and corporations during the pandemic served as a bridge across the economic chasm of lockdowns, plunging consumer spending, idled cruise ships, vacant hotels, and millions of lost jobs. It allowed companies to pay the employees they didn't fire and maintain assets in working condition. It funded jobless benefits for those who were fired, so they could pay rent and buy food."
And Drew Matus, chief market strategist at MetLife Investment Management, which manages over $650 billion, got it right when he observed: "Whatever the price tag is, it would be more if we didn't do anything right away."
Should we be worried? Yes, but you can put it on hold.
Bloomberg Economics has done the number-crunching and found that "the debt for the G-7 group of advanced economies rose from 85% of gross domestic product in 2005 to 140% now, the cost of servicing that debt has fallen, from close to 2% of GDP to 1.5%. Projections out to 2030 show that for many countries, costs are expected to stay manageable."
And given our own central bank boss, Dr Phil Lowe, is telling us that the cash rate of interest could be 0.1% until 2024, then servicing of this debt burden looks doable.
Frankly, I hope he's wrong because it will mean that the world economy isn't responding to all this debt and stimulus, which would be the scariest realisation of all. I hope it creates a Roaring 20s of growth overseen by better macroeconomic policymakers than the clowns who not only helped create a Great Depression but mismanaged how they fixed it up.
The next few years have to bring big economic growth and productivity so we can have lots of job-making activity, without too much inflation that would start pushing interest rates up. If the latter gets out of control, then this debt could really come back to bite the Yanks, which Wall Street will hate and the rest of the world's stock markets will share the pain, as they always do.
This from Bloomberg again explains the possible 'pickle' the US economy could face: "In an adverse scenario where U.S. borrowing costs rise 2 percentage points above current market expectations, the price tag to service the nation's debt would jump from 2% of GDP in 2020 to nearly 6% of GDP in 2030. To put that in perspective, that's comparable to total annual outlays for Social Security. In Italy, costs could hit 5.5% of GDP—higher than during the European sovereign debt crisis."
Of course, Australia has ramped up its debt but it is also achieving faster economic growth than most Western economies, so provided we keep growing, the debt spike will be manageable.
The chart below (which I wouldn't have if it wasn't for my relationship with Google) shows how our debt has changed because of the Coronavirus. It comes from a website called visualcapitalist.com and it shows how small our change in debt has been as a percentage of GDP. And in fact, because our saving ratio has gone through the roof as interest rates have fallen, our household indebtedness has fallen!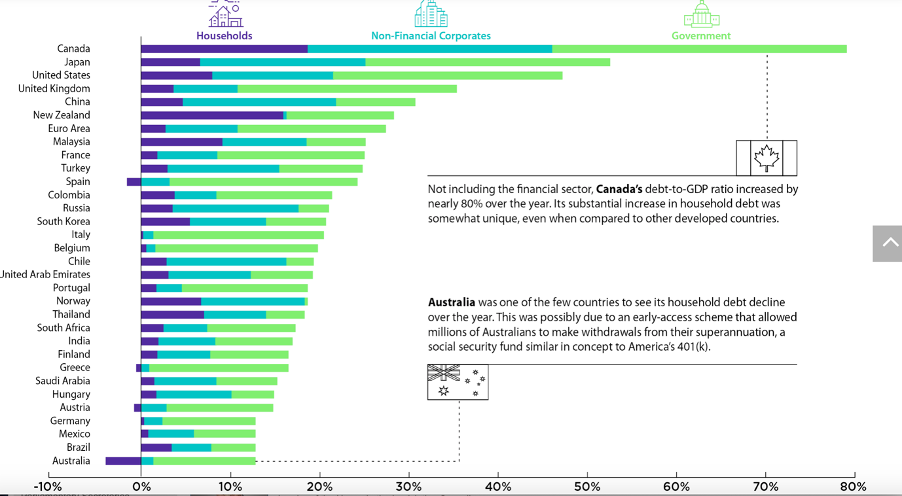 One day all this debt will come back to bite us if we don't see a Roarings 20s of economic growth, but I think central banks are giving us four years to make it happen. I'm hoping and praying it happens before then.
I'm also hoping that whatever replaces Google if they can't crack a deal with the Morrison Government (be it Yahoo, Bing or who knows what as the go-to search engine on a daily basis) can deliver the kind of stuff that has helped me with this story today. Of course, what I want is money from Google as a media company owner and the usual information that has made this business a very important part of all our lives. But that looks like wishful thinking from your resident optimist!