It sounds kind of screwy but in a year again dominated by Covid-related lockdowns we saw an escalation of homes sold for prices over $1 million. And Core Logic data shows homeowners, who sold their property during the peak of last year's lockdown, made a median profit gain of $270,000!
Normal people could be scratching their heads wondering that if the Delta strain and lockdowns hit and hurt consumer confidence, how did property sell so well?
I guess the answer is that it was simply economics.
Consumer confidence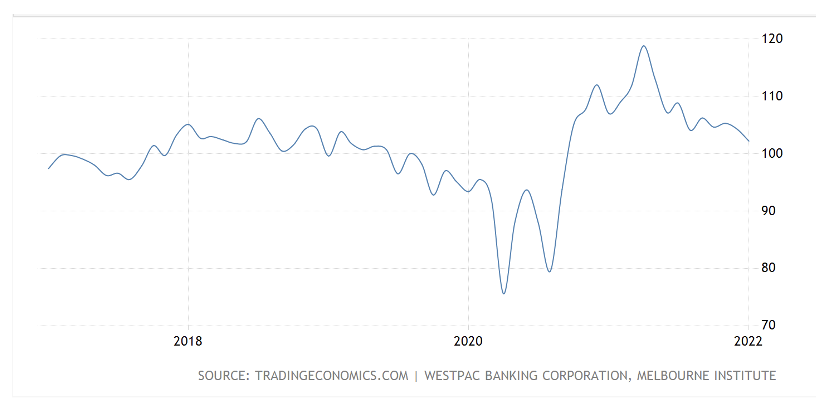 The chart directly above shows that lockdowns early last year saw consumer confidence collapse, but as we started to come out of lockdown in October and vaccinations rose, the irrepressible positive consumer returned.
But the next table below shows that house price rises (which were huge over the year — up 25.3% in Sydney) by December were reducing.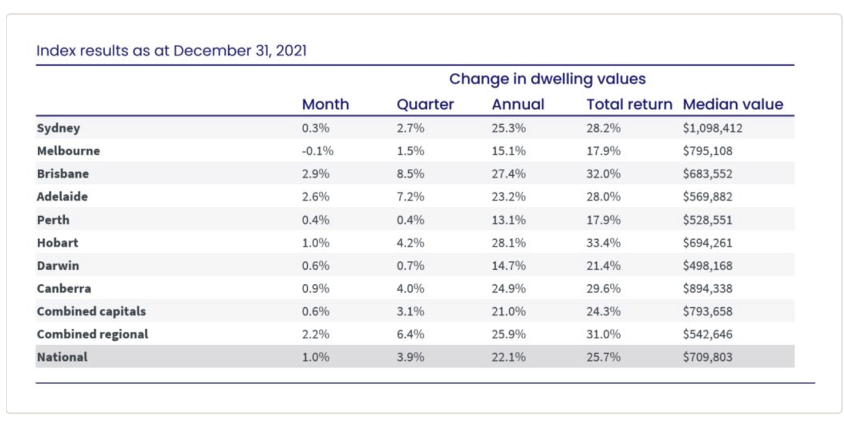 See how the December rise was only 0.3% but the quarter jump was 2.7%. Given there are three months in a quarter, the bigger price rises were in October and November for the last quarter of the year. And it also implies that in previous months when lockdowns and border closures should have hurt buyer enthusiasm, the opposite was the case!
How come?
As I said, it was purely economics!
Even though it was harder to sell a property with viewing restrictions because of lockdowns, online auctions and sales rose.
Also, many buyers were flushed with money, working from home and facing the lowest home loan interest rates in history. That has to help home sales.
Throw in that many sellers withdrew their properties because they were afraid of a lack of buyers, it's easy to see why the supply of homes reduced during these lockdowns, therefore pushing up prices.
Charles Tarbey, founder of Century 21 in Australia, actually advised on my Switzer Investing TV show that selling a home during a lockdown wasn't a silly idea. His thinking was that when restrictions ended there would be a flood of properties coming on to the market and as the supply of homes for sale increased, a sellers' market would gradually become a buyers' market.
And that's what we're seeing right now. This partly explains why property experts see home prices rising by a more subdued amount than the 25% plus rise we saw in 2021. (See table above)
Here are the price forecasts from the economics teams at our major banks:
1. NAB has forecast a 4.9% lift in property values in 2022 and a 4% fall in 2023.
2. ANZ's outlook is a 6% price hike this year and a 4% drop in 2023.
3. The CBA expects house prices to rise 7% in 2022 before a 10% decrease next year.
4. Westpac expects an 8% rise in 2022 and a 5% correction in 2023.
Over the next two years, economic forces will be the opposite of 2021. Interest rates will be rising, the supply of homes on the market for sale will be strong, Australians will be back to travelling overseas and spending their money differently than in the pandemic years, which encouraged people to renovate, sell and upgrade the homes they were working in under lockdowns.
Core Logic says "the number of suburbs where every house sold or settled at or above $1 million hit 220 last year, with that tally likely to rise over the next 12 months as demand for freestanding homes remains strong". (AFR)
Those price increases forecasted by the banks for 2022 will be smaller than 2021, but given there will be rises, it suggests that more million dollar plus homes will be sold this year. But 2023 could be a different story.