The madness and mayhem of Australia's property market continues, with national home prices up 1.5% in August and 13.5% for the year, which is 11 times faster than the growth of wages!
So when will sales sanity come back to the real estate sector? Not any time soon you might think, especially after you read what's happened to Mt. Druitt, the suburb that 'starred' in the 2015 SBS program Struggle Street.
Property in Sydney used to be a tale of two cities, where the east was terribly sought after, but if you found the prices too high, you went west. Well, going up Parramatta Road or along the M4 still offers cheaper homes but hell, they've become pricey!
The Daily Tele commissioned CoreLogic to pinpoint the city's fastest price growing suburbs, and Mt Druitt suburb once the home the residents on Struggle Street was one of the top performers! They even have properties selling over $2 million there!
To many, this is a sign that this current boom in property prices is madness that has to end very badly for those out there overpaying for property.
I don't think it will end "very badly" for lots of buyers, but they could easily live through a period where the value of their home falls or goes sideways until the economy gets the purchasing power to put on another boom.
This chart of Sydney house prices shows what happens in most of our real estate markets.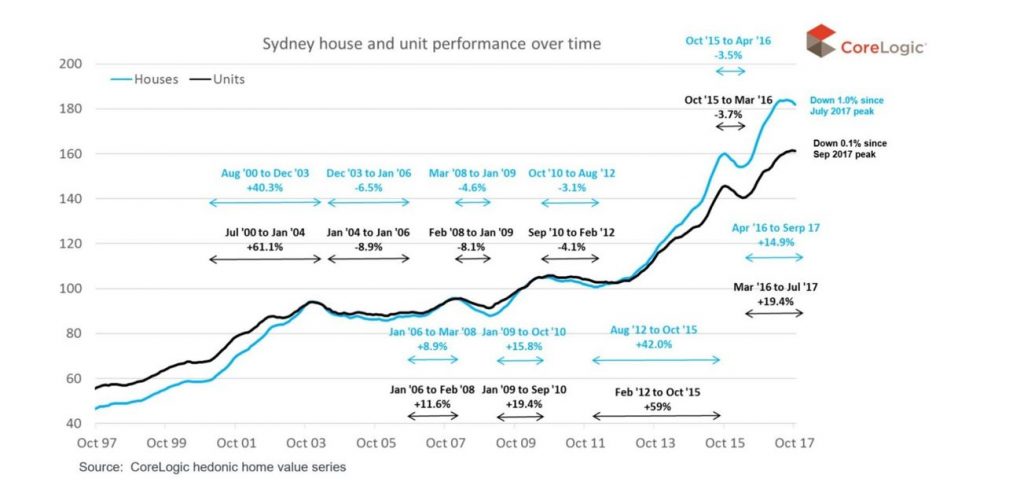 See how you get booms, then it goes sideways on average. But remember some suburbs fall a lot, while other slightly rise and others just drop a little.
In the GFC, Sydney's Palm Beach and Queensland's Gold Coast suburbs saw 20% plus drops in home prices.
The chart above stopped at 2017, which was when Labor's pre-election policies on negative gearing and franking credits (along with tough APRA-imposed lending rules) saw house prices really slump.
This is how The Guardian's Naaman Zhou reported it in January 2019: "Compared with their 2017 peak, Sydney and Melbourne's house prices have now dropped 11.1% and 7.2% respectively, and a sharp fall in the December quarter hints that the decline is picking up pace, according to data researcher CoreLogic. Prices dropped 4.8% in 2018 nationwide, prompting Deutsche Bank to identify a potential Australian housing crash as one of the top 30 risks to the global economy."
As usual, 'experts' on Aussie house prices were wrong for the country, but prices in some suburbs do crash, which means a 20% plus fall. And in coming years, I tip there'll be a big house price fall because current interest rates, which are historically low, will eventually rise, which will KO the irrational exuberance that prevails in property right now.
And it could start in November, when the hot month for Spring sales hopefully meets Sydney and Melbourne coming out of lockdown. Charles Tarbey, founder of Century 21, told me on last Thursday's Switzer Investing TV that he expects a surge in properties for sale because many would-be sellers have held back sales because of the lockdown.
That means demand to buy (which Charles says hasn't been thwarted by the lockdown as much as those who want to sell) will meet a lot more properties which could give buyers more marker power to contain the crazy price rises.
Tim Lawless of CoreLogic recently pointed out that "…the 1.5% rise in August was actually the softest monthly outcome since January this year," which some suggest is because lockdown lunacy is having an impact of property positivity. However he thinks "…the slowing rate of growth probably has more to do with worsening housing affordability constraints than ongoing lockdowns."
The chart below shows how wages growth has been smashed by house price rises and something has to give in the property market.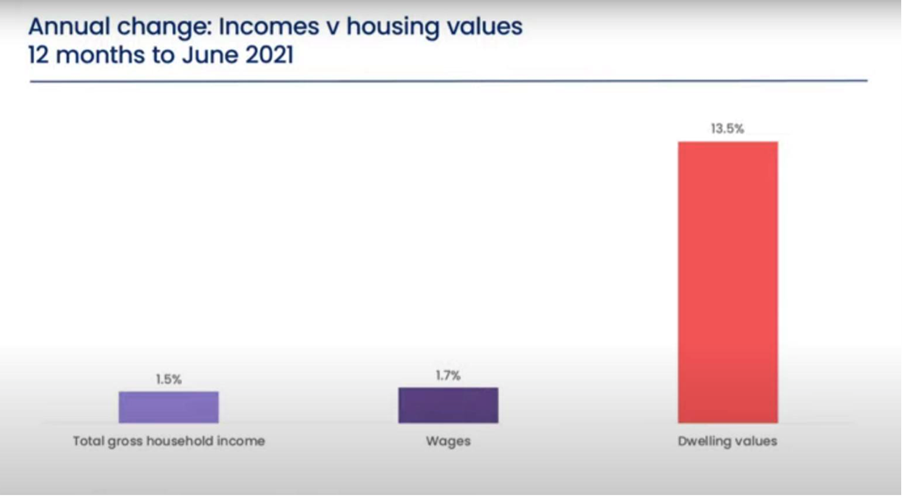 And what we saw in yesterday's jobs report could also explain why buyers might be less confident right now. In case you missed it, in August we lost 146,300 jobs and these numbers will worsen over September and October before turning around in November and December.
This has dented consumer confidence and business confidence, which will take a bit of property buyer confidence out of the market.
Then it's likely that next year APRA will tell the banks (especially if home prices don't tail off anytime soon) that they will have to play hardball with borrowers. And that will kill off these huge price rises.
It's been the boom we had to have to make property owners feel richer, which makes them go out and buy 'stuff' to help the economy recover from the Coronavirus crash of the stock market and the related recession. However, 2022 will be the year the economy roars back with jobs, investment and travel, which will pump up confidence. And APRA is already worried about over-borrowing.
Sometime in 2022, real estate will become a buyers' market so be careful what you bid for properties in the near future.
For why there could be good buying in the commercial property space, see my interview with Paul Myliotis of MSquared Capital in last night's Switzer Investing.