Media outlets are giving us a blow-by-blow report on how Omicron is forcing businesses to close down or pivot. And the AFR's lead story on the subject today is about Virgin halting its only international flight and nine of its domestic flights.
Like most affected businesses, the airline has labour shortages and customer cancellation issues to deal with causing "a 25 per cent reduction to the carrier's schedule in January and February," Lucas Baird of the AFR reported.
But what is the overall economic effect of this unexpected change of plans over the Christmas break? And some are pondering if it will cause a recession.

This chart is interesting to give us a clue.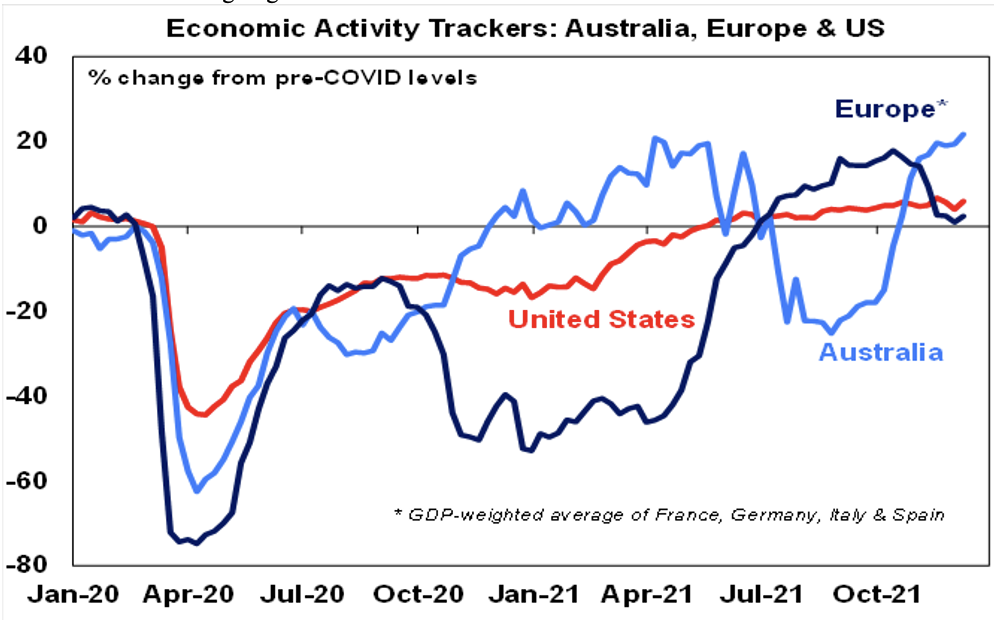 This shows that economic activity (as shown by the blue line) falls with lockdowns and restrictions linked to the virus, but even with the lockdowns of mid-to-late 2021, we didn't get a recession. And given we shouldn't see a lockdown and governments are pivoting on rules as well as the expected shortness of the Omicron's effects, we should dodge a recession.
In fact, I think it might only delay the big booming recovery by a month or two.
It's interesting that this international service from Sydney to Fiji will be canned from January 31 and its resumption is pencilled in for March 10.
This means the company is expecting about seven weeks of disruption, which is probably based on epidemiologists speculation that this variant of the virus will surge in the short term and burn out quickly. Let's hope they're right.
Helping the economy will be rule relaxation, and the AFR says "Prime Minister Scott Morrison flagged on Monday that relaxed isolation rules for food production and distribution staff – close contacts without symptoms that show a negative test can leave self-isolation – would extend to it soon".
We're in 'suck and it see' leadership but that's all we can expect with the unknowns surrounding Omicron.
Adding more credibility to my view that this current virus problem will not be as serious as past viral impositions for the economy is the news from the owner of Betty's Burgers, Boost Juice, Salsas and Cibo Espresso — Retail Zoo — that will only close or change the hours of 20 stores at most out of a total of 400. That says one-twentieth of the business will be significantly affected and that could be a good sign for the overall economy.
Interestingly, Qantas and Rex are not following Virgin's lead with both companies currently able to juggle their staff to make their businesses happen, albeit not as normal. However, it's another case of how much we have learnt since March 2020, when the Coronavirus changed our lives forever and we're all ready to pivot to try and get our lives back to or close to what we used to think was normalcy.

Those actions by government leaders, business leaders, employees and even consumers should all merge to protect us from another recession, which will be good for jobs and even, eventually, stock prices and our super!