One thing you need to be alerted to is that we're living through the stock buying opportunity of a lifetime. In a perfect world, you'd love me to tell you that the time to buy is now. So what stocks should you buy? Well, there's a lot you could collect but I'd start with the big banks.
Undoubtedly, there are tech stocks like Xero, Tyro, Altium and Zip Pay that have already taken off. And, of course, there's Afterpay but it's priced to more than perfection since China mega-company Tencent bought 5% of the company.
Subscribers to my Switzer Report (where we pass on the stock ideas of some really smart share market professionals and great quality company-analysing business journalists) saw Tony Featherstone (the former editor and chief of the old BRW magazine) say he thought banks were the buy of a lifetime!
My colleague Paul Rickard wrote a piece last week for Switzer Daily explaining why the CBA was "top of the class" and he received a few brickbats for suggesting that banks weren't heading for the toilet. Some think the pandemic's effects, including the recession's impact on economic growth, jobs and investment (let alone the debt defaults) will mean banks are a bad buy.
Of course, if we wind up in a depression, the 'brick batters' would be right for some time. But one day we'd beat the expected economic smashing and our big four banks would be big beneficiaries, and especially CBA.
You can bash banks for getting out your frustrations but don't rule them out if you're trying to build wealth via stocks. In the GFC, you could've bought CBA at $28 after being $60 before the 2008 crash of the stock market. Those who had the guts to buy then ended up with a stock that spiked to over $90 before the Hayne Royal Commission. And it was paying a dividend yield of 17%, when you add in franking credits!
But what about the negative effects of COVID-19? Surely the banks are going to cop it, with 7.7 million workers on government support of some kind? And then there's the fact they've been told to defer home and business loan repayments for six months.
Six months is a critical timeframe and the next months of opening up our economy are so important. If we pull it off and don't see a resurgence of infections and deaths, then the worst-case economic scenario is unlikely and growth (as well as jobs) will start to return between now and the end of the year.
That makes the chances of an economic rebound in 2021 more likely. That would be good for bank share prices, which could actually spike before next year, as stock market players look to the future and try to buy or sell stocks based on where their prices are going.
OK, that's all well and good but what about the current pressure banks are under? The ANZ and Westpac have deferred their dividend and NAB chopped its by 64% to 30 cents, while CBA hasn't had to report on its dividend plan but a cut is on the cards.
Today's AFR has a story by Karen Maley, which reveals the pain of this pandemic has hit people who are less linked to the banks, so the banks' balance sheets aren't as badly affected as most of us expected.
Here are some facts Karen tells us:
10% of mortgages have been frozen, which is smaller than I would've thought.
15% of SME loan repayments are on hold.
Those who lost jobs were in lower paid areas such as retail and hospitality, where the chances of them having a home loan would be small.
CBA analysis of customers suggests that wages have actually contracted by about 5.5% compared to job losses that are 7.5%.
Low interest rates actually make banks more lenient.
Before the 1990 recession when banks played hard ball with customers, interest rates had been 17.5% and they were 7.5% before the GFC. But now with money not scarce worldwide, they could play Mr Nice Guy as they currently are.
This is a much better life scenario for the banks. Provided our economy and our country avoids a second-wave drama, then investing in banks could prove a really good play. That goes double if you consider yourself a long-term investor. And the chart of CBA's share price below proves the point.
CBA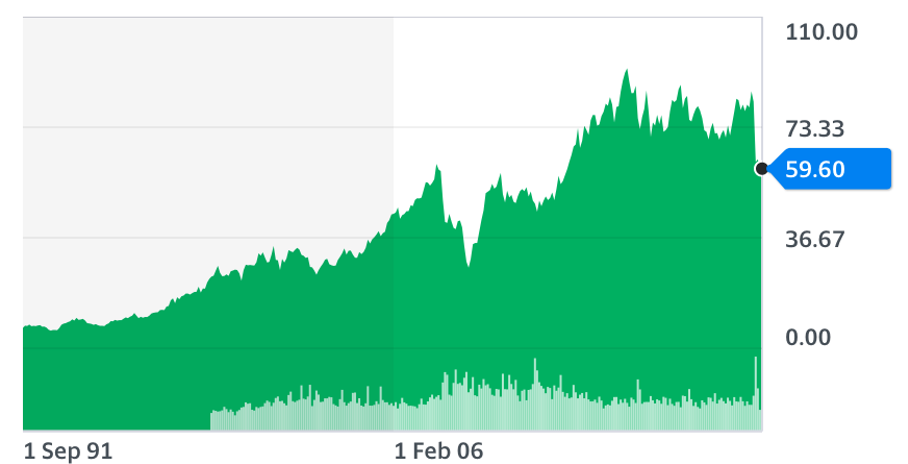 This chart not only shows it has continually climbed (from its listing price of $5.40) despite some huge stock market crashes, it also shows buying this stock after crashes has proved a smart strategy. Meanwhile, the other big three banks are under more pressure right now, so they're more risky but it means that their potential share price rise in percentage terms could be bigger.
Remember, the higher the potential return, the higher the risk.
By the way, even if you don't want to invest in the banks or any stocks, the fact that the bottom line outlook for our banks is better than expected is a huge plus for the economy, your job, your business and the country's material future.
Only a second-wave outbreak would KO this potential optimism. If we can beat a reinfection drama, then banks' stock prices will go higher.
If we don't, you might have to wait and buy them at lower prices. I hope that doesn't happen, for all our sakes!