Like no other time before, Australia has become divided. Some of us are locked up, while others are free within their states or cities. The NSW Premier is begging for Pfizer vaccines from her brother and sister premiers, who all have said no.
Labor is calling out ScoMo for not ordering different vaccines; the people of south-west Sydney are being treated differently (and in their minds, badly), while anarchists, criminals and financially-scared small businessowners are taking to the streets in the lockdown cities of Sydney and Melbourne.
To add to the strange days indeed, as one of the country's foremost experts on property Margaret Lomas tries to bring us together to help struggling small business operators, we learn lucky homeowners in Sydney should expect a 21.6% increase in their house prices this year.
That's the second biggest price increase, but the other capitals are tipped to go gangbusters as well. Melbourne could see a 17.6% rise, Brisbane 19.5%, Adelaide 17.4%, Perth 11.6% and Hobart, wait for it, 23.5%!
That's another dividing issue — homeowners versus would-be homeowners. Imagine the way someone might feel if they listen to those doomsday merchants who predicted 40% house price collapses a few years back.
Next year is expected to be more subdued, with prices expected to grow by 3.1% in Sydney, 3.5% in Melbourne, 4.4% in Brisbane, 3.4% in Adelaide, 3.9% in Perth and 4.3% in Hobart.
But still, house prices will remain at high levels for those out of the market until there's a significant pullback, which seldom happens unless governments or opposition leaders like Bill Shorten come up with ideas like taking away negative gearing tax breaks and so on.
Bill's property plans did hit house prices!
Sydney Average House Prices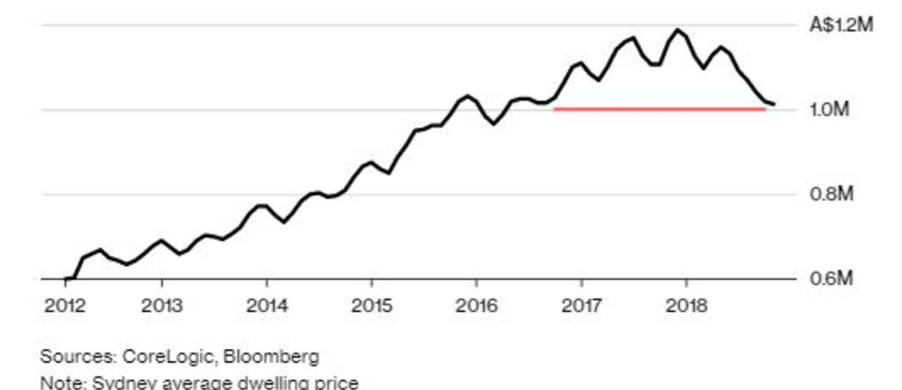 Note the fall, but the average price of a Sydney home was still around $1 million, while seven years before it was only $600,000!
There are always forces creating the 'haves and the have-nots'. The same now is going on for small businesses.
CBD cafes and other retailers have struggled since the Coronavirus made working-from-home a new age employment model. This has created a boom for suburban cafes, other food businesses and other retailers in these local shopping strips.
Of course, the latest lockdowns have closed down nearly all non-essential businesses so the business pain has grown. That's why a friend of mine has created Adopt-a-shop!
Adoptashop.net is the brainwave of Margaret Lomas, of Destiny.com.au, who was a Telstra Businesswoman of the Year for NSW a few years back.
Margaret sees this initiative as an emergency rescue idea for small operators who need assistance coping with the lockdowns. Margaret wants the 'have' businesses (doing well or OK) during this Coronavirus crisis to help out the 'have not' business owners out there.
This is the idea in a nutshell:
Who's it for? A business that needs help and a business doing well enough so they can help.
What kind of help? A business that's still operating without much financial distress can adopt a shop (business) just for the period of lockdown and assist them financially.
Examples of help? The supporting business might pay the rent, some fixed costs or assist with wages, but only while lockdown is active.
How does a business select a business to help? The supporting business could either help a business that they'd normally frequent, so maybe a larger businesses might help, say, those small coffee shops in their buildings or they could help one businessowner who applies through the website.
How much help? The level of financial support will be completely up to the supporting businesses
What does Adoptashop.net do? It provides a list of businesses that have applied for help and how much they need, and allow the supporting businesses to pick the ones that match their financial capacity to help.
Bonus for the givers? There's not just the feel-good vibe from helping someone but there could be a marketing benefit. For example, the giver's logos will be shown on the website and the receiving business can thank the giver by giving then exposure, as well as thanks, when customers come back.
As a marketing spend, the help could be tax deductible.
Australia has probably five months of this division and anxiety until a big chunk of Aussies are vaccinated and we start heading back to business normal.
I can only hope that our leaders do their best to work together to reduce the unhelpful divisiveness and pull some rabbits out of their hats to end this lockdown torture ASAP.
Oh yeah, in case you are wondering who Switzer Financial Planning is adopting, we've backed Shean & Partners Travel in Potts Point, Sydney. These guys were just getting back on their feet attracting local business, despite closed international borders, until the most recent lockdown. Not only are they now working to cancel bookings and refund customers, they have to give back the commissions they'd received. So they're continuously working for nothing!