China is aggressively punishing our coal producers to possibly hit the Morrison Government in an election that could happen this year. This story, which shouldn't be happening, is the greatest reason for knowing how to invest like a champion. And being diversified is one way to be a hotshot investor.
By the way, one of the most popular stories this year on my website has been Malcolm Mackerras's predictions on when the next election will be and who'll win.
But back to the coal story and how it shows you how to make money by not losing money on the stock market.
Ironically, Warren Buffett, one of the greatest investors ever, either got it wrong, was misquoted or misunderstood when he said: "Diversification is protection against ignorance. It makes little sense if you know what you are doing."
I'm a great Buffett fan, but for the average investor, ignorance about what's really going on in a company is their biggest challenge. Right now, the market has been expecting a demerger of the coal business from the company, but now the CEO has left and, surprisingly, the Chairman is becoming the CEO and a whole lot of people are wondering what the hell is going on.
Buffett thinks being an expert on a couple of industries and a few companies is the way to make big money. He's right, but it's still not easy for the part-time investor or SMSF player, who works each day as a lawyer, teacher, doctor, accountant or plumber.
That's why I like holding 15-30 stocks in my portfolio, or even more, where the bulk do so well, they more than make up for the duds. Some one-time good stocks might become a victim of a dumb CEO, a changing world that might like 'buy now pay later' businesses over credit cards, buying online rather than real shopping, working from home instead of going to work and then the company you're invested in could be terrorised by Beijing!
This morning's big story in The Courier Mail explains how our coal producers have been smashed by China. Here's how:
Our monthly trade has gone from $1 billion a month to $30 million!
The Courier-Mail reported that "No Australian coal has cleared customs there since November, while more than 30 ships stocked with millions of tonnes of coal (much of which is from Queensland) remains stranded off the Chinese coast without approval to dock."
Our coal is going elsewhere, such as Indonesia, Vietnam, Japan and Korea but the price is often as low as $80 a tonne less than the premium paid by China.
This will hurt the Queensland budget that pockets $2 billion a year from coal royalties. This fell to $1.6 billion last year.
As of 8 April, 33 vessels were still off the coast, two with thermal coal and the remaining 31 carrying metallurgical coal.
As of December 2020, China had imposed trade restrictions on 10 commodities, representing $24 billion worth of Australian exports.
A company such as Whitehaven Coal was on a comeback surge until Beijing bullied us by slapping tariffs and bans on wine, barley, lobsters and coal.
Whitehaven Coal (WHC)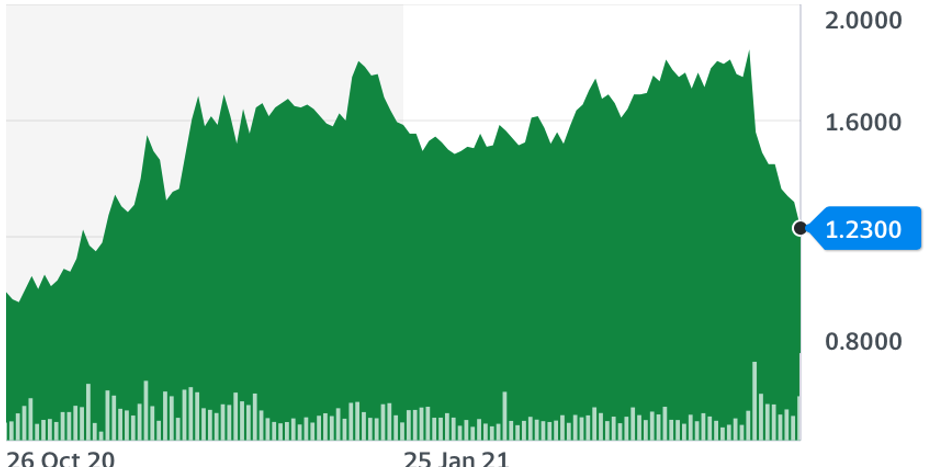 I recall a TV producer at Sky used to always ask me to get the CEO of Whitehaven on my business programme to show how good the company was at the time. The guy had over-invested in the company and wanted some help! He didn't get it.
The guy was a punter, not an investor, and the lesson is an important one. Personally I like to have a core of great companies dominating my portfolio of stocks. These are blue chip dividend-paying companies, often bought when the market doesn't love them.
We bought Westpac and CBA in the middle of last year when their share price was down because they were helping rescue the economy from the Coronavirus. And Westpac at the time had Austrac problems.
However, the view was that as the economy improves (which I was tipping from May last year), these banks or pillars of the Aussie economy had to perform better, which would show up in their share prices.
Also because companies like Qantas, Webjet and Corporate Travel Management had been beaten up because of the virus and flights being interrupted, I took that as an opportunity to buy stocks I generally wouldn't hold simply to get some big gains.
I even went into tech companies such as Zip Co, EML Payments, Elmo Software and Tyro (my ZEET stocks), which are up 42% since May 29 when I wrote about these likely good performers.
Over the same time, the S&P/ASX 200 was up only 22%, which I guess explains what Buffett was saying — the ASX Index has 200 companies and is very diversified, while the ZEET group is very tech and payments-oriented and has returned a bigger result.
That said, my usual investing style is more aligned to the ASX 200 Index and, over time, it has delivered returns around 10% per annum over a long time.
I like occasionally to be a brave investor, but for the long term I'm happy to be a wimp chasing quality companies that pay good dividends.
One final point on China, coal and our next federal election. Malcolm Mackerras thinks it will be in November and maybe China is putting pressure on ScoMo, hoping to turn us off his Government. They did that with Trump — they waited him out — and their virus helped get rid of him!
Clearly if these bans continue, Labor would have to go to the polls saying it can calm China down and restore our old better trade and political relations, but I wonder if the average Aussie would like to cow-tow to the bully boys of Beijing?