The past six months have seen mass movement in the share market, with investors grappling with how to best organise their portfolios in the midst of a sudden global economic downturn. This includes self-managed super fund (SMSF) trustees, some of whom have needed to quickly re-evaluate their investment strategy to stem losses from plummeting share markets.
Each month, Sharesight highlights the top 20 stocks traded by its users in a range of global markets, and the market-moving news behind them. This article details the top 20 buy and sell trades made by SMSFs in August 2020. To find out the news behind these stocks, keep reading.
The top trades by SMSFs in August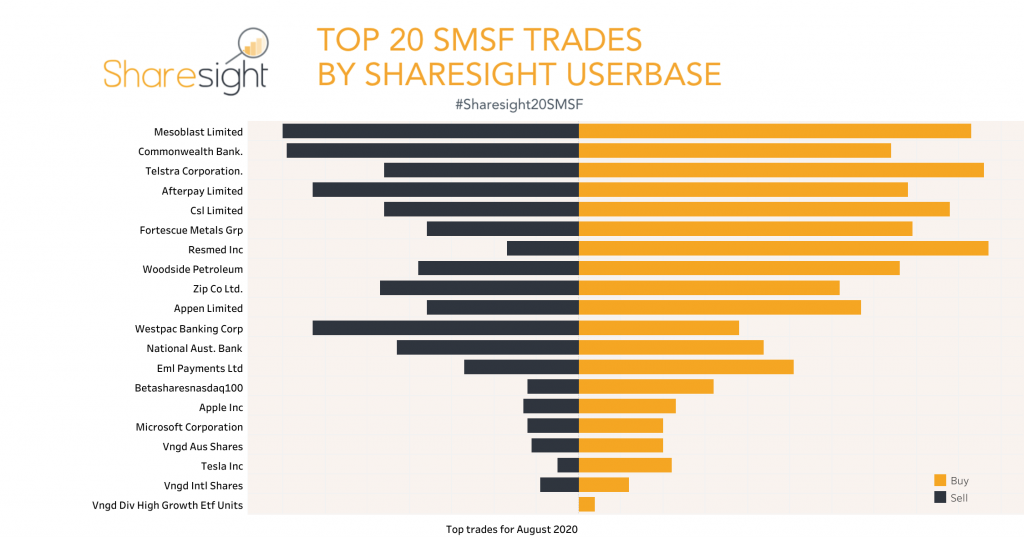 Many investors use Sharesight's portfolio tracker to track the assets in their SMSF, as it allows them to track the performance of investments in global markets and a range of asset classes. As can be seen in the chart above, the month of August saw wide-ranging investments by SMSFs, with Mesoblast (ASX: MSB) and Commonwealth Bank (ASX: CBA) leading in both buy and sell trades, while investors also favoured Resmed (ASX: RMD), Afterpay (ASX: APT) and CSL (ASX: CSL). Here's the news behind some of August's most interesting stocks:
Join over 150,000 global investors and start tracking your investments with Sharesight's portfolio tracking tool.
This article is sponsored content. The supplier of this content has a commercial arrangement with Switzer Financial Group.