Australian data looked a bit confusing over the last week – but it was mostly strong beneath the surface. Despite a favourable reaction to the Budget the Westpac/MI measure of consumer confidence fell in May – but it remains at its second strongest level since 2010. Meanwhile, retail sales were up more than expected in April and look on track to see a solid rise this quarter. That said, they remain way above their long-term trend and are likely to gradually move back to it as spending rotates back to services with reopening.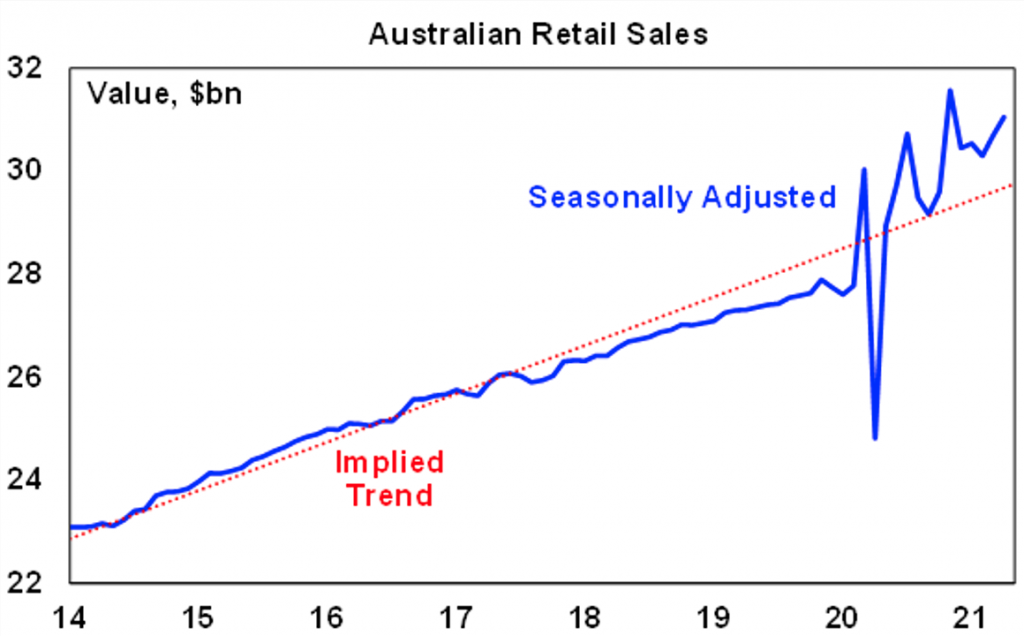 Employment fell by nearly 31,000 in April which was weaker than expected, but suggests that there has been a minimal loss of jobs from the ending of JobKeeper. In fact, the fall back likely just reflects normal monthly volatility after several far stronger than expected months and a seasonal distortion due to Easter. What's more full time employment rose, unemployment fell which is often a better guide to the state of the jobs market than monthly swings in employment and our Jobs Leading Indicator points to a resumption of strong jobs growth ahead. Unemployment is on track to fall to 5% or maybe just below by year end. Consistent with this while Australia's composite business conditions PMI fell slightly in May it remains very strong at 58.1 (see chart above) with the employment component rising to its highest on record.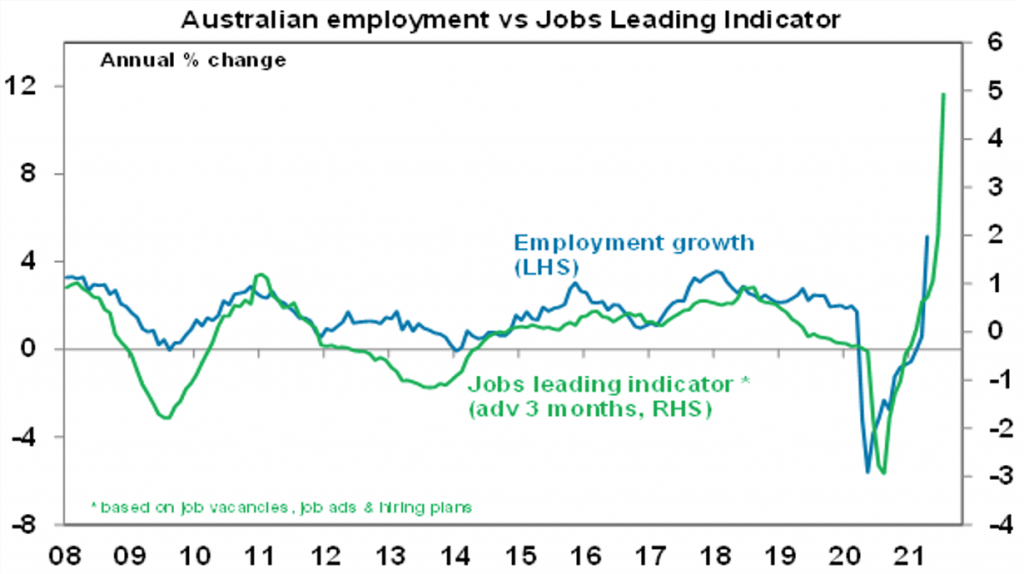 The continuing fall in unemployment and underemployment to 5.5% and 7.8% respectively is good news. But we likely still have a fair way to go to get to full employment let alone wages growth sustainably greater than 3% which was the norm up until 2013 and as the next chart suggests - and the RBA has stated - is necessary for inflation to be sustained in the 2 to 3% target range. While wages growth was stronger than expected at 0.6%qoq in the March quarter this was exaggerated by the phased increase in the minimum wage and by a return to pre coronavirus wages for those who saw pay cuts last year.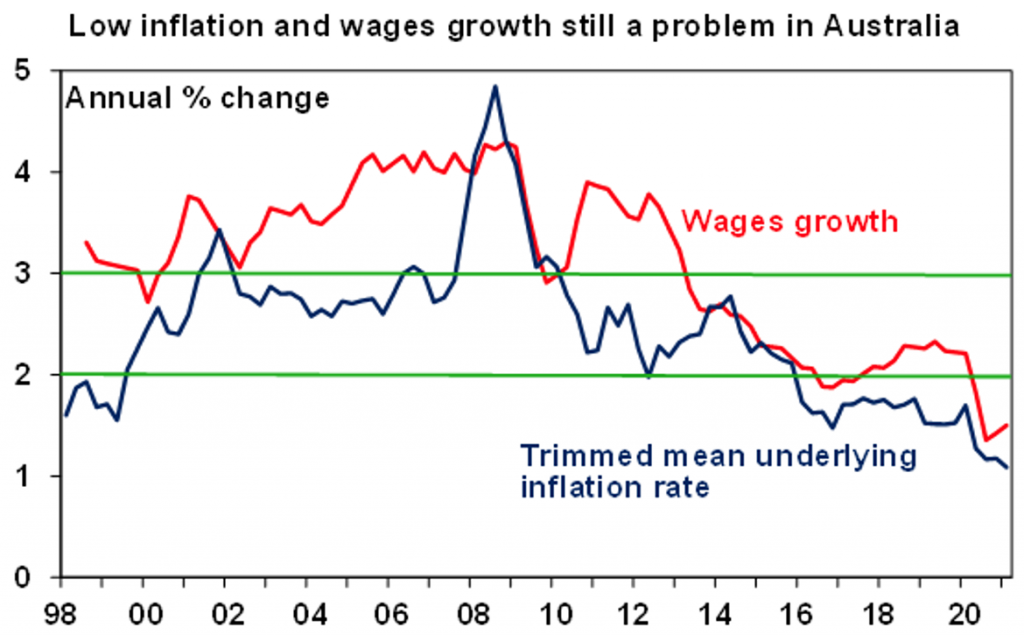 What to watch over the next week?
In Australia, expect a 4% gain in March quarter construction (tomorrow) and 3% rise in new capital spending (Thursday) along with a further lift in business investment intentions as indicated by various business surveys. Weekly payrolls and preliminary trade data will also be released today.
Outlook for investment markets
Shares remain are at risk of a short term correction with possible triggers being the inflation scare, US taper talk and rising bond yields, coronavirus related setbacks, US tax hikes and geopolitical risks. But looking through the inevitable short-term noise, the combination of improving global growth and earnings helped by more stimulus, vaccines and still low interest rates augurs well for shares over the next 12 months.
Australian shares are likely to be relative outperformers helped by: better virus control enabling a stronger recovery in the near term; stronger stimulus; sectors like resources, industrials and financials benefitting from the rebound in growth; and as investors continue to drive a search for yield benefitting the share market as dividends are increased resulting in a 5% grossed up dividend yield. Expect the ASX 200 to end 2021 at a record high of around 7200 although the risk is on the upside.
Still ultra-low yields and a capital loss from rising bond yields are likely to result in negative returns from bonds over the next 12 months.
Unlisted commercial property and infrastructure are ultimately likely to benefit from a resumption of the search for yield but the hit to space demand and hence rents from the virus will continue to weigh on near term returns.
Australian home prices are likely to rise another 15% or so over the next 18 months being boosted by ultra-low mortgage rates, economic recovery and FOMO, but expect a progressive slowing in the pace of gains as government home buyer incentives are cut back, fixed mortgage rates rise, macro prudential tightening kicks in and immigration remains down relative to normal.
Cash and bank deposits are likely to provide very poor returns, given the ultra-low cash rate of just 0.1%.
Although the $A is vulnerable to bouts of uncertainty and RBA bond buying will keep it lower than otherwise, a rising trend is likely to remain over the next 12 months helped by strong commodity prices and a cyclical decline in the US dollar, probably taking the $A up to around $US0.85 by year end.