Australian economic data was strong, with a rise in the ABS' measure of job vacancies for November to above their pre-Covid level consistent with an ongoing recovery in employment, housing finance surging to a new record high consistent with an ongoing recovery in house prices and retail sales confirmed at up 7% in November. Of course, this is all before the latest Covid scare and resultant mini-lockdowns in late December/January but so far these don't appear to have dramatically impacted economic activity based on our Economic Activity Tracker as consumer confidence has held up reasonably well and growth in credit and debit card transactions remains strong.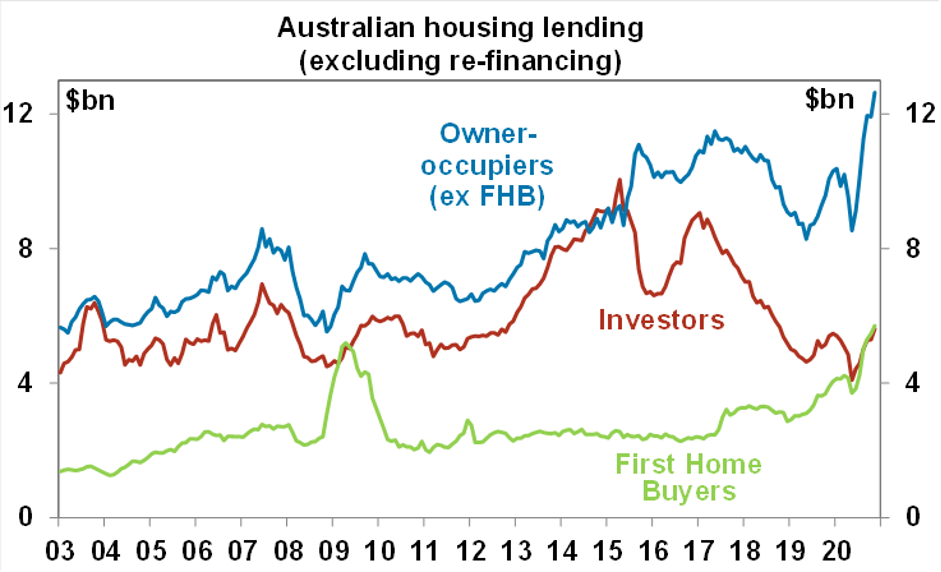 Meanwhile, the Melbourne Institute's Inflation Gauge rose solidly in December, but the trimmed mean remained weak at 0.1% month-on-month or 0.4% year-on-year, pointing to ongoing weak underlying inflation pressures beyond rising prices for some things like petrol and insurance.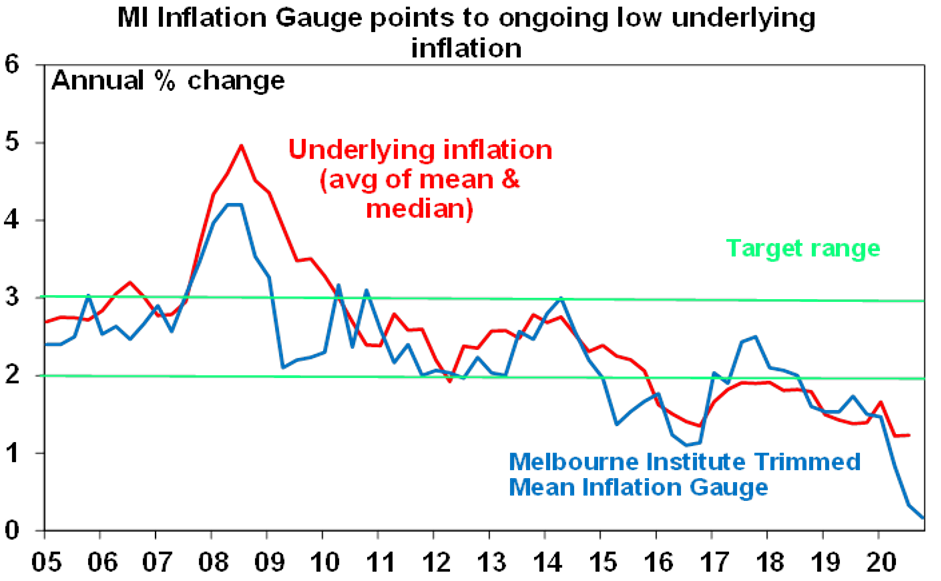 What to watch over the next week?
In the US, Joe Biden will be inaugurated as President tomorrow, which may see further violent protests from Trump supporters. On the data front expect gains in January home builder conditions (also tomorrow) and housing starts for December (Thursday) and the January composite business conditions PMI (Friday) will be a watched for any pull back from strong conditions in response to the surge in coronavirus cases and associated lockdowns.
Expect a slight pullback in the Westpac/MI consumer confidence index for January (due tomorrow) from the 10-year high reached in December as a result of the renewed coronavirus scare over the last month, December jobs data (Thursday) to show a 25,000 gain with unemployment unchanged at 6.9%, the composite business conditions PMI for January (Friday) to fall back slightly but to a still strong 55 and flat December retail sales (also Friday) after the 7.1% gain seen in November and with coronavirus restrictions providing a bit of a dampener later in the month.
Outlook for investment markets
Shares are at risk of a short term correction after having run up so hard recently and 2021 is likely to see a few rough patches along the way (much like we saw in 2010 after the recovery from the GFC). But looking through the inevitable short-term noise, the combination of improving global growth helped by more stimulus, vaccines and low interest rates augurs well for growth assets generally in 2021.
We are likely to see a continuing shift in performance away from investments that benefitted from the pandemic and lockdowns - like US shares, technology and health care stocks and bonds - to investments that will benefit from recovery - like resources, industrials, tourism stocks and financials.
Global shares are expected to return around 8% but expect a rotation away from growth heavy US shares to more cyclical markets in Europe, Japan and emerging countries.
Australian shares are also likely to be relative outperformers helped by better virus control, enabling a stronger recovery in the near term, stronger stimulus, sectors like resources, industrials and financials benefitting from the rebound in growth and as investors continue to drive a search for yield benefitting the share market as dividends are increased resulting in a 4.4% grossed up dividend yield. Expect the ASX 200 to end 2021 at a record high of around 7200.
Australian home prices are likely to rise another 5% or so this year being boosted by record low mortgage rates, government home buyer incentives, income support measures and bank payment holidays but the stop to immigration and weak rental markets will likely weigh on inner city areas and units in Melbourne and Sydney. Outer suburbs, houses, smaller cities and regional areas will see relatively stronger gains in 2021.
Cash and bank deposits are likely to provide very poor returns, given the ultra-low cash rate of just 0.1%. Although the $A is vulnerable to bouts of uncertainty about coronavirus and China tensions and RBA bond buying will keep it lower than otherwise, a rising trend is still likely to around $US0.80 over the next 12 months helped by rising commodity prices and a cyclical decline in the US dollar.