While Japanese shares fell -0.3% over the last week and Chinese shares lost -1.4%, US shares rose 1.4% to a new record high and European shares rose 1.3% to their highest since the year 2000 pushed higher by good economic data, a strong start to the US earnings reporting season, ongoing dovish comments from the Fed and tame bond yields.Reflecting the strong US lead, strong local data on confidence and jobs and a bit of catch-up Australian shares rose 1% to a new bull market high and are now just 1.4% away from an all-time high. The market was led higher by particularly strong gains in IT, health, material and retail stocks. Bond yields fell in the US and Australia but rose slightly in Europe. Commodity prices and the $A rose which partly reflected a further decline in the $US.
5 reasons why bond yields have stabilised lately.
The stabilisation in bond yields in recent weeks despite more strong economic data and inflation readings has been surprising for many. There are five reasons why they have stabilised:
Coronavirus and vaccine uncertainty has increased again
Central banks led by the Fed continue to reassure that the rise in inflation is likely to be transitory and are not in a rush to validate the rise in bond yields with rate hikes;
bond investors had become very bearish which is positive for bond prices from a contrarian perspective;
there have been no more surprise extra stimulus announcements lately; and 
bonds had become technically oversold.
In other words, bond yields may have risen too far too fast earlier this year and were due a pause.
The recent stability in bond yields when combined with optimism about reopening, good economic data, rising earnings expectations and dovish central banks enabled share markets to resume their rising trend after a few wobbles earlier this year. Bond tantrums are likely to return as economic recovery continues and central banks get closer to removing some stimulus and coronavirus scares could still cause volatility but the rising bull market trend in shares is likely to remain on track. Our ASX 200 forecast for year-end remains 7200 but the risk is that this is exceeded.
Coronavirus update
The trend in new global coronavirus cases and deaths remained up over the last week. New cases in the US have drifted up a bit but they remain well down from recent highs and Europe has fallen from its recent high. However, Japan and Canada are trending up sharply and various emerging countries are seeing a renewed rapid increase including India, Turkey, Iran, Pakistan and various countries in South America. New coronavirus cases in Australia remain very lowand due to returned travellers.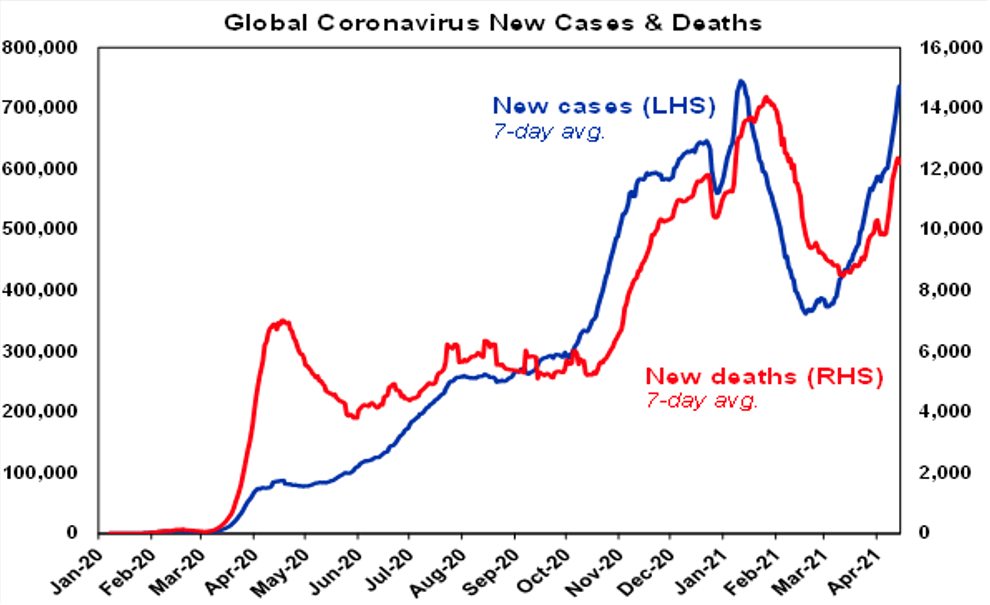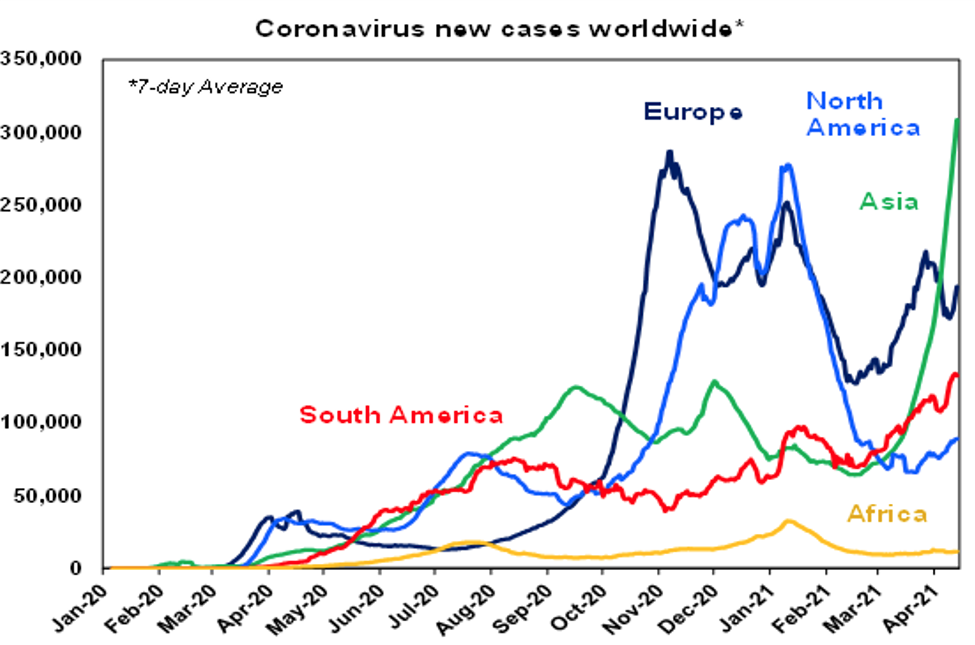 Vaccine rollout issues continue, with numerous uncertainties but global recovery likely remains on track.Around 6% of the global population has now received one dose of vaccine but this masks a huge divergence between developed countries at around 37% and emerging countries at around 5%. Within developed countries the UK is leading the charge at nearly 50% and the US is at 38% (and running at over 3.5 million a day) with Australia well behind at around 5%. Europe is running at 17% but appears to be speeding up with Spain, Germany, France and Italy running around 1.5-2 million people a day each.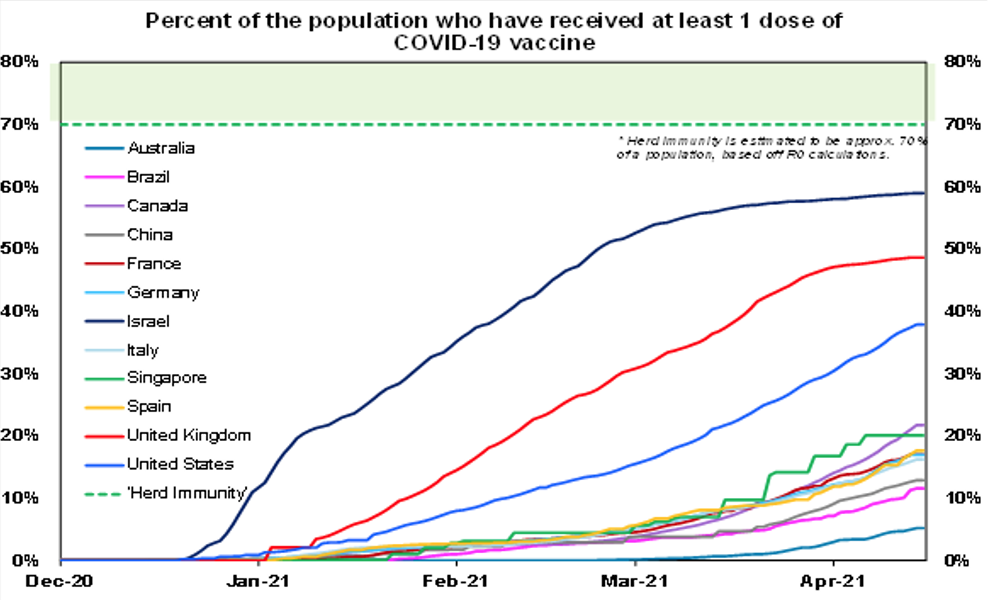 Apart from the ongoing resurgence in coronavirus cases globally, there has been more bad news on the vaccine/coronavirus front over the last week: the Johnson & Johnson vaccine is being paused/investigated in the US and Europe following cases of rare blood clots with it being a similar vaccine to that from AstraZeneca; a resurgence in cases in Chile necessitating a renewed lockdown despite vaccinating 37% of the population highlights the risk in reopening before herd immunity has been reached – which holds lessons for the US and UK; vaccine uptake looks to be dropping off in the US South and Midwest possibly not helped by the issues around the AstraZeneca and J&J vaccines adding to anti-vaxxer sentiment running the risk of not reaching herd immunity and a pickup in new cases – with similar issues in the UK; UK testing showed that coronavirus antibodies for first vaccinated over 80 year olds have declined a bit (from 85% to 78% over three weeks) although second booster jabs should be longer lasting; and Pfizer has indicated that a third booster shot after a year and annual jabs may be necessary (although this is not really surprising).
But there has also been positive vaccine news: production of the Pfizer and Moderna vaccines is continuing to ramp up in the US and if like the AstraZeneca vaccine the J&J vaccine is only limited to under 50s, the issues regarding the AstraZeneca and J&J vaccines are unlikely to be a huge problem for developed countries, albeit it could mean more significant delays in emerging countries; more results for the Moderna vaccine indicate that after six months its more than 90% effective and more than 95% effective in preventing severe cases which is similar to results after six months for the Pfizer vaccine; 79% of 65 plus year olds in the US and a similar proportion in the UK have been vaccinated so even if new cases rise again amongst the young reopening can conceivable continue as deaths and pressure on hospital systems should be minimal.
While the move away from the AstraZeneca vaccine in Australia will further slow the vaccine rollout and potentially push herd immunity to later this year or early next year as we await the arrival of more Pfizer and Novavax vaccines we remain of the view that the risk to the Australian recovery is small. Most of Australia has already reopened and has minimal restrictions, the economy has already recovered much faster than expected without vaccines and further local cases should be able to be minimized by inoculating returning travellers and all those associated with the hotel quarantine system. Vaccine delays in Australia and globally will likely impact the timing of the opening of international borders but we had assumed it was at least a year away anyway and keeping Australians confined to Australia has been a net benefit for the economy as international tourism is normally a net negative for Australia. That said we may see more travel bubbles with select countries (like say Singapore) possibly on the proviso that the travellers are vaccinated.
Our Australian Economic Activity Tracker rebounded over last week
Our Australian Economic Activity Tracker rebounded over the last week with broad based gains after previous weeks were impacted by the Brisbane lockdown. Our US Economic Activity Tracker rose slightly but our European tracker fell again not helped by ongoing lockdowns.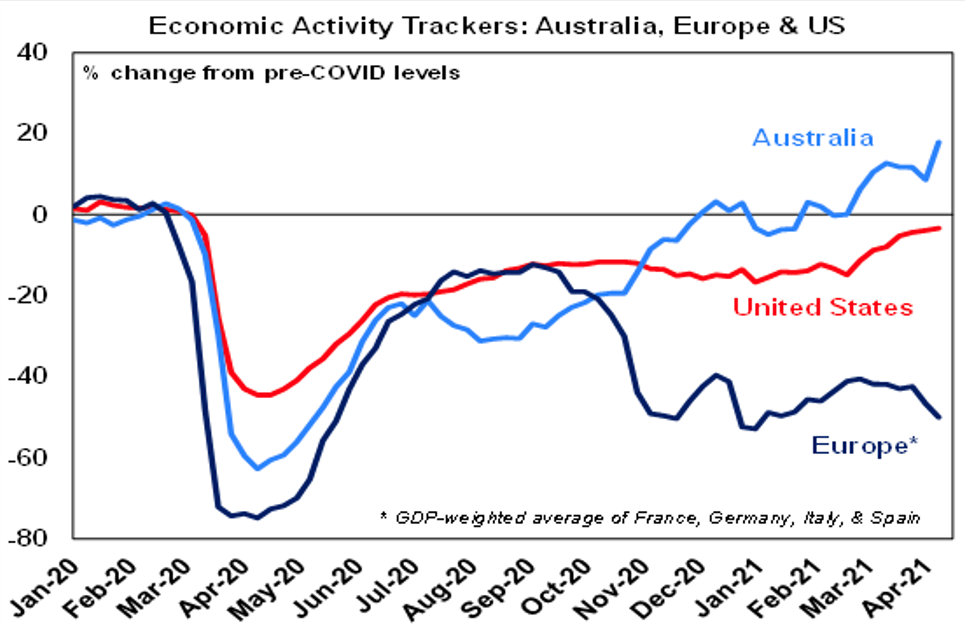 For some perverse reason I missed the release of Taylor Swift's re-recorded 2008 album Fearless last week. Listening to it I reckon it's better than the original. Given the way song licences work by re-recording each of her six initial albums she apparently has the ability to substantially destroy a big chunk of the value of the reported $300m Scooter Braun's Ithaca Holdings (and its private equity backer) paid for Big Machine Records in 2019 that held the ownership rights to those albums. It highlights the importance of doing proper due diligence. Here is the old Love Story and new improved Love Story (Taylor's Version). Change (Taylor's version) is my favourite (for now). Gotta respect Taylor in all of this!