Australian CPI inflation spiked in the June quarter pretty much as expected to 3.8% year-on-year largely reflecting the unwinding of free childcare and last year's collapse in petrol prices. Abstracting from pandemic driven distortions, underlying inflation remained subdued at 0.5% quarter-on-quarter or 1.6% year-on-year. As some of the various distortions drop out, we expect headline inflation to fall back to around underlying inflation, which, in turn, will likely gradually rise towards 2% by the end of next year. Meanwhile producer price inflation rose but only to 2.2% year-on-year, which is well below that seen in other countries. There is nothing here to justify the RBA bringing forward rate hikes and if anything, the risk is that the Sydney lockdown delays progress towards full employment and hence the 3% wages growth necessary for inflation to be sustained in the 2% to 3% target range.
Credit data showed a further acceleration in housing credit reflecting record levels of housing finance. While investor credit growth slowed a bit in June, owner occupier credit growth is booming and total housing credit growth is now running above the levels when APRA started to tighten lending standards in late 2014 and we expect the same to occur this time around, although APRA may wait for the dust to settle from the Sydney lockdown.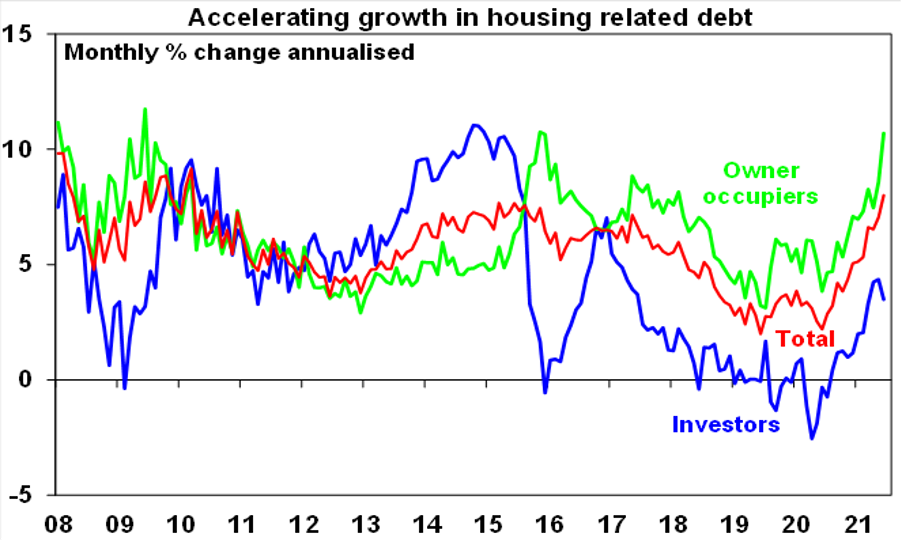 Meanwhile a surge in export prices means another surge in the terms of trade in the June quarter & a boost to national income.
What to watch over this week
In Australia, the main focus is likely to be on the RBA (today) which is expected to be very dovish. With the ongoing NSW lockdown now set to send the economy backwards in the September quarter and heightened uncertainty around when it will end the RBA is expected to revise down its growth forecasts for this year and revise up its unemployment forecasts. In fact, the RBA's forecasts to be published in its SOMP on Friday may end up looking nearer its "Downside" scenario for this year but if there is a good rebound it could end up with the "Upside" scenario for next year. But of course, it's the near term that the RBA will focus on and the dramatic change in the outlook for the economy for the current half since the last meeting is likely to see the RBA delay the step down in its bond buying from September until early next year when the outlook improves again. It's also likely to state that it stands ready to do whatever it can to help the economy. The RBA may also consider shifting the target bond for the 0.1% bond yield target out to the November 2024 bond. And it's likely to reiterate that under its central scenario the conditions for a rate hike will not be met until 2024.
In other data, expect a 2% bounce in June building approvals after a sharp fall in May and flat housing finance at record levels (both today), June retail sales data (tomorrow) to confirm a -1.8% decline but show a 0.7% rise in real terms for the June quarter and trade data for July to show a near record surplus of $9.5 billion.
The Australian June half profit reporting season will start to get under way. Consensus earnings per share growth expectations are for a 49% rise in earnings for 2020-21 and a 56% rise in dividends. The resources sector is expected to see a near doubling in profits (as evident in Rio's already released result) followed by 58% growth in bank earnings and a 47% gain in media sector profits. Telcos, general industrials and utilities are likely to see a decline in earnings. Outlook statements are likely to be cautious though given the uncertainty posed by recent coronavirus outbreaks and lockdowns, particularly that in NSW. Only 11 major companies will release results in the next week though including GUD, Newscorp, REA and Resmed.
Outlook for investment markets
Shares remain vulnerable to a short-term correction with possible triggers being the upswing in global coronavirus cases, the inflation scare and US taper talk and geopolitical risks. But looking through the inevitable short-term noise, the combination of improving global growth and earnings helped by more fiscal stimulus, vaccines allowing reopening once herd immunity is reached and still low interest rates augurs well for shares over the next 12 months.
Expect the rising trend in bond yields to resume as it becomes clear the global recovery is continuing resulting in capital losses and poor returns from bonds over the next 12 months.
Unlisted commercial property may still see some weakness in retail and office returns but industrial is likely to be strong. Unlisted infrastructure is expected to see solid returns.
Australian home prices look likely to rise 15% to 20% this year before slowing to around 5% next year, being boosted by ultra-low mortgage rates, economic recovery and FOMO, but expect a progressive slowing in the pace of gains as poor affordability impacts, government home buyer incentives are cut back, fixed mortgage rates rise, macro prudential tightening kicks in and immigration remains down relative to normal. The lockdowns have increased short term uncertainty though.
Cash and bank deposits are likely to provide very poor returns, given the ultra-low cash rate of just 0.1%. We remain of the view that the RBA won't start raising rates until 2023.
Although the $A could pull back further in response to the latest coronavirus scare and the threat it poses to global and Australian growth, a rising trend is likely to remain over the next 12 months helped by strong commodity prices and a cyclical decline in the US dollar, probably taking the $A up to around $US0.85 over the next 12 months.