Global share markets rebounded over the past week with US shares rising 2.7% to a new record high helped by calming words from the Fed. However, Australian shares fell 0.8% partly in delayed reaction to the previous week's falls in the US and not helped by talk of earlier rate hikes in Australia and coronavirus concerns, with IT and materials up but falls led by health and financial stocks.
Financial equality for women
The central bank and coronavirus soap opera rolls on unfortunately but, I thought I would reverse the order this week. There is a great new biopic called The Glorias about American feminist writer and activist Gloria Steinem. Towards the end of the film in a rally after the US 2016 election she said that one of the benefits of being old is that she can remember a time when things (for women) were worse. And it does seem that there has been significant progress in terms of gender equality since the 1960s. But there is a long way to go. Recognising this a few years ago Bianca Hartge-Hazelman put together the Financy Women's Index to track the financial progress of women and the timeframe to reach gender economic equality. The latest issue has just been released and while the trend is up, there are many years (in some areas decades) to go to achieve financial equality for women.
Update on business conditions
Business conditions PMIs in major developed countries remained strong in June – down but still very strong in the US and UK, up and now very strong in Europe and down and weak in Japan. Overall, its consistent with ongoing strong global growth – but with momentum shifting from the now mostly open US to reopening Europe.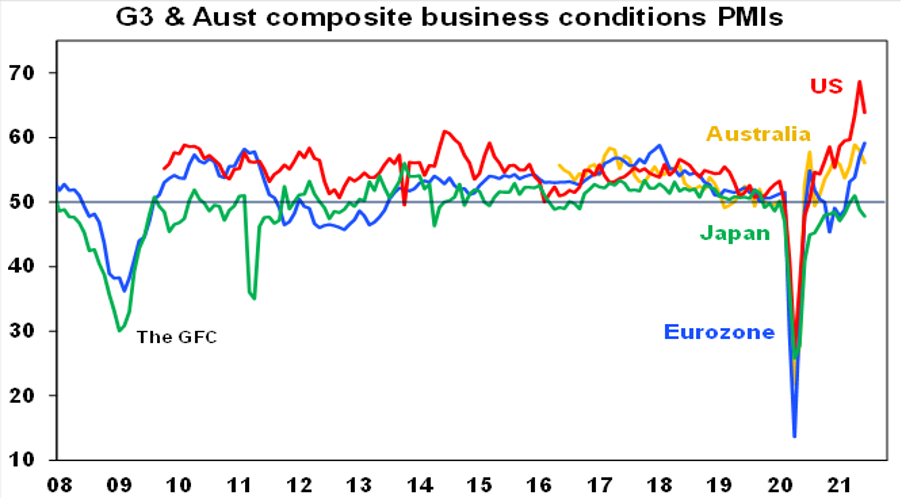 The sting in the tail is that price pressures remain significant as evident in strong input and output price readings, but there may be some reliefas the ratio of new orders to inventories is showing signs of rolling over suggesting that production and hence inventories are catching up to demand. This is evident in various other things with US auto makers production plans surging and US lumber prices down nearly 50% from this year's high.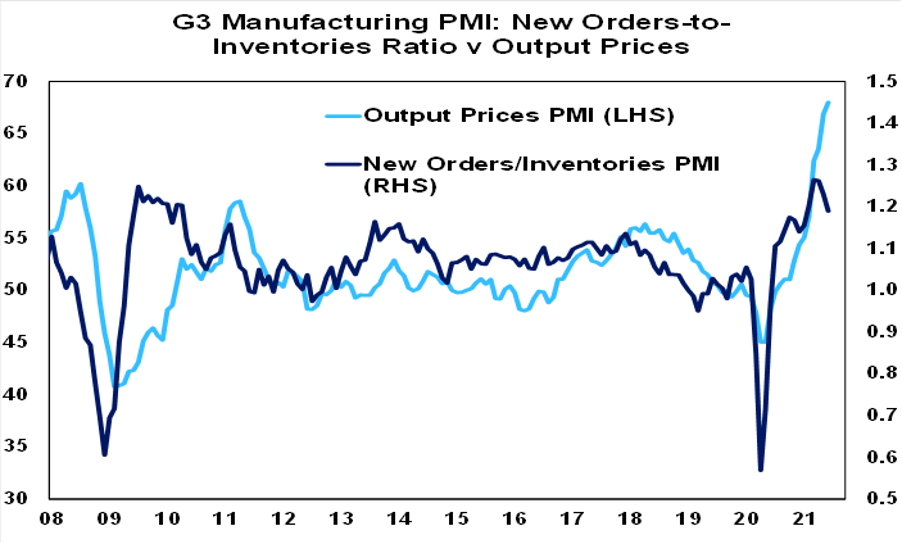 In Australia, our view on the RBA's exit path from easy money remains as follows: ending the Term Funding Facility for banks this month; leaving the bond yield target focussed on the April 2024 bond; tapering the bond buying program from September; and possibly ending the bond yield target next year; ahead of a first rate hike in 2023 (or maybe, covid permitting, in late 2022). 2023 for the first rate hike now seems to have become consensus amongst economists. Reflecting the continuing stronger than expected recovery and in order to provide more flexibility RBA Governor Lowe is likely to also use the July meeting to formally drop the reference to the conditions for a rate hike as being "unlikely to be met until 2024 at the earliest" with the more flexible wording that the conditions "still seem some way off" that he used in his 17th June speech in Toowoomba. The latest coronavirus related lockdowns and a weaker inflation spike in Australia will likely keep the RBA relatively cautious in July though.
Coronavirus update
It was more of the same on the coronavirus front over the last week. The global downtrend in new cases continues led by developed countries and with India remaining in steep decline. However, the downtrend in new cases globally is showing tentative signs of bottoming out as many countries continue to see a rising trend in new cases including South Africa, South Korea, Indonesia, Russia, Brazil and Columbia.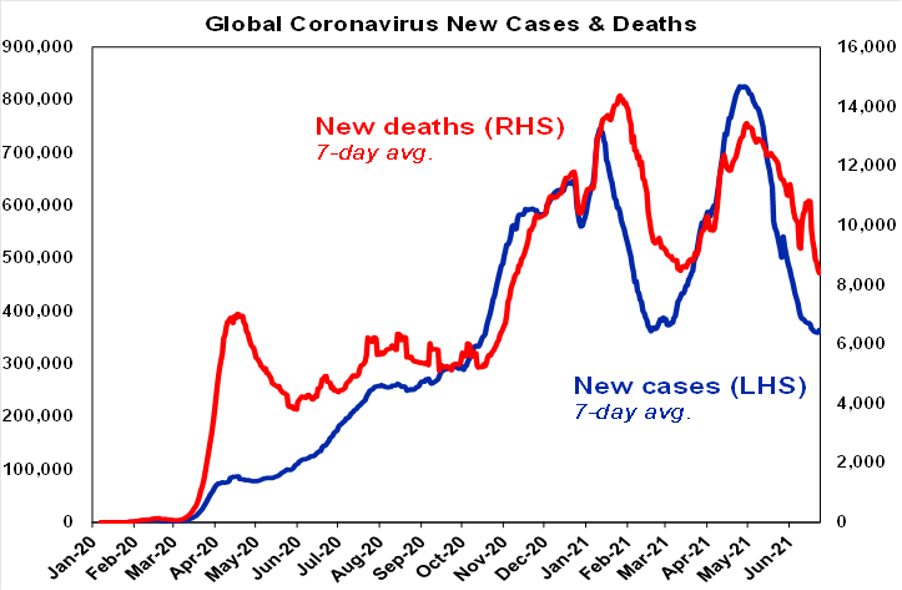 The UK is also continuing to see a rising trend in new cases and there has also been a pick-up in Israel (albeit from a low base) – with both due to the Delta variant affecting mainly unvaccinated people. While vaccines are not completely effective against infection particularly against the Delta variant, they are highly effective against hospitalisation and death, which is what will be key in term of allowing a continuing reopening. So far so good with deaths and hospitalisations remaining low in the UK despite the rise in new cases – and this will be the key to watch going forward. The problem though is that even in the UK there is still a big part of the population that has not been vaccinated, let alone fully vaccinated posing a threat to the recovery until higher levels of full vaccination are reached and this is also a risk in other countries including the US and Europe.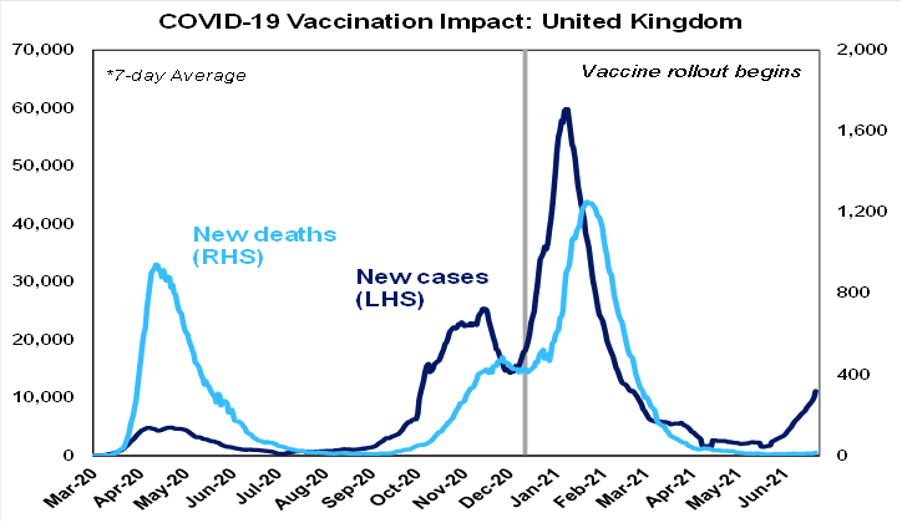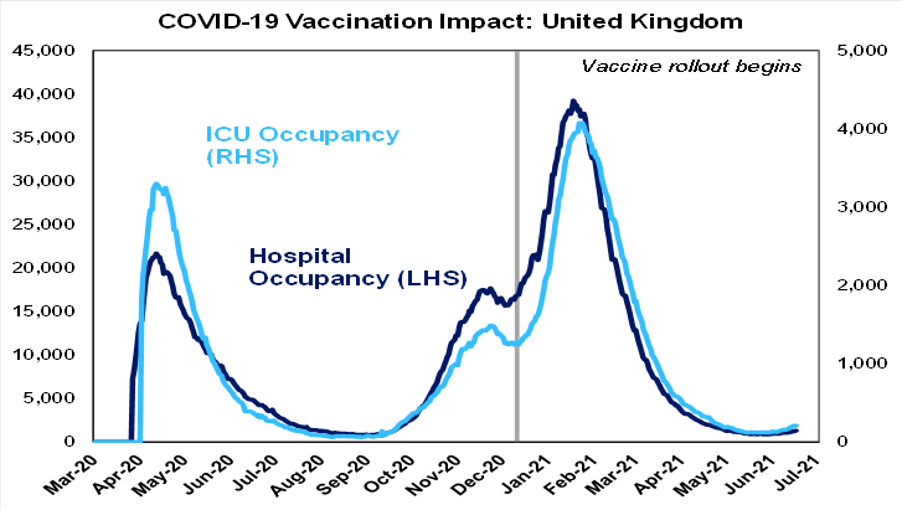 Sydney outbreak a big concern
In Australia, while the number of new cases remains low by global standards, the expanding cluster of Delta variant cases in Sydney is a big concern, with Greater Sydney, the Blue Mountains, Wollongong and the Central Coast - along with anyone who has been in Greater Sydney since June 21 - now in a two-week lockdown. Ideally the lockdown should have started a few days earlier when the flow of new cases was lower. But at around 20 a day it's still relatively low - compared to say last July when the Melbourne hotspot lockdown started when new cases were already spiralling at over 60 a day or the over 600 a day when the full Victorian lockdown started in August – providing some confidence the lockdown will quickly work in controlling the spread of new cases and so can be limited to two weeks or so.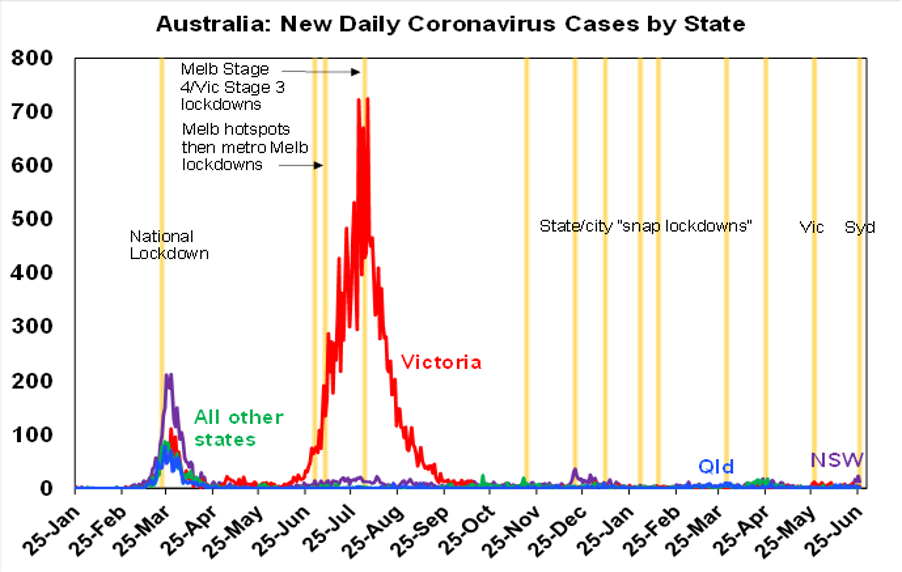 Cost of Sydney lockdown
Our rough estimate is that the two-week Greater Sydney and surrounds lockdown will cost the economy around $2bn, although much of the lost economic activity will hopefully be quickly recouped upon reopening. Australia has had several snap lockdowns since November last year and the evidence strongly suggests that if applied early, they head off a bigger problem with coronavirus and hence a much longer and far more economically damaging lockdown (in the absence of course of most being vaccinated). "A stitch in time saves nine" as the old saying goes! Providing they are short, then the economic impact is relatively "minor" (although still horrible for those impacted) as people and businesses delay spending and economic activity which then bounces back quickly once the lockdown ends. This is evident in our weekly Australian Economic Activity Tracker (see the next chart), which shows a rising trend in economic activity through the period of snap lockdowns since last November, including a rebound recently after Victoria's snap lockdown ended. With Greater Sydney, the Blue Mountains, Wollongong and the Central Coast having around 6.6 million people and covering about 25% of Australian GDP we estimate a hit to economic activity from the lockdown of about $2 billion if it's contained to two weeks with much of that likely to be recouped upon reopening. Fortunately, as noted above the lockdown is starting relatively early, providing some confidence that it can be contained to two weeks. Of course, the risk is greater now that we are dealing with the more virulent Delta variant, but so too was Victoria in late May.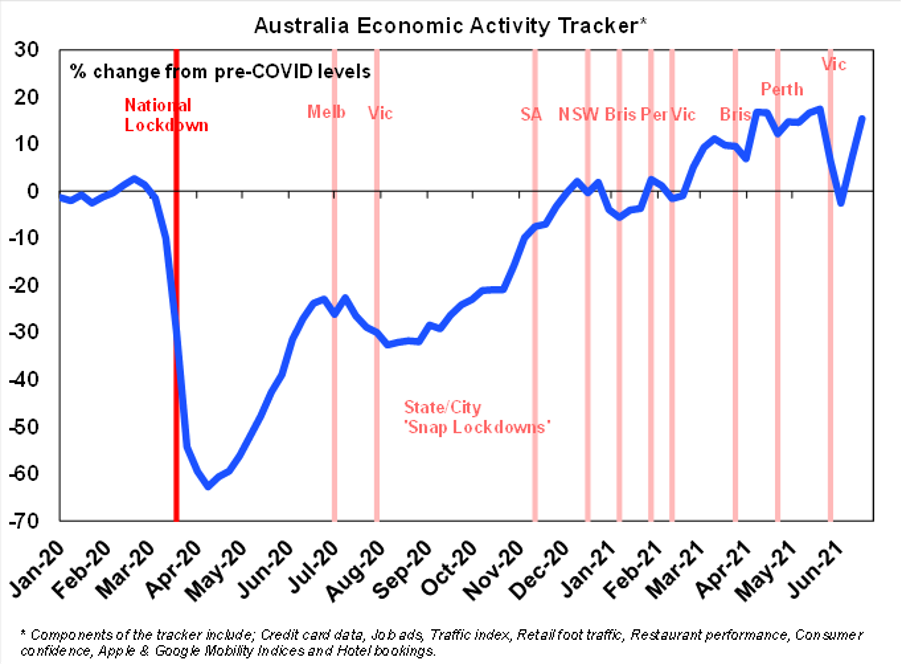 Vaccine update
So far 23% of people globally and 48% in developed countries have had at least one dose of vaccine. Canada is now at 68%, the UK at 65%, the US at 54%, Europe at 48% and Australia is at 27%. The success of the vaccines continues to be evident in low new cases, hospitalisations and deaths in countries with high levels of vaccination although as noted earlier the UK has had some problems.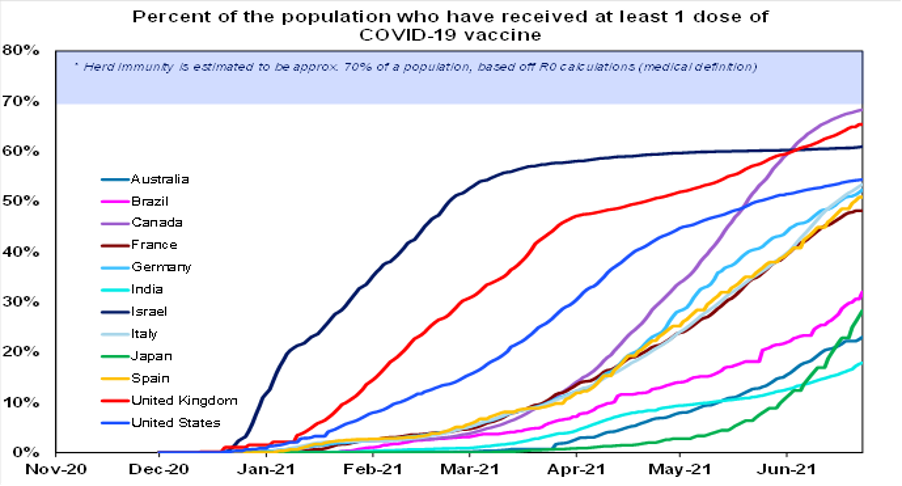 Australia's daily vaccination rate remains low at 0.4% of the population. However, with global vaccine production ramping up and more Pfizer and then Moderna vaccines scheduled to arrive in Australia, the latest Federal Government plan sees enough vaccines for two doses for all adults by October. Fingers crossed!
Economic Activity Tracker
Our Australian Economic Activity Tracker recovered further over the last week after the hit from Victoria's snap lockdown. However, another dip is likely in the weeks ahead reflecting the lockdown in Sydney and surrounds. Our US Tracker has now just ticked above its pre-coronavirus level, but the recovery in our European Tracker stalled in the last week.