Australian consumer and business confidence are continuing to rebound, with the Westpac/MI consumer confidence index at its highest level since 2013 and the NAB measure of business confidence well above pre-coronavirus levels. Reopening is a big part of this, as is the level of government support and the latest RBA easing, all of which have preserved businesses, jobs and incomes, which in turn add to confidence that businesses will hire, and ultimately invest and households will continue to run down the huge June quarter spike in saving. The Government's decision to extend the JobSeeker supplement, albeit at the reduced rate of $150 a fortnight (which leaves the total JobSeeker payment at $51.1 a day) combined with the continuing drip feed of other measures will add to this. There is a good chance that JobSeeker will ultimately end up locked in at $51.1 a day, which is low but still far better than the pre-coronavirus rate of $40.4 a day.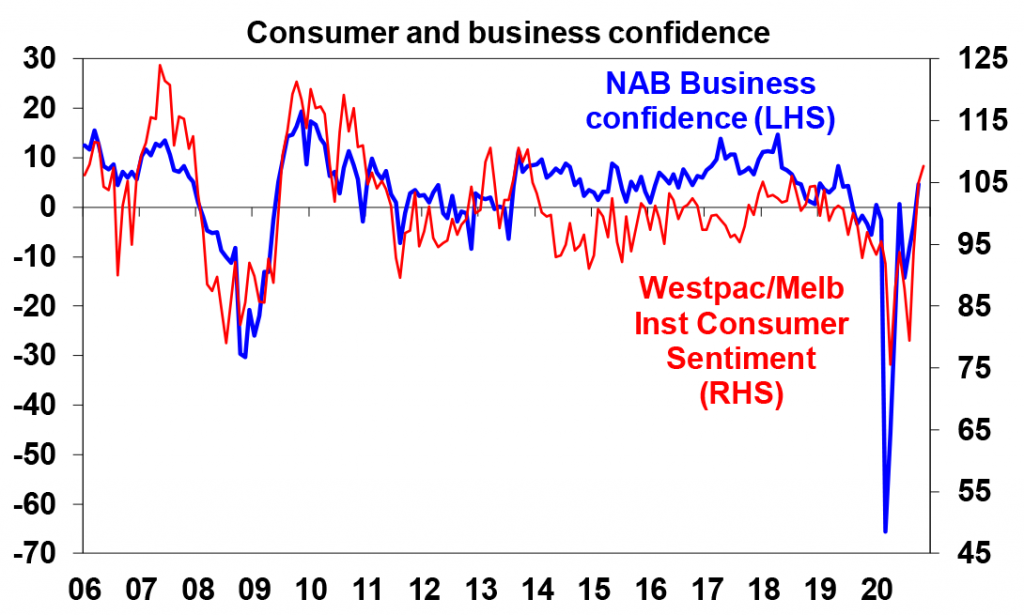 What to watch
In the US, the election outcome and Trump's desperation to reverse it will continue to figure highly. On the data front expect to see continued solid November readings for the New York and Philadelphia regional manufacturing conditions indexes(yesterday and Thursday), solid growth in October retail sales and industrial production and continued strength in home builders' conditions (today), further gains in housing starts (Wednesday) and still high home sales (Thursday).
The minutes from the last RBA Board meeting (today) and speeches by RBA Governor Lowe are unlikely to add much after the further easing seen this month but are likely to reiterate that the RBA expects economic recovery to continue but that it will be bumpy and uneven and that it stands read to do more if needed. Recent positive news regarding a vaccine may suggest upside risks to the RBA's growth forecasts if a vaccine can be rolled out earlier than expected. On the data front in Australia, expect September quarter wages growth (tomorrow) of just 0.1% quarter on quarter or 1.4% year on year which will be the lowest annual growth rate on record, labour force data for October (Thursday) to show a 30,000 decline in employment and unemployment rising to 7.3% as people continue to return to the workforce and October retail sales (Friday) to show a 1% rise helped by some reopening in Victoria. Payroll jobs data for the period to 17 October will also be released today.
Outlook for investment markets
Shares remain vulnerable to further short-term volatility given uncertainties around coronavirus, economic recovery and President Trump. But we are now into a seasonally strong period of the year for shares and on a 6 to 12-month view shares are expected to see good total returns on the back of ultra-low interest rates and a pick-up in economic activity helped by a possible vaccine.
Low starting point yields are likely to result in low returns from bonds once the dust settles from coronavirus.
Unlisted commercial property and infrastructure are ultimately likely to benefit from a resumption of the search for yield but the hit to economic activity and hence rents from the virus will weigh heavily on near term returns.
Australian home prices at present are being boosted by ever lower interest rates, government home buyer incentives, income support measures and bank payment holidays but higher unemployment, a stop to immigration and weak rental markets will likely weigh on inner city areas and units in Melbourne and Sydney into next year. Outer suburbs, houses, smaller cities and regional areas are in much better shape.
Cash and bank deposits are likely to provide very poor returns, given the ultra-low cash rate of just 0.25%. Although the $A is vulnerable to bouts of uncertainty about coronavirus, the economic recovery and China tensions and RBA bond buying will keep it lower than otherwise, a continuing rising trend is likely to around $US0.80 over the next 12 months helped by rising commodity prices and a cyclical decline in the US dollar.