Global share markets saw continuing gains over the past week helped by expectations that the Delta outbreak won't lead to lockdowns in major developed countries and that the Fed would be gradual in scaling back monetary stimulus. Helped by the positive global lead and rapidly rising vaccination rates, the Australian share market also rose despite rising local coronavirus cases, with the gains led by energy, property, industrial and IT stocks. Bond yields fell in the US but rose elsewhere. Oil prices rose but copper and iron ore prices fell. The $A rose back above $US0.74 as the $US slipped.
From their March 2020 lows US shares are up 14 of the last 17 months and Australian shares are up 16 of the last 17 months. But while shares keep powering on month after month, the risk of a short-term correction remains – with threats from coronavirus, the approach of Fed tapering, the US debt ceiling and tax hikes and supply constraints and as the next six weeks is often rough for shares. However, the likely continuation of the economic recovery beyond near term interruptions, vaccines ultimately allowing a more sustained reopening and still low interest rates with tight monetary policy a long way off augurs well for shares over the next 12 months.
New global coronavirus cases started to decline in the last week. South America continues to trend down, Asia is of its highs and the US and Europe are showing signs of stabilising.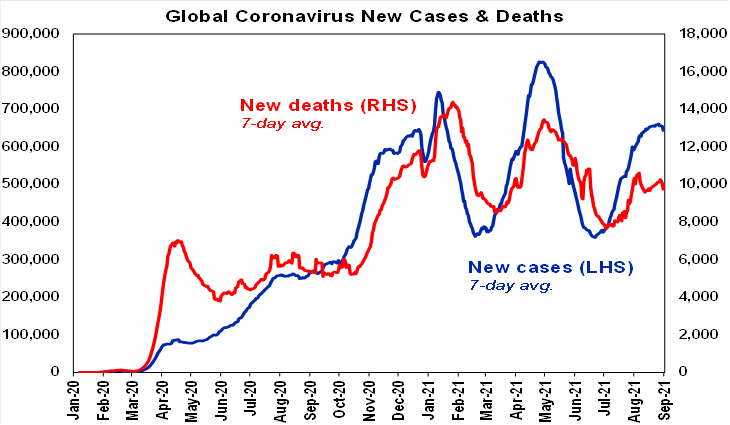 The really good news is that despite the increase in cases from mid year lows the UK, Europe and Canada have continued to see hospitalisations and deaths remain relatively low – indicating that vaccines continue to work in heading off serious illness. For example, the next chart shows deaths in the UK (the red line) are running well below the level predicted on the basis of the previous wave (dashed line).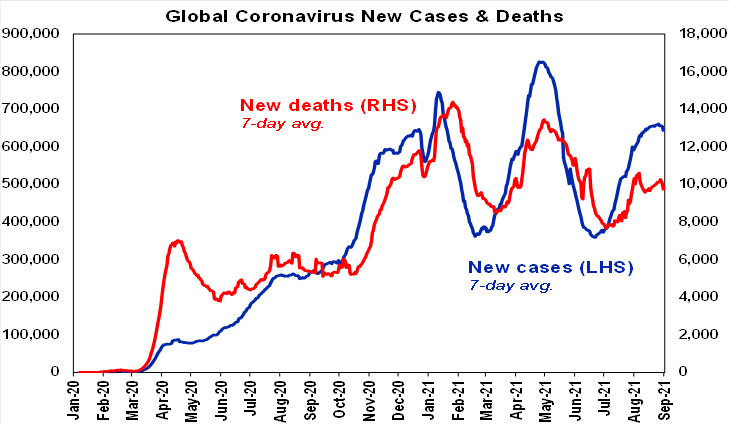 Meanwhile, Israel's less favourable experience highlights the need for booster shots. Israel was early to vaccinate but saw declining vaccine efficacy for those vaccinated early this year contribute to a surge in new cases. There is some evidence that efficacy against Delta infection declines faster for Pfizer than AstraZeneca and it may also reflect the shorter gap between Pfizer doses compared to AZ doses (both of which may have benefitted the UK). Israel is now rapidly rolling out booster shots (with 25% of the population boosted) - which may be helping to stabilise hospitalisations and deaths.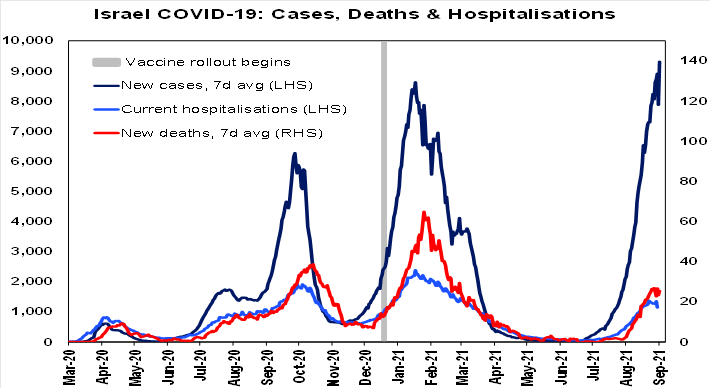 Early evidence from Israel indicates a 10-fold decline in the risk of infection for those with a booster compared to those with two doses. While there may be various differences, the Israeli experience warns that the US, UK, Canada and Europe need to rapidly ramp up booster shots ahead of winter. Australia will need to do the same by year end. Interestingly, some studies show Moderna's vaccine provides even higher protection against infection & hospitalisation than Pfizer and AZ.
The US is continuing to experience mostly a "pandemic of the unvaccinated" with the lowly vaccinated South faring the worst. However, there are some signs it may be slowing.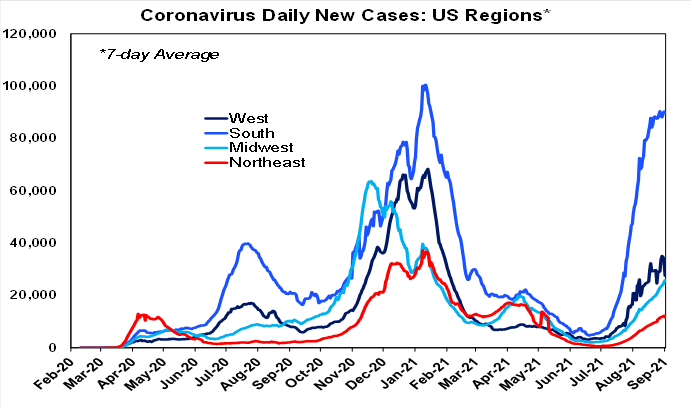 Vaccination is continuing to ramp up globally. So far 41% of people globally and 66% in developed countries have now had at least one dose of vaccine.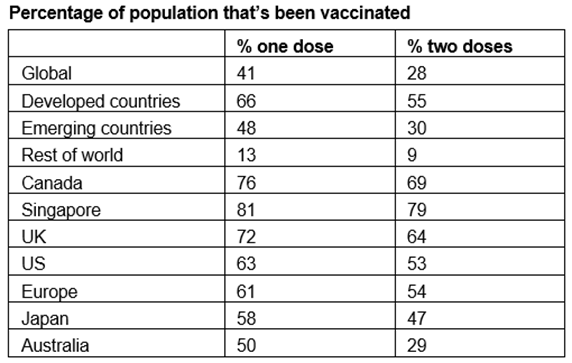 Unfortunately, the bad news in Australia is that the number of new cases continues to surge in NSW and Victoria and there have been new covid scares in SA and Queensland.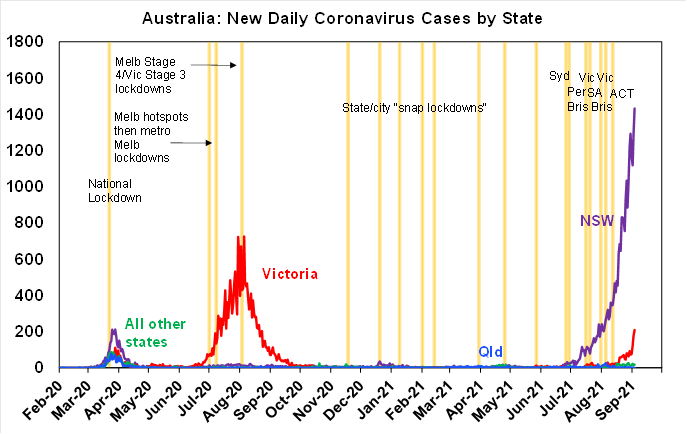 The good news is that Australia now has around 50% of its whole population with one dose. The past week saw nearly 2 million people vaccinated with one jab (including me as I got my second AZ shot). At this rate, we will reach the national goal of 70% of adults being fully vaccinated around mid-October and 80% of adults in November. Of course, this will still leave 44% & then 36% of the whole population respectively unvaccinated and at risk. And combined with the higher transmissibility of the Delta variant, the reality that vaccinated people are not fully protected against infection and the higher number of cases in NSW and Victoria it's unclear as to how much we can safely reopen at these targets. This is reflected in the understandable position of some Premiers in "covid zero" states. It may mean that some states still keep their borders closed once the targets are hit, that the reopening is mainly for the unvaccinated for a while at least and that some people remain wary about getting out from "under the doona". However, the attainment of even higher vaccination targets is not that further away. If we keep going at the current rate of vaccination, helped along by vaccine passports (no jab/no entry requirements) to get the vaccine hesitant over the line along with the vaccination of 12–15-year-old children, then we will reach 80% of the whole population being vaccinated in December.
There is also good news in that despite the surge in cases in Australia, hospitalisations and deaths are more subdued in this wave. The next chart shows deaths (the red line) are running well below the level predicted on the basis of the previous wave (dashed line). Unfortunately, the rise in new cases points to a big rise in deaths in the weeks ahead, but so far at least deaths are running about 30% of the level suggested by last years' experience. So, the relatively high vaccination rate for older people already appears to be helping.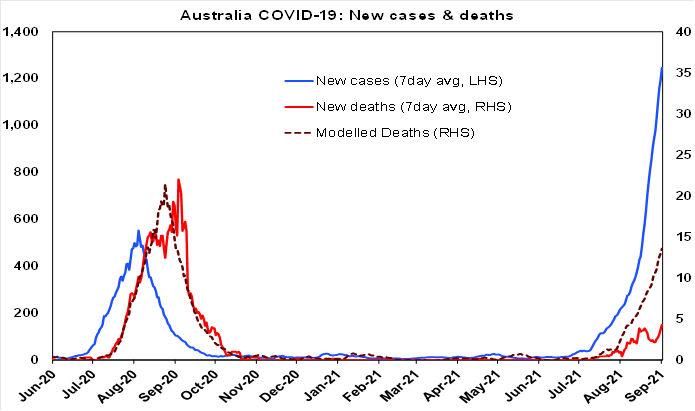 Our Australian Economic Activity Tracker fell again over the last week reflecting the economic impact of the lockdowns. However, after its plunge since June we remain of the view that it's likely at or close to the bottom as NSW and Victoria have probably hit bottom - providing of course that other states don't enter extended hard lockdowns too.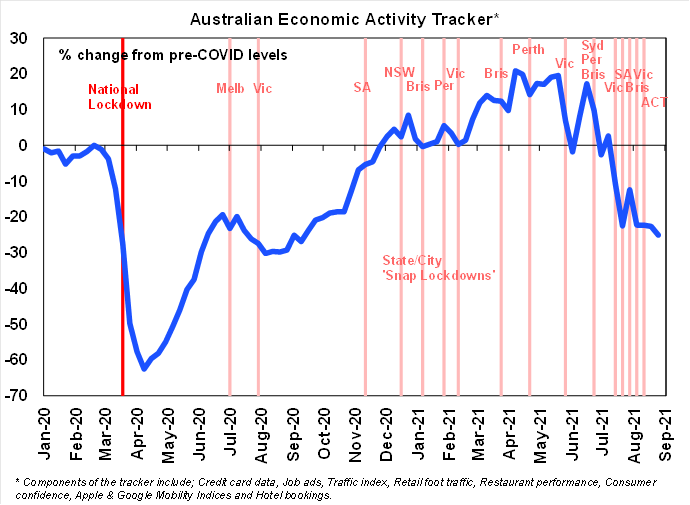 Fortunately, June quarter GDP rose a stronger than expected 0.7% in Australia indicating that demand growth was still solid prior to the latest lockdowns even though stocks and trade detracted from growth. And of the course the rise avoids, for now, headlines of a double dip recession.
However, the hit to the economy in this half year from the lockdowns is escalating. Based on the extension of the Melbourne lockdown to at least around 23rd September and the ACT lockdown by another two weeks our estimate of the cost of the hit to economic activity from the lockdowns since May has now blown out to $28bn which will mean a big decline in GDP this quarter. We expect September quarter GDP to fall by at least -4%. And a likely constrained initial reopening even when the vaccine targets are hit points to only a weak recovery in GDP in the December quarter. Added to this is the risk that other states may have lockdowns too. The bottom line is that growth through this year could now come in around zero, which is well below the RBA's assessment for 4% growth.
That said while the near-term outlook is bleak there is good reason to expect a strong rebound in growth through next year as vaccination rates ramp up, we learn to live with covid as vaccines help keep hospitalisations and deaths down, pent up demand is ultimately unleashed, Australia benefits from strong growth globally and monetary policy is easier for longer. As a result, we see 6.5% or so growth through next year.
However, we continue to see the RBA deciding to delay its decision to slow its bond buying at its September meeting and to continue at the rate of $5bn into early next year. This is because the bigger hit to near term growth now means that even with a strong rebound in the economy through next year the profile for GDP and unemployment in 2022 will be significantly weaker than the RBA was assuming a month ago.
Our US Economic Activity Tracker rose over the past week as Delta fears receded a bit, but our European Tracker edged down slightly. The absence of lockdowns has headed off steep declines like we saw in last year's outbreaks.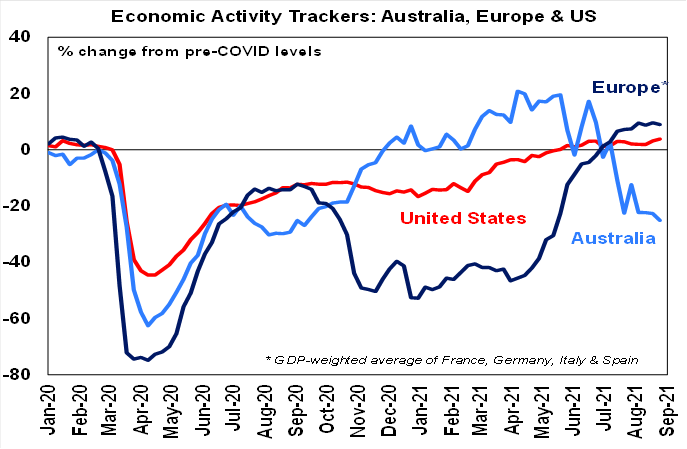 On the fiscal policy front in the US, it's looking increasingly clear that the Democrats plans for $US3.5trn in spending over eight years will be scaled back. To get Democrat Senators Manchin and Sinema (who both continue to say they won't support $US3.5trn) on side and raise the debt ceiling its likely to be scaled back to maybe $US2trn, and with tax hikes (on high earners, corporates, capital gains and dividends) will mean net new spending of maybe $US1trn but that's spread over 8 years. The process of trying to wrap this up in the next few months – and particularly raise the debt ceiling and the tax hikes – could cause some gyrations in shares. 
After the NBC Comeback Special in 1968, the return to live concerts in 1969 and That's The Way It Is and touring in 1970, 1971 seemed like a bit of a quieter year for Elvis (although he did perform 156 concerts). However, he did make it back to Nashville for another marathon recording session and came up with several classic recordings including Its Only Love which was written by Mark James, who also wrote Suspicious Minds and Moody Blue, and I'm Leavin'.