On the election front, Biden's average poll lead held on to most of his recent gains and is around 9 points, his average poll lead in battleground states is around 4.1 points, Trump's approval rating is around 44.8%, the PredictIt betting market puts Biden's probability of winning at 65% and the probability of a Democrat clean sweep at 59%. While the debate and Trump's behaviour after his treatment for coronavirus may have worked against him, so too may be the resurgence of new coronavirus cases in the US, with Biden's lead showing some correlation with it in recent months. Along with Comedian-in-Chief, Trump seems to want to play Super Spreader-in-Chief with his high Covid risk rallies and his desire to kiss everyone at the rally in Florida. Maybe he hasn't seen the next chart!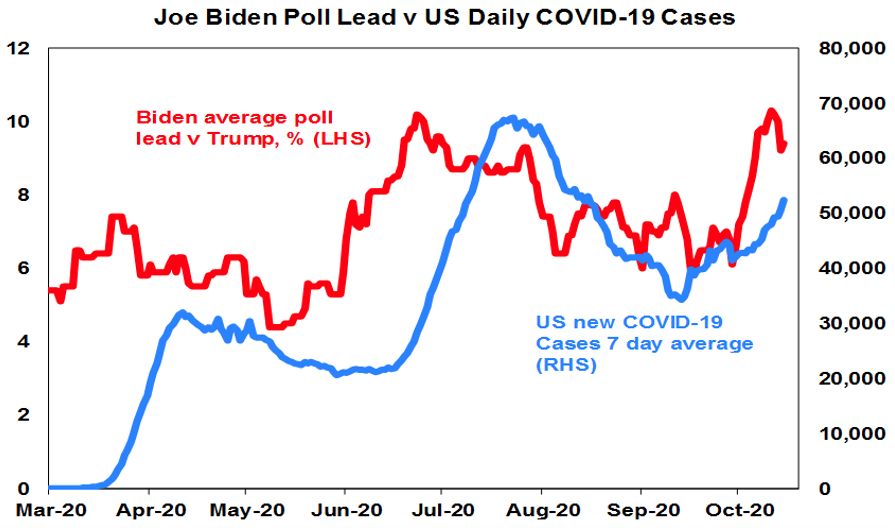 There are still more than two weeks to go, but it's interesting to note that Biden's poll lead over the last six months has been wider and more stable than Clinton's was in 2016.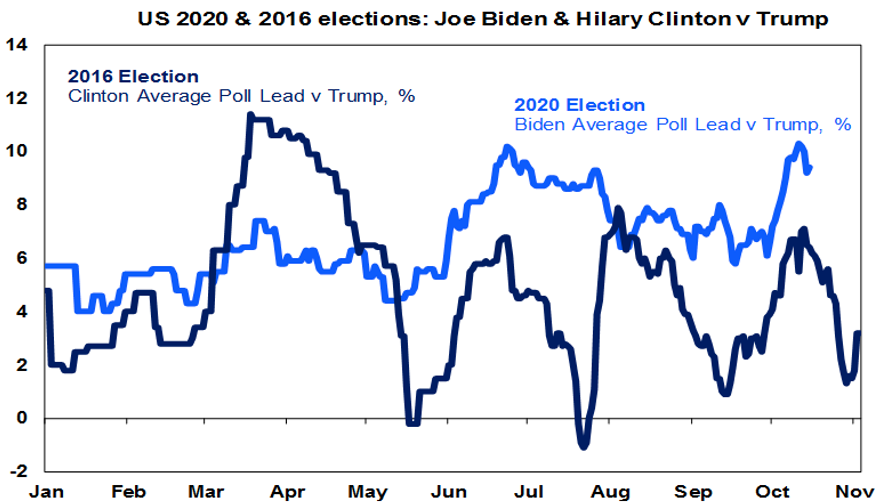 So why isn't the US share market fretting more at the prospect of a Democrat clean sweep, which would usher in higher taxes and more regulation?Several reasons: the negative impact of higher taxes and more regulation would be offset by more fiscal stimulus; a clear Democrat victory would avert a worse-case contested election; Biden will likely mean more stable policy making with less trade wars; and/or of course after 2016, many may not be expecting it.
On the fiscal stimulus front
The on again off again soap opera around a pre-election fiscal stimulus in the US continued over the last week. While the White House is getting desperate for a pre-election deal and so seems to be coming around to the Democrats demands in terms of size and content, the gap between the two sides remains big, Senate Republicans are still resisting anyway (although Trump will likely pressure them to support any deal) and time is running out. If a deal is not passed before the election, it will come up again afterwards with its passage there likely assured if either Trump wins (in which case the Democrats will agree to whatever they can get in the national interest) or if the Democrats win a clean sweep (which would almost certainly see it pass the Senate). Prospects for more stimulus will be more questionable though if Biden wins without the Democrats taking the Senate (as Republican's would likely suddenly resume their distaste for deficit spending – funny that!).
Click here to subscribe to the Switzer TV channel on YouTube and keep up to date with all of our shows.