Business conditions PMIs fell back in August in the US, Europe, Japan and Australia reflecting Delta outbreak concerns to varying degrees. They remain strong in the US and Europe though.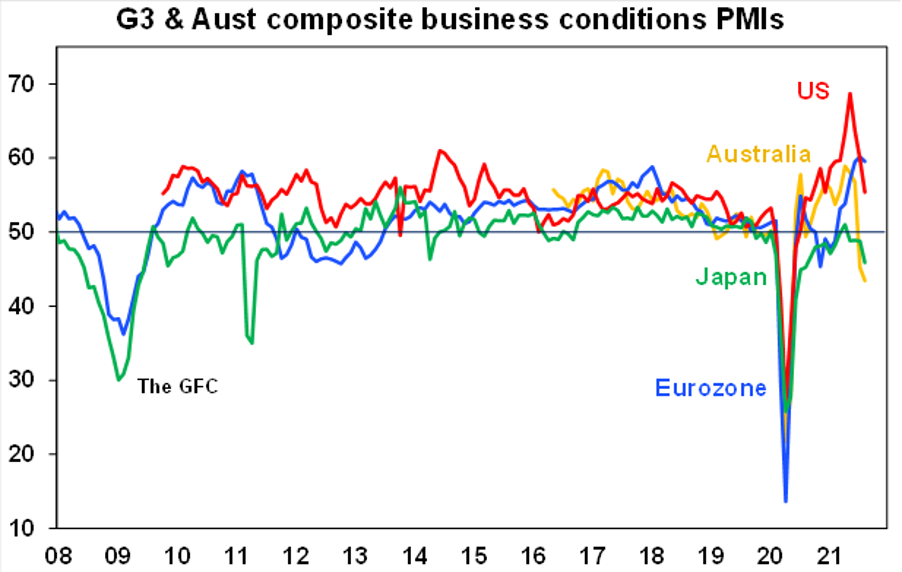 Australian economic events and implications
Australian data was a mixed bag. The good news was that business investment rose more than expected in the June quarter and investment plans for the current financial year also rose more than expected. Against this though June quarter construction was weaker than expected surprisingly due housing, payrolls jobs fell again in the second half of July led by NSW, business conditions PMIs fell further in August (see the previous chart) and retail sales fell -2.7% in July. The fall in retail sales was mainly due to NSW which saw a -8.9% decline, but a further sharp fall is likely in August as the NSW lockdown tightened and Victoria went into a hard lengthy lockdown.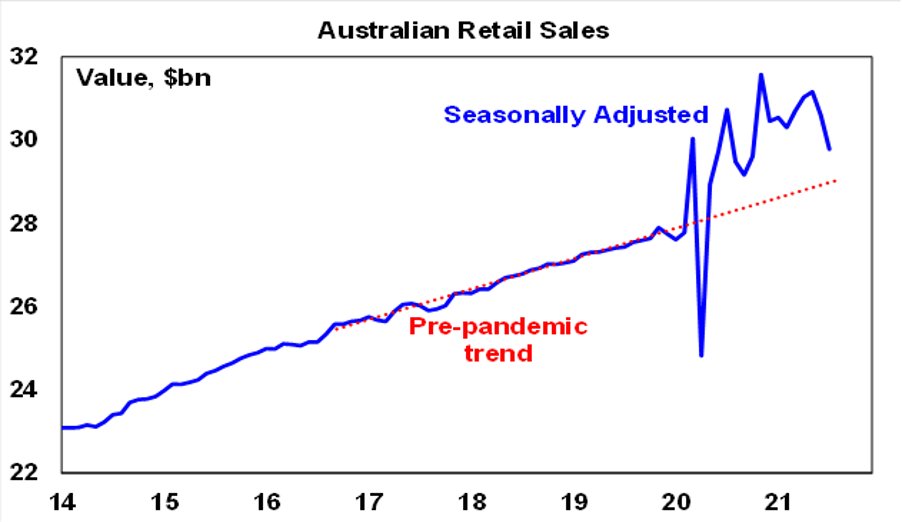 The Australian June half earnings reporting season is now around 95% complete. While the lockdowns are weighing on outlook statements with many companies providing no guidance and we have seen the usual softening as reporting season proceeds, the results have been solid. 40% of results have surprised on the upside which is just below the norm of 44% but only 18% surprised on the downside which is well below the norm of 26%, 75% have seen earnings up on a year ago & 88% have increased or maintained dividends. The return of capital to shareholders will be big with a record $30bn in dividend payments already declared (based on analysis by Richard Coppleson at Bell Potter) and over $20bn in buybacks. Consensus earnings growth expectations for the last financial year have now increased to +50.6% from +49.1% at the start of the reporting season and those for the current financial year have only fallen from +8.6% to +7.5%. Resources are seeing a 97% rise in earnings and bank profits are up by 58%. Dividend growth is coming in at around 57%.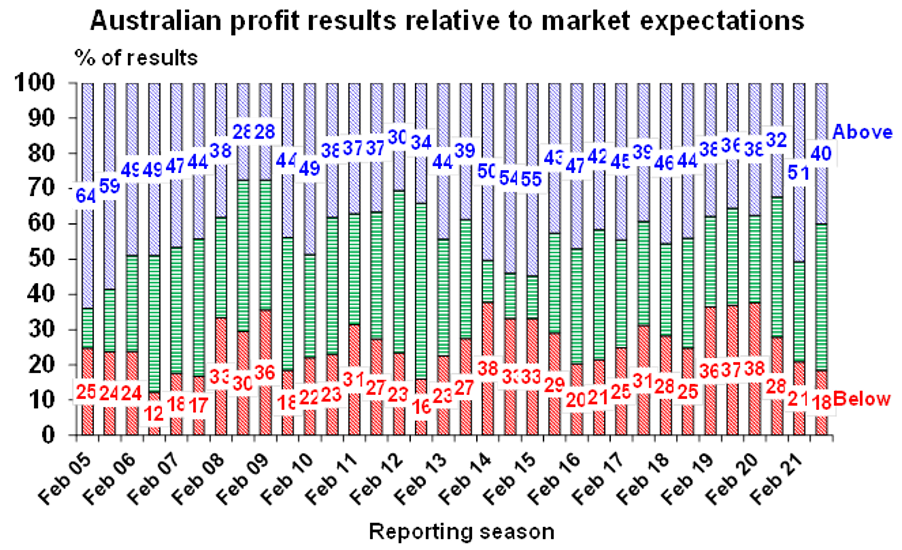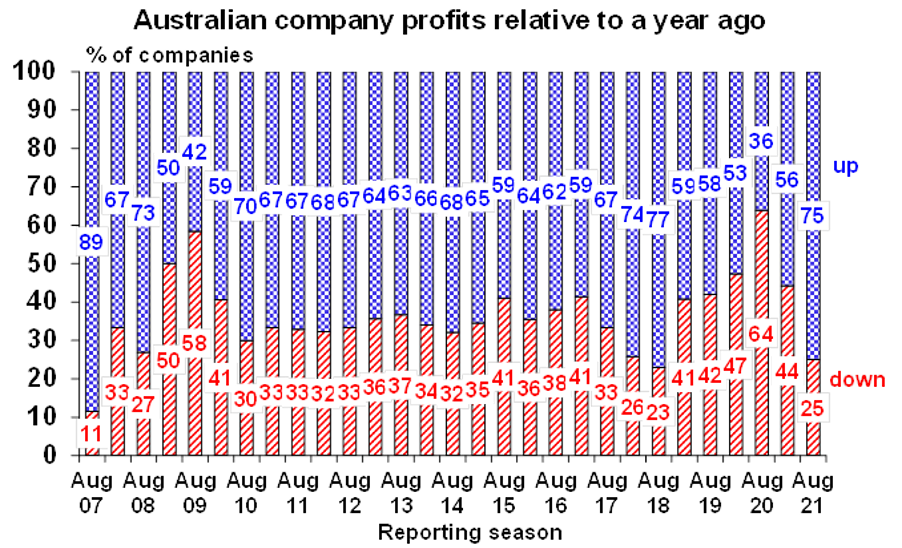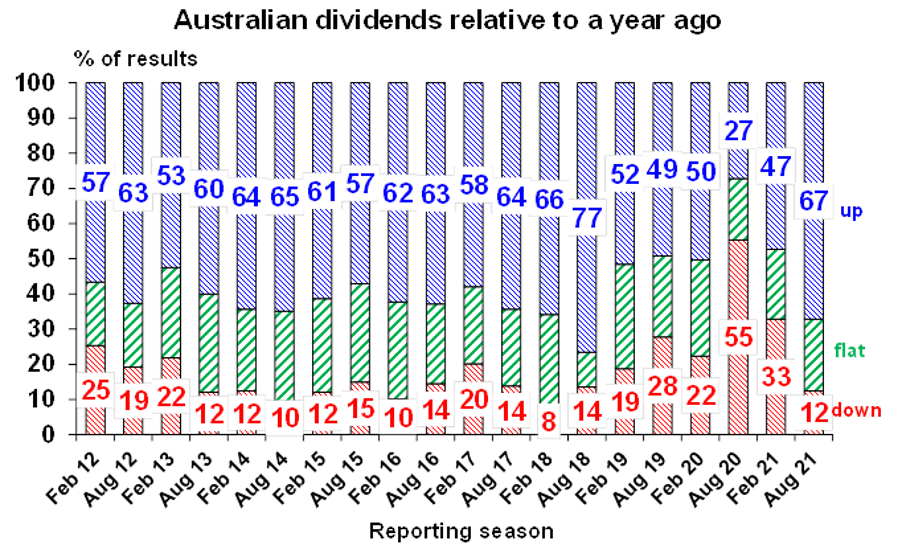 What to watch over the next week
In Australia, the focus will likely be on June quarter GDP (tomorrow) which we expect to show a -0.1% fall with increases in consumer spending, plant and equipment investment and public spending being offset by drags from housing, inventories and net exports. Of course, at -0.1% it's a close call and more data to be released on inventories, wages, profits and sales (Monday) and on trade and public spending (today) for the quarter could still blow our June quarter GDP estimate around. In other data expect to see net exports detract -1.3% from June quarter GDP, building approvals to show a 2% bounce and housing credit growth to show a further acceleration (all today), CoreLogic home price data for August to show a solid 1.5% gain led by Sydney and Adelaide, housing finance to fall 2% in July and the trade surplus to fall back to $9bn (both Thursday) and retail sales (Friday) to confirm a -2.7 decline.
The Australian June half profit reporting season will wrap up, with another 20 major companies due to report.
Outlook for investment markets
Shares remain vulnerable to a short-term correction with possible triggers being coronavirus, the inflation scare and US taper talk, likely US tax hikes and a debt ceiling standoff and geopolitical risks. But looking through the short-term noise, the combination of improving global growth and earnings helped by more fiscal stimulus, vaccines ultimately allowing a more sustained reopening and still low interest rates augurs well for shares over the next 12 months.
Expect the rising trend in bond yields to resume as it becomes clear the global recovery is continuing resulting in capital losses and poor returns from bonds over the next 12 months.
Unlisted commercial property may still see some weakness in retail and office returns but industrial is likely to be strong. Unlisted infrastructure is expected to see solid returns.
Australian home prices look likely to rise by around 20% this year before slowing to around 5% next year, being boosted by ultra-low mortgage rates, economic recovery and FOMO, but expect a progressive slowing in the pace of gains as poor affordability impacts, government home buyer incentives are cut back, fixed mortgage rates rise, macro prudential tightening kicks in and immigration remains down relative to normal. The lockdowns have increased short term uncertainty though.
Cash and bank deposits are likely to provide very poor returns, given the ultra-low cash rate of just 0.1%. The setback from Delta coronavirus lockdowns could push the first rate hike back into 2024.
Although the $A could pull back further in response to the latest coronavirus outbreaks, the threats posed to global and Australian growth and falling iron ore prices, a rising trend is likely to remain over the next 12 months helped by strong commodity prices and a cyclical decline in the US dollar, probably taking the $A up to around $US0.80 over the next 12 months.