Australian economic confidence has continued to improve. The NAB business survey for February showed a solid rise in business conditions and business confidence and the Westpac/MI consumer confidence index also rose. Both are around their highest levels since early last decade and are positive for investment and consumer spending.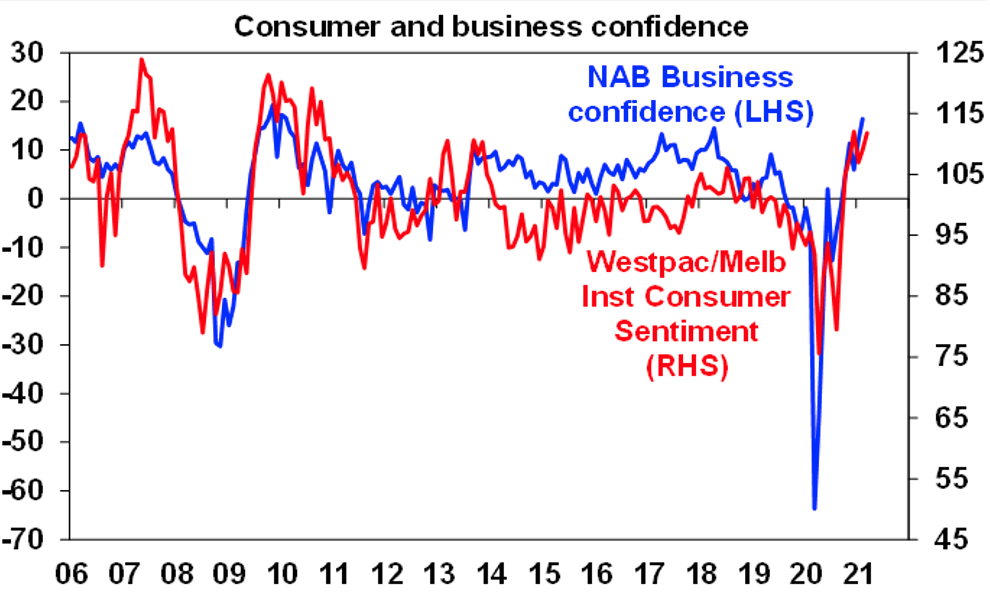 Interestingly, while consumers are feeling confident, they're still cautious when it comes to investing with the proportion seeing shares, super and even real estate as the "wisest place for saving" remaining relatively low and bond deposits and paying down debt remaining far more popular. This is still positive though for shares and real estate from a contrarian perspective.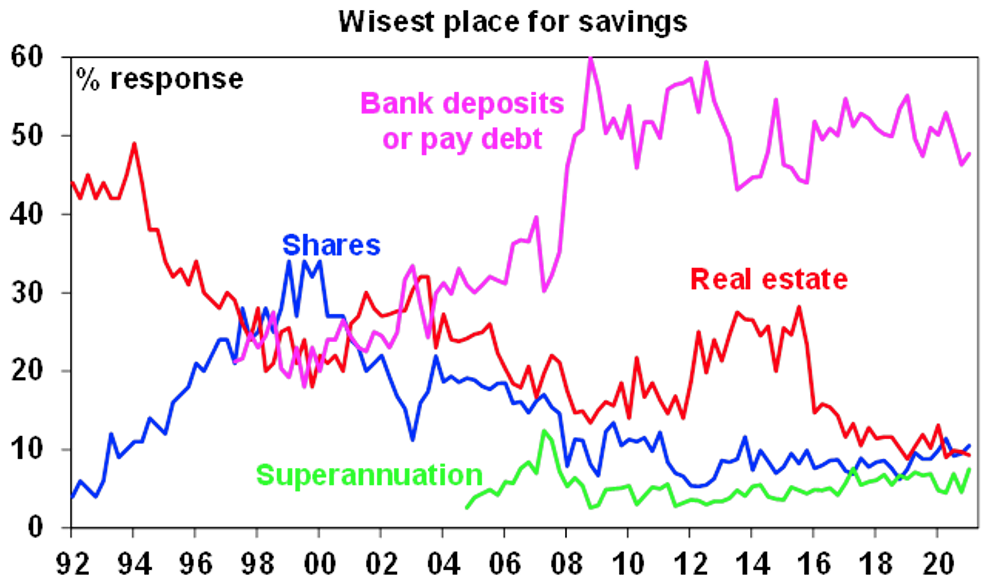 In Australia, the RBA minutes (today) are likely to remain ultra-dovish consistent with the post meeting statement and Governor Lowe's speech in the last week. On the data front, ABS home price data for the December quarter (today) is expected to show a solid 2% quarterly rise in prices consistent with private sector data already released, February labour market data (Thursday) will likely show a 15,000 gain in jobs but with unemployment unchanged at 6.4% and retail sales data for February (Friday) is expected to show a 0.5% gain as Queensland bounces back. September quarter population growth data (Thursday) is expected to confirm the hit to immigration and payroll jobs data will be released Tuesday.
Share market outlook is good
Shares remain at risk of further volatility from rising bond yields. But looking through the inevitable short-term noise, the combination of improving global growth helped by more stimulus, vaccines and still low interest rates augurs well for growth assets generally in 2021.
We are likely to see a continuing shift in performance away from investments that benefitted from the pandemic and lockdowns - like technology and health care stocks and bonds - to investments that will benefit from recovery - like resources, industrials, tourism stocks and financials.
Global shares are expected to return around 8% this year but expect a rotation away from growth heavy US shares to more cyclical markets in Europe, Japan and emerging countries.
Australian shares are likely to be relative outperformers helped by: better virus control enabling a stronger recovery in the near term; stronger stimulus; sectors like resources, industrials and financials benefitting from the rebound in growth; and as investors continue to drive a search for yield benefitting the share market as dividends are increased resulting in a 4.5% grossed up dividend yield. Expect the ASX 200 to end 2021 at a record high of around 7200.
What about Aussie house prices?
Australian home prices are likely to rise another 5% to 10% this year and next being boosted by record low mortgage rates, government home buyer incentives and the recovery in the jobs market but the stop to immigration and weak rental markets will likely weigh on inner city areas and units in Melbourne and Sydney. Outer suburbs, houses, smaller cities and regional areas will see relatively stronger gains in 2021.
And bank deposits?
Cash and bank deposits are likely to provide very poor returns, given the ultra-low cash rate of just 0.1%.
How's the Aussie dollar looking?Although the $A is vulnerable to bouts of uncertainty and RBA bond buying will keep it lower than otherwise, a rising trend is likely to remain over the next 12 months helped by rising commodity prices and a cyclical decline in the US dollar, probably taking the $A up to around $US0.85 by year end.