While the US S&P 500 fell slightly over the last week on the back of rising new coronavirus cases and tightening restrictions in the US, other major global share markets rose helped by good vaccine news. Australian shares continued to recover, with hopes that quick action will limit a Covid outbreak in South Australia. As economic data continued to surprise on the upside, gains were led by financials, energy, retail, health and industrial stocks. Bond yields fell and oil, metal and iron ore prices rose, as did the Australian dollar against a falling $US.
While shares are vulnerable in the short term to rising US coronavirus cases and possible hand grenades from President Trump, the break higher in many share markets, including Australian shares in recent weeks, has paved the way for more gains over the next 6-12 monthson the back of ultra-easy monetary policy, massive fiscal stimulus and the recovery in economies and profits getting a boost next year as vaccines are deployed.
The past week saw more good news on vaccines, with Moderna's vaccine showing 94.5% effectiveness in preliminary results and Pfizer's moving up to 95%, as more results came through and both showed no significant safety problems. Pfizer is now applying for US emergency use. This is all good news in that now two vaccines based on similar technology (called messenger RNA) have had very good results. There is a fair way to go yet as we still don't know how long protection lasts, whether there may be resistant strains and more results are needed regarding safety. While wide distribution could start in months if they are approved, it will probably take at least 6-9 months for broad enough coverage in developed countries (longer for the whole world) to get back to normal. But the light at the end of tunnel is getting brighter.
However, the problem right now with coronavirus remains intense. While Europe has seen new cases roll over reflecting the return to lockdowns a few weeks ago, which will take pressure off hospitals, the US is seeing a continuing surge in cases, Japan is seeing a third wave, Canada is running at 5,000 cases a day and emerging countries have ticked up again.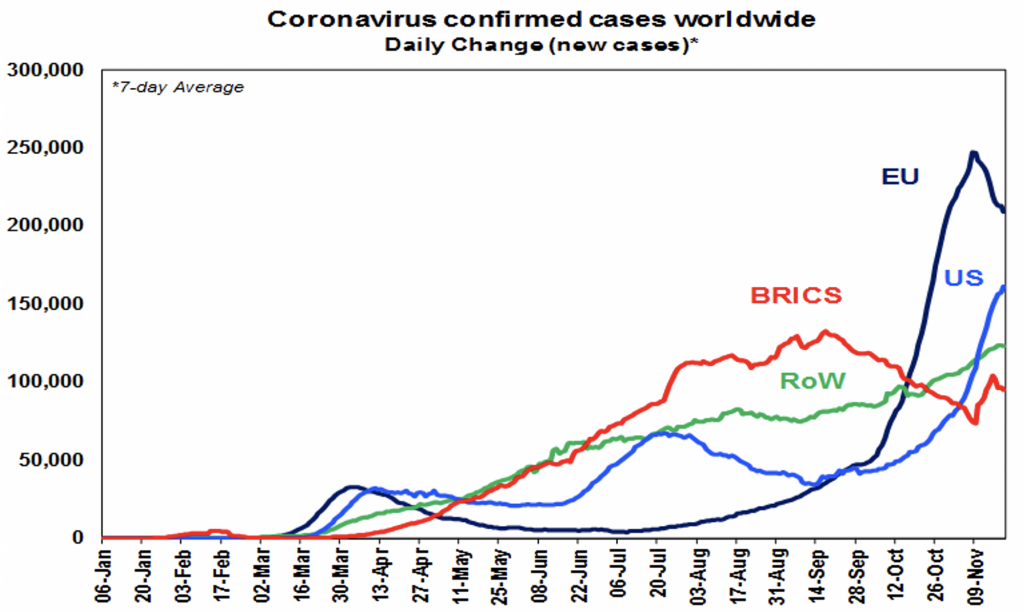 Deaths in the US are rising rapidly and hospitalisations continue to rise above their August high, which is forcing tightening restrictions, including New York City, which has shut schools, to avoid an over run of the medical system.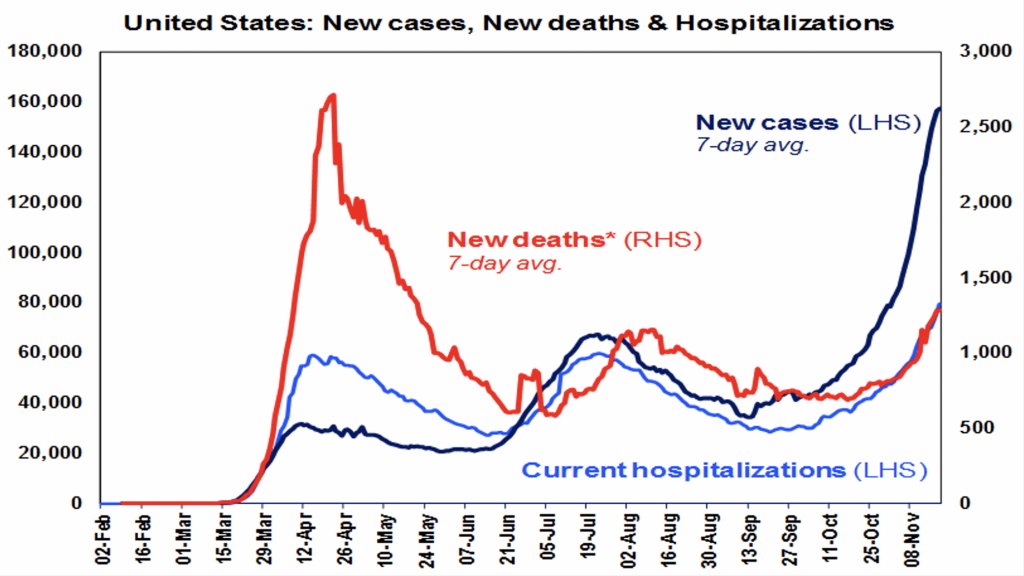 This is all seeing more countries migrate from moderate and intermediate lockdowns to severe lockdowns, albeit for the most part they are not as severe as seen earlier this year.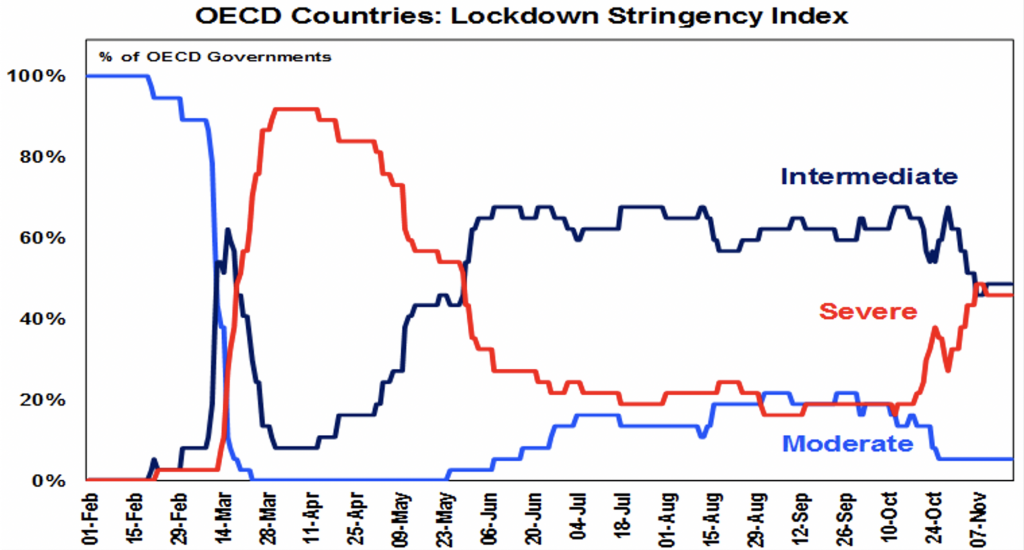 European economic data is slowing down again reflecting the return to lockdowns.This is evident in our European Economic Activity Trackers which continued to slow over the last week.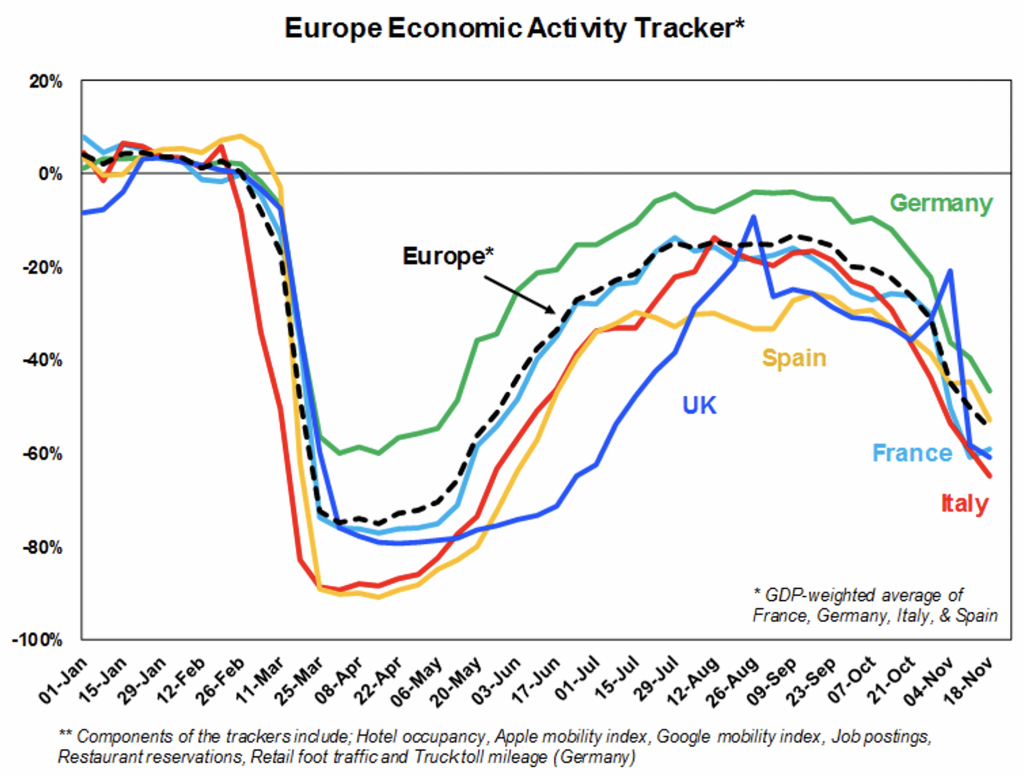 Our US Economic Activity Tracker rose slightly over the last week, but remains in a slight downtrend as the resurgence of new coronavirus cases and tightening restrictions impacts in the US. Some slowing in the US recovery looks certain in the months ahead. The good news is that stimulus negotiations look set to resume and Congressional leaders are in talks to head off a December 11 government shutdown. The bad news is that Treasury Secretary Mnuchin has declined to extend five of the nine Fed emergency credit programs beyond 31 December and asked for the return of unused funds. The Fed has rightly objected to the instruction as it risks tightening financial conditions at the wrong time. The Fed is likely to ramp up QE in response but it's a second-best move in terms of credit conditions. Mnuchin's move looks designed to make life tougher for Biden.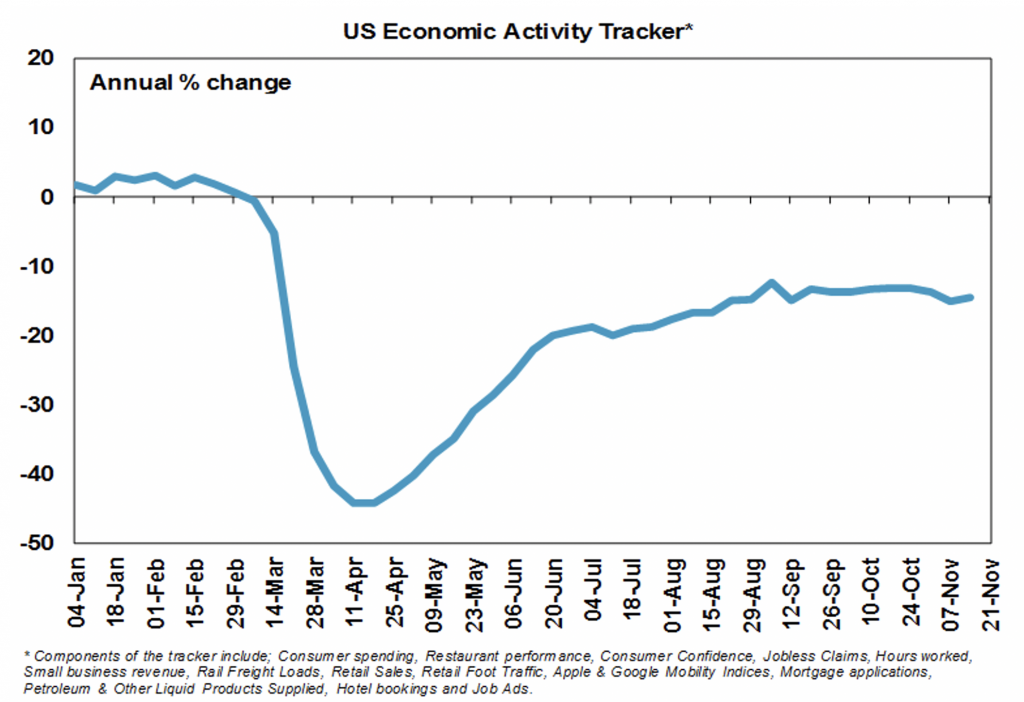 Unfortunately, while new coronavirus infections remain very low in Australia (still averaging less than 20 a day with most being returned travellers) it has seen a new scare in South Australia with a cluster of cases linked to transmission from hotel quarantine. While local transmission is small (26 at the time of writing), the strain of Covid brought in from the UK is reported to be highly contagious and has a 24 hour incubation. The lesson from China, Victoria and elsewhere is that the earlier a lockdown is started, the quicker the outbreak is brought under control and economic damage can be minimised. So, SA has introduced a severe six-day lockdown as a circuit breaker – which should more than cover the incubation period for the current strain. The national economic impact from SA's lockdown is likely to be minor versus Victoria's as hopefully this lockdown being earlier will be far shorter and because SA is only 7% of the Australian economy compared to 25% for Victoria. Fingers crossed. But yet again, Australia's ultra-low tolerance for the virus is being demonstrated, which adds to confidence that deaths will be minimised and the economy can continue to reopen with confidence. So far, Australia has had 907 deaths from coronavirus. If we had the same approach as the US with the same deaths per capita, we would have had 19,000. So that's more than 18,000 people saved. Thankfully I live in The Lucky Country run by sensible people.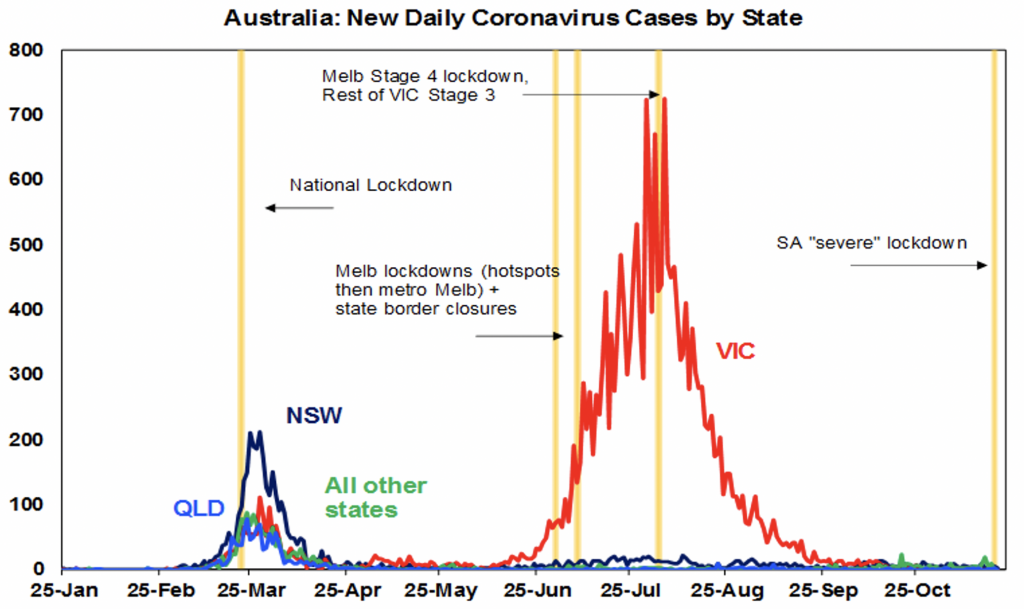 In the meantime, helped along by the reopening in Victoria, our Australian Economic Activity Tracker rose further over the last week and is trending up nicely helped by Victoria's reopening consistent with ongoing recovery. Most components are trending up.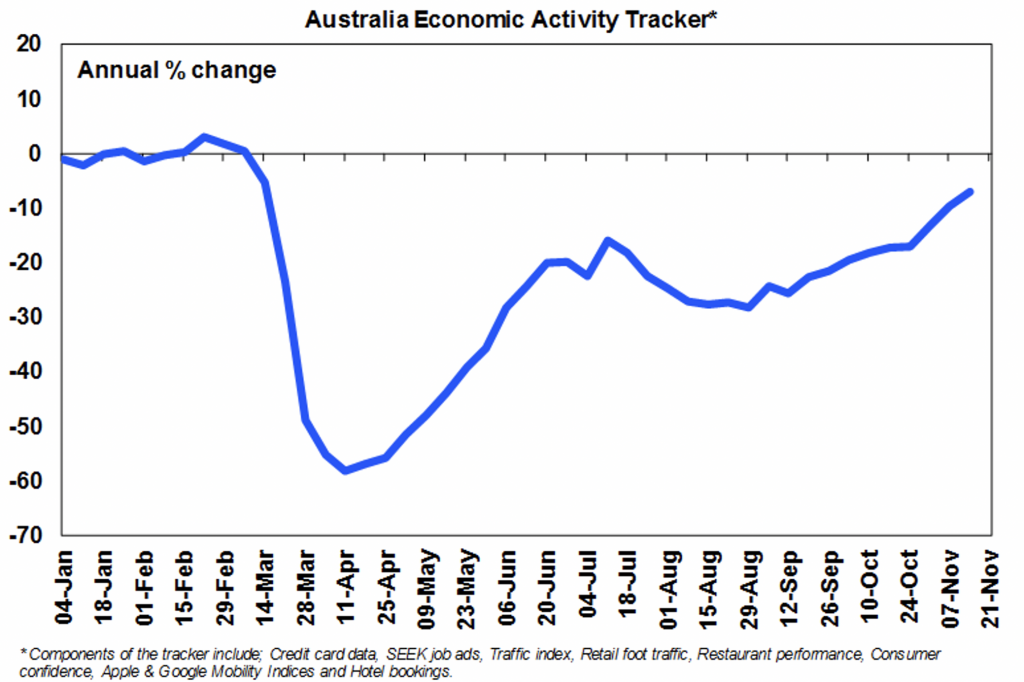 On the road to recovery
While noting that the pandemic will leave its mark on the economy including via higher unemployment, RBA Governor Lowe struck a generally optimistic note over the last week seeing Australia as being "on the road to recovery". But from his speech and the minutes from the last board meeting the overall dovish message from the RBA remains – while negative interest rates can't be ruled out if say the Fed goes down that path they remain extraordinarily unlikely with the focus now being on quantitative easing of which the RBA is prepared to do more of if needed. However, its hardly surprising that he is not too keen on Modern Monetary Theory (of which he points out there is not much really off all three in MMT) on the grounds its hard to fine tune fiscal policy, the pollical system may find it hard to just turn off monetary financing once inflation picks up and there is no free lunch. While I have no problem with what the RBA is doing now in terms of QE, I must profess to having similar concerns to Governor Lowe with full blown MMT.
Aussie economic events & implications
Australian economic data was mostly good consistent with reopening and the uplift in the Economic Activity Tracker referred to earlier. On the jobs front, employment rose by a surprisingly strong 179,000 in October as Victoria started to reopen but unemployment rose to 7% as participation rose. So far, 75% of the jobs lost in April and May have been recovered. The bad news is that unemployment and underemployment remain high and the return of the remaining 225,000 or so lost jobs will likely occur more slowly and this will weigh on wages growth, which slowed to a record low of 1.4% over the year to the September quarter. The good news is that recovery so far has come through faster than expected – thanks to good virus control and massive government support measures – and effective unemployment has plunged to 7.8% from 14.9% in April holding out the prospect that we may now have seen the worst in terms of unemployment.
In terms of other data, retail sales rose 1.6% in October as Victoria started to reopen leaving them well above trend partly due to the diversion of spending from services and travel to retail goods and eating out, SEEK new job ads continue to recover, new home sales remained elevated in October helped by HomeBuilder and the value of loans with deferred repayments has fallen 65% from its mid-year peak, as more borrowers resume repayments in turn heading off a surge in distressed property sales.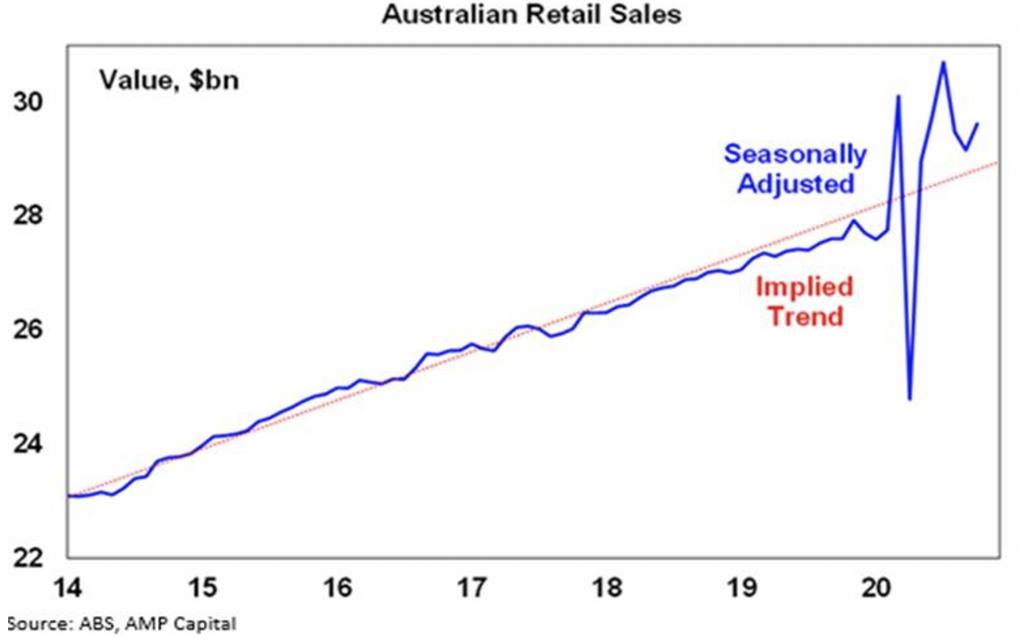 According to an ABS survey 40% of Australians are still working from home at least one day a week and 30% are doing so on most days. Working from home will likely drift down as the medical threat eventually declines but it's likely to settle around 2-3 days a week for most office workers being an optimal trade-off in terms of the need for team work and collaboration versus productivity, work life balance and reduced transport costs.
What to watch this week…
In the US, expect November business conditions PMIs (today) to fall back a touch from strong readings for October due to rising coronavirus cases and tightening restrictions, consumer confidence to also weaken but home prices to show solid gains (both due tomorrow), growth in durable goods orders and personal spending for October to slow a bit but new home sales (all due Wednesday) to show a solid rise. The minutes from the Fed's last meeting (also Wednesday) are likely to be remain dovish and core private final consumption deflator inflation for October is expected to have fallen to 1.4% year on year.
Australian business conditions PMIs for November (today) are likely to have remained solid reflecting Victoria's reopening. September quarter construction data (Wednesday) is expected to show a 0.6% gain and September quarter business investment (Thursday) is expected to have risen 0.4% - both after falls in the June quarter. Key to watch will be business investment intentions for the current financial year which we expect to rise. Victoria's budget (tomorrow) will be watched for more policy stimulus and for whether it follows NSW down the path away from stamp duty.
Outlook for investment markets
Shares remain vulnerable to further short-term volatility given uncertainties around coronavirus, economic recovery and President Trump. But we are now into a seasonally strong period of the year for shares, and on a 6 to 12-month view, shares are expected to see good total returns on the back of ultra-low interest rates and a pick-up in economic activity helped by a possible vaccine.
Low starting point yields are likely to result in low returns from bonds once the dust settles from coronavirus.
Unlisted commercial property and infrastructure are ultimately likely to benefit from a resumption of the search for yield but the hit to economic activity and hence rents from the virus will weigh heavily on near term returns.
Australian home prices at present are being boosted by ever lower interest rates, government home buyer incentives, income support measures and bank payment holidays but higher unemployment, a stop to immigration and weak rental markets will likely weigh on inner city areas and units in Melbourne and Sydney into next year. Outer suburbs, houses, smaller cities and regional areas are in much better shape.
Cash & bank deposits are likely to provide very poor returns, given the ultra-low cash rate of just 0.25%. Although the $A is vulnerable to bouts of uncertainty about coronavirus, the economic recovery and China tensions and RBA bond buying will keep it lower than otherwise, a continuing rising trend is likely to around $US0.80 over the next 12 months helped by rising commodity prices and a cyclical decline in the US dollar.