Australian economic events and implications
It was a relatively quiet week for Australian economic data releases but what there was provided a mixed picture in terms of the size of the hit from the lockdowns. ABS payroll data showed payroll jobs down 3.5% since mid-June and those in NSW down nearly 9% which is worse than seen in last year's lockdown. Victorian payrolls jobs are down but are yet to fully reflect its lockdown. Against this the payroll report tends to exaggerate actual job losses and they may look bigger in NSW because last year JobKeeper kept workers on payrolls and consumer confidence as measured by the weekly ANZ/Roy Morgan survey and job ads as measured by the ANZ, Seek and other surveys are holding up far better this time around. Meanwhile the MI Inflation Gauge fell 0.1% in August with more items up in price than down, although it's up 2.3% year on year.
Mixed readings on lending standards. Key APRA metrics relating to housing lending standards were mixed in June. The share of interest only loans and high loan to valuation ratio loans declined in the June quarter, but the share of high debt to income ratio loans rose to a record. The contrast is hard to reconcile but the latter is more consistent with the continuing acceleration in house prices, debt, investor lending and average loan sizes. We continue to expect APRA action to tighten lending standards but given the mixed metrics and lockdown uncertainty it may not come until sometime next year.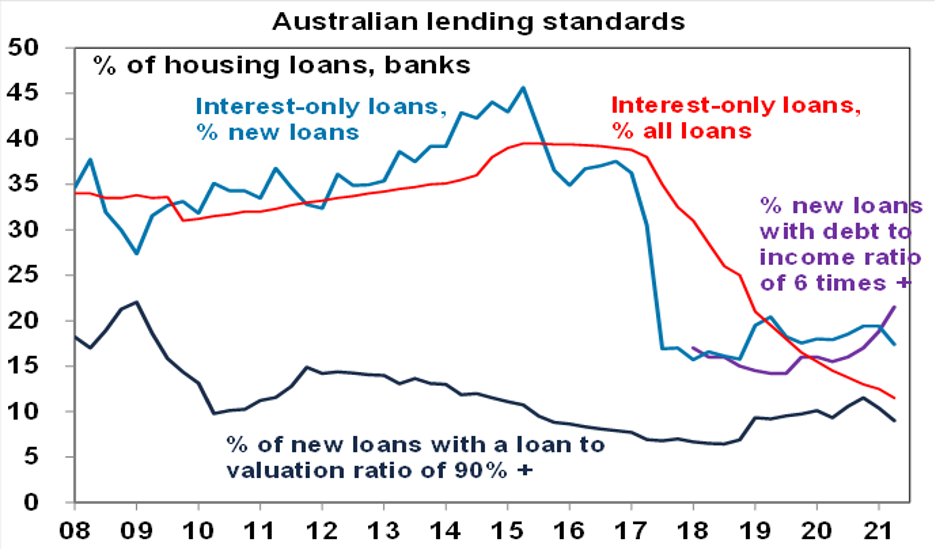 What to watch over the next week?
In the US, the focus is likely to be back on inflation with the August CPI (Tuesday) expected to show monthly inflation off its highs but still elevated as supply constraints impact and annual core inflation remaining at 3.3% year on year. In other data, expect a fall in August small business optimism (Tuesday) and retail sales (Thursday) reflecting the Delta outbreak, but a modest gain in industrial production (Wednesday) and stronger September readings for the regional manufacturing surveys (Wednesday and Thursday) and consumer sentiment (Friday).
Chinese August data for industrial production, retail sales and investment (Tuesday) are likely to slow further due to covid restrictions (but should improve this month as restrictions have since been relaxed).
In Australia, August jobs data due for release on Thursday is expected to show a big hit from the lockdowns. While hours worked will bear the brunt of the impact, we expect a 250,000 decline in employment due mostly to NSW and unemployment to spike to 5.5%, with a decline in participation to 65.4% (from 66%) partly muting the rise in unemployment. Both business confidence as measured by the NAB survey (Tuesday) and consumer confidence in the Westpac/MI survey (Wednesday) and expected to be subdued relative to recent highs but to remain well above last year's lockdown lows. ABS home price data for the June quarter (Tuesday) is expected to show a 6% gain based on private sector dwelling price data already released. A speech by RBA Governor Lowe (Tuesday) will no doubt reiterate the RBA's "glass half full" optimism but also indicate that it remains dovish on rates and prepared to extend bond buying if needed.
Outlook for investment markets
Shares remain vulnerable to a short-term correction with possible triggers being coronavirus, the inflation scare and US taper talk, likely US tax hikes and a debt ceiling standoff and geopolitical risks. But looking through the short-term noise, the combination of improving global growth and earnings helped by more fiscal stimulus, vaccines ultimately allowing a more sustained reopening and still low interest rates augurs well for shares over the next 12 months.
Expect the rising trend in bond yields to resume as it becomes clear the global recovery is continuing resulting in capital losses and poor returns from bonds over the next 12 months.
Unlisted commercial property may still see some weakness in retail and office returns but industrial is likely to be strong. Unlisted infrastructure is expected to see solid returns.
Australian home prices look likely to rise by around 20% this year before slowing to around 7% next year, being boosted by ultra-low mortgage rates, economic recovery and FOMO, but expect a progressive slowing in the pace of gains as poor affordability impacts, government home buyer incentives are cut back, fixed mortgage rates rise, macro prudential tightening kicks in and immigration remains down relative to normal. The lockdowns have also increased short term uncertainty.
Cash and bank deposits are likely to provide poor returns, given the ultra-low cash rate of 0.1%. The setback from coronavirus lockdowns could push the first rate hike back into 2024.
Although the $A could pull back further in response to the latest coronavirus outbreaks, the threats posed to global and Australian growth and falling iron ore prices, a rising trend is likely over the next 12 months helped by strong commodity prices and a cyclical decline in the US dollar, probably taking the $A up to around $US0.80.
Eurozone shares fell -0.3% on Friday and the US S&P 500 lost -0.8% on the back of ongoing worries about the growth outlook. Reflecting the soft global lead ASX 200 futures fell -28 points, or -0.4%, pointing to a soft open for the Australian share market on Monday.