Share markets were flat to down over the last week. Good economic activity data, strong earnings and more US stimulus saw US shares push to a new record high, but they ended flat for the week with inflation concerns resurfacing on Friday. Eurozone shares fell -0.5% over the last week, Japanese shares fell -0.7% and Chinese shares lost -0.2%. For April as a whole US shares rose 5.2% and global shares gained 3.9%. While Australian shares gained 3.5% in April, they fell -0.5% over the past week as the local market continues to work off technically overbought conditions after its early April surge. Weakness in retailers, IT, health and telco stocks particularly weighed on the Australian share market over the last week. Bond yields rose in most major countries. Oil, metal and iron ore prices rose. The $A fell despite a fall in the $US.
First the bad news. US inflation fears were boosted late in the last week by data showing a slightly stronger than expected rise in core personal consumption deflator inflation and a pickup in wages growth. And the latest rise in new global coronavirus cases and deaths continued over the last week, with India accounting for over 40% of new cases globally. New cases and deaths are declining in developed countries – with the US trending down and Europe slowing again, although Japan still has a problem and has announced a third state of emergency.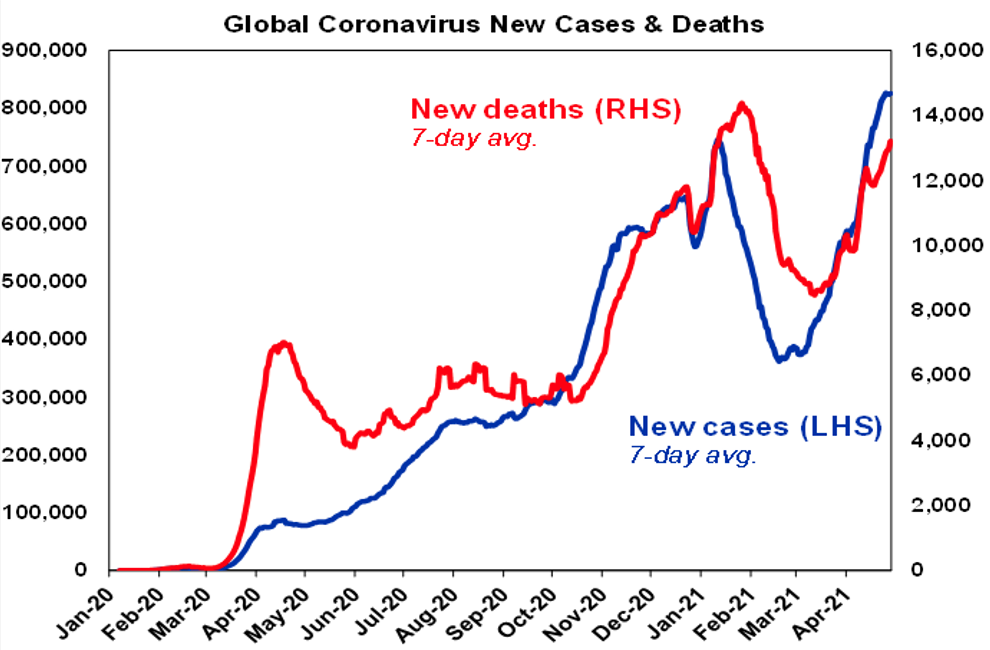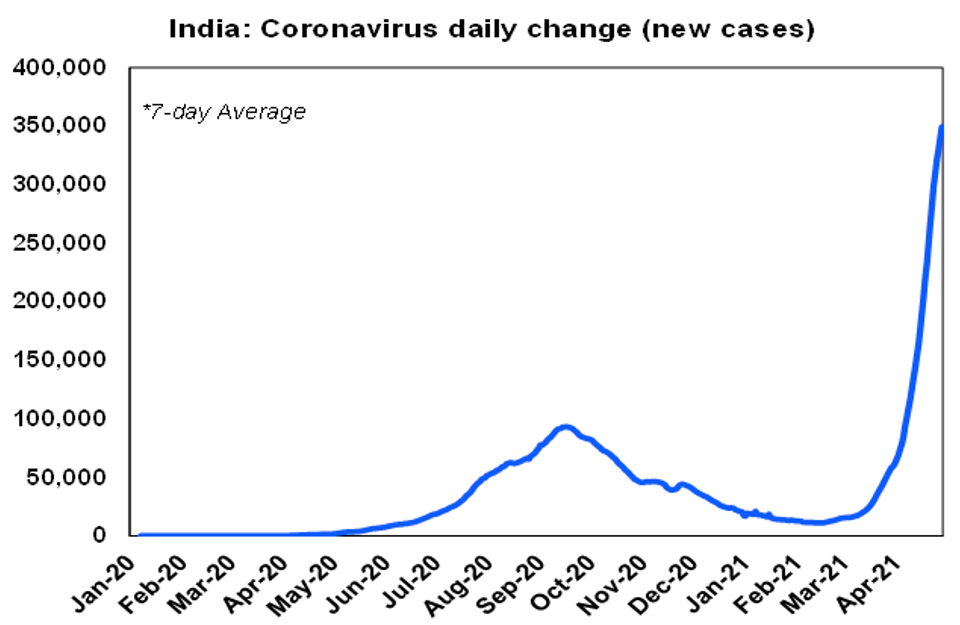 Fortunately, new cases in Australia remain low and due to returned travellers and the snap lockdown in Perth worked in limiting another breakout from the quarantine system.
More broadly, the good news continues to dominate globally. First, the vaccination rollout is continuing - and they work. So far around 8% of the global population has now received one dose of vaccine – with 44% in advanced countries and 6% in emerging countries. Within developed countries the UK is leading the charge at 51%, the US is at 44%, Europe is at 23% with Australia well behind at around 8% (but picking up).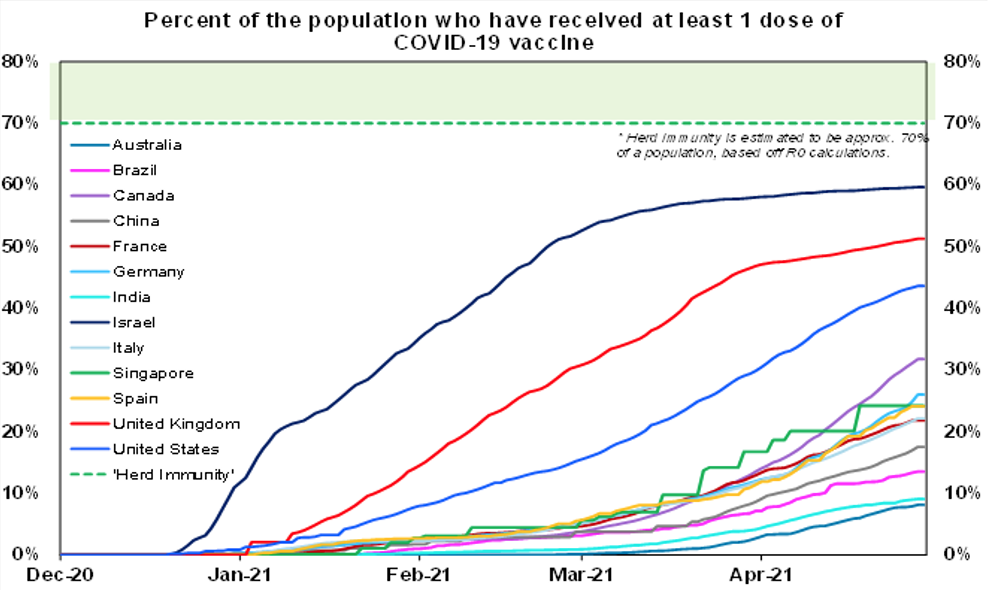 In developed countries the main risks relate to reopening before herd immunity is reached and hesitant take-up (following the bad headlines around the vaccines). The damage from the former is being minimised by vaccinating older/at risk groups and the issue of take up can be resolved by "vaccine passports" – with, eg, the EU talking of allowing American tourists back if they are vaccinated. Meanwhile, surging vaccine production will see vaccination in emerging countries accelerate.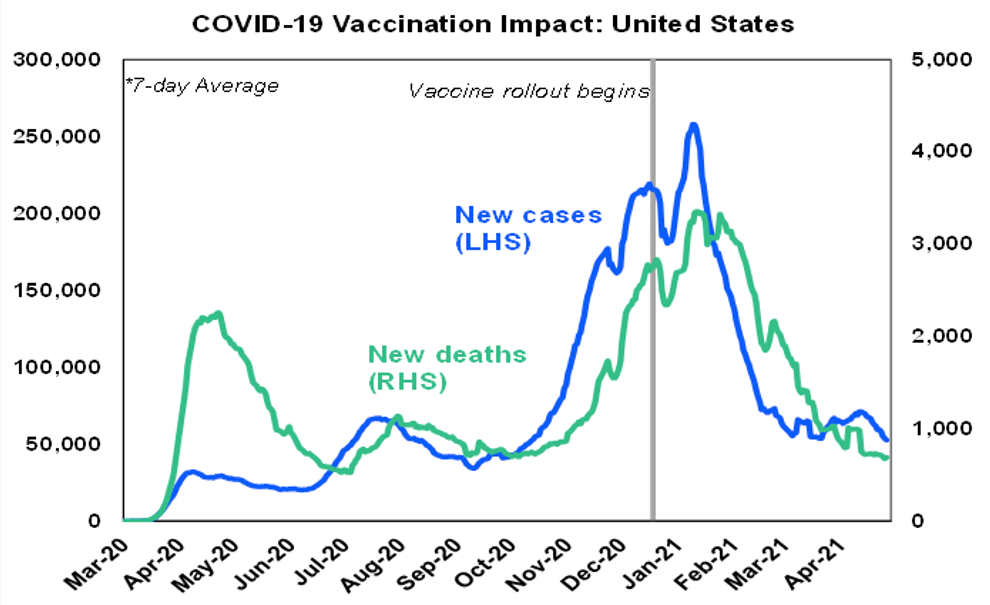 Secondly, stimulus continues. President Biden confirmed his American Families Plan with an extra $1.8 trillion in spending over 10 years on childcare, education and paid leave partly funded by tax hikes including an increase in the top income tax rate rate, an increased capital gains tax rate for very high income earners (just 0.3% of taxpayers) and increased auditing of high income earners. As with the proposed increase in the corporate tax under the American Jobs Plan, the increase in top personal and capital gains tax rates will likely be watered down by Congress and there is an offsetting boost to spending which given that its focussed on lower income earners should boost corporate revenue. So, the US share market reaction was positive. Bear in mind though that both the $2.25trn American Jobs Plan and the $1.8trn American Families Plan are both spread out over a decade or so and won't start till next year so the additional stimulus is minor compared to the $5trn paid out in relation to the pandemic stimulus. And both plans face challenges in getting through Congress.
Meanwhile, also in the US the Fed remains very dovish. While it was more upbeat on the economy and noted that inflation has risen it still sees the latter as "transitory" with Fed Chair Powell indicating there is still significant slack in the economy, "it will take some time before substantial further progress" is made towards its goals and so its too early to be "talking about tapering" its bond buying. We expect the taper talk at the Fed to start around September though. Other central banks remain very dovish too including the ECB, Bank of Japan and the RBA with inflation readings remaining soft in Europe, Japan and Australia over the last week in contrast to the increase underway in the US.
Thirdly, economic data remains consistent with global recovery. US GDP surged 6.4% at an annualised rate in the March quarter and Eurozone economic sentiment surged to historically high levels in April pointing to a strong recovery once covid settles.
Finally, consistent with this, profits are continuing to surprise on the upside. This is most evident in the US where consensus expectations for March quarter earnings per share growth have jumped from 21%yoy at the start of the current earnings reporting season to +42%yoy now.
Given all this, our assessment remains that share markets will head even higher this year as recovery continues and this boosts earnings. However, investor sentiment is very bullish which is negative from a contrarian perspective and we are coming into a seasonally softer period of the year for shares as the old saying "sell in May and go away…" reminds us. A resumption of the bond tantrum as US inflation rises further in the months ahead, US tax hike concerns if Congress does not pare back some of Biden's tax hikes, coronavirus setbacks and geopolitical risks (around US/China tensions, Russia and Iran) could all provide a trigger for a correction. It would likely be just another correction though. Our ASX 200 forecast for year-end remains 7200.
In Australia, going by a speech by Treasurer Josh Frydenberg in the past week, the Budget on May 11 is likely to see a continuing focus on supporting recovery - prioritising job creation to push unemployment below 5% - to help drive the budget deficit lower rather than adopting fiscal austerity. Key elements are likely to include:
an upgrade to growth forecasts; 
an extra $2.5bn a year in aged care spending; 
measures to help boost women's economic security including changes to help women bolster their superannuation balances; 
possibly increased childcare rebates (although this could be delayed until closer to the next election); 
more targeted industry support measures; 
extra spending on mental health, disability services, climate, infrastructure and skills;
some possible tax reforms and deregulation; 
a possible lifting of the home price caps for the First Home Loan Deposit Scheme;  
an extension of the Low and Middle Income Tax Offset (LMITO) to cover the next financial year; and
much lower budget deficits of $150bn this financial year and $50bn next financial year. The faster than expected economic recovery which means lower than expected welfare spending and increased revenue along with the higher iron ore price (which has the potential to slice $20bn alone of this year's deficit) means that the starting point for the budget deficit this year could be as low as $125bn (down from $214bn projected in the October Budget last year and $198bn in MYEFO) and $40bn next financial year (down from $112bn in the last Budget). However, we are assuming more conservative Government forecasts, extra spending, and a desire to leave some scope for surprise in the bag will see deficits of $150bn and $50bn reported on Budget night. The key though is that it's possible that a return to surplus could be on the cards in five years or so (assuming no new shocks along the way). 
As to where the non-accelerating inflation rate of unemployment (the so-called NAIRU) sits in Australia – new Treasury research suggests its around 4.5% to 5%, the RBA prior to the pandemic suggested it was around 4.5% and Governor Lowe has agreed it could be below 4%. So it's a bit of a guessing game – which is complicated by a still high pool of underemployed. To get wages growth above the 3.5% necessary to sustain inflation around 2-3% will probably require labour underutilisation of around 10% or less which given that its now at 13.5% means we still have a long way to go.
Our Australian Economic Activity Tracker fell over the last week but remains very strong suggesting recovery remains on track. Our US Economic Activity Tracker resumed its recovery but remains down on pre coronavirus levels and our European tracker rose but remains very weak.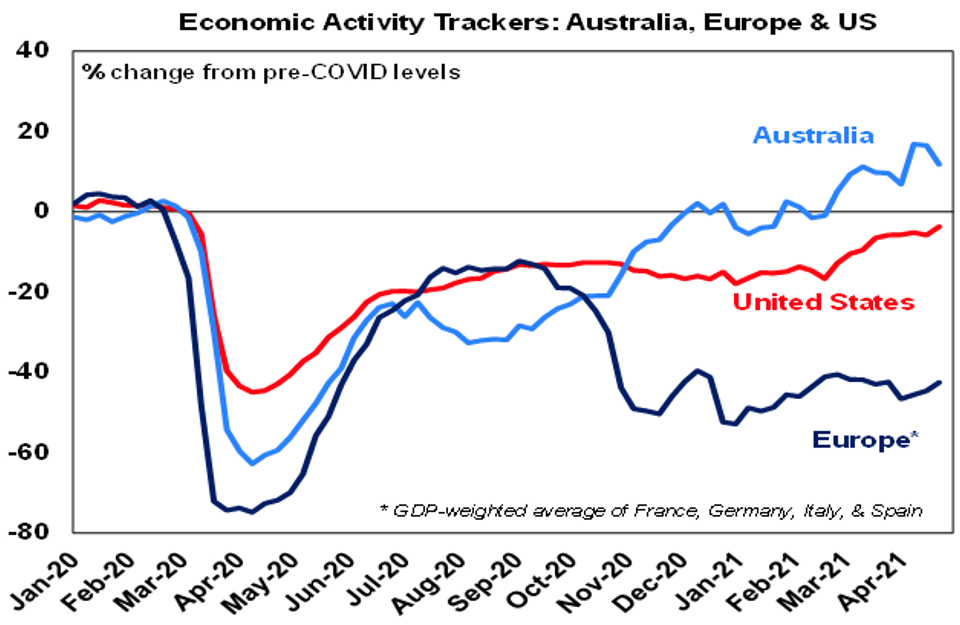 Back in the 1960s/early 70s Detroit didn't just make great cars (over a few years at one stage I had four of them) but it also made great music, particularly that from Motown. Amongst the best at Motown were The Supremes with a string of hits including Baby Love, Stop in the Name of Love and Love Child with Diana Ross on lead vocals. Unfortunately, their songs after Diana left in 1970 are not as well known but are equally as good. I first came across them when listening to Bananarama in the 1980s when they pointed out that Nathan Jones was a cover of a Supremes song from the post Diana Ross period. The Supremes' Nathan Jones was unusual for them in that it saw all three (Mary Wilson who by then was the only original member along with Jean Terrell and Cindy Birdsong sing lead in unison). Other excellent songs from this period included Stoned Love and Up The Ladder To The Roof . Unfortunately, Mary Wilson passed away early this year, leaving only Diana of the original Supremes – Florence Ballard left the group in 1967 and died in 1976.