Global share markets rose again over the last week helped by a good start to the US earnings reporting season, solid economic data and US inflation data not being as bad as feared. For the week, US shares rose 1.8%, Eurozone shares gained 2.5%, Japanese shares rose 3.6% and Chinese shares rose 0.04%. The positive global lead also saw Australian shares rise by 0.6%. Bond yields pulled back a bit, but oil, metal and iron ore prices rose with copper nearly at a new high. The strength in commodity prices helped push the $A back above $0.74. 
Correction risks remain
Cyclical indicators are positive and shares are breaking up through technical resistance. The risk of a further correction remains – as issues around the debt ceiling, US fiscal policy and tax hikes, China's slowdown, the energy crisis and supply constraints and inflation remain. However, we remain of the view that the issues will largely be resolved in a way that does not severely threaten global growth:
A US default is most unlikely;
China won't bail out Evergrande but will restructure it to limit damage to the rest of the economy and will provide economic stimulus; and
Supply constraints will ultimately be resolved as the pandemic recedes, workers return and spending rotates back to services from goods.
The relative resilience of cyclical plays like copper, financials and the $A through the recent correction is a positive sign that the world is not about to plunge back into recession and augurs well for the rising trend in shares continuing over the next 6-12 months. And now share markets look to be shaking off the worries and heading higher again.
IMF forecasts still upbeat
While the IMF expressed concerns about coronavirus, supply constraints and inflation it only revised its global growth forecast this year down to 5.9% and sees 4.9% growth next year. Which is similar to our own view.
La Nina continues. Two years ago the world was into an El Nino weather phenomenon and for Australia that meant hot dry conditions down the east coast, severe bushfires and falling farm production. Fortunately, the Southern Oscillation Index which tracks surface air pressure across the Pacific tipped into La Nina last year and remains there and that suggests cooler wetter conditions down the east coast.
While La Nina has recently copped a bit of flack as a driver of the surge in energy prices in Europe (as utilities stock up on gas ahead of a cold winter – although it could go the other way if La Nina drives more hydro and wind) for Australia, it's usually positive for farm production and helping sustain bushfires to mild levels. Getting covid under control only to go straight back into a severe bushfire season would not have been nice!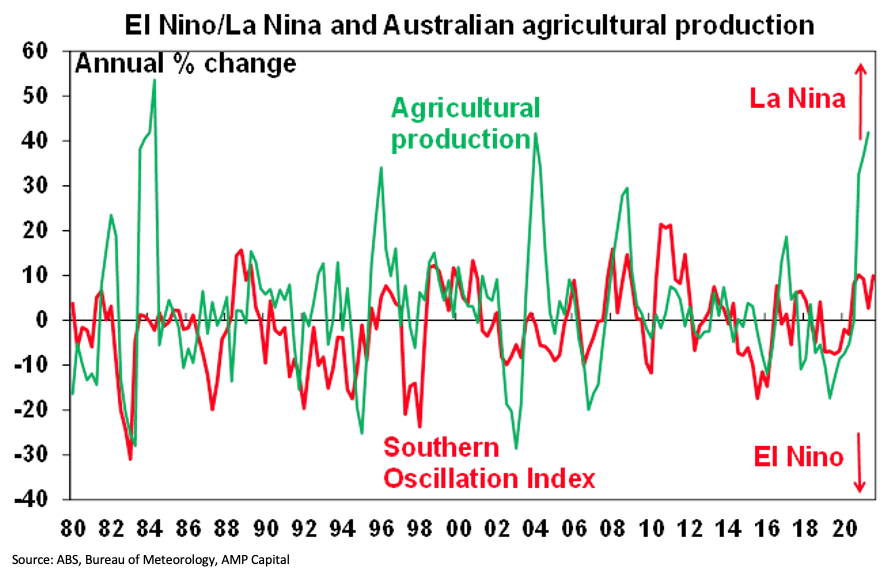 Coronavirus update
There is plenty of reason for optimism. New global coronavirus cases are continuing to fall, with most regions remaining in a downtrend, except Europe, which is mainly due to the UK.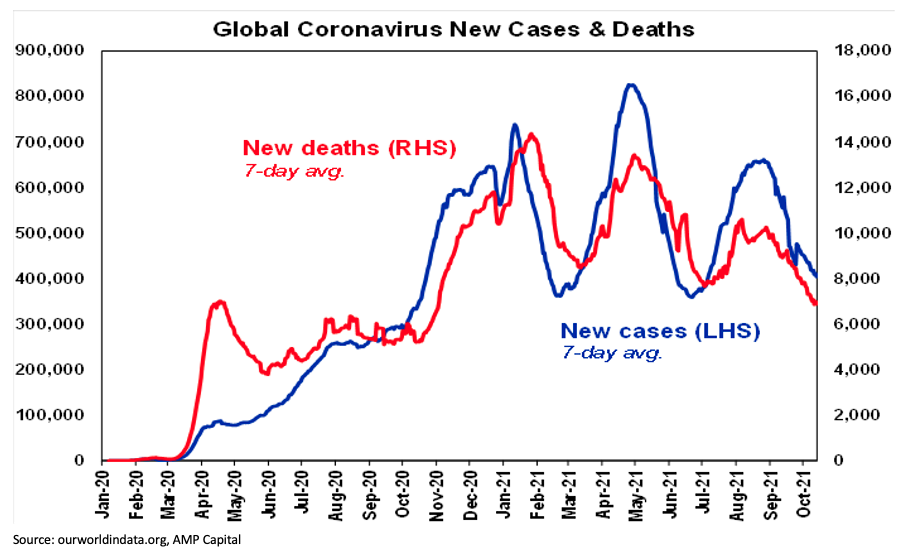 More importantly, new deaths remain subdued relative to past waves. This is particularly evident in developed countries as vaccines have helped prevent serious illness. Deaths in the UK (the red line in the next chart) are running less than 20% below the level suggested by the December/January wave (the dashed line).
While Israel saw a Delta spike in new cases in August and September - likely reflecting waning efficacy for Pfizer vaccinations from earlier this year the level of hospitalisations and deaths remained subdued compared to the previous wave and all are trending down again helped by the administration of booster shots to 42% of the population.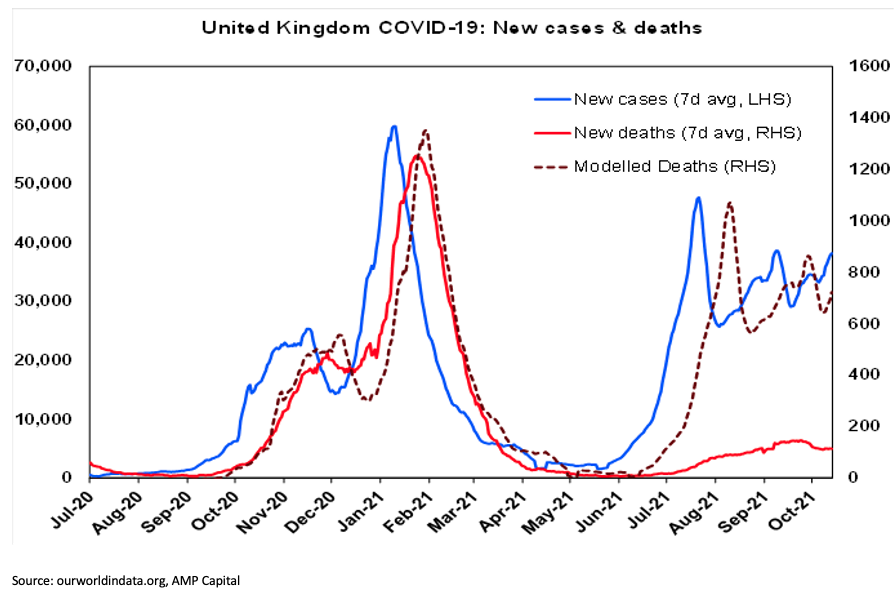 Another coronavirus treatment
Hot on the heals from favourable results Merck's covid treatment pill, results from trials of AstraZeneca's antibody cocktail show a similar halving in the risk of severe illness or death. So there are now more ways to treat patients. These are very useful for high-risk groups for whom vaccines are less effective as well as for the unvaccinated.  
Vaccination rates are continuing to rise, albeit slowly. 50% of people globally and 73% in developed countries have now had at least one dose of vaccine.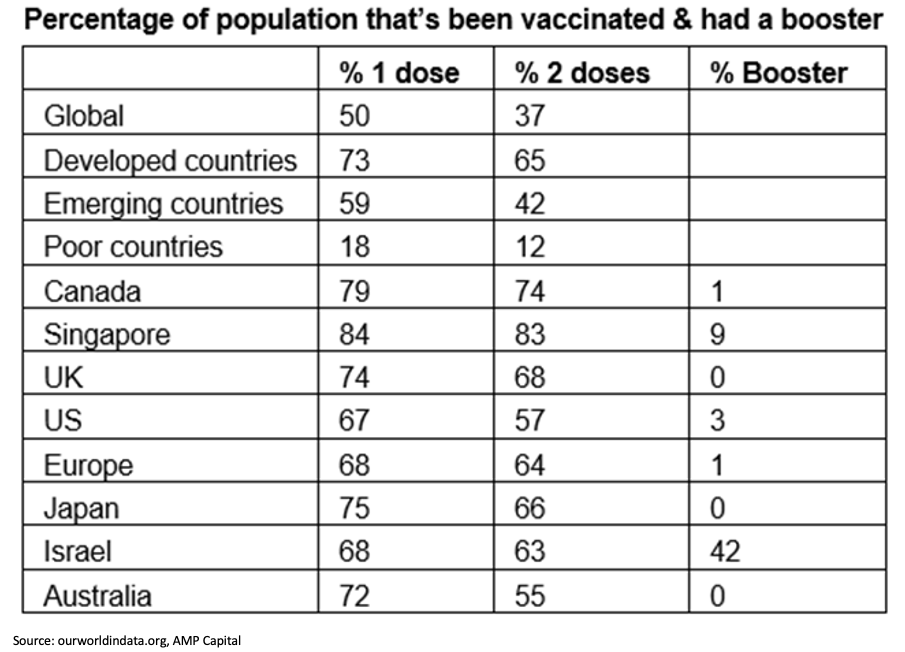 Key risks to watch include: a possible resurgence in cases in the northern winter particularly as vaccine efficacy starts to wear off in some countries in the absence of rapid booster programs; the low level of vaccination in poor countries; and the possibility of more transmissible/more deadly mutations. But so far good.
In Australia, new cases spiked to a new high in Victoria, but if NSW, which led by a month and is continuing to see falling cases, is any guide, Victoria should peak soon.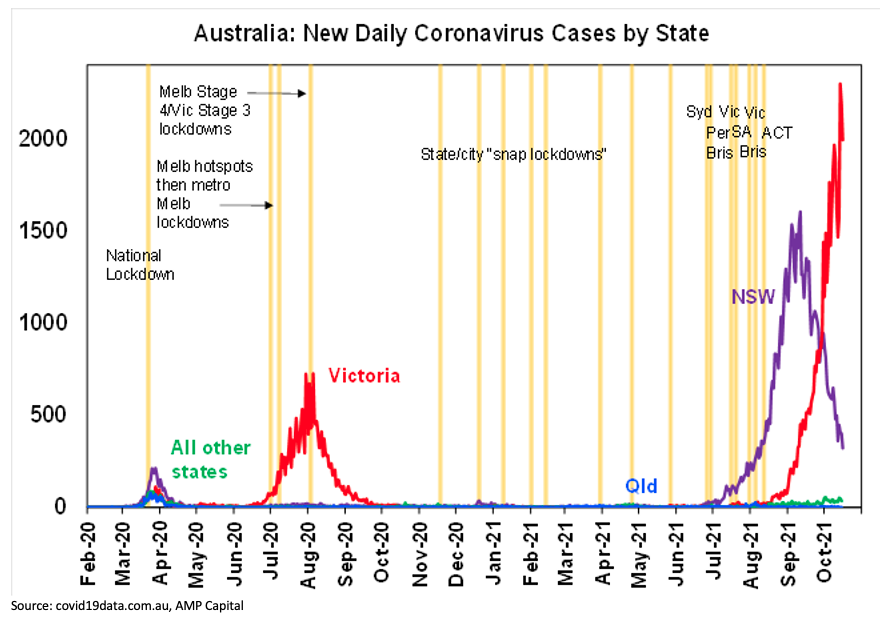 Australia is continuing to vaccinate around 1% or more of the population per day with 72% of Australia's whole population now having had at least one dose, which is well above the US. For first doses for adults, the ACT is now at 98%, NSW is at 91%, Victoria will reach 90% in less than a week and Australia will reach 90% in about two weeks.
Making vaccination a condition of participating in the reopening from locked down states has put a rocket under vax rates. Allowing for current trends and the average gap between 1st and 2nd doses the following chart and table shows approximately when key vaccine targets will be met.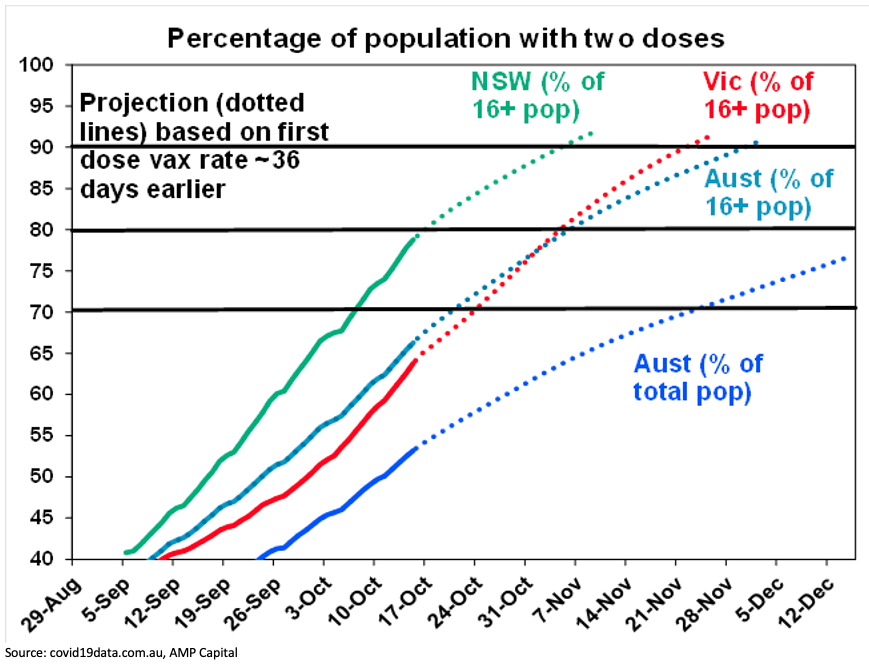 NSW and the ACT will likely hit the 80% of adults double vax target in the next few days, Victoria and Australia (on average) will reach 70% of adults in a week or so.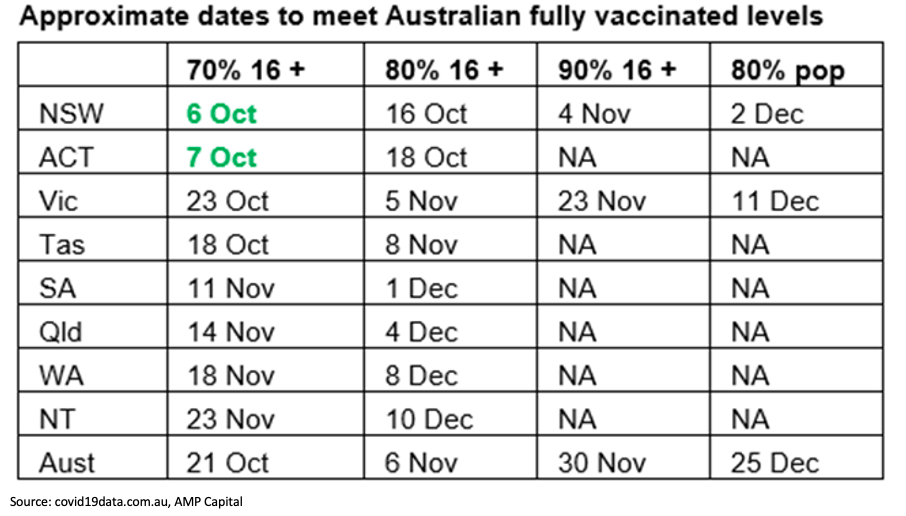 So, based on reaching vaccination targets, the ACT's lockdown has now ended and NSW will move to the second stage of reopening on Monday. NSW is also removing quarantine requirements for returning Australians who are vaccinated and have a negative covid test from November 1. Victoria will start reopening in about a week (cases permitting). Other states and territories will hit the 70% target in mid-November.
The main risk in Australia is that too rapid a reopening in NSW and/or Victoria leads to a resurgence in cases - like Singapore has seen with new cases running around 3000 per day - which overwhelms the hospital system necessitating some reversal in reopening to slow new cases down as seen in Singapore. Note that NSW is still only at 64% of the whole population fully vaccinated compared to 82% in Singapore.
A reversal in reopening would set back the economic recovery again. This could particularly be a risk in the months ahead if vaccine efficacy for those vaccinated earlier this year starts to wear off. A big decline in the lag between vaccine doses in Australia also runs the risk of them being less effective. A less risky approach than just attempting reopening steps to vaccine levels may be to allow three weeks or so between each reopening stage in order to ensure that new cases and most importantly hospitalisations are not surging and overwhelming the hospital system. 
Meanwhile, vaccination is continuing to help keep serious illnesses down. Coronavirus case data for NSW shows that the fully vaccinated continue to make up a low proportion of cases, hospitalisations and deaths.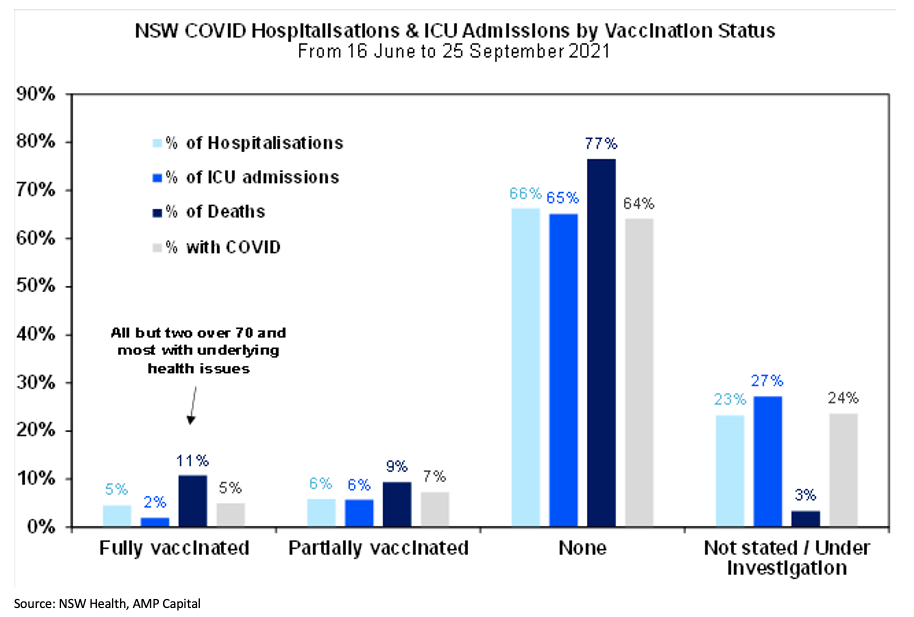 The level of deaths (the red line in the next chart) is running at around 20% of the level predicted on the basis of the previous wave (dashed line). On this basis, the vaccines are helping save roughly 52 lives a day at present.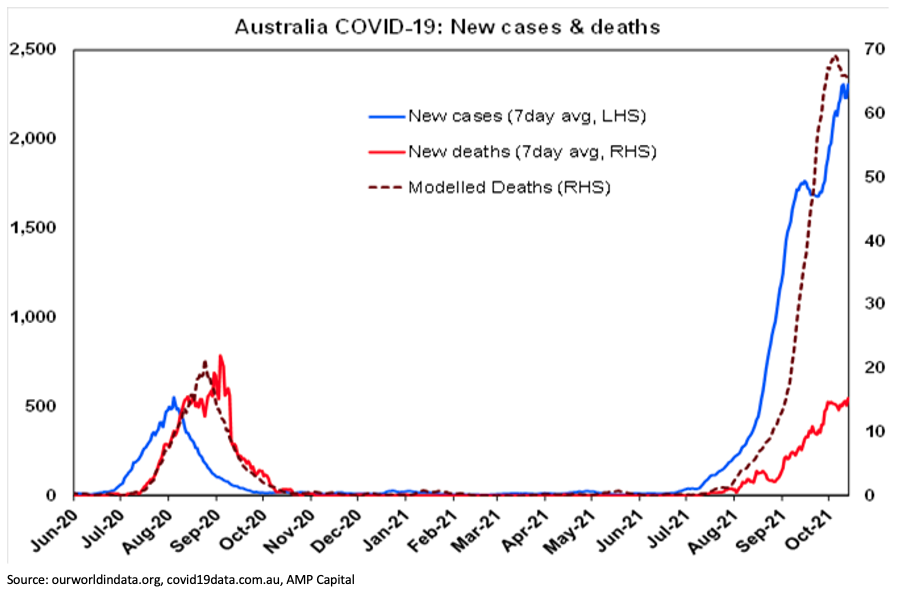 Economic activity trackers
Our Australian Economic Activity Tracker rose further over the last week, helped by the start of reopening. It's likely to move higher in the months ahead as the NSW reopening gathers pace and Victoria reopens soon after. As such it's increasingly certain that GDP will be up this quarter after what we estimate to have been a -4% hit in the September quarter. So, recession averted.
However, given the high coronavirus numbers present in the community, which may result in a degree of consumer and business caution and the risk of a setback, along with only the vaccinated being able to initially participate in the reopening, this recovery will likely be more gradual at first than was the case after last year's lockdowns.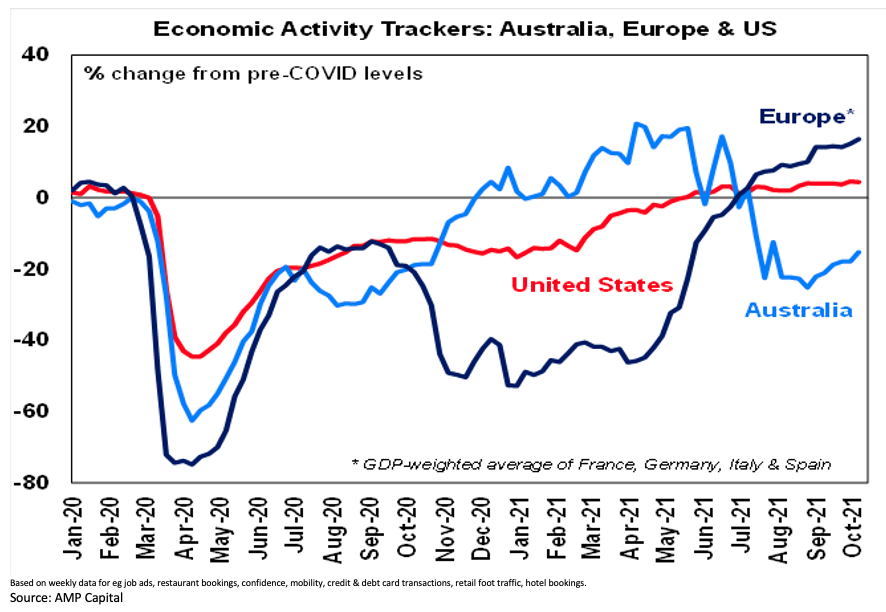 Our European Economic Activity Tracker edged higher over the last week but our US Tracker remains stalled suggesting some loss of momentum in the US recovery.
Epic songs
A typical radio song runs around 2 or 3 minutes but in the late 1960s, The Beatles had tested this with Hey Jude which ran at 7.11 minutes. But just before Jimmy Webb had composed a song called MacArthur Park which was about everything he observed in the park of the same name in LA while catching up with his girlfriend. The song was ultimately recorded by actor Richard Harris, had different movements and time signatures and at 7.21 minutes broke all the rules but made it to #2 in the US and #1 in Australia. It in turn inspired Paul Ryan to write Eloise for his brother Barry Ryan (who unfortunately passed away last month) and it ran 5.5 minutes. Queen's Bohemian Rhapsody at 5.55 minutes is similar.