Global share markets pushed higher again over the last week as the roll out of vaccines and US stimulus optimism offset uncertainties about the near-term impact from lockdowns. US shares rose 1.3%, Eurozone shares gained 1.7%, Japanese shares rose 0.4% and Chinese shares rose 2.3%. While the latest coronavirus outbreak in Sydney weighed on Australian shares on Friday, the local share market still rose 0.5% for a seventh weekly gain in a row helped by the positive global lead and stronger than expected local economic data. Bond yields were flat to up and oil, metal and iron ore prices rose. The surge in commodity prices along with a commitment by the Fed to continue with a high level of QE helped push the $A above $US0.76, with the $US remaining under pressure.
While the ongoing slide in the $US helped push commodity prices higher, it also helped drive Bitcoin decisively through its 2017 high, which in turn triggered a mass of technical buying pushing it above $US23k. As I noted a few weeks ago the $US likely has more downside and bitcoin may have much more upside (eg some technical analysts have it going to $US36k-$US40k) – but its highly speculative & very hard to get a handle on what exactly its worth.
Shares are stretched and at risk of a correction after their strong run up since early November, with coronavirus and associated risks being the main near term threat. However, beyond short term noise more upside is likely as momentum is very strong, the Santa Claus seasonal rally runs from mid-December into January and investors are yet to fully discount the potential for a very strong economic and profit recovery next year as stimulus combines with vaccines and so 2021 is likely to see solid returns. Cyclical recovery shares like resources, industrials and financials are likely to be relative outperformers as the focus shifts from pandemic to recovery, and this should benefit the Australian share market over US shares. The $A is likely to continue to head higher towards our forecast of $US0.80 by end next year on the back of rising commodity prices and a falling US dollar. RBA quantitative easing will likely only be able to slow the $A's ascent as opposed to stop it.
The trend in new global coronavirus cases slowed a bit over the last week, but this looks like just another blip in a still rising trend given the volatility in testing. Emerging countries have slowed a bit, but the US saw a record 247,000 new cases on Friday, Europe seems to be trending slightly up again, with renewed increases in Germany, the Netherlands and the UK. Japan, Canada and Korea remain in rising trends.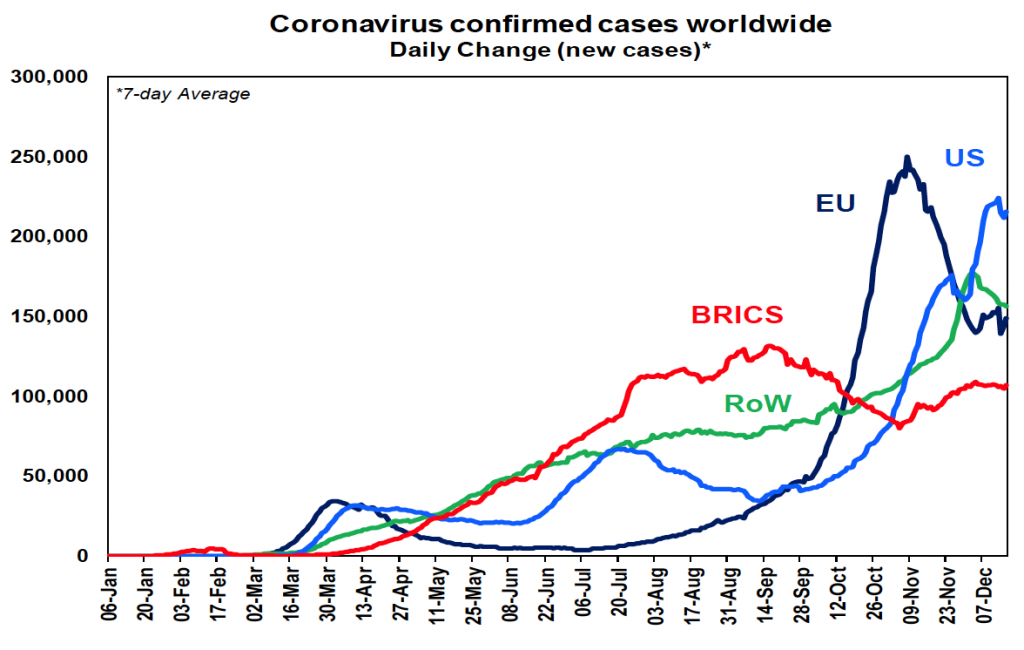 The good news is that thanks to more testing and better treatment the measured mortality rate in developed countries has fallen from 8.5% early this year to around 2%. In may even prove to be lower if everyone was getting tested. But the bad news is that deaths are approaching their April highs and hospitals remain under pressure which in turn is driving more severe lockdowns (eg in Germany and London) or the threat of the same (eg in Korea and New York).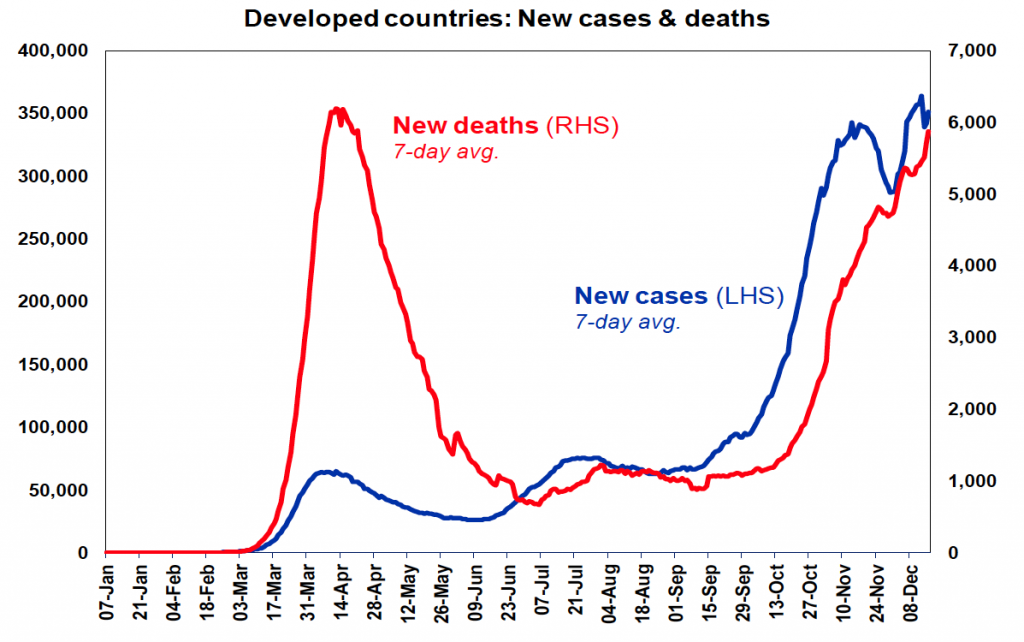 Vaccines are starting to be deployed. They won't deal with the current waves in many countries, although they will help significantly from second half next year with a good chance of the US reaching herd immunity in the September quarter and globally by the end of 2021 or early 2022. This is continuing to help share markets look through the current problems with the virus and its economic impact.
Just when it seemed coronavirus was under control in Australia – its flared up again in Sydney with a growing cluster of cases on Sydney's Northern Beaches. The origin of the covid strain has been confirmed as being overseas but how it got into the community is unclear. So far, the numbers involved are low, but they are rising rapidly (see the next chart) with a further rise almost inevitable given the initial unchecked spreading of the virus through the community up until a few days ago and as testing continues to ramp up. Several factors provide reason for optimism that it can be brought under control without necessitating a harsh Victoria style lockdown: Northern Beaches sewage analysis indicates it was not present as at December 10 so it may be relatively new and hopefully has not spread so far; testing is far more available than earlier this year making detecting and quarantining infected people easier and faster; it should be easier to contain in summer than was the case in Melbourne when everyone was inside in close contact; and the NSW authorities have a good track record in containing coronavirus as evident in the containment of several clusters in NSW over the last six months. However, there is no room for complacency and the outbreak in Victoria started just like this.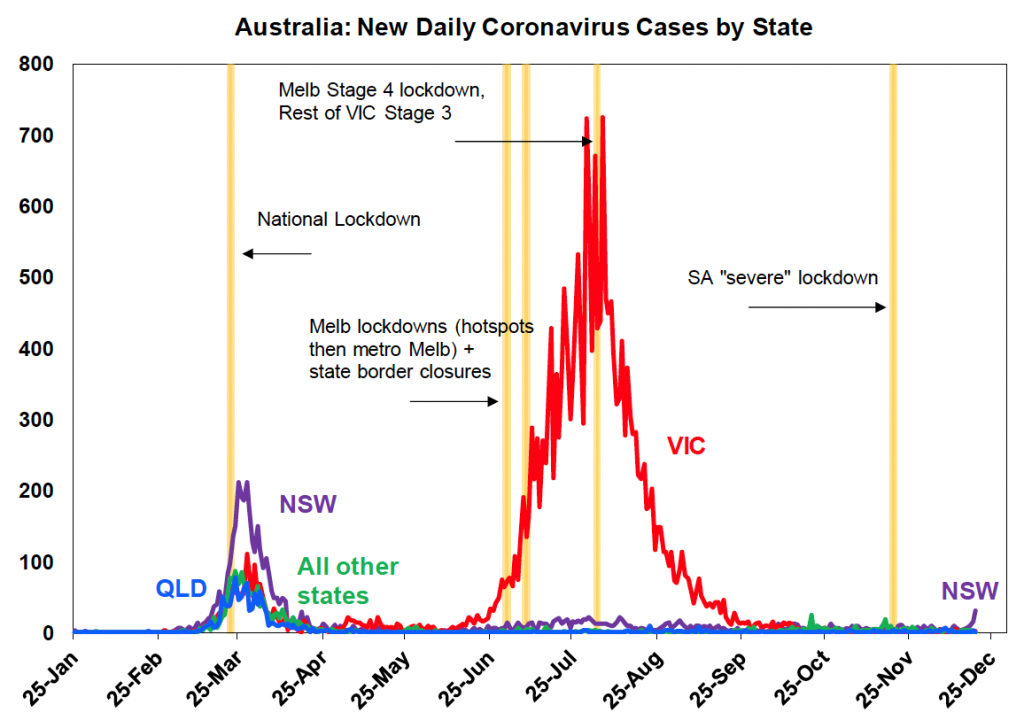 What would be the economic impact of a Sydney/NSW lockdown? So far all 250,000 Northern Beaches residents have been asked to stay at home and with a lockdown running until Wednesday. If this proves to be enough to slow it down and let contact tracers to get on top of it then the economic impact will be trivial. If alternatively, a Victorian style lockdown is ultimately required for Sydney and NSW then it could knock 2.5% (or $12.5bn) or so off national GDP mainly in the March quarter. But as noted above there are reasons for optimism that this extreme will be avoided and that if there is a broader lockdown it will be much shorter than the three months or so seen in Melbourne. As such the economic impact will hopefully be much smaller and not enough to derail the Australian economic recovery. It should also be noted that the situation is far less uncertain economically than going into the March lockdowns given the presence of government support measures, the bank payment holiday and the approaching deployment of vaccines.
Our weekly Economic Activity Trackers remain divergent. In Europe they have continued to move up from their lows and are likely to improve more significantly if lockdowns are eased but that's still a fair way off yet. Our US tracker edged slightly higher but is still down from recent highs pointing to some slowing in economic conditions.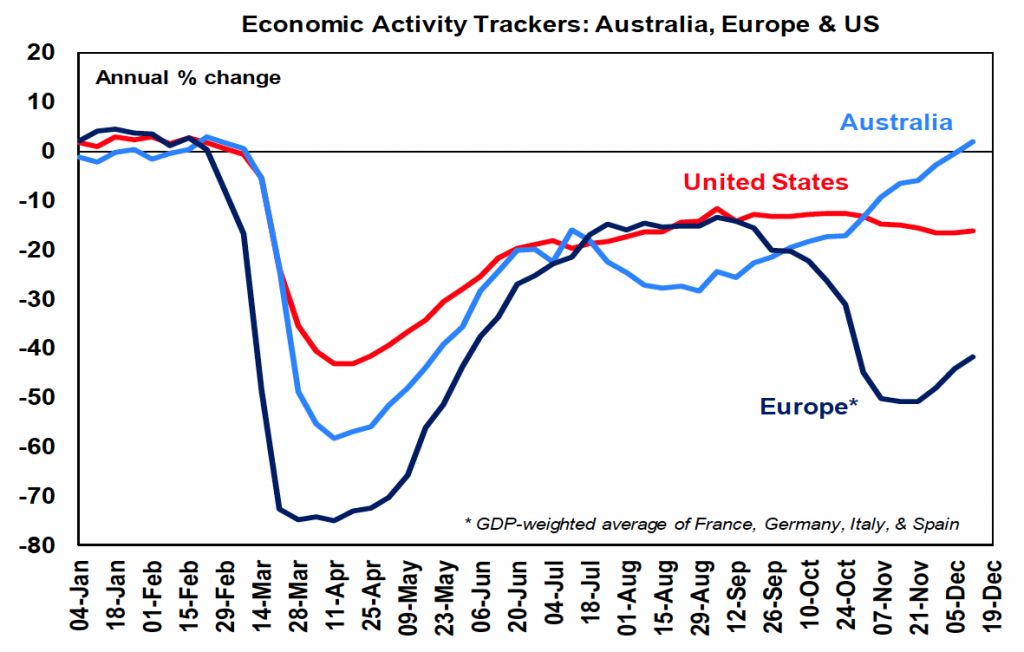 By contrast our Australian Economic Activity Tracker has moved higher to now be up on a year ago with a continuing broad-based improvement. Of course, this was before the latest outbreak in NSW which may cause a bit of a setback depending on how quickly its brought under control. In the meantime, it suggests that the strong rebound in the economy has continued through the current quarter.
It's been a long time coming and issues remain around an attempt by a Republican Senator to codify the phase out of some of the Fed's emergency lending facilities, but US Congress appears to be closing in a stimulus plan valued at around $900bn. While contentious aspects around state aid (which is looking less necessary anyway) and liability protections for employers are excluded, it looks likely to contain additional support for small business, direct stimulus checks to households and extra unemployment benefits providing help for the economy at a time when more lockdowns are threatening. A stop gap funding bill has been passed to head off a weekend partial Government shutdown in the US to allow Congress to agree a stimulus plan and Government funding through to September. Meanwhile, the Fed has made a very dovish change to its forward guidance on quantitative easing in committing to continue its bond buying at the pace of at least $US120bn a month until substantial further progress is made towards its full employment and inflation goals with Fed Chair Powell indicating that any tapering is some way off. Fed officials also continue to see no rate hikes out to 2023.
Trump's quixotic attempt to derail the election outcome looks to have finally hit a dead end with the Electoral College voting in favour of Biden as per the election outcome and Senate Majority leader McConnell and numerous other Republicans recognising Biden as the winner. Trump's last hope is that a member of both the House and Senate object to the Electoral College outcome at Congress' 6th January formal ratification of the result forcing each house to vote on the objection, but this looks extremely unlikely to succeed as Democrats control the House and enough Republican Senators now accept Biden's win. Trump's assault on US democracy with unsubstantiated claims that have been rejected by numerous courts over the last six weeks has done much damage. Fortunately, thousands of US election officials, judges and politicians (on both sides of politics) following the law and doing their duty have upheld US democratic values.
Tensions between Australia and China seem to be going from bad to worse with reports that China has confirmed a ban on Australian coal exports and Australia moving to take action in the World Trade Organisation – but it may not be as bad as it looks. Adding coal (worth $14bn in annual export earnings last financial year) to the list of affected agricultural products takes us from a macro economically trivial 0.3% of GDP to a more threatening 1% of GDP. And if it escalates further to cover natural gas and iron ore (worth $16bn and $85bn respectively) then a total of 6% of GDP will be impacted potentially causing serious disruption to the Australian economy. This is clearly a threat to watch for in 2021. However, there are several things worth noting. First, to the extent that less of some of our products go to China it may not necessarily mean lower production but could actually mean lower prices for Australians – there are already reports of lower prices for lobster and this could extend to wine and other products including power. Second, to the extent that China gets more of its imports from other countries it may free up new markets for Australian exports – of course this will take time. Third, China banning Australian iron ore imports would involve more of a hit to its economy as Australia accounts for 50% of iron ore exports globally so it would be impossible for China to replace all its Australian iron ore imports from other sources. Supply constraints at Brazil's Vale add to this. Australian iron ore is also higher quality lower cost iron ore. Fourthly, the downside of the dispute so far is being more than swamped by the impact of strong iron ore prices. Finally, just as Australia seemed to get sucked into tensions with China by President Trump's trade war, a likely US refocus on a diplomatic approach to resolving its issues with China under Joe Biden may provide a path to diplomatically resolving Australia's tensions with China too.
Paul McCartney's new album McCartney III is now out and Find My Way is the lead single. Thankfully this guy never stops! This has also been a nice year for Taylor Swift fans with her second surprise album, Evermore. Here is Willow its first single. Both albums saw reviews indicating "universal acclaim" according to Metacritic. Meanwhile its only one week to Christmas. Kelly Clarkson's Under the Tree and Mariah Carey's All I Want for Christmas is You top my list of favourite Christmas songs. Taylor had a nice one from last year too – Christmas Tree Farm.