He's gone!...and that's the way some in America saw it. To be fair, Trump did some good things – he started no new wars and the share market liked his tax cuts and de-regulation. In fact, his four years in office saw the US share market return an annualised 17% pa. That said, it returned an impressive 15% pa under Obama and 19% pa under Clinton and all benefitted from falling interest rates. Moreover, the positive boost to the economy from Trump's tax cuts was partly offset by his trade war and erratic policy making that raised uncertainty and Trump also did a lot of harm in terms of fuelling division in the US, debasing standards of decent public discourse and in mis-managing coronavirus to the point that the US saw deaths rise a depressing 15% last year compared to a normal increase each year of around 1.5%. But as Comedian-in-Chief, he provided lots of laughs such that there was no need to watch Alec Baldwin doing Trump as Trump as Trump was even funnier. I will miss that bit.
President Biden has now taken over – with a progressive and mostly share market friendly program. Fortunately, the transition occurred over the last week with minimal unrest with his inauguration speech focussed on unity and healing divisions. A Biden presidency will see: more stimulus; a focus on reducing the drivers of social division – notably inequality; some reversal of Trump's deregulation; modest corporate and top earner tax rate hikes; a greater reliance on experts as evident in Biden's cabinet appointments; a serious focus on dealing with coronavirus; the US to re-enter WHO and re-join the Paris Climate Accord; more spending on infrastructure, health and dealing with climate change; a strengthening of traditional US alliances; and the US remaining tough on China but seeking a more of diplomatic approach to dealing with differences. Biden's Administration is moving quickly to implement much of this. On balance this is likely to be positive for shares with stimulus dominating tax hikes (albeit with bumps along the way). The combination of the Biden Administration providing more stimulus but the Fed reiterating that it will remain dovish is particularly positive for shares.
For Australia, the main implications from a Biden Presidency for Australia are likely to be: a stronger US economy which will benefit the Australian economy; a benefit to Australian companies with US exposure (such as wine and building material companies); a stronger more consistent relationship with the US; and a toning down of the trade war with China in favour of a more diplomatic and engaged approach to resolving issues which will be less negative for Australia. On balance this will benefit Australian shares (which will be relatively more attractive if the US corporate tax rate goes up) and the Australian dollar.
Global share markets rose over the past week, with US shares hitting a record high helped by good earnings news and optimism regarding President Biden's stimulus plans. For the week, US shares rose 1.9%, Eurozone shares gained 0.2%, Japanese shares rose 0.4% and Chinese shares rose 2%. Reflecting the positive global lead and good Australian economic data, the Australian share market rose to its highest since February and gained 1.3% through the week led by strong gains in IT, retail, health and telco stocks. Bond yields mostly rose slightly as did metal prices, but oil and iron prices fell slightly. The $A rose slightly & the $US fell.
Global and Australian shares are vulnerable to a correction but so far this has been limited to brief pauses followed by more good news driving them higher. The risk of a short-term pull back remains though – with February often being a weak month in the first year of a new US President. Beyond short term uncertainties, we continue to see shares heading higher this year on the back of reopening, recovery and easy money with the ASX 200 likely to hit 7200 by year end. And the Bitcoin rollercoaster continues – over the last month it roughly doubled only to then fall 25%.
Since October there has been a rising trend in countries – notably in Europe – adopting more stringent lockdowns.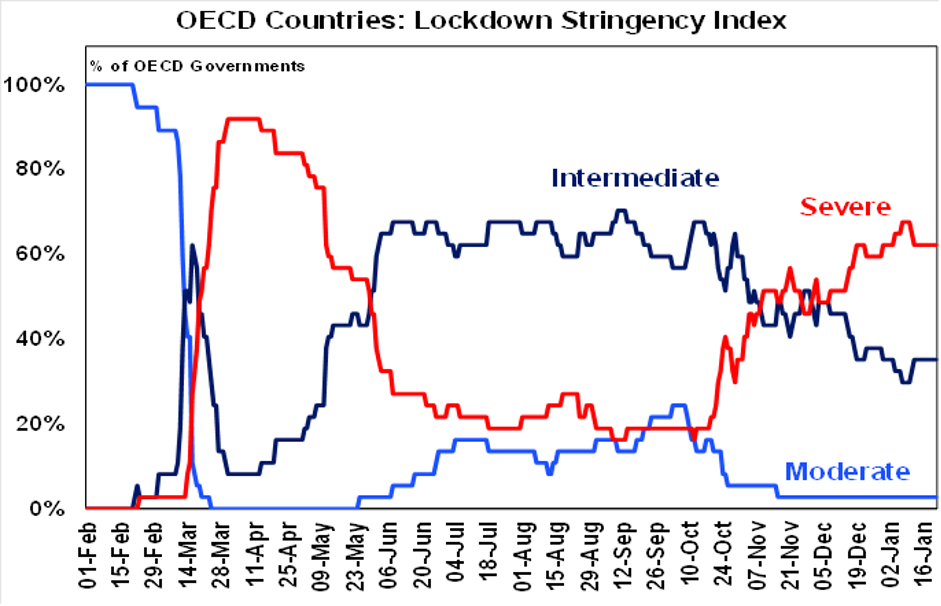 And maybe this is working as we have now seen a slowing in new coronavirus cases. This is particularly the case in developed countries with the US, Europe, the UK, Japan and Canada all seeing some decline in new cases suggesting that lockdowns are starting to impact. China has continued to see a pick-up in new cases but its only running around 200 a day & is likely to be controlled by aggressive regional lockdowns without causing a major disruption to the Chinese economic expansion.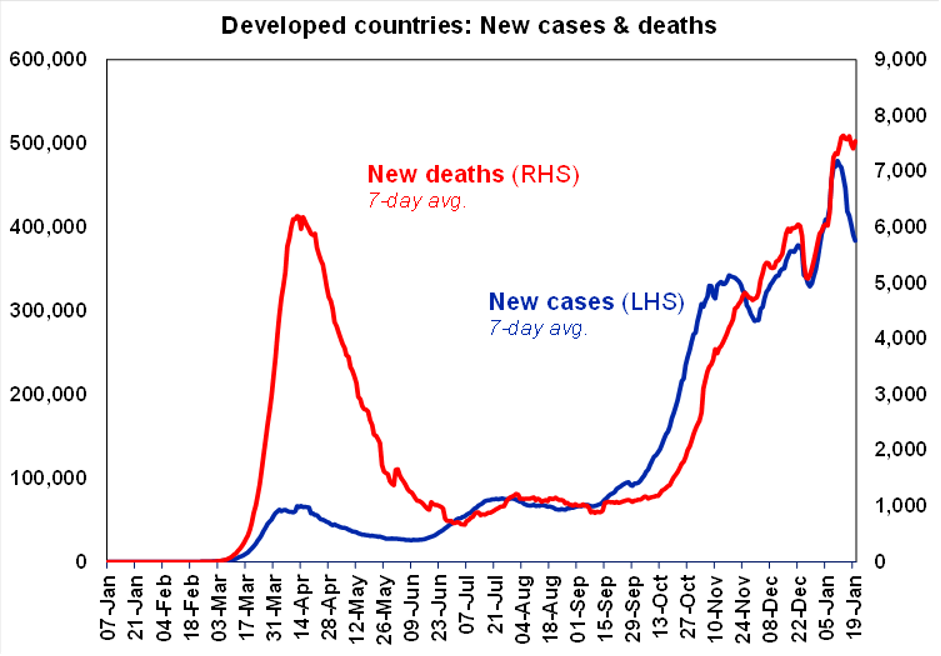 Ultimately this is unlikely to be fully resolved until vaccinations have seen 70% or more of populations achieve a degree of immunity. This could be achieved by July/August in the US and Europe. But it may take a bit longer in Australia given the lower proportion of the population that have been exposed to coronavirus. While in theory the new more contagious mutations of coronavirus should not affect vaccine efficacy, two lab studies found some reason for concern with a South African study finding that the South African variant may reduce the immunity of those previously affected and a US study finding that the some of the mutations may reduce the effectiveness of the Moderna and Pfizer vaccines. Research is inconclusive at this stage though and it's also possible that vaccines can be altered if needed. So far 28% of Israel's population, 7% of the UK's population and 4% of the US population have received a vaccine dose.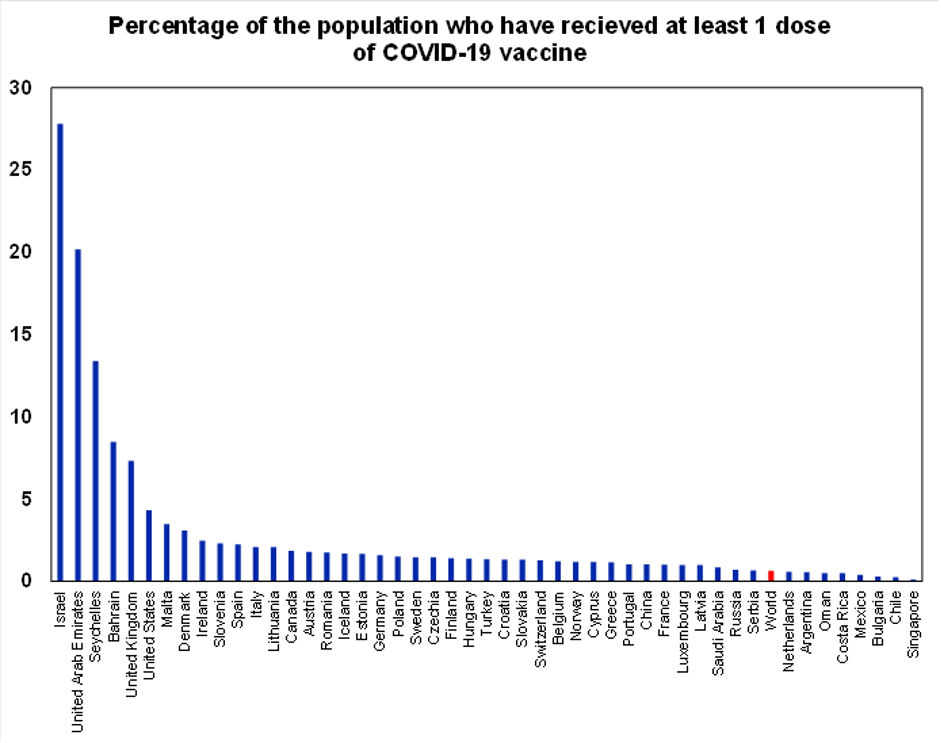 In Australia, the number of new coronavirus cases remains low – and mostly confined to returned travellers. The chart is so boring I am tempted to leave it out again…but the last time I did that we had the Avalon cluster and I got locked down!
Talk to you tomorrow about the markets going forward!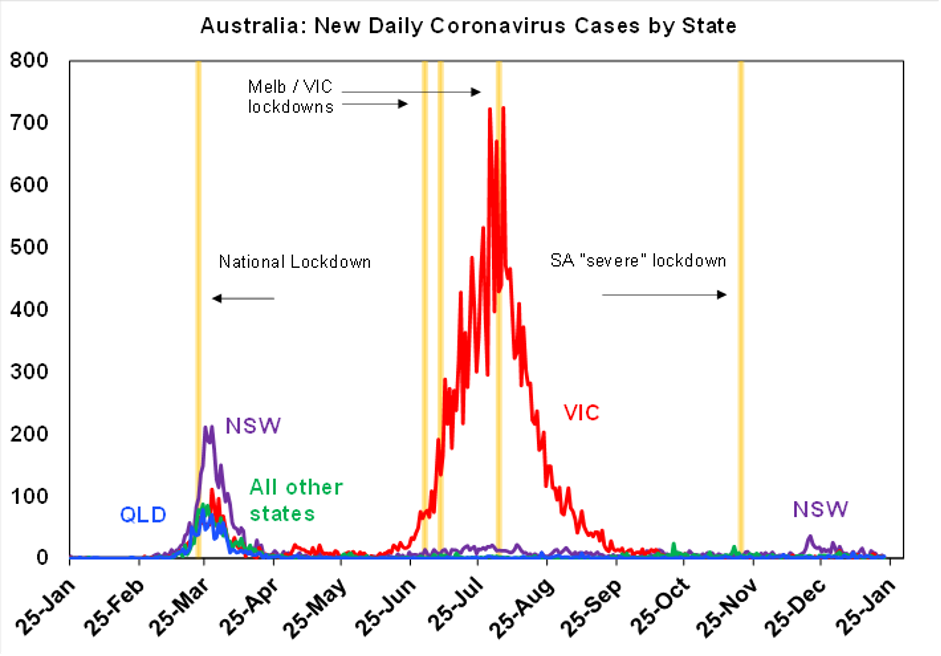 While our weekly Economic Activity Tracker for Australia fell from its high a few weeks back as tougher coronavirus restrictions impact it has stabilised in recent weeks at a high level and edged up slightly over the last week. With restrictions being eased its likely to head higher in the weeks ahead. Our US Economic Activity Tracker also edged up over the last week but remains soft and down from its September high. And our European Economic Activity Tracker fell slightly over the last week and remains very soft.
The last week saw the great record producer – but seriously flawed human - Phil Spector pass away in jail. Like Brian Wilson I have listened to The Ronettes' Be My Baby over and over (well maybe not quite as much as Brian and I reckon Brian bettered it with Don't Worry Baby). But Phil also produced The Beatles' Let It Be album (not that Paul was so happy with the end product and decades later had it stripped naked) and produced the beautiful sound of George Harrison's 1970 solo triple vinyl All Things Must Pass where the best song would have to be Isn't It A Pity.