Our Australian Economic Activity Tracker fell further over the last week as the Omicron wave impacts with broad-based declines since their high late last year in mobility, restaurant and hotel bookings and shopper traffic. So far it's holding up relatively well compared to the Delta wave slump but it's early days. Our European and US activity trackers also fell with tighter restrictions impacting in Europe and mainly self-regulation and worker shortages impacting in the US. Both are now back below pre-Covid levels.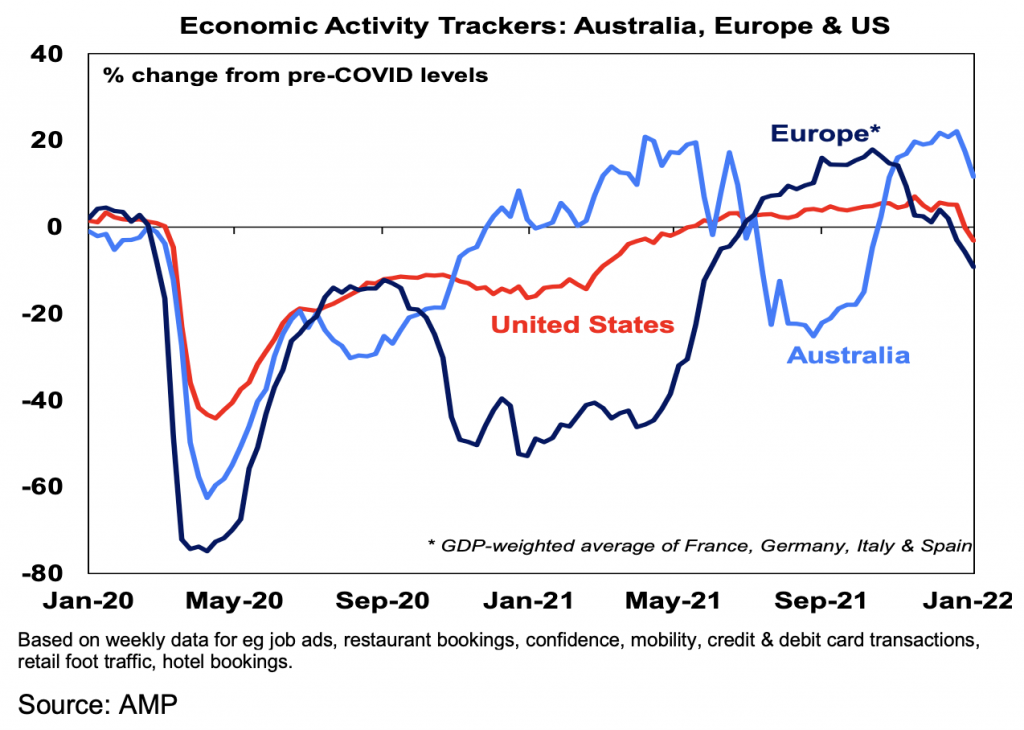 Major global economic events and implications
US consumer price inflation again surprised on the upside in December, maintaining pressure on the Fed to start removing monetary stimulus. CPI inflation at 7% year-on-year is the highest since 1982 and core CPI inflation is the highest since 1991. While pandemic related distortions continue to play a huge role in boosting inflation, the concern is that the rise in inflation has continued to broaden with the median inflation rate rising further to 3.8% year-on-year and the share of CPI components seeing a greater than 3% year-on-year increase running at about 75%.
We continue to expect inflation to slow this year as goods inflation moderates, as demand switches back to services and production picks up. Some slowing in business survey input and output price surveys and a slight slowing in annual producer price inflation in the US, China and Japan is a positive sign. However, Omicron disruptions to supply (due to workers not being able to work, lockdowns in China, etc) will likely now delay this and the longer high inflation persists, the greater the risk will be of it becoming entrenched, necessitating much tighter monetary policy from the Fed.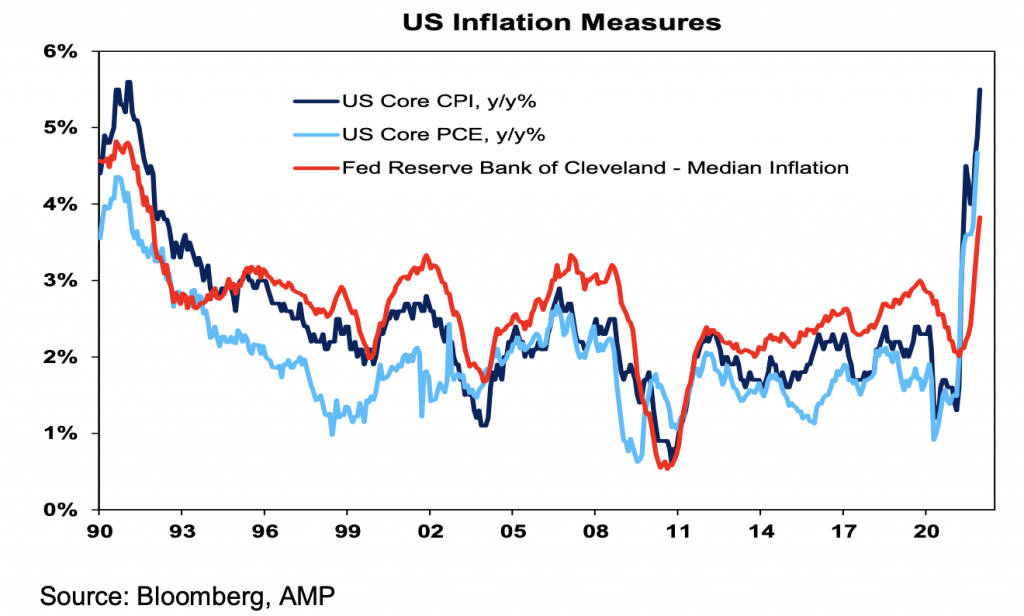 US economic activity data was soft with falls in December retail sales and industrial production and a slight rise in jobless claims. The 1.9% fall in retail sales likely reflects Omicron caution and supply disruptions but was likely also impacted by strong October sales pulling forward spending and a consumer rotation back to services spending as goods dominated retail sales remain well above trend. Weaker goods sales are likely to take some pressure off inflation in time.
Australian economic events and implications
Australian economic data was mostly strong, but much of the past week's releases were a bit dated given the Omicron wave impacting the economy since late December. Retail sales surged 7.3% in November continuing their reopening recovery from the Delta lockdowns, building approvals rose 3.6% with house approvals remaining high historically although well down from last year's highs, housing finance commitments rose strongly and they remain near a record high, the trade surplus fell but remains high and job vacancies surged 18.5% over the 3 months to November to a record high.
While this is all dated thanks to the Omicron wave disruption, the strength in retail sales in November highlights the huge amount of pent-up demand and excess savings which will support spending once it subsides. The strong job vacancies data highlights the ongoing tight labour market with employers likely to be reluctant to let workers go through this wave just as they were through the Delta wave.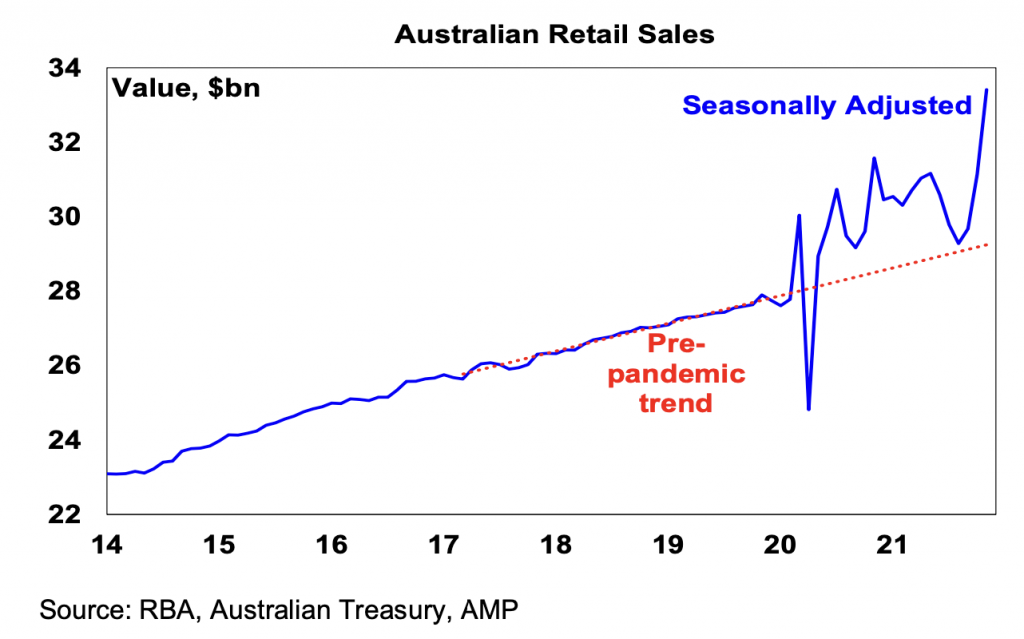 Meanwhile, the Melbourne Institute's Inflation Gauge fell slightly in December to a 1.9% year-on-year increase in the Trimmed Mean but for the quarter it came in at 2.4% year on year and points to some further pickup in underlying inflation pressures in Australia. It's worth noting though that the breadth of inflation pressures in Australia is far narrower than in the US with 75% of US CPI components rising more than 3% year-on-year in December but in Australia it's only been 35%. Nevertheless, assuming the Omicron wave impact is relatively short we continue to see the RBA starting to raise interest rates from November. There is also the risk that supply chain disruptions flowing from the Omicron wave accelerate the rise in inflation in Australia much as they have been doing in other countries over the last year.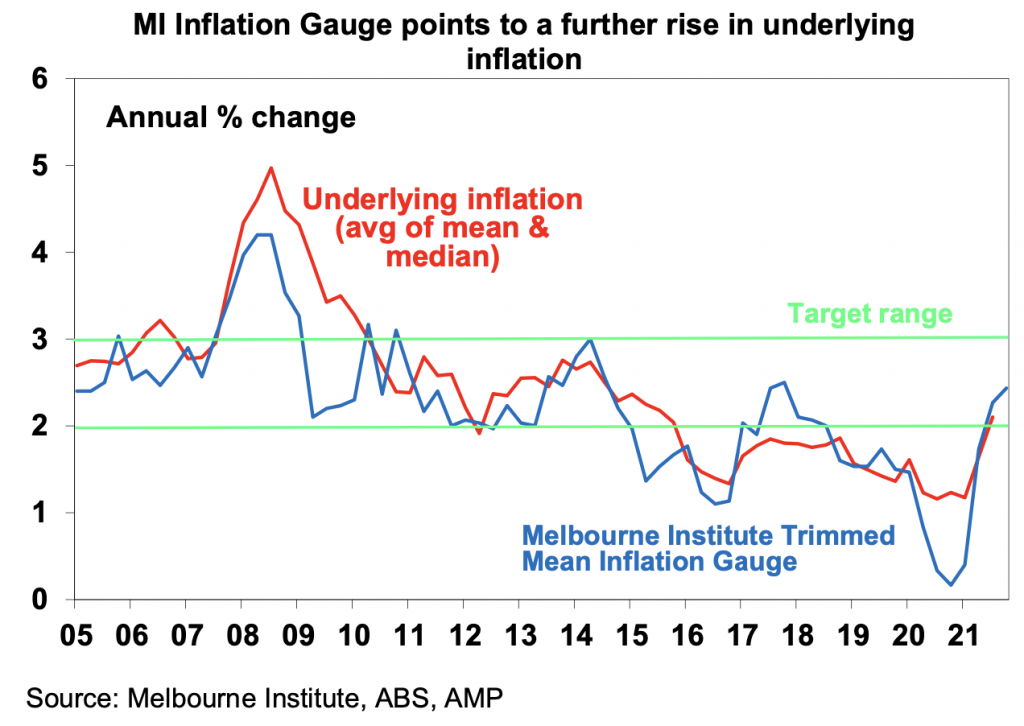 The continuing surge in housing finance commitments to investors in November indicates that the Australian property market is becoming more speculative and maintains pressure on APRA for further measures to slow housing lending.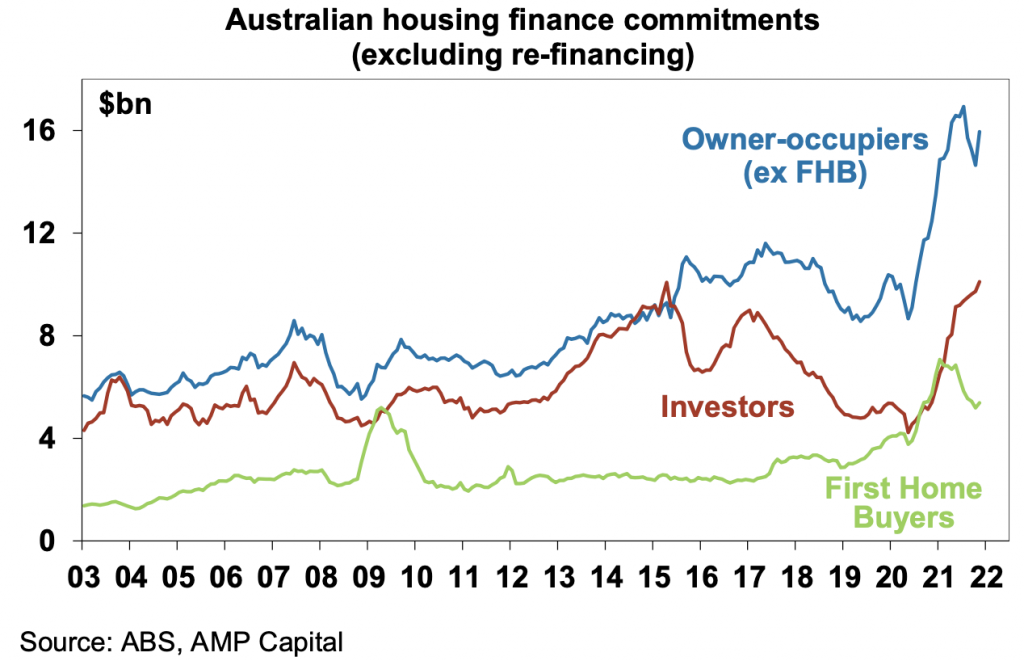 What to watch over the next week?
In the US, expect January regional manufacturing conditions indexes for New York (today) and Philadelphia (Thursday) to remain strong but the focus is likely to be on whether price components show further signs of topping out. January home building conditions (today) are likely to remain strong, but housing starts (tomorrow) and existing home sales (Thursday) are likely to fall slightly after strong gains in November. US December quarter earnings results will start to be released with the consensus expecting earnings per share growth of 20% year-on-year, masking a decline in the quarter, although this is likely to be revised up as results are likely to surprise on the upside.
In Australia, the Westpac/MI consumer sentiment reading for January is likely to show a fall thanks to Omicron but based on the weekly ANZ/Roy Morgan index it's likely to be modest. Employment data for December is likely to show a gain of about 40,000 jobs after the reopening surge in November with unemployment rising slightly to 4.7%. Of course, this will be rather dated given the explosion in Omicron cases in January which is likely to result in a renewed (but temporary) hit to employment.  
Outlook for investment markets for 2022   
Global shares are expected to return about 8% this year but expect to see the long-awaited rotation away from growth and tech-heavy US shares to more cyclical markets in Europe, Japan and emerging countries. Inflation, the start of Fed rate hikes, the US mid-term elections and China/Russia/Iran tensions are likely to result in a more volatile ride than 2021. Mid-term election years normally see below average returns in US shares and since 1950, have seen an average top-to-bottom drawdown of 17%, usually followed by a stronger rebound.
Australian shares are likely to outperform (at last) helped by stronger economic growth than in other developed countries, leverage to the global cyclical recovery, and as investors continue to search for yield in the face of near zero deposit rates but a grossed-up dividend yield of about 5%. Expect the ASX 200 to end 2022 near 7,800.
Still very low yields and a capital loss from a rise in yields are likely to again result in negative returns from bonds.
Unlisted commercial property may see some weakness in retail and office returns, but industrial is likely to be strong. Unlisted infrastructure is expected to see solid returns.
Australian home price gains are likely to slow with prices falling later in the year as poor affordability, rising fixed rates, higher interest rate serviceability buffers, reduced home buyer incentives and rising listings impact.
Cash and bank deposits are likely to provide very poor returns, given the ultra-low cash rate of just 0.1%.
Although the AUD could fall further in response to coronavirus and Fed tightening, a rising trend is likely over the next 12 months helped by still-strong commodity prices and a decline in the USD, probably taking it to about $US0.80.
Eurozone shares fell 1% on Friday, but despite soft US retail sales data the US share market recovered from a 0.9% fall to end Friday up 0.1% as tech stocks rose. Helped by the small positive US lead, ASX 200 futures are up 28 points, or 0.4%, pointing to a positive start to trade for the Australian share market on Monday.