The Australian residential property boom rolled on in June, with CoreLogic data showing home prices up another 1.9%, led by a 2.6% gain in Sydney, as ultra-low rates, government incentives, economic recovery and FOMO continue to impact. Average capital city prices are now up 12.1% year to date and 12.4% from a year ago, and thanks to a 17.7%yoy rise in regional prices national average prices are up 13.5% from a year ago which is their strongest annual increase since 2004. The latest coronavirus lockdowns are a threat but providing they are short they are unlikely to derail the housing market upswing.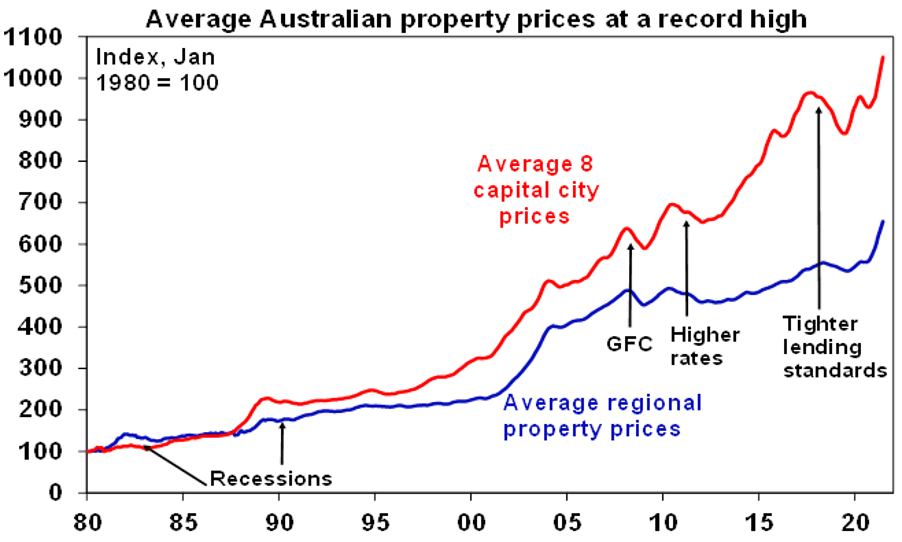 Mortgage debt up
This is seeing an acceleration in housing related debt growth, and housing finance commitments rising to a new record high in May (see the next chart) point to a further acceleration in debt growth ahead. The surge in housing finance is increasingly being driven by investors – with investor finance up 13.3% in May alone and 116% on a year ago which has taken it back to 2014-15 levels. This makes the housing boom more speculative. With monthly housing credit growth now running at 7% which is around the level seen when APRA started to tighten lending standards in late 2014, the same is likely to occur again soon with some banks already moving in anticipation. Home prices are now expected to rise 20% this year, of which they have already done 12.1%. But tightening lending standards along with poor affordability, rising fixed mortgage rates and weak population driven housing demand due to the hit to immigration are likely to drive a slowdown in price growth to 5% next year ahead of a 5% or so decline in prices in 2023. Housing finance going to first home buyers has topped out and their share of total housing finance has now fallen from 25% in December to 21% as home buyer incentives had brought forward demand from this group but also as they are squeezed out by worsening affordability and surging investor demand.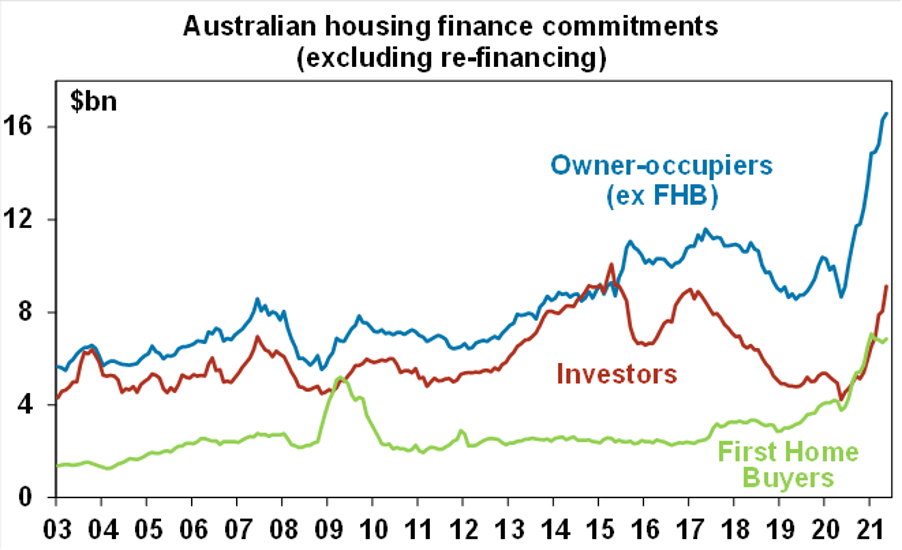 Will house prices keep rising this year?
Australian home prices now look likely to rise 20% this year before slowing to around 5% next year, being boosted by ultra-low mortgage rates, economic recovery and FOMO, but expect a progressive slowing in the pace of gains as poor affordability impacts, government home buyer incentives are cut back, fixed mortgage rates rise, macro prudential tightening kicks in and immigration remains down relative to normal.
House prices won't always rapidly rise, will they?
The Federal Government's latest Intergenerational Report suggests there may be some relief in prospect for housing affordability longer term. The main story from the IGR is the need for more productivity enhancing economic reforms otherwise long-term growth (and most importantly growth in living standards) will be weaker than its projecting. But from a housing perspective, the IGR's not unreasonable assumption that 10-year bond yields will rise to around 5% over the long term to be more in line with nominal economic growth along with the reality of the hit to immigration and hence a smaller population is that two of the tailwinds behind the boom in Australian house prices since the mid-1990s – i.e. ever lower mortgage rates and chronic undersupply from the mid-2000s - may wane in the years ahead.
And what about interest rates?
Cash and bank deposits are likely to provide very poor returns, given the ultra-low cash rate of just 0.1%. We remain of the view that the RBA won't start raising rates until 2023.