Global share markets had a pull back over the last week with the absence of a new stimulus deal and rising new coronavirus cases in the US weighing. Despite this, Australian shares rose for the sixth week in a row, albeit it was only a small gain of 0.1%, with a surge in the iron ore price and higher oil prices pushing up resource stocks along with good gains in IT and consumer discretionary stocks offsetting weakness in property, industrial and retail shares. The surge in commodity prices, notably iron ore, helped push the $A above $US0.75 to its highest since first half 2018.
Shares remain stretched and at risk of a correction after their strong run since early November. However, beyond short-term noise more upside is likely as momentum is very strong, the Santa Claus seasonal rally normally gets underway from mid-December and investors are yet to fully discount the potential for a very strong economic and profit recovery next year as stimulus combines with vaccines. Cyclical recovery shares like resources, industrials and financials are likely to be relative outperformers as the focus shifts from pandemic to recovery, and this should benefit the Australian share market over US shares. The $A is likely to continue to head higher towards our forecast of $US0.80 by end next year on the back of rising commodity prices and a falling US dollar. The RBA may ultimately increase and extend its quantitative easing program to try and combat this – but this will likely only be able to slow the $A's ascent as opposed to stopping it.
After a brief stabilisation the trend in new global coronavirus cases is rising again. While new cases in Europe are well down from recent highs it looks to have stopped falling and after a brief pause around Thanksgiving new cases in the US are surging higher again in all regions.Thanksgiving itself looks to have been a super spreader event and Christmas runs the risk of being the same. In other major developed countries, there are signs that Japan's third wave may be peaking but Canada is still seeing a rapid rise in new cases (currently running just below 7,000 a day), Brazil has seen a resurgence in new cases back to its July high but new cases are continuing to trend down in India.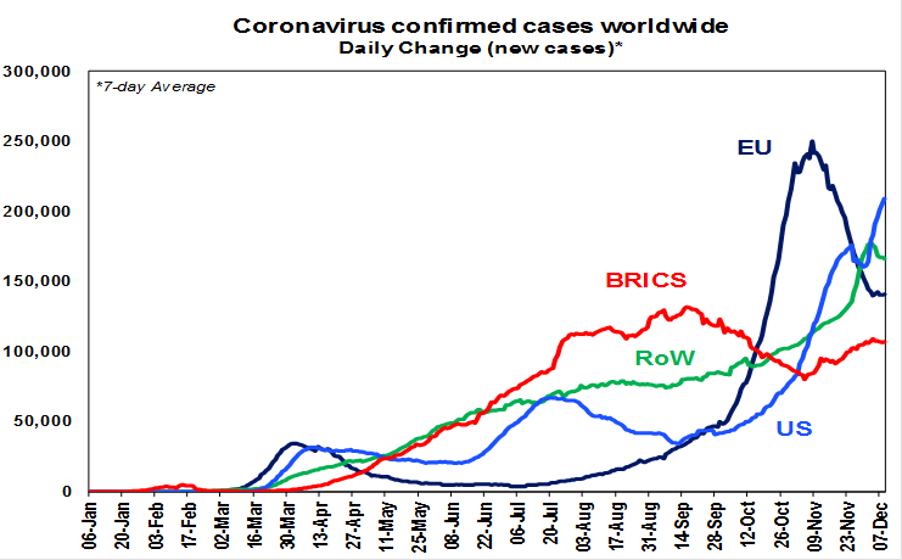 While measured fatality rates are well down from their highs across developed countries – reflecting much more testing picking up more cases and better treatments – the reality is that deaths in the US have now surpassed their April high and the growth in hospitalisations is overwhelming medical systems in certain areas. This in turn is what drove the recent lockdowns in Europe and is now driving more regional lockdowns in the US (eg, in California).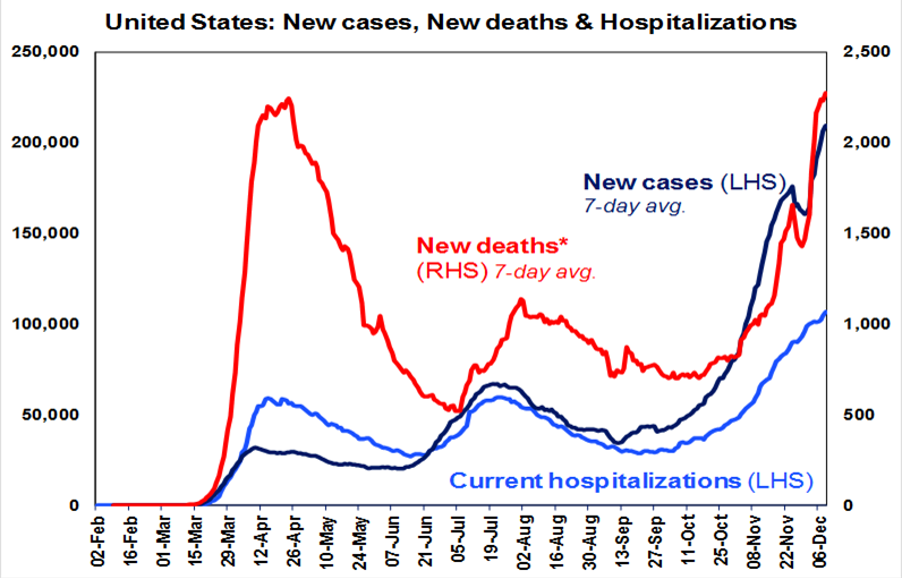 Vaccines are on the way – with the UK, Canada and Saudi Arabia approving Pfizer's vaccine and starting to roll it out. Interestingly results show it may be 98-99% effective after the first 7-14 days (as it takes time for the immune response to kick in). The apparent failure of the University of Queensland's vaccine is disappointing, but Australia has invested in a range of different vaccines. There is still a long way to go though and even with more vaccine approvals they won't deal with the current waves in many countries but will help significantly from second half next year with a good chance of reaching herd immunity globally by the end of 2021 or early 2022. This is continuing to help share markets look through the current problems with the virus and its economic impact.
Australia is continuing to report a low level of new Covid cases– essentially just returned travellers. The graph is so boring I won't bother with it this week, but fingers crossed it remains that way. Meanwhile, Australia's relative performance in terms of dealing with coronavirus – measured across per capita new cases, total cases, deaths and testing – continues to stack up very well. In fact, we are ranked at number 1 in the OECD. If we had the same experience with deaths per capita as the US we would have now lost 22,500 people to it, compared to 908 – that's an extra 21,600 people saved.
OECD countries ranked in terms of controlling coronavirus