Our weekly Economic Activity Trackers remain divergent. Europe has continued to move up from its lows and is likely to improve more significantly in the next month or two if lockdowns are eased, but it still points to a significant contraction in December quarter GDP. Our US tracker was flat over the last week but is still in a downtrend in response to increasing lockdowns pointing to slowing economic conditions.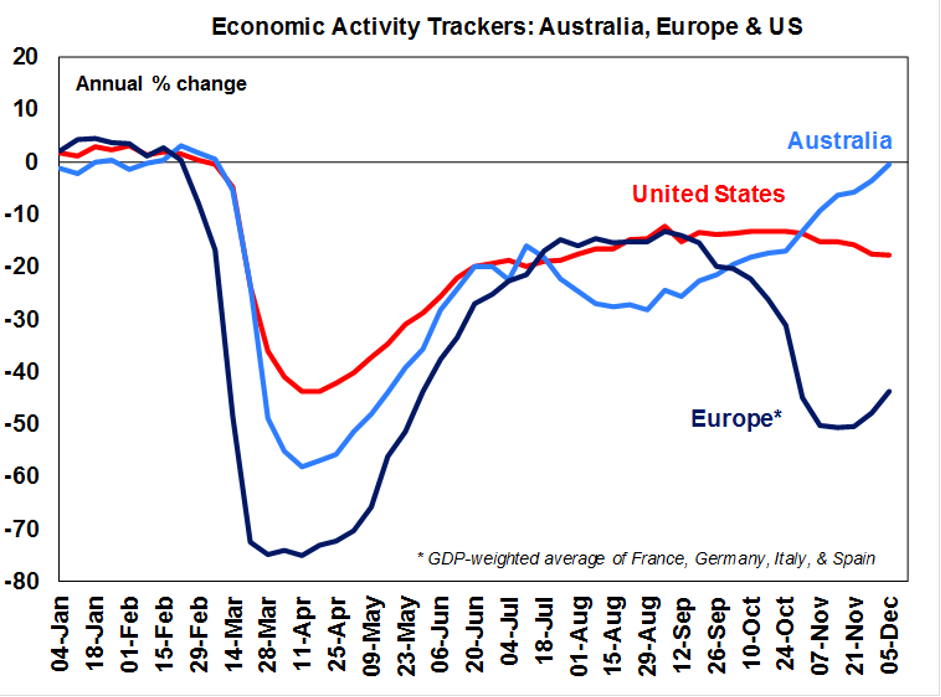 By contrast, our Australian Economic Activity Tracker has moved up further and has now recovered to year ago levels with a broad-based improvement across confidence, restaurant and hotel bookings, spending, traffic, job ads and mobility. This is consistent with the good control of coronavirus seen in Australia and the reopening of the economy – notably in Victoria. This all suggests that Australia will see a continuing solid economic recovery this quarter, while the US may be slower, and Europe will see a contraction. All things being equal this is relatively positive for the Australian share market and the $A.
Time's up for Trump
Time is just about up on Trump's attempts to overturn the election. While President Trump now seems to think he won because he got more votes than the 63 million he did in 2016, the reality is that Biden was also in the election and got many more again (with 81.2 million votes versus Trump's 74.2 million). The Trump campaign has lost or dropped more than 50 lawsuits designed to reverse the result in Trump's favour with most notably the US Supreme Court denying an application to overturn the result in Pennsylvania and the 8th December "safe harbor" deadline for recounts, resolution of challenges and certification of results has passed. There is still a lawsuit from Texas asking the Supreme Court to order four (Republican controlled) state legislatures to overturn the election outcome in Pennsylvania, Michigan, Wisconsin and Georgia and appoint their own electors or to block those states from participating in the electoral college vote – although its generally seen as having little chance of success particularly given the Court's earlier denial in relation to Pennsylvania (although you never know for sure). So, the electoral college is almost certain to have voted by Monday's deadline with 306 votes to 232 in favour of Biden (or close to it as there are sometimes some "faithless" voters). Trump has said that if the electoral college confirms that Biden has won then he will leave the White House. Of course, he can continue to claim he won and will remain President up until January 20 so could still cause a bit of havoc along the way. Meanwhile polling for the two Senate seat elections in Georgia is tight with the Democrats just ahead on some polls, although the odds of the Democrats winning both and hence Senate control remains less than 50%.
Stimulus deal still in jeopardy
Although there has been progress towards a new stimulus package in the US worth around $900bn sticking points remain around aid for states and protections for businesses from Coronavirus related lawsuits. At this stagem the odds of a deal before Christmas are only just above 50%. Meanwhile a one week stop gap funding bill has been passed avoiding a Government shutdown after December 11, but a longer-term bill will need to be passed in the week ahead to avert a shutdown after December 18 and this appears likely as its hard to see either side of politics wanting to see another shutdown now.
Less than two weeks to Christmas. It's bleak looking in Europe, the US and other parts of the world with covid raging but at least things are feeling a lot better this year in Australia coming into Christmas without all the smoke and bushfires and far better virus control.
Australian economic events and implications
Australian economic data was yet again very strong with further improvements in business conditions and confidence according to the NAB business survey, a rise in the Westpac/MI measure of consumer confidence to its highest in 10 years and a further recovery in ANZ job ads. This is all consistent with the message from our Australian Economic Activity Tracker referred to earlier which has been pointing to a continued solid recovery in Australia.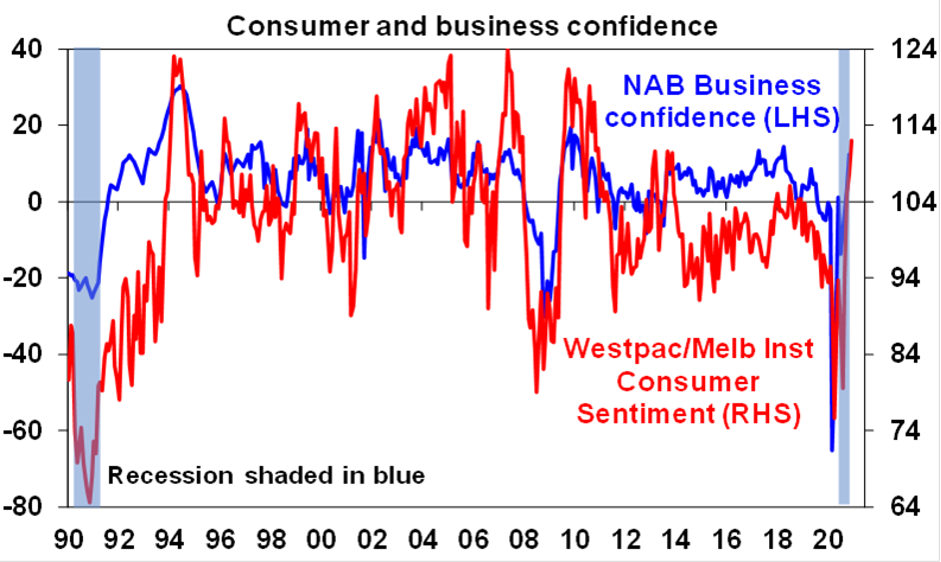 While the Westpac/MI survey showed little enthusiasm for property, real estate and shares as the "wisest place for saving" it did show reduced interest in bank deposits and paying debt and increased interest in spending.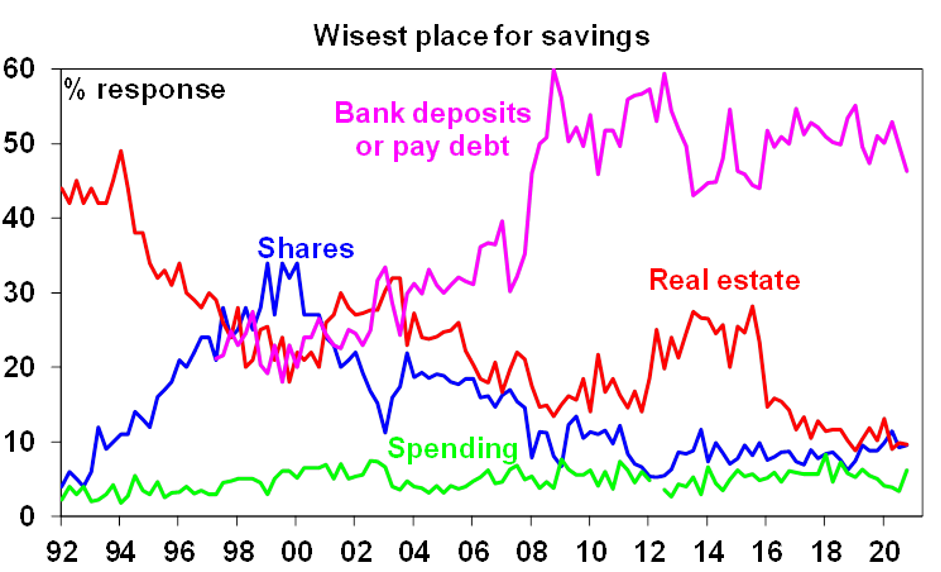 The divergence in residential vacancy rates across Australia is interesting. Basically: Perth and Darwin are seeing a collapse in their vacancy rates; Brisbane, Adelaide, Canberra and Hobart all have low and falling vacancy rates; but they have spiked higher in Sydney and Melbourne. Several factors are at play including the "escape from the city" phenomenon thanks to covid and working at home and the hit to immigration and foreign students hitting Sydney and Melbourne far worse than other cities at a time when they have just seen unit building booms. It's likely to put more downwards pressure on rents and prices on inner city units in those two cities. A similar phenomenon is being seen in Manhattan which is seeing unit rents fall back to levels last seen 10 years ago.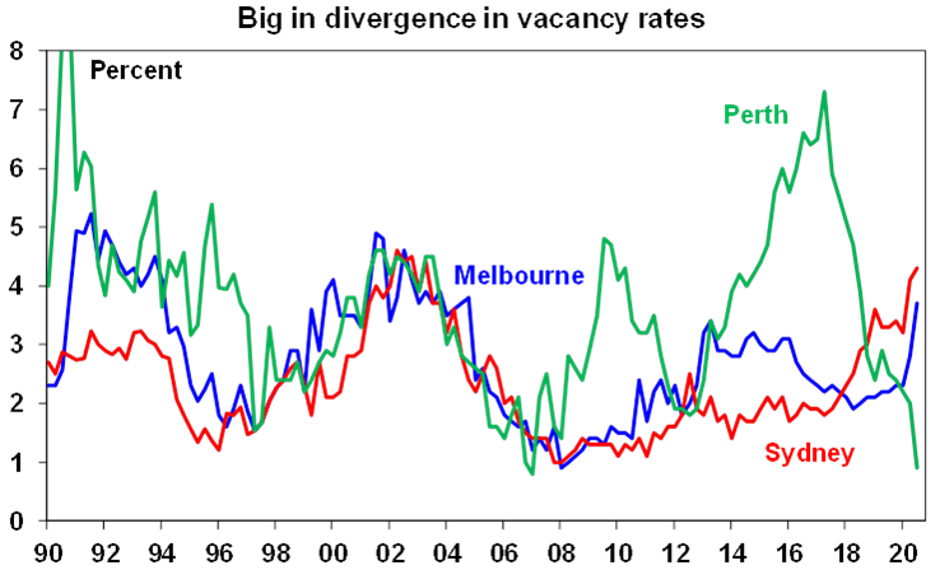 While NSW and Victoria lost their AAA credit ratings from Standard & Poors its unlikely to have much impact on borrowing costs, particularly for NSW. Budget outlooks are likely to improve from here, yield moves following rating moves often go either way and RBA bond buying, including of state government bonds, continues.
The appetite for Australia government debt was highlighted by the sale of 3-month Treasury Notes at a slight negative yield. While this looks irrational with the RBA saying its "extraordinarily unlikely" to take the cash rate negative, Australian yields may still be seen as attractive for some foreign investors where negative yields are the norm and this demand could quite easily dip them negative at times given that the cash rate and the three year bond yield target at 0.1% are only just above zero.
Outlook for investment markets
Shares could see a short term pause after recent strong gains. But we are now into a seasonally strong period of the year for shares (particularly from mid-December) and on a 6 to 12-month view shares are expected to see good total returns on the back of ultra-low interest rates and a strong pick-up in economic activity helped by stimulus and likely vaccines.
Low starting point yields are likely to result in low returns from bonds as the dust settles from coronavirus.
Unlisted commercial property and infrastructure are ultimately likely to benefit from a resumption of the search for yield but the hit to economic activity and hence rents from the virus will weigh heavily on near term returns.
Australian home prices are being boosted by ever lower interest rates, government home buyer incentives, income support measures and bank payment holidays but high unemployment, a stop to immigration and weak rental markets will likely weigh on inner city areas and units in Melbourne and Sydney into next year. Outer suburbs, houses, smaller cities and regional areas are in much better shape and will see stronger gains in 2021.
Cash and bank deposits are likely to provide very poor returns, given the ultra-low cash rate of just 0.1%.
Although the $A is vulnerable to bouts of uncertainty about coronavirus, the economic recovery and China tensions and RBA bond buying will keep it lower than otherwise, a continuing rising trend is likely to around $US0.80 over the next 12 months helped by rising commodity prices and a cyclical decline in the US dollar.
Eurozone shares fell 0.9% on Friday and the US S&P 500 fell 0.1%, as stimulus talks remain stuck, albeit US stocks pared a bigger drop as a one week spending bill was passed to avert a Government shutdown. Reflecting the soft US lead ASX 200 futures fell 1 point, or just -0.02%, pointing to a basically flat start to trade for the Australian share market on Monday.