Vaccine news keeps getting better, with now AstraZeneca-Oxford reporting results showing up to 90% effectiveness for its vaccine depending on the dose in late stage trials. As Auric Goldfinger said in relation to meeting James Bond: "Once is happenstance. Twice is coincidence. The third time is energy action." Having now three vaccines - AstraZeneca, Pfizer and Moderna - showing high levels of effectiveness without serious side effects so far adds to confidence that other vaccines will be effective too and that there is a good chance based on current production plans along with those who have already had the virus of reaching herd immunity globally by the end of 2021 or early 2022, particularly with AstraZeneca-Oxford committing to selling their vaccine without profit across a large part of the developing world. Of course there is still a way to go – AstraZeneca is doing more tests to validate the finding of higher efficacy from a lower dosage, more results are still required regarding efficacy and safety, and distribution will take time - but the light at the end of tunnel is definitely getting brighter. This in turn is helping share markets look through the continuing problems with coronavirus at present.
New global coronavirus cases have stabilised helped by a continuing decline in new cases in Europe as a result of lockdowns.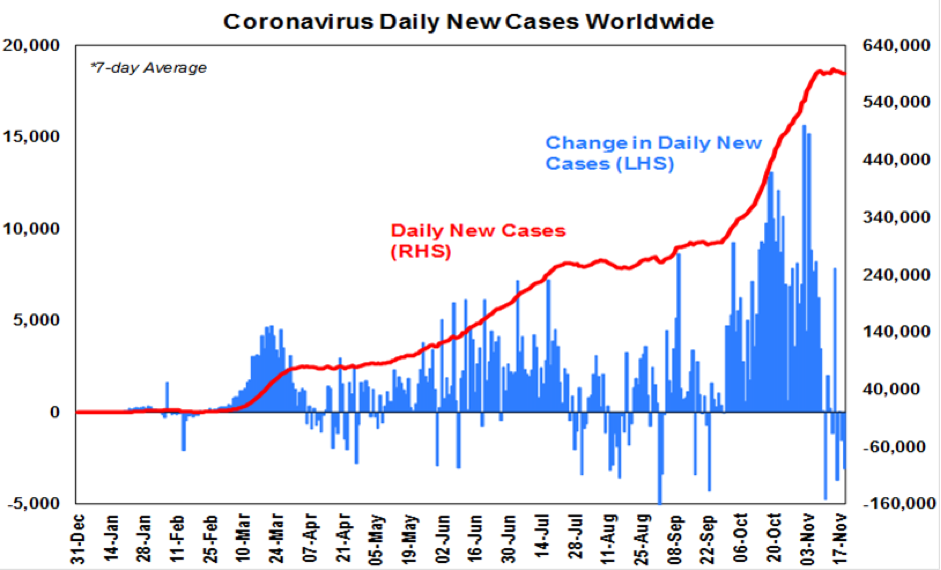 Europe is now starting to see pressure coming off its hospital system and deaths may be peaking, but in the US there are only tentative signs of a slowing in new cases with deaths rising well above the August high which in turn is resulting in more areas tightening restrictions. Japan and Canada are also seeing a strongly rising trend in new cases.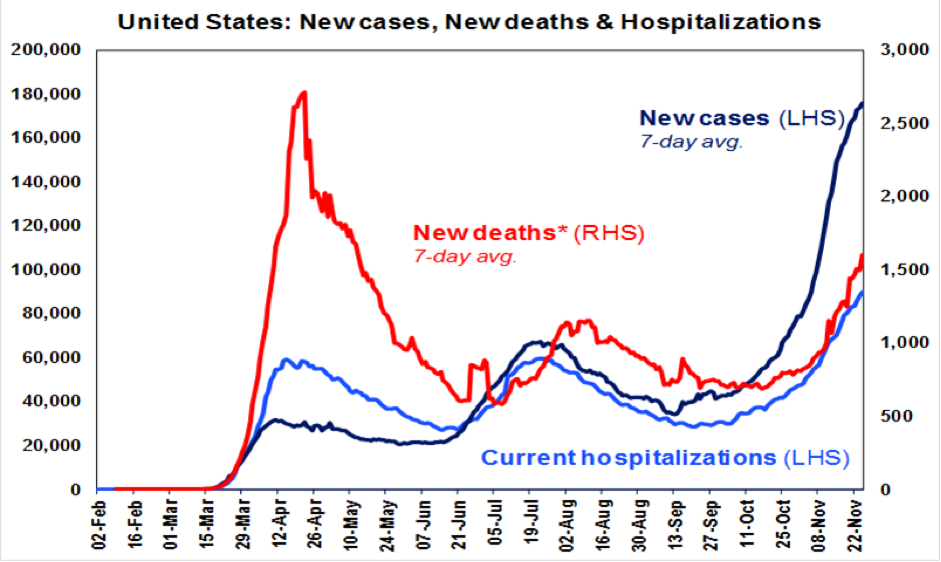 Our European Economic Activity Trackers have stabilised after plunging following the return to lockdowns last month. With new cases in Europe now falling taking pressure of hospitals the next move is likely to be a renewed recovery once the lockdowns are eased (with Ireland and Italy starting to move in that direction) but that may be a month or more away.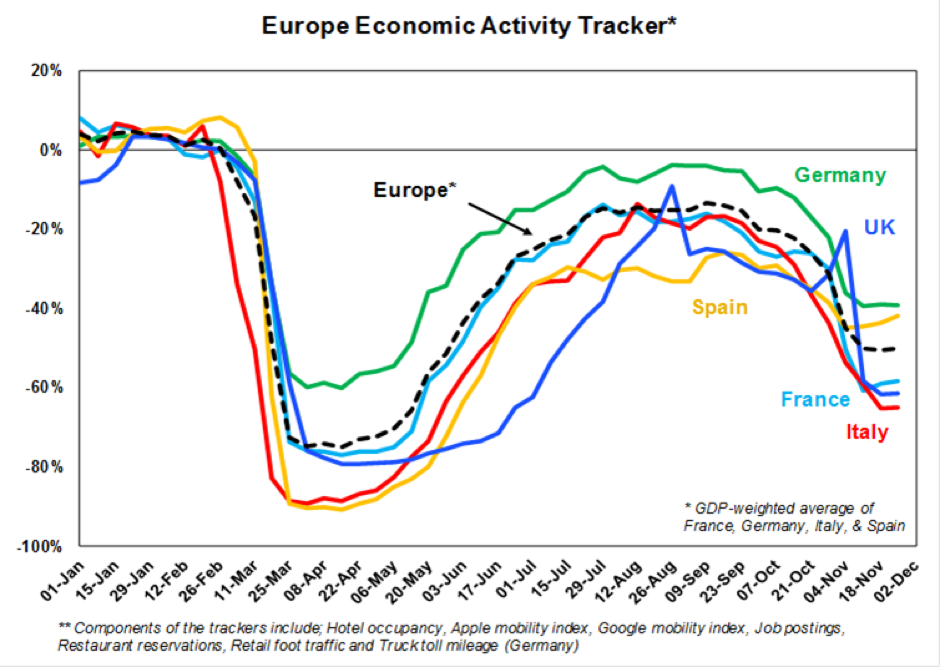 By contrast, our US Economic Activity Tracker is continuing to edge down – with most components falling over the last week – reflecting the still rising number of new cases and a continuing tightening in restrictions.A slowing in the US recovery looks certain in the months ahead.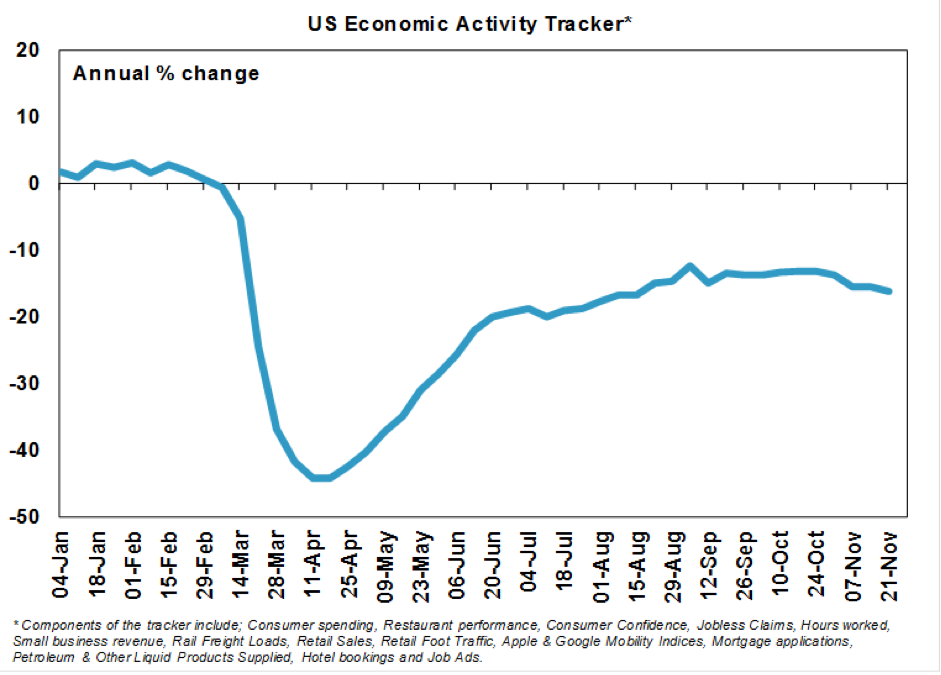 Back here in Australia
While the cluster in South Australia is continuing to cause some concern, new cases associated with it remain very low (maybe the 3 day severe lockdown short circuited it!) as have case levels across Australia with virtually all being amongst returned international travellers as opposed to local transmission. Victoria has now gone 28 days without a local case and NSW has gone 20 days.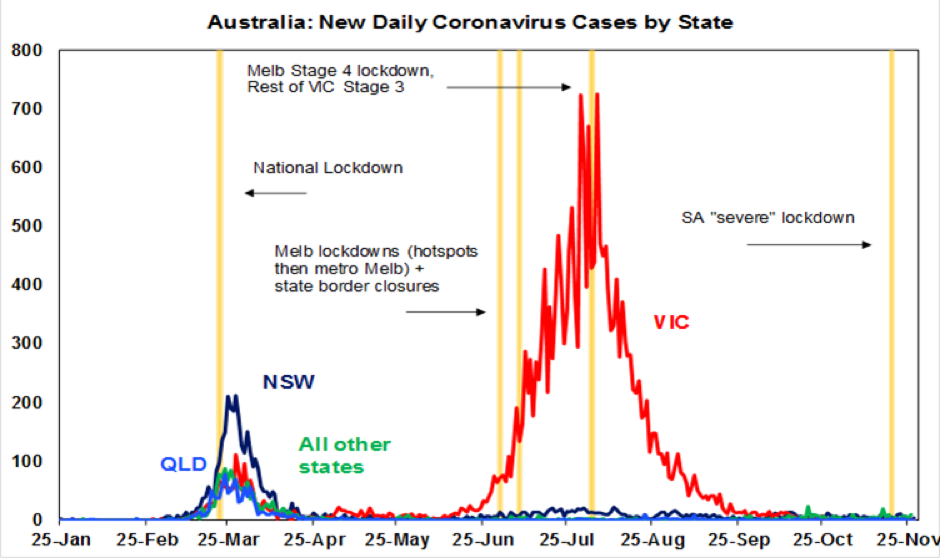 Reflecting the ongoing reopening in Australia, our Australian Economic Activity Tracker edged higher over the last week and is continuing to trend up nicely in contrast to the weaker trends in the US and Europe. All things being equal this should be relatively positive for the Australian share market and the Australian dollar.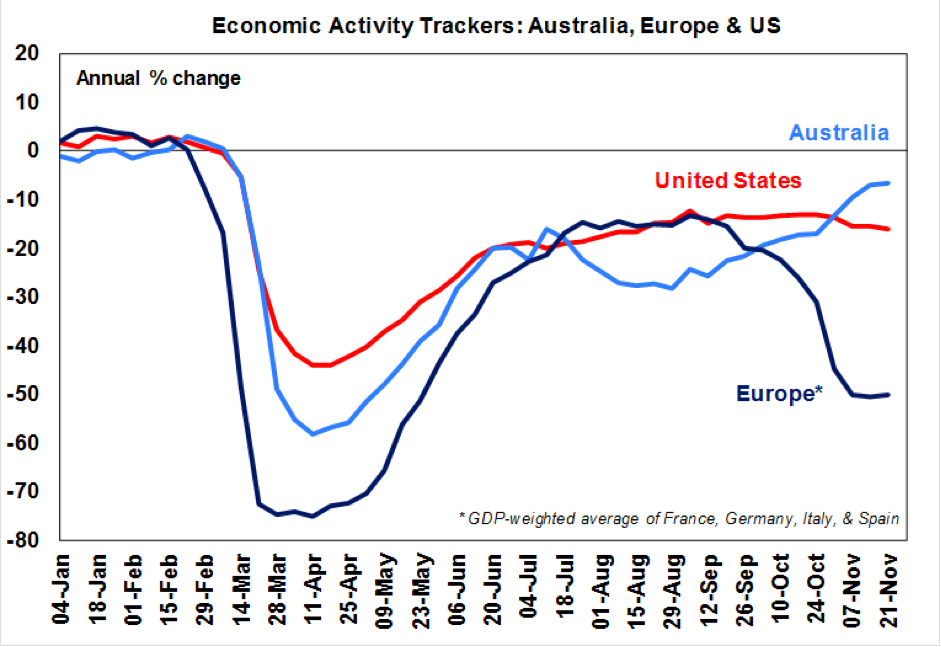 First NSW now Victoria - fiscal stimulus continues to ramp in Australia as states take on board the RBA's advice to provide plenty of stimulus. The extra stimulus in Victoria – focussed around infrastructure, housing, regional Victoria and hospitals – will add another 1% to national fiscal stimulus in this financial year, which is similar to that from NSW.
Outlook for shares & our dollar
Shares could see a further short term pause after recent strong gains. But we are now into a seasonally strong period of the year for shares and on a 6 to 12-month view shares are expected to see good total returns on the back of ultra-low interest rates and a strong pick-up in economic activity helped by likely vaccines.
Although the $A is vulnerable to bouts of uncertainty about coronavirus, the economic recovery and China tensions and RBA bond buying will keep it lower than otherwise, a continuing rising trend is likely to around $US0.80 over the next 12 months helped by rising commodity prices and a cyclical decline in the US dollar.