Global share markets had a rough week reflecting a confluence of bad news – Afghanistan, China's continuing regulatory crackdown, worries about the Delta wave in the US and the Fed's meeting minutes confirming that reduced bond buying (or tapering) is getting nearer. Reflecting the weak global lead, Australian shares also fell, not helped by a further rise in cases and more lockdown extensions locally, along with the continuing slide in iron ore prices, with resources and financials leading the fall. Consistent with the risk off tone bond yields generally fell as did oil and metal prices and the $A, as the $US rose.
While the situation in in Afghanistan is terrible and reminds me of the mid 1970s malaise around the US withdrawal from Vietnam, it's unlikely to have a major impact on global growth or markets unless it results in renewed and significant terrorist activity (and even there the impact is likely to be brief).
Share markets are at risk of a further short-term correction, as the boost from earnings reporting seasons is discounted, the Delta wave continues to impact, Fed tapering continues to come into view, China's moves potentially impact demand for Australian commodities and as the next six to eight weeks is often seasonally weak for shares. However, looking through the short-term noise, the combination of a likely continuation of the economic recovery beyond a near term interruption, vaccines ultimately allowing a more sustained reopening and still low interest rates with tight monetary policy being a long way off augurs well for shares over the next 12 months.
Global Covid cases
New coronavirus cases are continuing to rise globally, but there has been some slowing in the rate of increase helped by a continuing downtrend in South America and a stabilisation in Asia – albeit with Japan, Malaysia and Thailand rising but Indonesia and China slowing. China's lockdown measures in particular seem to have slowed a Delta outbreak across several provinces with new cases trending down over the last week with the 7-day average of daily cases falling from 113 a week or so to now around 55, raising the prospect of some relaxation in its lockdowns.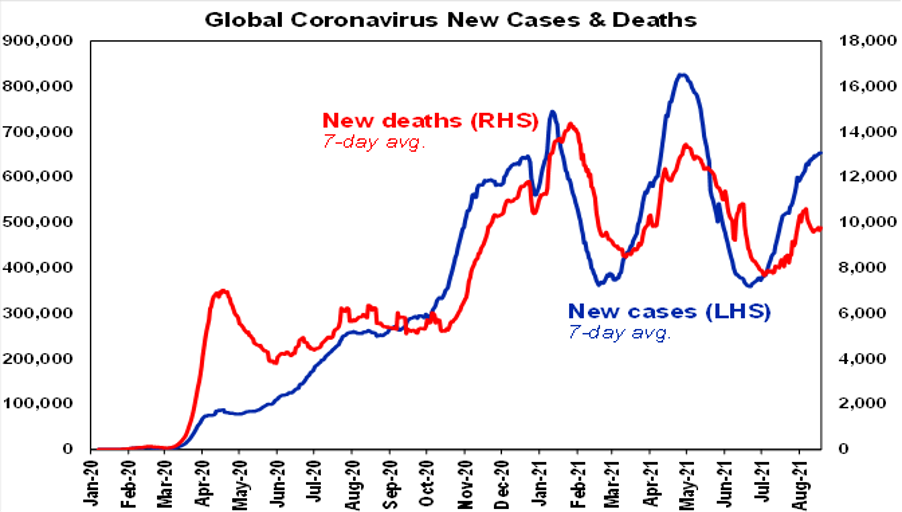 The unvaccinated
While new cases are continuing to trend up in developed countries – this remains more of an issue amongst the unvaccinated. The UK, Europe and Canada have seen a hook up in new cases, but hospitalisations and deaths remain low compared to the last wave, as vaccines continue to work in heading off serious illness.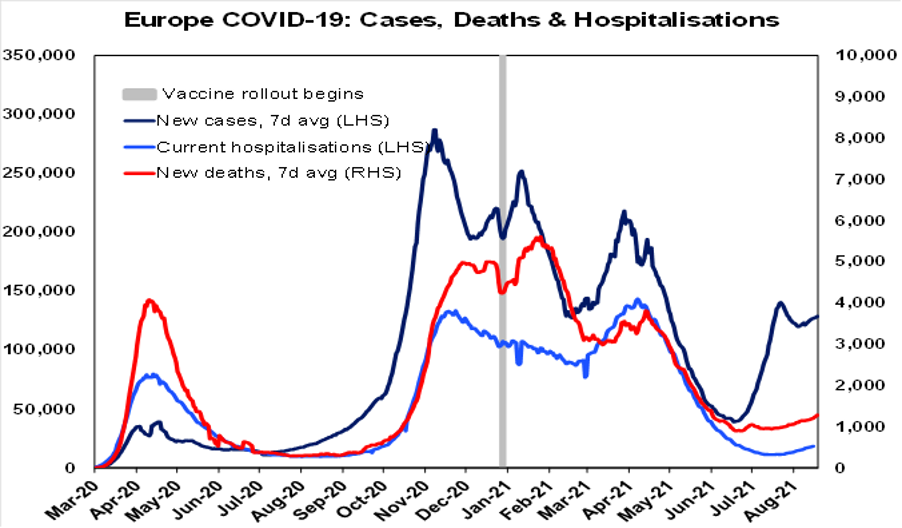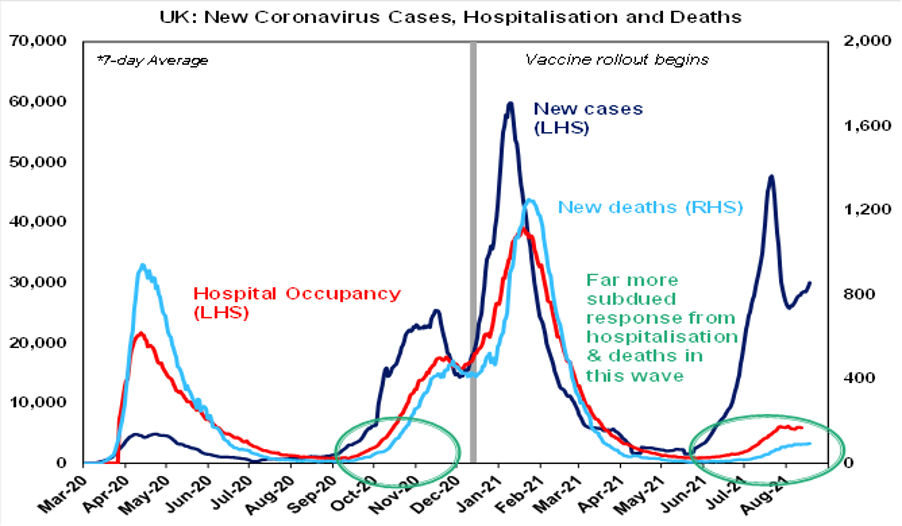 While the US is continuing to see rising new cases resulting in a surge in hospitalisations – this mainly remains an issue in the lowly vaccinated South with President Biden referring to a "pandemic of the unvaccinated". Hospitalisation rates are also running much higher during this wave for younger age groups (up 25% versus January for those under 40) than older age groups (down around 50% for those over 60) reflecting higher vaccination levels for older people.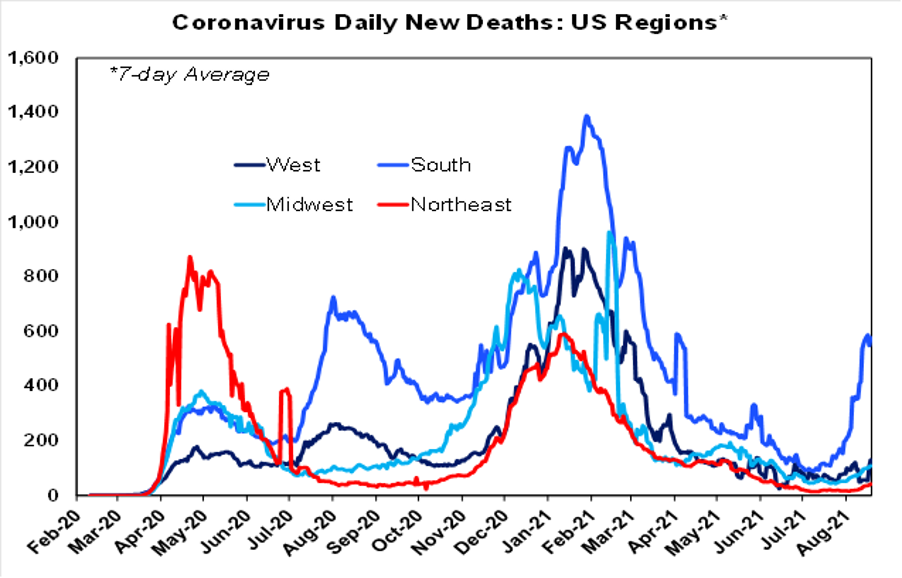 The vaccinated
On the latest count, 33% of people globally and 63% in developed countries have had at least one dose of vaccine. The low levels in emerging (ex China) and less developed countries is a concern, given the risk of mutations developing which could then find their way into developed countries.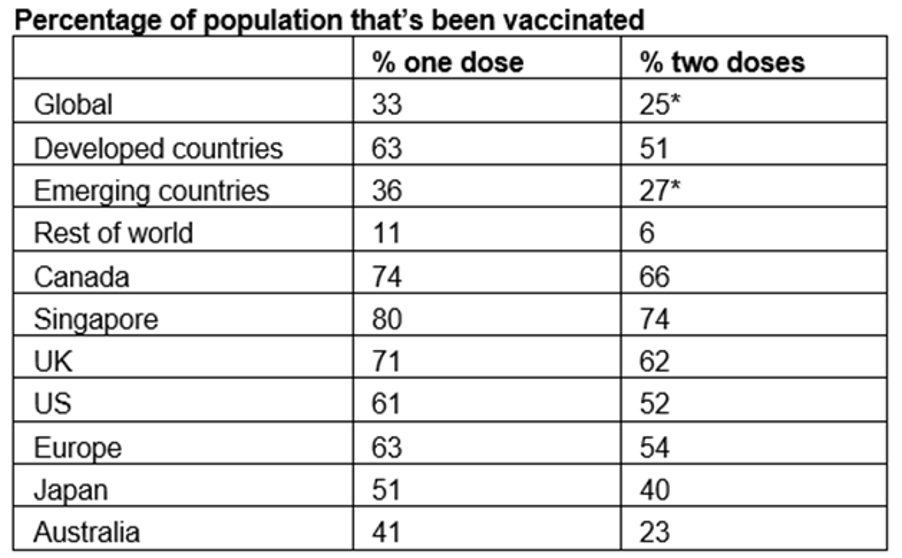 Being vaccinated gives good protection, but not immunity which will impact reopening. The following table shows the effectiveness against coronavirus (particularly Delta) of the three main vaccines combining data from the UK Government and the Doherty Institute (in brackets). As they are from two different sources, they will be differ slightly but the message is the same. It is also evident that vaccines lose some of their efficacy after 6 months or so (with one study showing this is more so for the AZ vaccine) – which is why some governments are now moving to provide booster shots (notably Israel which is advanced in this and now the US).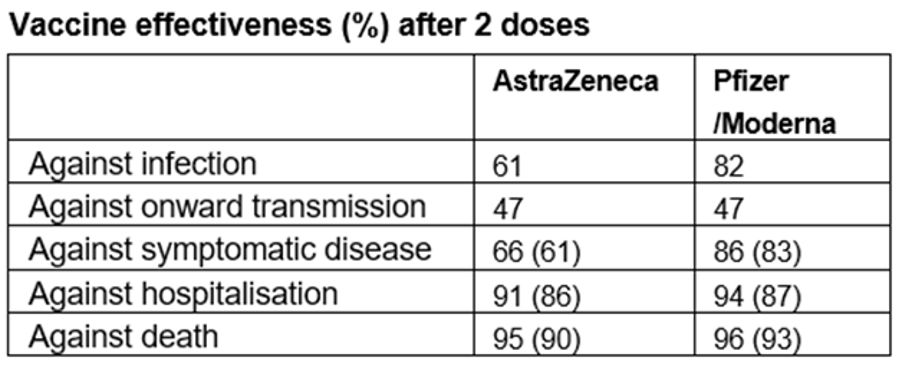 The key points from the table are that: the vaccines provide excellent protection against serious illness and death but are less effective in preventing you from getting the Delta variant and once you get it even less effective in preventing you from passing it on. This partly reflects the greater transmissibility of Delta (with a reproduction rate of around 7 compared to 2.5 for the original version of coronavirus). This in turn has several implications for reopening:
Herd immunity
First, the achievement of herd immunity where a population becomes immune to a disease as a result of a significant proportion of the population being vaccinated such that its transmission through the population collapses will be hard to achieve with Delta. It will likely require a much higher vaccination rates (say 80%, maybe even 95% of the whole population) than with other diseases. Some epidemiologists say that herd immunity is now impossible.
In the absence of very high vaccination rates, the unvaccinated can't rely on the vaccinated to protect them and so are at high risk. Hence the pandemic of the unvaccinated which we are seeing in the US and to some degree in NSW, with unvaccinated people dominating in ICU wards.
And case numbers will be high, e.g. the UK is seeing around 30,000 new cases a day (or about 11,000 cases a day adjusting to Australia's population). Put simply if 40% of the population is still unvaccinated and allowing for some vaccinated people getting infected that leaves a lot of people who can potentially be infected which still runs risks for the hospital system being overwhelmed.
Having a high number of daily cases could leave households and businesses very cautious (even when they are vaccinated) which risks slowing the recovery – as evident to some degree in the US and Europe.
Living with Covid
The bottom line is that we have to get used to a continuing high number of cases – potentially much higher than even now in Australia's case. But the best way to make sure its manageable is to aim for a very high vaccination rate. This likely means 80% of the whole population at least – as Singapore has been targeting and has almost achieved – probably even more.
The good news is that Australia's vaccination rate reached 1.72 million doses over the last week or 1% of the population each day reflecting increased supply and reduced hesitancy. This is likely to speed up even more with vaccine supply set to ramp up further. At the current rate of vaccination, we will reach the national objective of 70% of adults being vaccinated in 7 weeks and 80% of adults in 9.5 weeks. 80% of the whole population being vaccinated could now be met in 14.5 weeks (and as noted above this or even more may ultimately be needed). It will be made easier by the decision to allow 16-18 year olds to get vaccinated (which makes sense as about 30% of new cases in NSW and Victoria are under 19) and easier still when 12-15 year olds are approved as looks likely. But it may still require some carrot and stick. Community pressure from the majority of vaccinated people wanting to get on with their lives will likely force the issue. Companies like Qantas are mandating vaccination for front line workers starting to lead the way. NSW is reportedly planning to allow vaccinated people to have access to venues like bars, restaurants and gyms once the 70% target is met. So one way or another, vaccine passports are likely.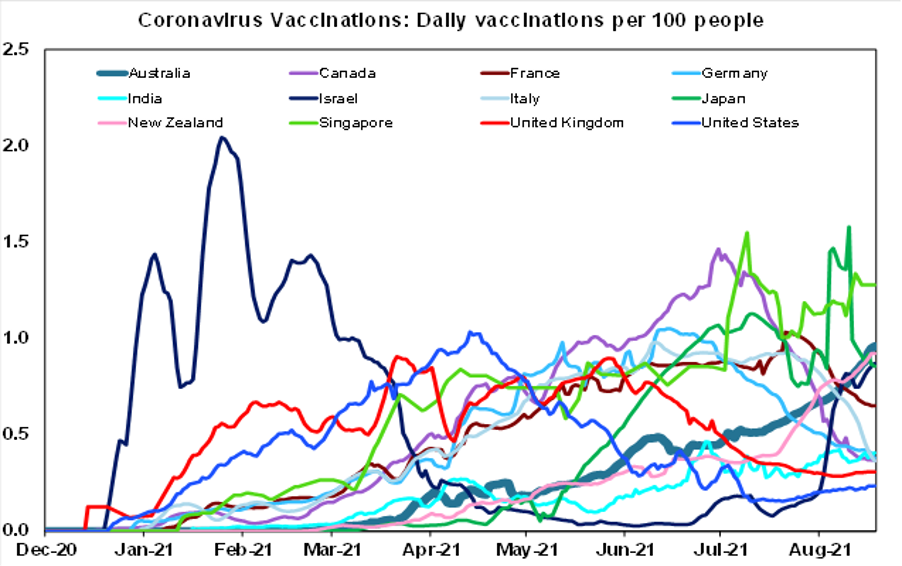 Lockdown update
Unfortunately, the lockdown news in Australia remains bleak – with new cases continuing to surge in NSW, Victoria and the ACT and the ongoing extension of lockdowns. Fortunately, other states have managed to control Delta outbreaks – by stamping hard on them earlier. NSW is continuing to pay a huge price for not acting earlier and harder.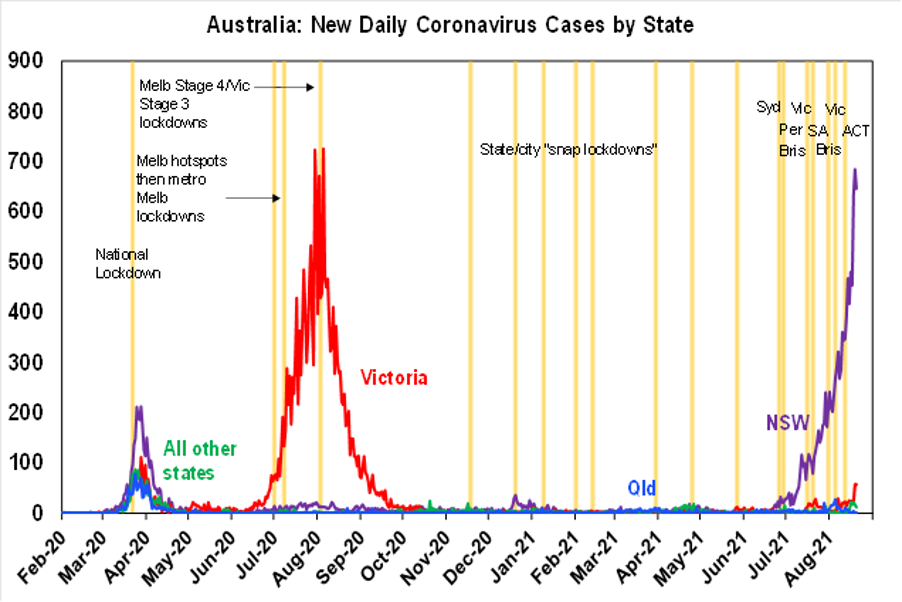 NSW is almost at the Premier's target of 6 million vaccinations by 27 August – but it's doubtful it's enough to allow much of an easing of restrictions given still accelerating case numbers and the need for much higher vaccination rates to re-open safely. At this stage it looks like the NSW lockdown will mainly continue as is at least until the 70% of adult's vaccination target is met in mid-October.

Economic impact of lockdowns
The economic impact of the lockdowns is evident in a further slight fall in our Australian Economic Activity Tracker. However, providing there are no new lockdowns in other states, it's likely to be at or close to the bottom as indicators for NSW and Victoria have likely hit bottom or come close to it.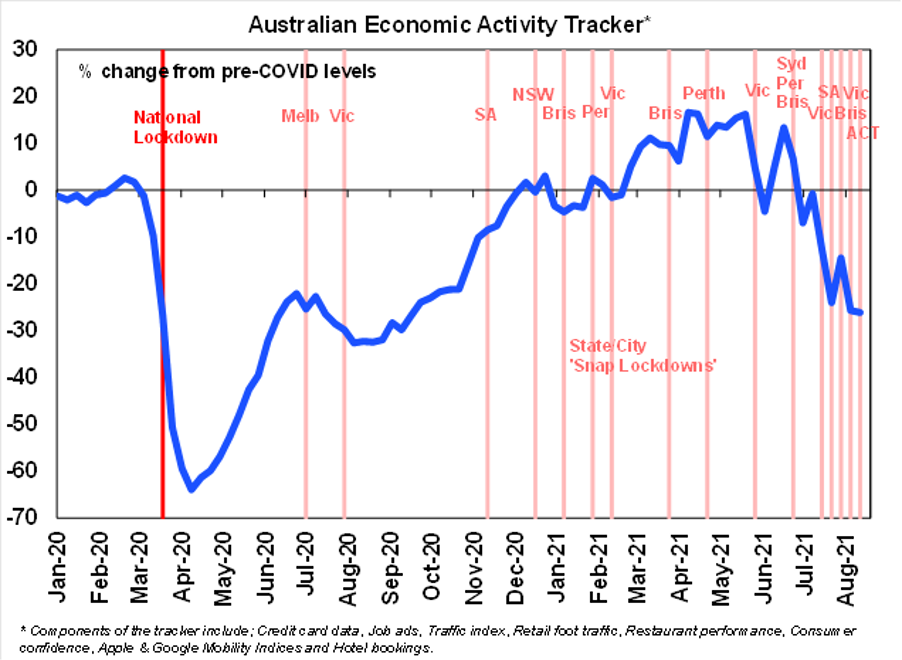 However, the extension of the lockdowns announced over the past week will mean a much bigger hit to the economic outlook than we were assuming just two weeks ago. The extension of the Victorian and ACT lockdowns for another two weeks and the extension of the Sydney lockdown at least until the end of September (basically another five weeks) means that the cost to the economy from the lockdowns announced since May will now be nearly $25bn (assuming the whole of NSW sees the same extension as Sydney). As a result, we now expect a hit to September quarter GDP of around -4% (we were assuming -2.5%). And, with case numbers still rising, there is an increasing threat to December quarter growth, although its still likely to be positive as NSW and Victoria will likely hit bottom in the current quarter and other states will likely grow. But the high and rising number of cases means that the reopening that will occur once vaccine targets are met later this year is running the risk of being characterised in some states at least by high numbers of coronavirus cases which could lead to consumer and business wariness and slow the initial economic rebound compared to last years' experience. Combined this all suggests a significantly lower profile for the level of GDP and a higher profile for unemployment through 2022 than the RBA has been assuming.
With the minutes from the RBA's August meeting noting that "the board would be prepared to act in response to further bad news on the health front should that lead to a more significant setback for the economic recovery" our assessment is that the significant setback is now occurring and so we now anticipate that the RBA will decide to delay its decision to slow its bond buying from $5bn a week to $4bn at its September meeting. The timing of the first rate hike is also looking like its slipping back into "2024 at the earliest."
Our economic tracker
Delta outbreaks also appear to be constraining our US and European Economic Activity Trackers with the US slightly off its June high and the European falling slightly. But the absence of lockdowns is heading off steep declines like we saw last year.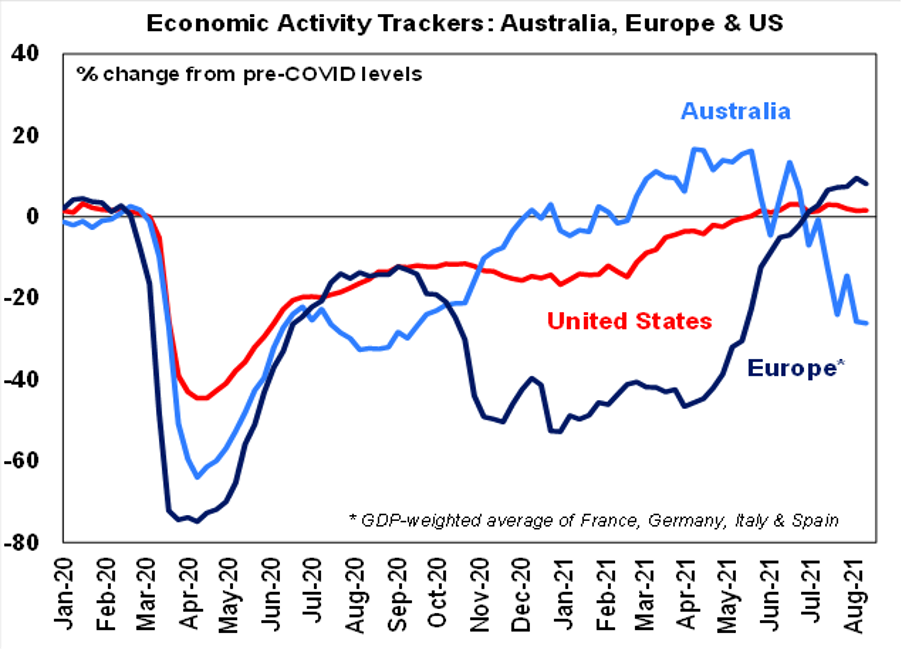 August 16 marked the anniversary of Elvis leaving the building for the last time – or so I am told. Here are two of his best songs. Suspicious Minds is number 1 in my view. It was first recorded in 1969 in American Sound Studios in Memphis, but this version was recorded live in Las Vegas for Elvis That's The Way It Is. It was written by Mark James as was Moody Blue that was recorded at Graceland in the Jungle Room in 1976.