Global shares fell sharply early in the past week but then rebounded as fears around China's Evergrande receded and the Fed meeting was out of the way. This saw US shares gain 0.5% over the last week and Eurozone shares rise 0.4% but Japanese shares lost -0.8% and Chinese shares fell -0.1%. Australian shares also fell -0.8% despite a mid-week rally as the weak iron price weighed on miners which along with falls in financial and property shares more than offset big gains in energy and utility stocks. Bond yields rose again on the back hawkishness from the Bank of England, a rate hike from Norway's central bank and Fed signals for a faster reduction in bond buying. Oil prices and metal prices rose, and the iron ore price had a bounce. The $A was little changed as was the $US.
Shares stabilise but short-term correction risks remain. The US share market has seen a good rebound from technical support and fears about Evergrande causing a global Lehman moment have receded but we could still see more volatility over the next month or so: there could still be more bad news out of Evergrande before a restructuring occurs; the US debt ceiling is far from resolved; tax hikes are likely on the way in the US; supply constraints are continuing to weigh on growth and contribute to inflation; and seasonal share market weakness usually runs into mid-October. However, despite near term uncertainties we remain of the view that the likely continuation of strong global growth and tight monetary policy being a long way off augurs well for shares over the next 12 months.
Four reasons why a disorderly default and liquidation of Evergrande is unlikely. Global fears around contagion from Evergrande have receded a bit but it's too early to sound the all clear. However, while Chinese authorities want to teach property developers and investors a lesson about the dangers of too much debt, they are most unlikely to allow Evergrande's failure to mushroom into a full-on credit squeeze dragging in other property developers and resulting in a property fire sale that collapses the property sector and the economy. There are basically four reasons why a restructure of Evergrande is likely:
The Government can't allow a collapse in property prices as it would destroy much of the wealth of Chinese households.
A collapse in the economy and property sector on the back of the pandemic could trigger a surge in social unrest.
A collapse in property construction would be contrary to the Government's desire to make housing more affordable.
And the Chinese Government saw the damage allowing Lehman to go bust caused and will have learnt from that.
The "resolution" of a Renminbi debt payment due on 23rd September and the relative calm in China's own debt markets are possibly signs that the Chinese authorities are working towards a restructuring. While a default on its $20bn in US dollar debt would be big, it's not out of line with corporate bond defaults in recent years and well below Lehman's $140bn default.
I wonder. In pre covid times when I used to go on planes there was a film called Sugar Manabout this singer called Sixto Rodriguez. It looked kind of heavy so I didn't get far into it on the flight but a while later I was in a taxi and this guy was playing these really mind blowing songs and when I asked he told me it was Rodriguez and it turned out the taxi driver was South African so had a soft spot for Rodriguez. Anyway, I watched the film and realised he was fantastic. He had cut some songs years back – but didn't do so well in the US, but did in South Africa and Australia – but he sort of then disappeared. Anyway, here are two of his best: I Wonder and Forget It. "But thanks for your time. Then you can thank me for mine. And after that's said, Forget it." And Crucify Your Mind. These songs are really amazing. It's such a shame they sort of got lost for a while.
Coronavirus update
The better news flow continued on the coronavirus front. New global coronavirus cases are continuing to trend down.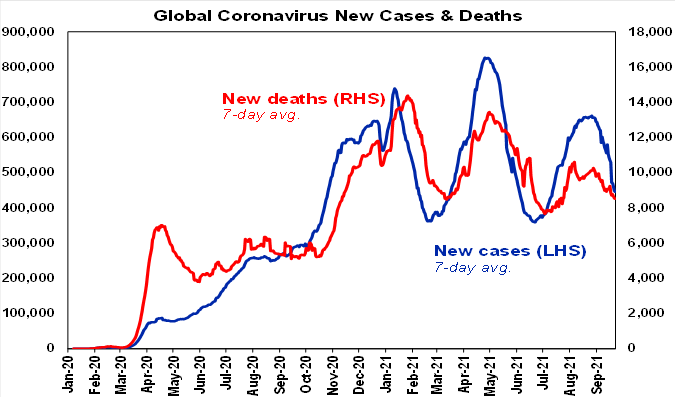 Most regions are seeing a downtrend in new cases. Asia, South America and Africa are all trending down, the US looks to have rolled over as the lowly vaccinated South slows and Europe looks to have stabilised. China has seen some more clusters, but numbers are low.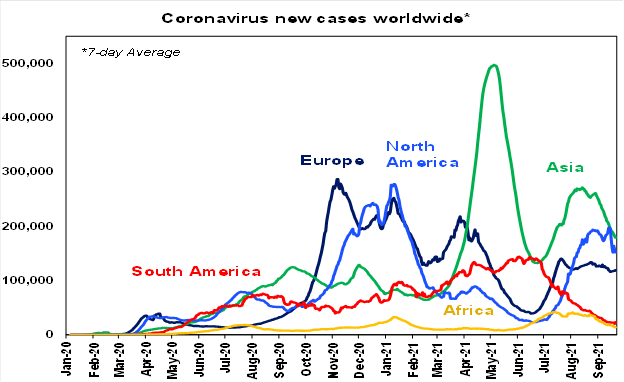 Vaccines are continuing to work in helping prevent serious illness. Hospitalisations and deaths remain relatively subdued compared to previous waves in Europe and the UK. And Israel is seeing a stabilisation or slowing in new cases, hospitalisations and deaths, likely helped by booster shots.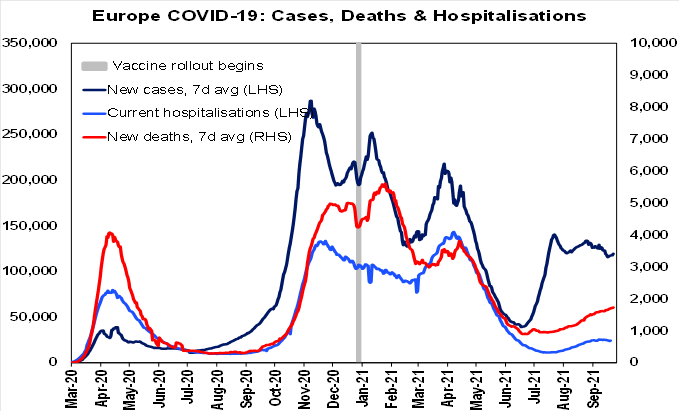 46% of people globally and 70% in developed countries have now had at least one dose of vaccine.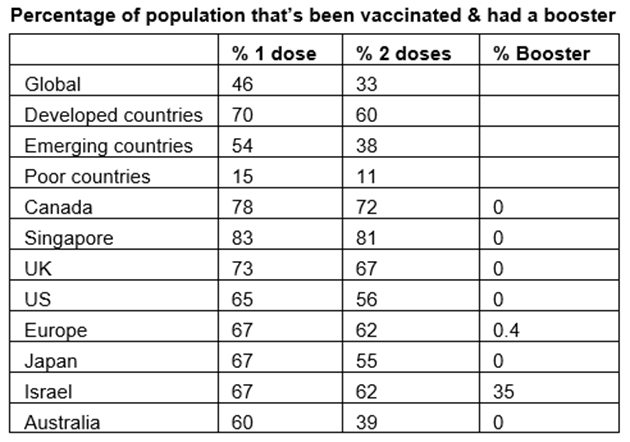 The key risks to watch out for are:
a renewed spike in cases in developed countries into the northern winter as around 30% are still unvaccinated, vaccines are only 60 to 80% effective in preventing infection & as vaccine efficacy may start to wane without booster shots – all of which leaves a lot of people who could still get sick. Israel and Singapore (below) highlight the risks here;
the low coverage in poor countries – US moves to ramp up vaccine donations and support a goal of vaccinating 70% of the global population is a good move: and
the risk of more deadly/more transmissible mutations.
New Australian cases may have peaked (for now). Victorian cases are still surging, but NSW and the ACT are down from their highs and NSW's effective reproduction rate is below 1.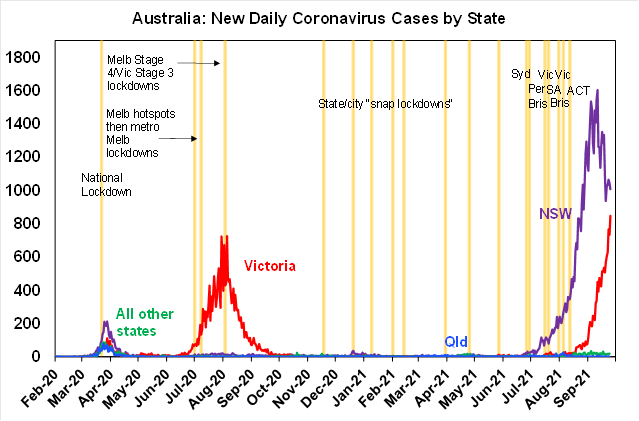 60% of Australia's whole population has now had at least one vaccine dose and the daily vaccination rate is running at 1.2% of the population.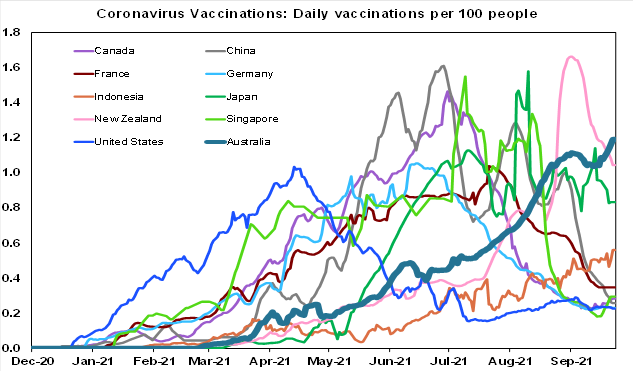 Key vaccine targets are on track to be met in October and November, starting in NSW. The next chart shows a projection of when NSW, Victoria and Australia will meet adult vaccination targets for one dose based on an extrapolation of the average daily vaccination rates seen in the last 7 days. Note that for first doses, NSW is through 80%, Victoria through 70% and Australian through 70%.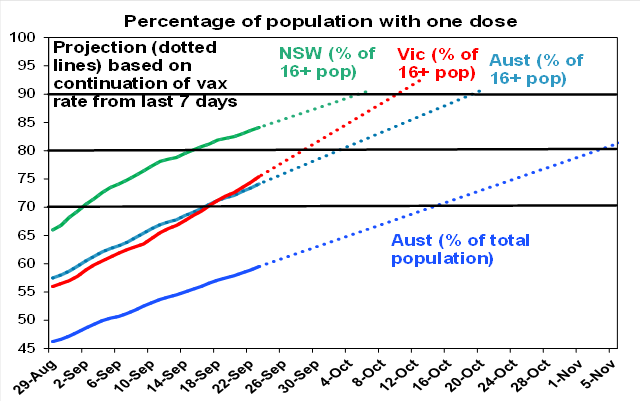 On the basis of this projection the following table shows roughly when key double dose vaccination target dates will be met based on the current lag between 1st and 2nd doses. NSW will hit the 70% of adults target around 5th October, Victoria around 31st October (although as seen in NSW it will likely speed up) and Australia on average around 25th October. At the current rate Australia could hit 80% of the whole population fully vaccinated by 11th December – which is nearer to what we should ideally be aiming for, given the risks around Delta!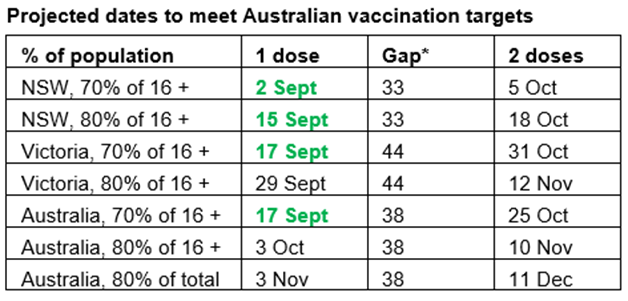 So, NSW is on track to "start" reopening by the second week of October, Victoria in late October/early November and the ACT (not shown) in mid-October. However, this reopening will need to be gradual until much higher vaccination rates are met in order to avoid a surge in cases and problems in the hospital system and hence big setbacks for the economy. A surge in cases to record levels in Singapore (despite being 81% vaccinated), resulting in the return of some restrictions including "work from home", highlights that reopening won't be smooth sailing in Australia. So far Singapore's serious cases and deaths are remaining low (helped by vaccines) – although its early days. Singapore's experience highlights that we really need to be targeting much higher vaccination rates – 90% plus of the whole population would be better.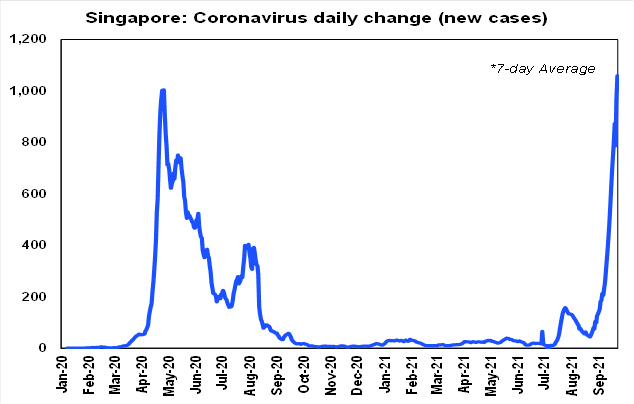 Meanwhile, vaccination is continuing to help keep serious illness down. Coronavirus case data for NSW shows that the fully vaccinated make up a low proportion of hospitalisations.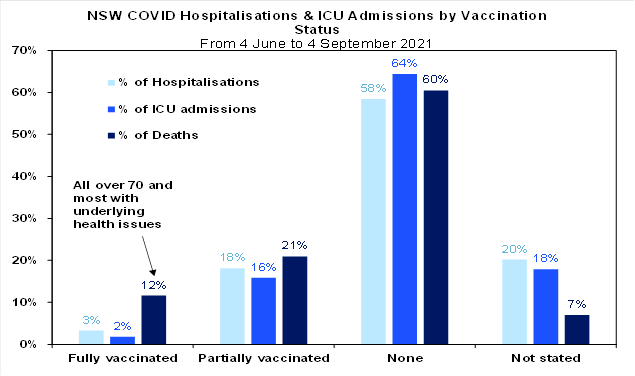 Consistent with this, the level of deaths (the red line in the next chart) is running at around 20% of the level predicted on the basis of the previous wave (dashed line).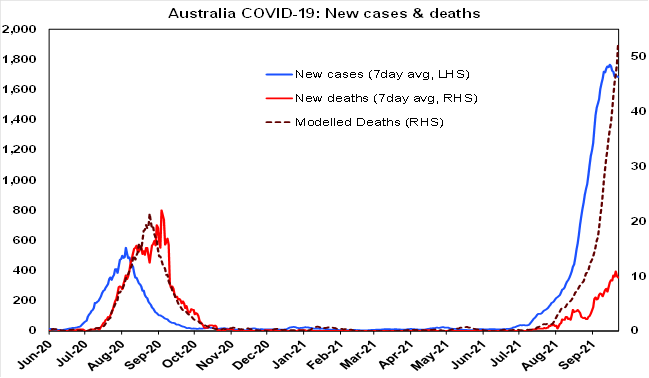 Other key developments
While our Australian Economic Activity Tracker remains well down from its June high, it continued to edge up over the last week, reflecting a modest increase in mobility as some regional lockdowns were eased. Assuming there are no further major state lockdowns, Australian economic activity has probably bottomed and will start to recover through next quarter with reopening. However, given the likelihood of high coronavirus numbers through the reopening and only the vaccinated participating in reopening in currently locked down states, this recovery will be far more gradual than was the case following last year's lockdowns. Our US and European Economic Activity Trackers have held at reasonable levels although improvement has been stalled by Delta outbreaks.