Global share markets mostly rallied over the last week. The big surprise perhaps was the US, where shares rallied to a new record high and bond yields fell, despite another surge in inflation, because investors (rightly in my view) interpreted the make-up of higher-than-expected inflation for May as consistent with the Fed's assessment that the spike in inflation would be transitory. Australian shares also rose to a new record high led by bond sensitive IT, utility, property and health stocks.
Global inflation readings continued to rise over the last week with producer price inflation accelerating in China and Japan and US inflation surging again in May to 5% year on year with core inflation rising to 3.8%yoy (its highest since 1992). However, our assessment remains that the current spike is likely to be transitory. The key drivers remain base effects as last year's deflation drops out of annual calculations; higher commodity prices; goods supply bottlenecks as a result of cuts to production in the pandemic and then consumers switching spending to goods from services; and reopening leading to a rebound in some prices.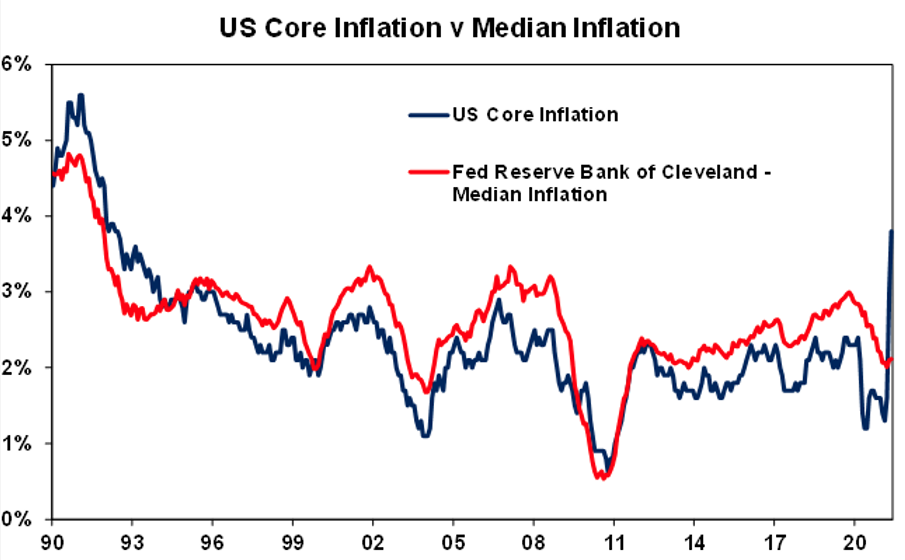 We remain of the view that the inflation spike will prove temporary as: high inflation numbers a year ago will drop out of annual calculations; industrial production will pick up in response to the surge in prices thereby boosting supply and depressing prices; consumer spending will gradually rotate back to services and away from goods; some sectors like traditional retailing, corporate travel and CBD services will see a longer lasting hit to jobs from the pandemic; and in the US the ending of enhanced unemployment benefits in September will push more workers back into the workforce. In fact, half of US states are already ending enhanced unemployment benefits. So, inflation is likely to fall back again as bottlenecks and the reopening boost fade. In fact. US core inflation may be close to peaking in year-on-year terms as high monthly numbers a year ago will start to drop out.
The continuing US economic recovery and a desire to keep inflation expectations under control will keep the Fed on track to start tapering its bond buying from later this year with the taper talk commencing either in the week ahead or at its July meeting. The likely fall back in inflation into later this year and early next year combined with central banks remaining dovish will mean that any near-term inflation driven bond market panic and hit to share markets will likely be short lived. Key to watch will be inflation expectations and wages growth.
Tax on big global companies
The past week saw a big move towards agreement on minimum global tax but there is a long way to go yet. The G7 endorsement of an excess profits tax on the biggest global companies and a 15% minimum tax rate on earnings outside a company's home country still has been helped along by the US' desire to raise its corporate tax but not at the same time severely harm US companies. There are several points to note. First, it still has to go through the G20, the OECD and individual countries parliaments. Second, the excess profits tax is heavily weighted against US companies and it's difficult to see Congress agreeing to that. Third, the excess profits tax could just lead to wasteful activities by multinationals to reduce profit margins which could be bad for investment and jobs and it provides a benefit for companies that are not big enough to qualify for the tax. Finally, most Australian companies will actually receive a competitiveness boost given Australia's already high corporate tax rate.
Bitcoin rollercoaster
It was another interesting week on the Bitcoin/crypto currency rollercoaster. First the FBI confirmed it had "hacked" back $US2.3 million of the $US4.3 million in Bitcoin ransom paid by Colonial Pipeline last month to the DarkSide. While it's unclear how they did this – it's undeniably good news. But it also calls into question how secure Bitcoin actually is. Which of course contributed to another plunge in its price. But it then got a lift after El Salvador adopted it as legal tender adding to hopes other countries would do likewise. Some who rely on the US dollar as their currency like El Salvador may do so too. And countries like El Salvador may see an opportunity to profit from interest in it, eg, by offering Bitcoin miners access to clean energy. But it's hard to see most countries adopting Bitcoin as legal tender and if anything we are likely to see more regulation of it: most governments won't want to see the seigniorage revenue they get from their own currencies threatened; they will face increased pressure to protect their citizens from its volatility; its use for illegal activity particularly in ransomware will likely lead to more regulation; its high carbon emissions will work against it as governments focus on reducing emissions; its slow transaction speed and high cost per transaction work against it as a digital currency; and governments will likely provide their own digital currencies. Finally, a proposal by international banking regulators to classify Bitcoin as the riskiest of assets may be seen as positive for Bitcoin to the extent its getting recognised but then such a risk weighting would make it very hard for banks to even hold it.
Coronavirus update
The trend in new coronavirus cases and deaths remained down over the last week with developed countries falling sharply helped by vaccines (with Japan also in a steep decline) and new cases in India continuing to fall sharply. Several Asian countries that had been in a rising trend now appear to be rolling over but the trend remains up in South Africa, South Korea and in some South American countries.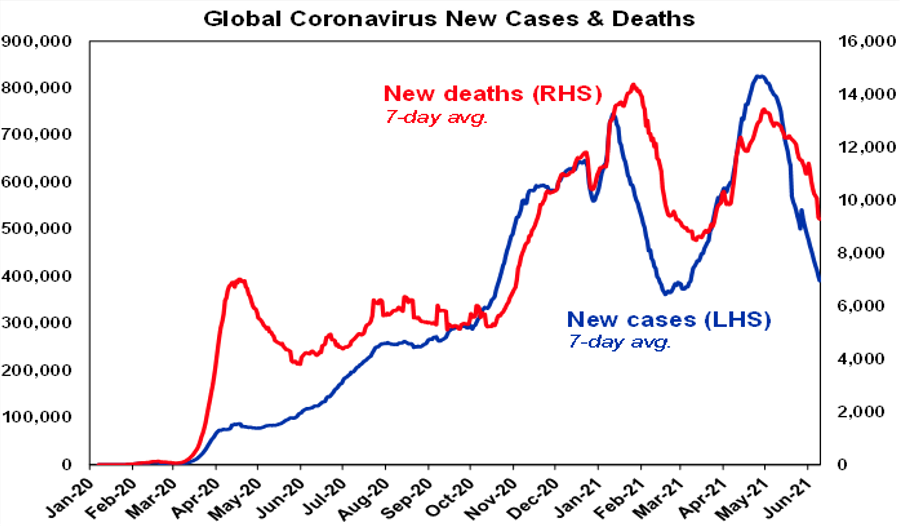 Melbourne lockdown ends
The good news in Australia is that the lockdown in Melbourne has ended, albeit with various restrictions remaining, after the number of new cases trended down. Risks remain though so it could still flare up again but so far so good and it's clear that snap lockdowns if implemented early when cases are low can help avert a longer more debilitating lockdown as well as save lives. The only way to avoid them going forward is to rapidly ramp up vaccination.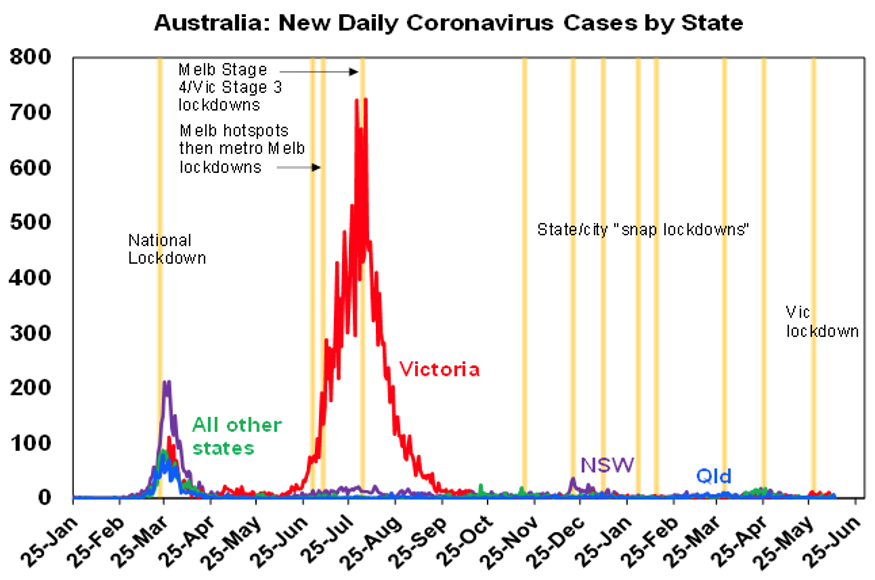 Vaccine update
So far only 12% of the global population has had at least one dose of vaccine, with only 9% in emerging countries but 43% in developed countries. Canada has now shot up to 64% after a slow start, the UK is now at 61%, the US is at 53%, Europe is at 42% and Australia is at 21%. The success of the vaccines continues to be evident in low new cases, hospitalisations and deaths in Israel, the UK and the US. However, the UK has seen an edging up in new cases due to the highly contagious Delta variant, particularly amongst young unvaccinated people highlighting the risks of reopening before enough people have been vaccinated. But vaccines should help prevent anything like past waves and keep hospitalisations and deaths down in the UK.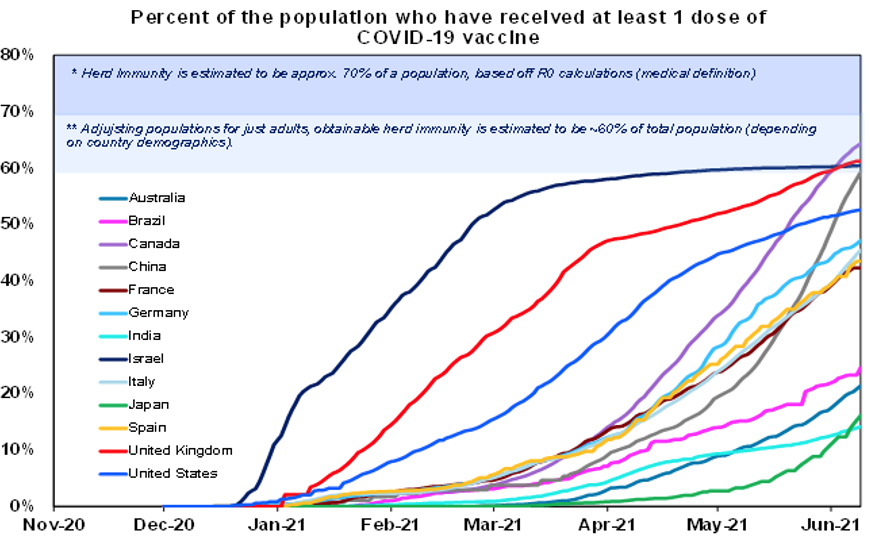 While Australia's vaccination rate has increased to 0.5% of the population a day (see thick line in next chart), its lagging much of Europe and Canada that has been running around 1% a day.
Our Australian Economic Activity Tracker
Our Australian Economic Activity Tracker fell sharply over the last week as Victoria's lockdown continued to impact. However, with the lockdown now over we are likely to see the rising trend in economic activity quickly resume again as seen after the various other snap lockdowns ended.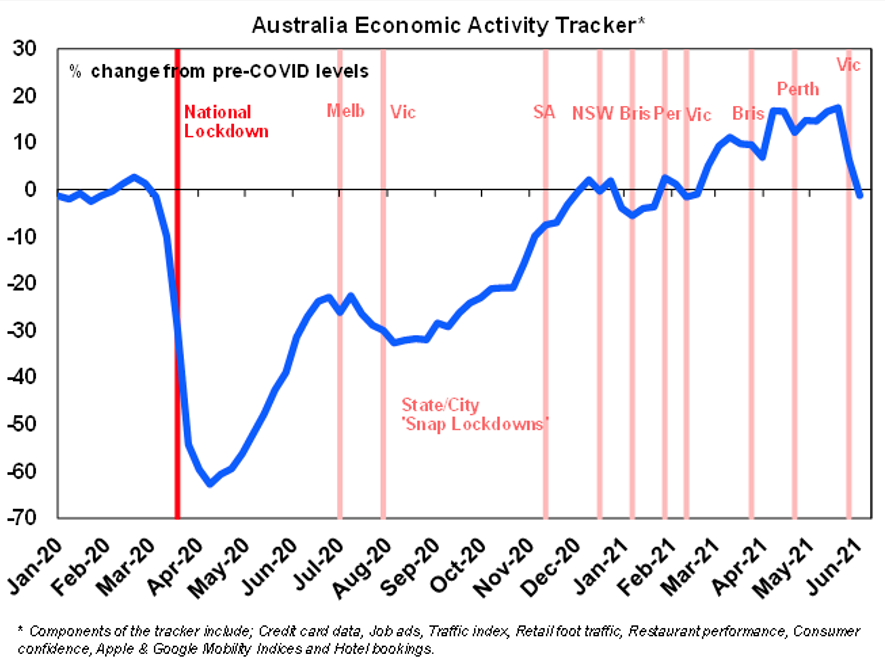 Our US Economic Activity Tracker remained just below its pre-coronavirus level, and our European Tracker is continuing to rise rapidly as Europe reopens.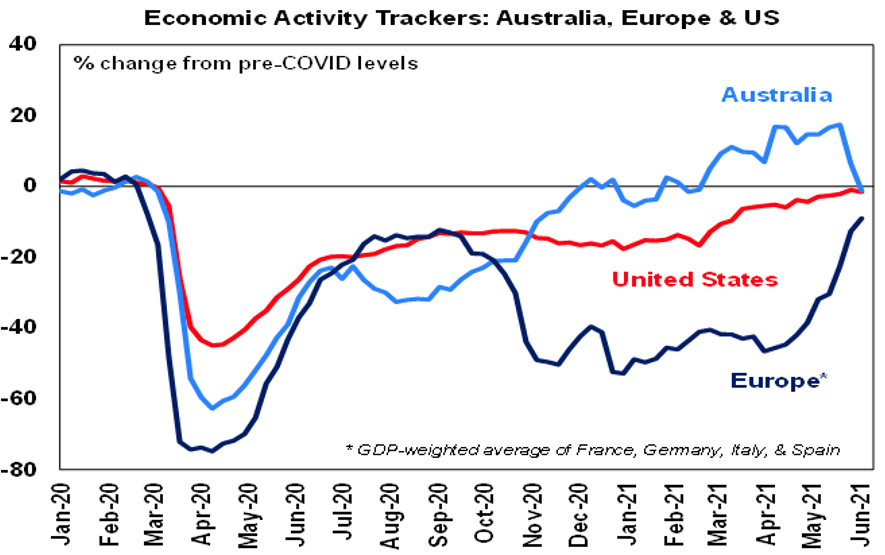 Continuing with the Beatles, George Harrison also continued with a focus on love post the Beatles. Give Me Love (Give Me Peace On Earth) from 1973 and This is Love are two of his classics. This is Love was written with Jeff Lynne and the video (which I only came across a few years ago on a DVD) was filmed in Hawaii and shows a very relaxed and late 1980s cool George. For a singer who reportedly shunned pop stardom, he certainly looked the part for this video.