Global share markets were mostly down over the last week, with US shares down 1.5% and European shares down 1.2% partly on profit taking, after a run of strong gains along with concern about higher bond yields and soft economic data on the back of rising new coronavirus cases. Consistent with the soft US lead, Australian shares fell 0.6%, with gains in energy, financial and IT stocks being more than offset by falls in consumer staple, health and industrial shares.
There was no let-up in the rising trend in new coronavirus cases globally over the last week, with the spread of the more contagious UK, South African and now Brazilian strains not helping. There may be some signs of a slowing in the US and Europe though, particularly in the UK, following the latest lockdowns but it's too early to be sure.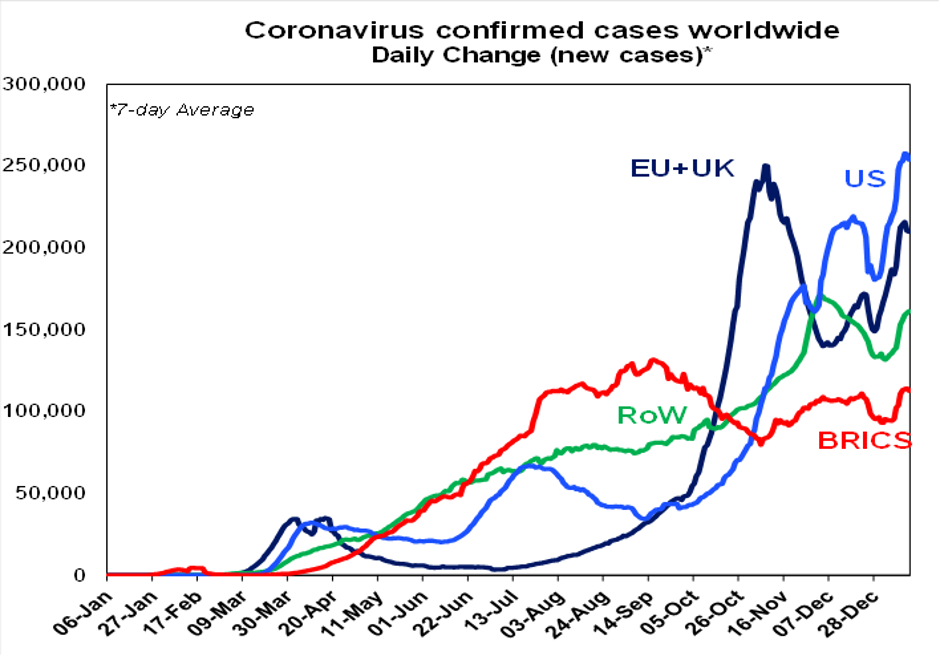 Fortunately, vaccines are now starting to be rapidly deployed, with Israel way out in front having vaccinated at least 20% of its population (which will provide a useful early guide as to the Pfizer vaccine's real time effectiveness). There is also some evidence of a negative correlation between new hospitalisations and the percentage of the population having been vaccinated across US states. There is a long way to go though, before the 70% or so level necessary for herd immunity will have been reached. In the US, this is expected for around July/August. In Australia it will take longer as a smaller proportion of the population has been exposed to the virus, the start of the vaccine rollout is not till mid-February and there will be a greater reliance on the Astra-Zeneca vaccine, which appears to be less effective on the basis of some tests.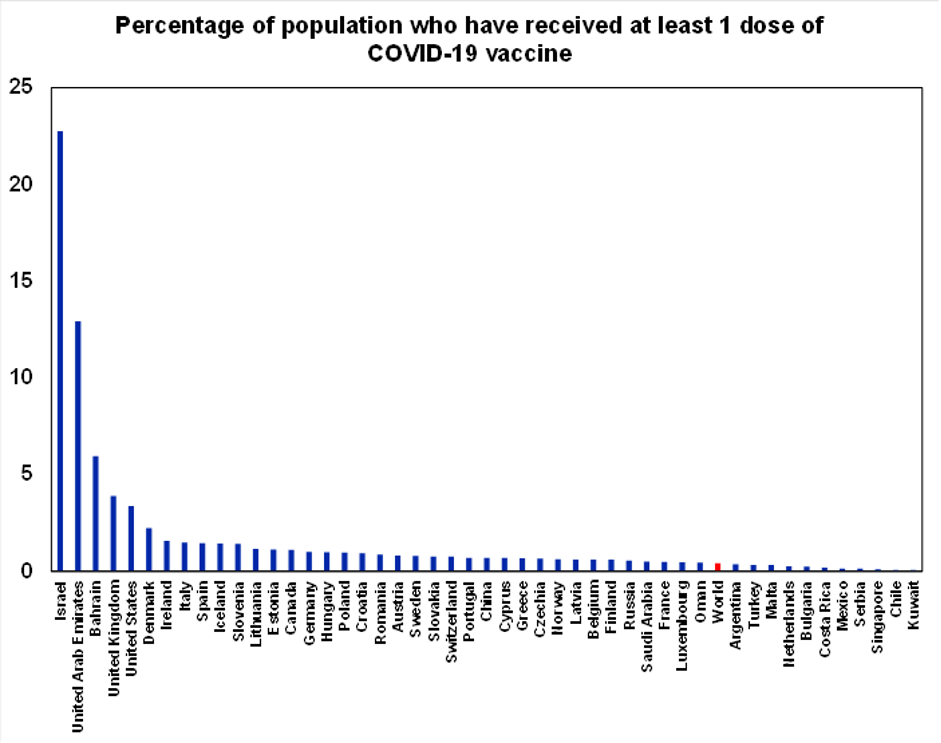 In Australia, various coronavirus outbreaks appear to have been brought under control and despite concerns about the UK and South African variants escaping into the community the number of new local cases remains low. It remains too early to relax though given the ongoing return of international travellers and the greater risk of the more contagious versions escaping into the community via the traveller quarantine program.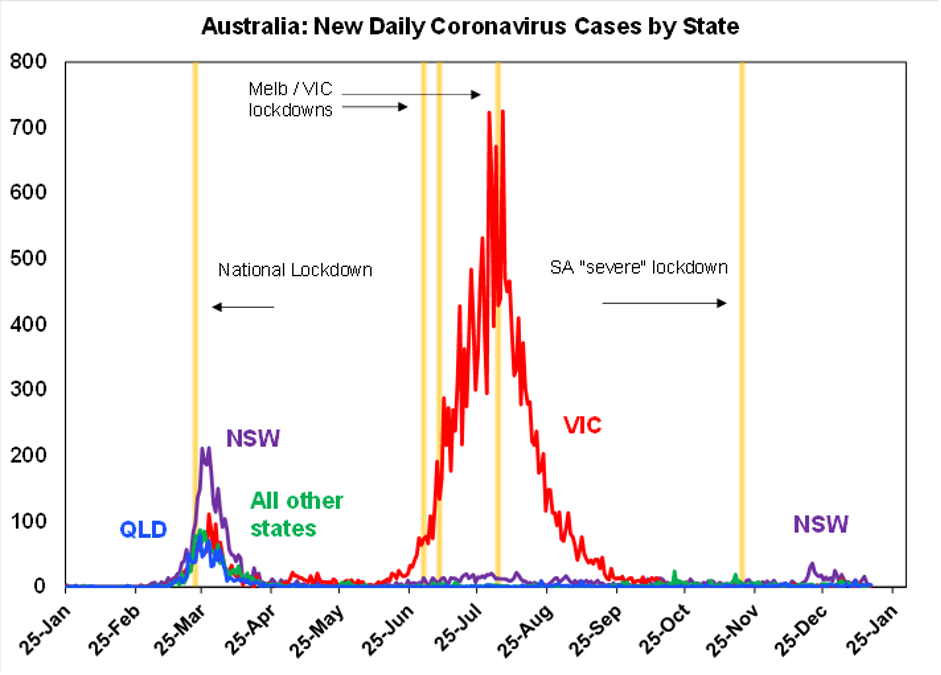 So far the national economic impact of the tighter restrictions and brief mini lockdowns seen over the last month (including border closures) are likely to have been minor and not enough to derail the economic recovery (albeit its horrible for those businesses and workers that are directly affected). And if new cases remain low this will remain the case.
Consistent with this, while our weekly Economic Activity Tracker for Australia has fallen from its highs of late last year, it has held up pretty well and remains relatively strong. By contrast, our European Economic Activity Tracker remains very soft despite a bounce in the last week. And our US Tracker is continuing to trend down at a weak level and is pointing to a slowing in economic conditions since September.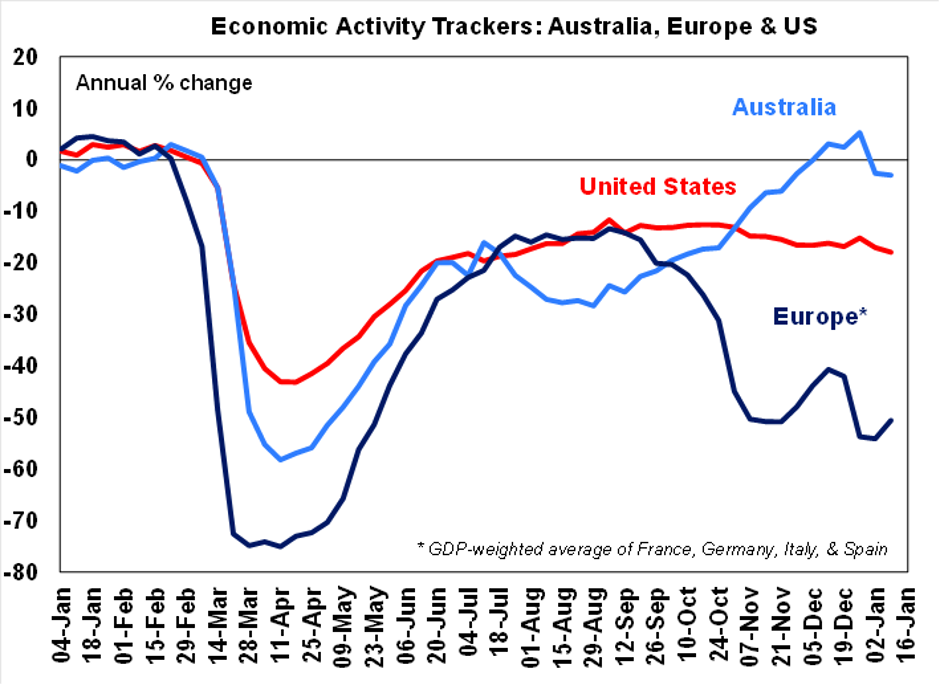 Political drama continuing in the US – but with little impact on investment markets, providing the economic impact remains insignificant. The past week has seen the House impeach President Trump - making him the only president to be impeached twice – for inciting the Capitol riots that led to loss of life, with the vote including several Republicans and some abstentions. It now goes to the Senate but an outcome won't occur until after Trump leaves office, which is probably a good thing in terms of avoiding further inflaming tensions before Biden's inauguration on Wednesday and in terms of helping to ensure perceptions of a fair trial. If convicted by the Senate, Trump would be prohibited from receiving benefits that normally go to former Presidents and on a simple majority vote in the Senate could be prohibited from running again for office. Time will tell whether the necessary 67 senators will agree to convict him, as this will require 17 Republican senators – although indications are that several are leaning in that direction. In the week ahead, there are likely to be more protests with a high risk of violence, but provided this does not significantly impact economic activity and/or disrupt the political process, then it's unlikely to have much impact on investment markets. This was also the message from the Black Lives Matter protests in mid-year and past incidents such as the Oklahoma City bombing and the Atlanta Olympic Park bombing. While the drivers of extreme social divisions in the US – such as inequality – remain, the Democrats clean sweep of the Presidency, House and Senate along with Republicans now being weakened, point to a strong effort by the Biden Administration to deal with them over the next few years. Moderate Democrat senators will prevent a big left-ward lurch but significant extra fiscal stimulus with the initial tranche focussed on pandemic relief followed by more spending on infrastructure and dealing with climate change along with an expansion of Obamacare, a rise in the minimum wage and a small increase in the corporate tax rate (to 25%) and an increase in the top tax rate are likely. US shares will benefit from more stimulus, but the higher corporate tax rate will make non-US shares relatively more attractive.
In terms of the pandemic relief stimulus, President elect Biden's announcement of a $1.9 trillion plan is more than expected but its passage through Congress is likely to see this cut back to around $1.2-1.5 trillion. Key elements include $1,400 stimulus cheques, state aid, an extension of unemployment insurance, small business and rental support and an increase in the minimum wage to $15/hr. Note that this is really just an ambit claim as it's very hard to see all of this getting the support of 60 Senators and if the budget reconciliation process (which only requires a simple Senate majority but must be budget neutral over ten years) is used as is likely then moderate Democrat senators will likely scale it back to around $1.2-1.5 trillion. Another plan focused on infrastructure, climate and other longer-term goals will come later. Note that this is all gross spending. Tax hikes are to be expected - and probably necessary under the budget reconciliation process which will be required if Biden can't get 60 senate votes...although moderate Democrats will limit them - which will reduce the ultimate size of the net stimulus, but for this year it's still likely to be huge at around 10% of US GDP.
Taken together this will further boost US and hence global recovery, which along with vaccines is likely to be stronger than generally expected, push share markets higher, favour non-US including Australian shares over US shares (as the US corporate tax rate goes up), push bond yields moderately higher, push the $US down (and the $A up) and favour cyclical value stocks over growth and defensive plays.
That said, share markets have run hard and fast since early November and remain vulnerable to a short term pull back. However, this should be viewed as just another correction before the rising trend resumes. The likelihood of 10% upside earnings surprise in the upcoming profit reporting seasons in the US and Australia should help limit any near-term share market correction. In Australia, there seems to be renewed concern about JobKeeper ending at the end of March. At this stage I don't see it as being a major problem so long as the economy continues to recover. The number of jobs protected by JobKeeper has already collapsed from 3.6 million in September to 1.5 million in October because far less businesses met the criteria to continue receiving it. This is consistent with the unemployment rate having fallen further since September from 6.9% to 6.8%...in other words the 2.1 million reduction in jobs being supported by JobKeeper did not result in a rise in measured unemployment because the economy was recovering and businesses needed to keep the workers on. With Victoria reopening further since October the number of jobs needing protection is now likely to have fallen below 1 million and will likely have fallen further by March. This is also consistent with a collapse the number of workers working zero hours back to around pre-covid levels. So, if the economy continues to recover by the time we get to April there may not be many still being protected by JobKeeper. There will still be some though, eg, in jobs dependent on international travel and foreign students but it's likely to be far less than 100,000. The key to all of this is whether the economy continues to recover. So far it has recovered faster than expected despite the long Victorian lockdown and the latest coronavirus scare in the eastern states does not appear to have caused a major setback. If this remains the case, then the recovery is likely to continue and it will be appropriate to end JobKeeper as planned at the end of March. Alternatively, if a resurgence in coronavirus necessitating more severe lockdowns occurs threatening the recovery then I suspect that the Government will either extend JobKeeper (as it did beyond September) or announce a replacement. At this stage this appears unlikely though but there is no need for the Government to make a decision for another month or two.