Global share markets were mixed over the last week. US shares rose 0.3% for the week helped by strong data but with gains pared slightly by concerns about rising coronavirus cases in Europe and hawkish Fed comments. Eurozone shares fell 0.3% on the back of coronavirus concerns after Austria announced a lockdown, but Japanese shares rose 0.5% and Chinese shares were flat. Australian shares fell 0.6%, with sharp falls in financials on the back of bank margin concerns and in resources stocks reflecting lower oil and iron ore prices. 
Bond yields fell in the US and Europe but rose in Australia. Oil and metal prices fell but iron prices rose slightly but only after making new lows mid-week. The AUD fell as the USD rose.
On the inflation front
The past week saw faster than expected increases in inflation in the UK (4.2% YoY) and Canada (4.5% YoY) and ongoing high readings for price pressures in US business surveys. All of which is maintaining pressure on central banks with the Bank of England on track to raise rates next month and Fed vice-chair Clarida saying the Fed might have to make a discussion about speeding up the taper, which would clear the way for an earlier rate hike next year.
So far, the upwards pressure on long bond yields has been relatively minor, with yield curves tending to flatten reflecting longer-term inflation expectations remaining relatively contained and possibly concerns that central banks may make a policy mistake by tightening prematurely. And share markets don't seem too fussed. Like the Fed and RBA, we are of the view that inflationary pressures should ease as workers return, production catches up and spending rotates back to services. However, this could take 6-12 months with the risk that it feeds further into wage rises and inflation expectations, making the spike in inflation stickier.
Bottleneck easing signs
There were some more signs of easing bottleneck pressures over the last week but it's a bit mixed: a surge in auto production in the US is consistent with an easing in the shortage of semiconductors; the number of containers on LA docks is down by 29%, and now the oil price has fallen 10% from its highs. Against this, gas prices soared again due to a delay in the approval process for the Nord Stream 2 gas pipeline and geopolitical tensions with Russia and Belarus have increased partly as Russia seeks to take advantage of Europe's energy shortfall.
November 2022 rate hike?
In Australia, we still see the first rate hike coming in November 2022. The minutes from the last RBA meeting and a speech by Governor Lowe pretty much stuck to a dovish script pushing back against market expectations for a 2022 high, conceding that a 2023 high is possible but that under its "central scenario" the conditions for a rate hike won't be in place until 2024.
Governor Lowe makes many valid points about lower inflationary pressures in Australia - energy prices have been trending lower here, labour force participation is high, wages growth is weaker and underlying inflation is only just above the lower end of the target. However, forecasting is difficult, inflation has already been coming in ahead of the RBA's expectations, it's already had to soften its dovish view around no rate hike before 2024 and Governor Lowe's recent speech left some wiggle room in his comments that "wages growth is just one of the guideposts".
Our view remains that slightly stronger growth and a slightly faster decline in unemployment resulting in a slightly faster wages growth will see the conditions fall into place for an RBA rate hike by late next year. That said money market expectations for 3 or 4 hikes over the next 12 months look way too hawkish particularly compared to the US where only two hikes are factored in. The big difference in inflation pressures between the US and Australia is evident in the next chart – nearly 75% of the components in the US CPI are rising faster than 3% compared to only 35% in Australia. This would suggest that even if rate hikes come earlier than the RBA is flagging Australian 10-year bonds with a yield of 1.8% are a buy relative to US 10-year bonds on a yield of 1.59%.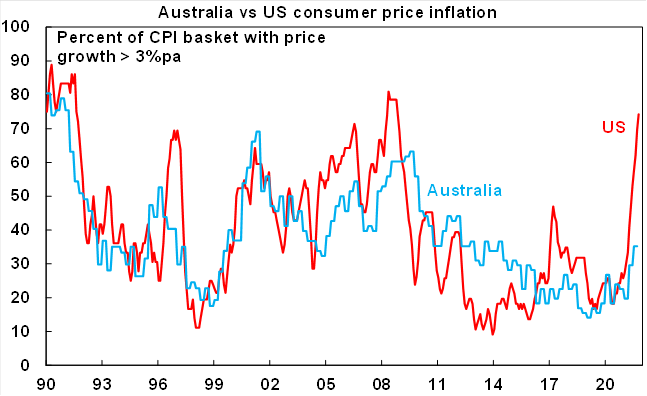 US/China tensions starting to defuse?
The Xi/Biden summit reached no major resolutions but at least it was a step in the right direction and the final part of both sides' post-summit statements left the door open to future progress which could include removing tariffs. There is a long way to go though (and US public opinion is sceptical) but at least we are a long way from the tit for tat lose/lose escalation of the Trump years.
Threats to crypto craze
The threat to the crypto craze stems from regulation and central bank digital currencies (CBDCs). As I see it this is one of the biggest threats to the crypto craze. And in the past week, the RBA's Head of Payments Policy Tony Richards warned: "If there were to be global policy action to deal with some of the particular concerns about the use of cryptocurrencies, plus the arrival of new stablecoins and CBDCs … existing cryptocurrencies might then have only niche uses at best". My own assessment is contained here.
Taylor's version
For some reason, I missed the 12 November release of Taylor's version of Red. But I have caught up and love it. Great vocal performances from Taylor and new "from the Vault" tracks including I Bet You Think About Me (with video directed by Blake Lively) and a ten-minute version of All Too Well. Well done Taylor, bad luck Scooter. Out of interest, back in December last year Taylor had planned to release Evermore, and Paul McCartney planned to release McCartney III on 11 December. Apparently, Taylor then decided to postpone the release of her album by a week to respect the release of Paul's album but then Paul upon learning this delayed his album one week so Evermore could be released on its original date. And for those who haven't seen it here's The Paul McCartney Sandwich – but just swap vegemite for that yucky marmite stuff!
Covid update
Global coronavirus cases are on the way up again. As we noted last week this is primarily being driven by Europe (notably Germany, Austria, the Netherlands, Denmark, Ireland and Finland) but the US is also starting to head higher as well. The drivers are a combination of the almost complete removal of restrictions, cold weather, stalling vaccination rates at or below 70% of the whole population, fading efficacy against new infection (just like Israel saw mid-year) and a slow start to boosters. The US and UK are now hooking up again and both are at risk for similar reasons – although the booster rollout is more advanced particularly in the UK than in Europe.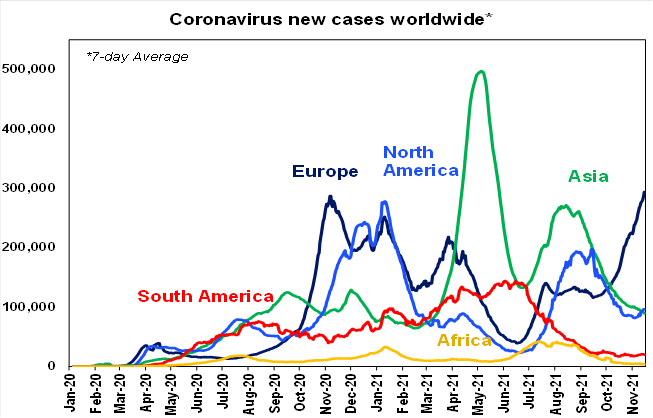 The surge in new cases is a significant threat to the economic outlook in Europe and the US – but the key to watch is whether vaccinations are successful in keeping hospitalisations down such that hospital systems can cope so hard long lockdowns can be avoided. If so, it will then be part of a process of "learning to live with covid" where it goes from being a pandemic to being endemic (like the flu).
So far hospitalisations in Europe remain subdued relative to the wave a year ago. Of course, having 70% of the population or less vaccinated with waning efficacy still leaves a high risk that cases can surge overwhelming the hospital system. The key to avoiding that is to get vaccination rates to very high levels (with the help of vaccine mandates), quickly roll out booster shots to those whose last shot was 5 months or so ago and only remove restrictions gradually.
In the meantime, some restrictions may be necessary if cases rise too quickly (as we are seeing in parts of Europe with tougher vaccine requirements, the return of work at home and distancing requirements in some countries and as we saw earlier in Singapore). And some countries are already reverting to hard lockdowns – notably Austria (which is only 64% fully vaccinated) and Germany (68% vaccinated) is not ruling it out. But the experience of Singapore and Israel (and so far the UK) suggests it can be managed without reverting to hard lockdowns.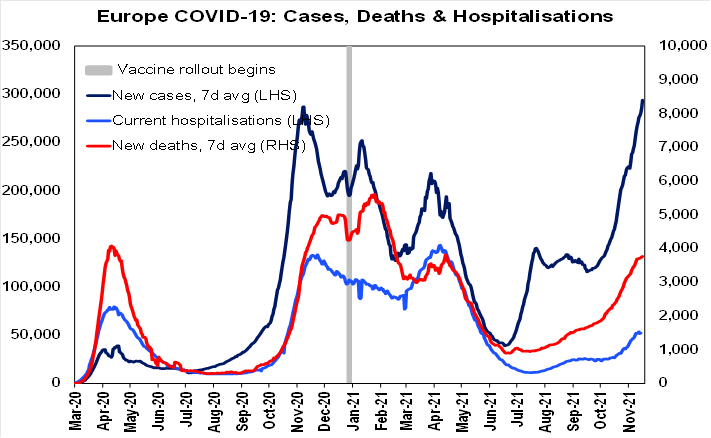 54% of people globally have now had one dose of covid vaccine and 43% have had two doses. Key risks remain that poor countries are lowly vaccinated which increases the risk of mutations and that some advanced countries (notably the US and in Europe) have seen vaccination programs stall at low levels.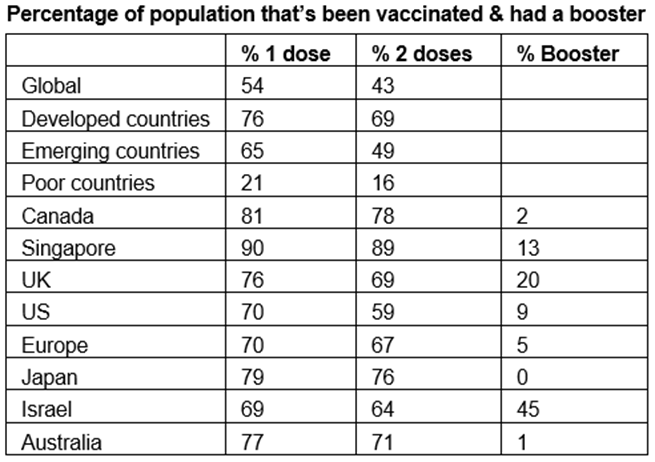 Australia's vaccination rate at 71% of the whole population is now above the developed country average and this is before the rest of Australia beyond the ACT, NSW and Victoria catch up. Allowing for current trends and the average gap between 1st and 2nd doses the following table shows approximately when key vaccine targets will be met. All states and territories have now surpassed 70% of the adult population fully vaccinated. On current trends, Australia will average 90% of the adult population fully vaccinated by early December and 80% of the whole population in the first half of January. This could be sped up again through new coronavirus scares, and the likely approval of vaccines for 5 to 11-year-olds (which looks likely from January) should take the percentage of the population fully vaccinated well beyond 80%.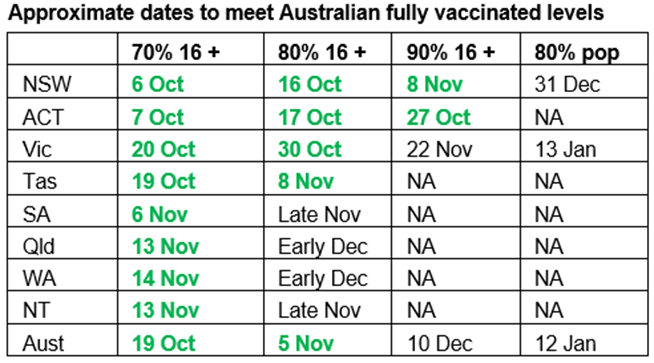 The main risk in Australia remains a resurgence in new cases following the removal of restrictions – as seen in Israel, the UK, Europe, Singapore, etc - threatening to overwhelm the hospital system necessitating some reversal in reopening. So far so good. Vaccines clearly helped keep hospitalisations and deaths subdued relative to new cases through the September quarter wave (with deaths now running at around 10% of what last year's wave would have suggested). And Australia's vaccination rate is pushing well above that seen in Europe and the US and a rapid deployment of booster shots to those vaccinated 5 or 6 months ago should help minimise the risk. Key to watch in the event of such a resurgence will be hospitalisations and deaths – if hospitals can cope then a return to hard lockdowns can be avoided. The Israeli and Singaporean experience suggest reason for optimism. But vaccine rates need to keep rising and boosters need to be rolled out quickly.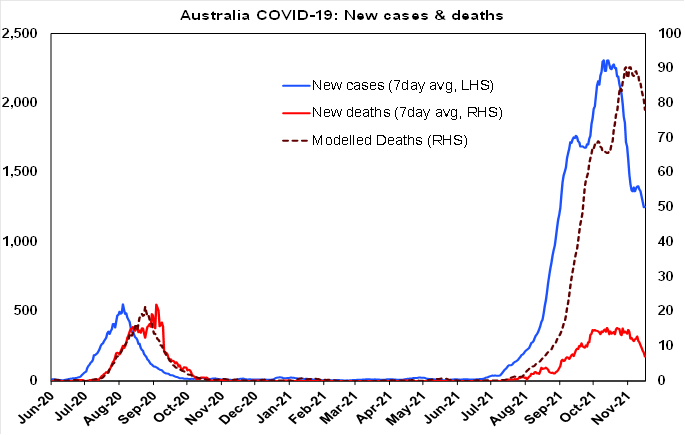 Economic activity trackers
Our Australian Economic Activity Tracker edged up again over the last week suggesting that economic conditions relative to 2019 are now stronger than is the case in Europe and the US. It's amazing that only just a few months ago all the talk was about how Australia is being left behind by the rest of the world... but covid has a way of impacting different countries at different times. Further gains are likely in the Australian Tracker but it's naturally starting to slow again now that economic conditions have returned to around pre-Delta outbreak levels. It points to a strong rebound in Australian December quarter GDP. By contrast, our European Economic Activity Trackers fell as the rise in coronavirus cases and supply constraints impact and our US Tracker remains stalled.