Global share markets rose over the last week, with US and European shares making a new high helped by good earnings and economic data offsetting Delta concerns. For the week, US shares rose 0.9%, Eurozone shares gained 2.1%, Japanese shares rose 2% and Chinese shares rose 2.3%.
The Australian share market also rose 2% to a new high propelled by merger and acquisition activity. Bond yields rose in the US, UK and Australia but were flat in Germany and Japan. Oil, metal and iron prices fell with the latter down -24% from its May high. The $A was little changed as the $US rose.
Shares power on
On the face of it. shares and bonds seem to be telling us a contradictory story, with bond markets seemingly more worried about the threat to growth from Delta but shares just powering on. But there is a bunch of factors driving the divergence. Bond markets are focussing more on the risks to short-term growth, ongoing QE keeping bond yields down and confidence that the inflation spike will be transitory. On the other hand, shares are being boosted by strong earnings, easy monetary policy, the valuation boost from lower bond yields and optimism that vaccines will ultimately allow global recovery to continue.
While shares are at risk of a short-term correction, we ultimately see the rising trend continuing and bond yields will trend up again once it's clear that economic recovery will continue, despite the short-term disruption from Delta.
Global Covid cases on the rise
The latest wave of new coronavirus cases is continuing to build. New cases are continuing to rise in Asia – including in Japan and China, Africa and the US.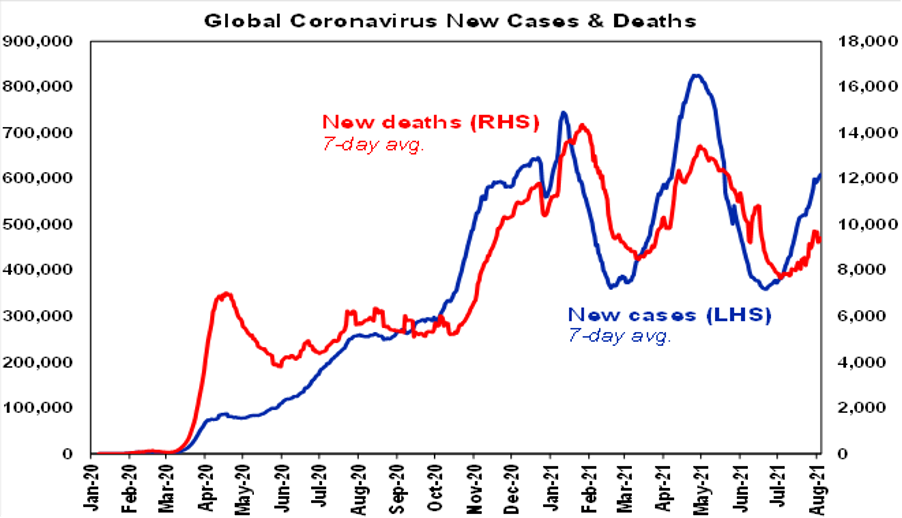 While new deaths are rising globally, this is mainly in less developed countries with vaccines providing protection against serious illness and death in developed countries.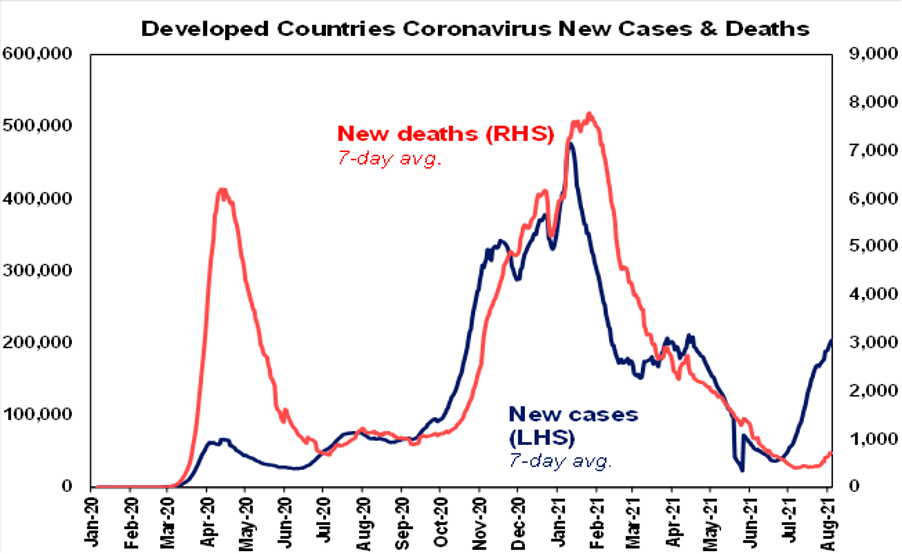 Without vaccinations, lockdowns inevitable
Lowly-vaccinated countries continue to have little choice but to tighten restrictions and impose lockdowns to deal with outbreaks if they want to avoid overwhelming their hospital systems. This can be seen across Asia. China also has little choice but to do the same – while it has been rapidly vaccinating its population it has still only reached 16% fully vaccinated and the efficacy of its vaccines appears to be limited. As a result, following a Delta outbreak in Nanjing that has now spread to multiple provinces and cities, China has imposed heavy-handed lockdowns and travel restrictions. Fortunately, daily new cases in China are still low at less than 100 and China is adept at controlling it so the disruption should be short but it will likely depress growth this quarter in China.
But the return of restrictions is not limited to lowly vaccinated countries. While numerous studies continue to show that in relation to Delta the Pfizer/Moderna and Astra Zeneca vaccines are highly effective in preventing the need for hospitalisation (85% plus) and death (90% plus), they are less effective in preventing infection and onward transmission and when 40 to 50% of the population is yet to be fully vaccinated as in the US, UK, Europe and Israel it leaves a significant pool of people who can still get sick and need to go to hospital. This is particularly the case in some very lowly vaccinated US states where hospitals are becoming overwhelmed. US cases are now up more than fivefold from their June low. And the lowest quartile of vaccinated US states is seeing twice the number of cases per capita and 3 to 4 times the number of hospitalisations. As a result, restrictions including mask mandates and official requests to work at home are returning. Even Israel is warning of new lockdowns.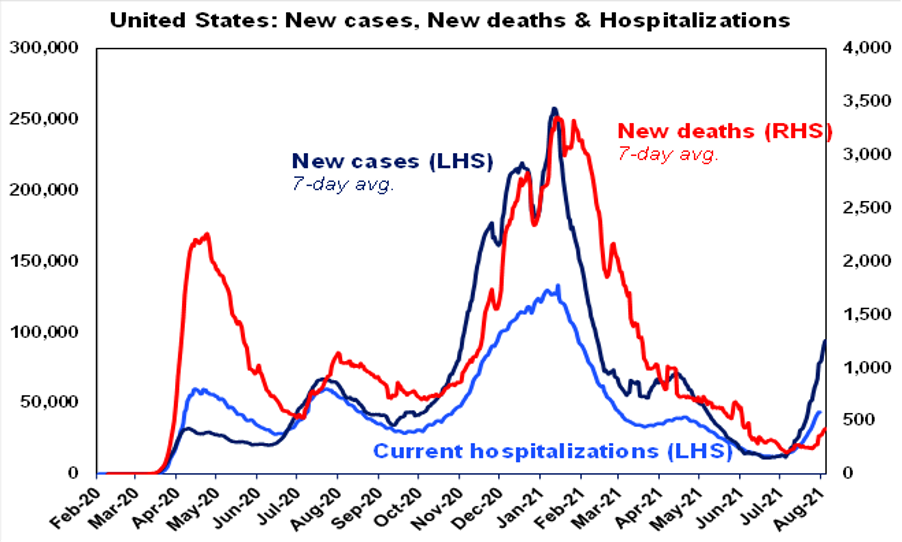 The UK which remains an important test case given its relatively high level of vaccination has continued to see hospitalisations and deaths remain more subdued. However, while the number of new cases in the UK has fallen this may be due to school summer holidays cutting short a surge in Delta transmission amongst school children, so there is a risk it could resume once school returns in September.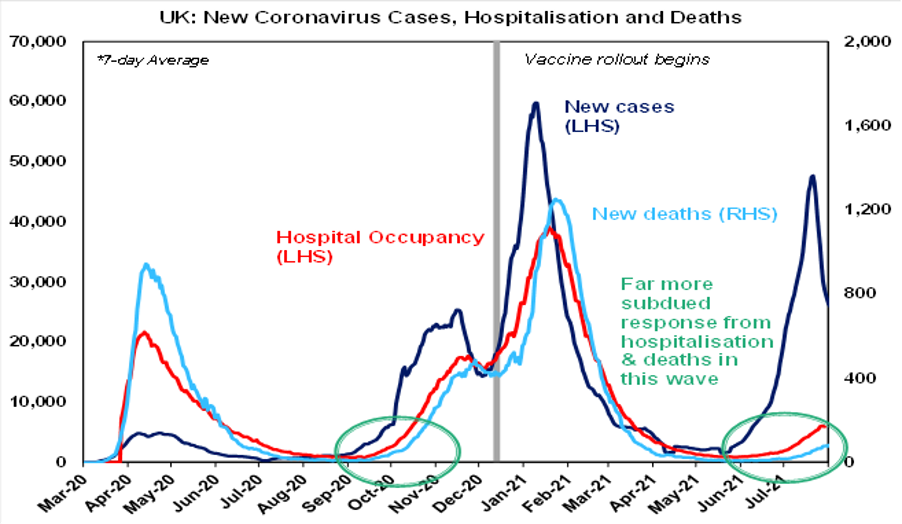 On the latest count, 30% of people globally and 60% in developed countries have had at least one dose of vaccine.
Percentage of population that's been vaccinated
| | | |
| --- | --- | --- |
| | % one dose | % two doses |
| Global | 30 | 15 |
| Developed countries | 60 | 47 |
| Emerging countries | 33 | 13 |
| Rest of world | 10 | 5 |
| Canada | 73 | 62 |
| Singapore | 77 | 63 |
| UK | 71 | 58 |
| US | 59 | 51 |
| Europe | 60 | 50 |
| Japan | 45 | 32 |
| Australia | 35 | 17 |
Source: ourworldindata.org, AMP Capital
Aussies getting jabbed
Australia's vaccination rate is continuing to rapidly accelerate, reaching 1.28 million doses over the last week reflecting increased vaccine availability and a sharp fall in vaccine hesitancy. Australian governments have agreed on a national plan that would see a move from the current "suppression" of the virus phase to a "transition" phase with less restrictions and less city and state lockdowns once 70% of the adult population is vaccinated and then to a "consolidation" phase with only targeted lockdowns and greater international travel once 80% of the eligible adult population is vaccinated. At the rate of 1.26 million doses a week, Australia should reach 70% of the adult population (55% of the total population) fully vaccinated in November and 80% of adults (63% of the whole population) in December, from 17% now. This may require 'carrot and stick' measures to reduce vaccine hesitancy and make sure we reach the vaccine targets as quickly as possible. These measures are now being increasingly employed in Europe and even the US. However, there is an increasing case that the targets are too low given the 2 to 3 times greater transmissibility of Delta, with many epidemiologists arguing that herd immunity with Delta will require 80% or more of the whole population to be vaccinated. This is arguably evident in the problems in countries that are relatively highly vaccinated (like Singapore and Israel) but are still short of this. If this is the case at the current rate of vaccination it will take us to around January, with 'carrot and stick' measures almost certainly being needed.
Ongoing lockdowns here in Oz
On the lockdown front in Australia, the news has been bleak over the last week – with new cases reaching a new high in NSW, more regional NSW lockdowns, an extension of the Queensland lockdown and Victoria back in lockdown. The Queensland and Victorian lockdowns commenced early and hard and so should hopefully be far shorter than that in NSW.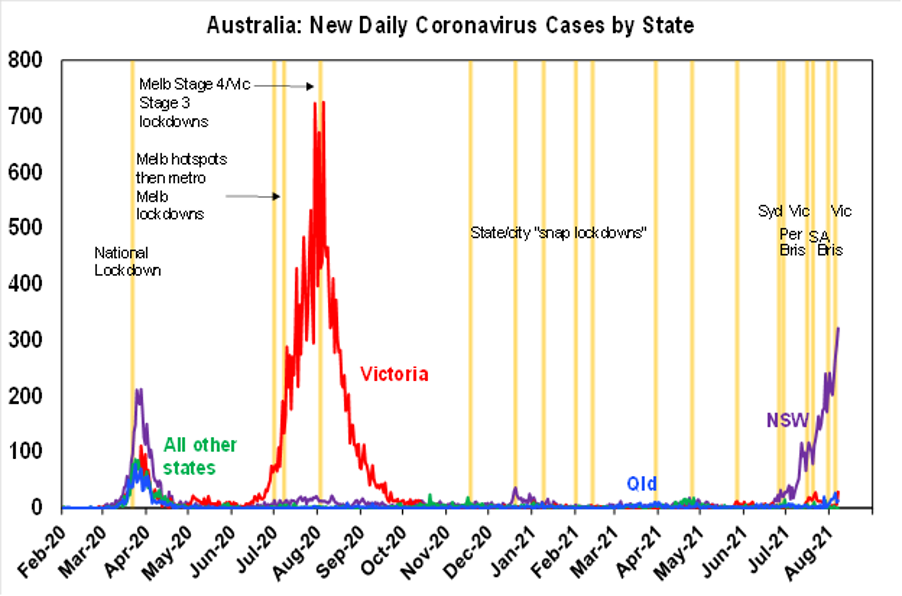 New daily cases that are not in isolation for all their infectious period have also made a new high in NSW and Victoria. Out of interest, NSW should easily be able to reach the Premier's target of a total of 6 million vaccinations by the end of August – but it's doubtful that will be enough to allow an easing of restrictions unless new cases fall a lot.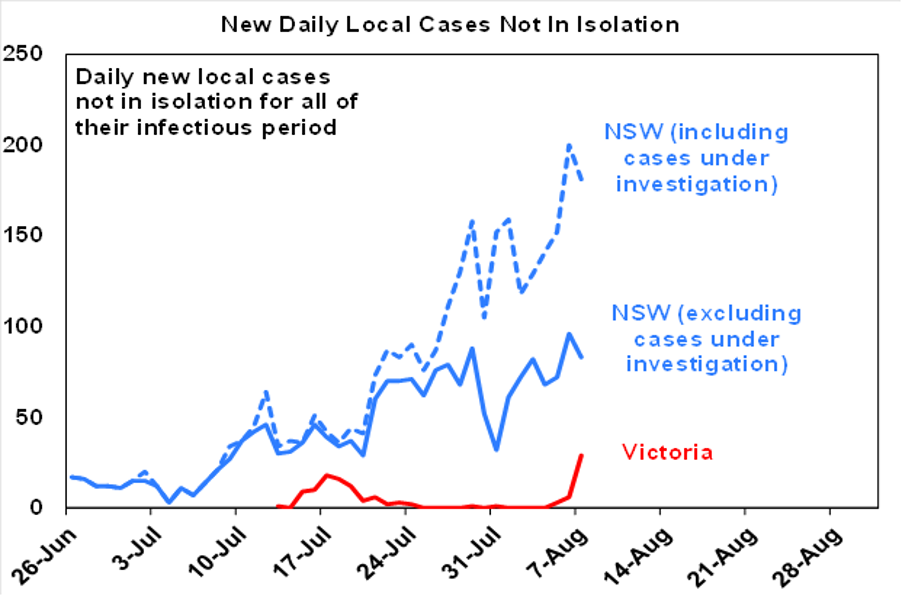 Economic impact of lockdowns
The economic impact of the lockdowns is evident in a sharp fall in our Australian Economic Activity Tracker since May. While it had a bounce over the last week reflecting the ending of the Victorian and SA lockdowns nearly two weeks ago, its likely to fall back again reflecting the return to lockdown in Victoria and the latest lockdown in South-East Queensland.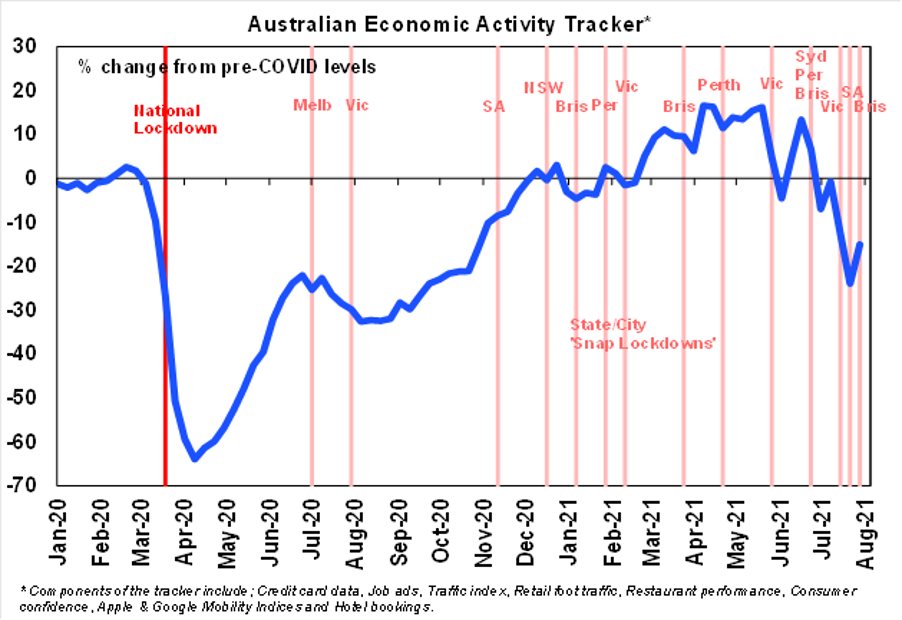 With the extension of the South-East Queensland lockdown, the latest Victorian lockdown and lockdowns in Armidale & the Hunter, the direct cost of the lockdowns since May in terms of lost economic activity has now been pushed out to around $16bn. Much of this is being matched by additional government assistance to workers and businesses but this will mainly serve to enable the economy to bounce back quickly once the lockdowns end, rather than stop a contraction in activity while the lockdowns are on. In the meantime we are now looking at a sizeable -2.5% or so contraction in September quarter GDP. That said providing the lockdowns mostly end this quarter we should see a strong rebound in the economy in the December quarter aided by pent up demand from government support payments. This will leave growth through the course of 2021 at around 2.5%, which is about half what we were forecasting back in May. Assuming only short snap lockdowns next quarter and then the attainment of herd immunity through increased vaccination early next year allowing an end to lockdowns through 2022, then 2022 growth is likely to be well over 4% compensating for weaker growth this year.
Demand will come back with a rush
Bear in mind though that while $16 billion is a lot, some of it will be made back once the lockdowns end and pent-up activity is unleashed and importantly the lockdowns are saving lives. If Australia had been as lax as the UK and US in controlling coronavirus over the last 18 months and had the same level of covid related deaths per capita we would have lost around another 48,000 people. And yet the US and UK have seen bigger hits to their economies than Australia has.
The RBA's growth forecasts for this year look a bit optimistic. It has revised down its 2021 growth forecast in response to the latest lockdowns but only slightly (from 4.75% to 4%) and now sees stronger growth and lower unemployment in 2022 and so has left monetary policy unchanged. While the RBA sees near term uncertainty due the outbreaks its assuming that on the basis of past experience the economy will bounce back quickly once the lockdowns end, and at the same time it notes that monetary conditions are already easy and its happy for recently ramped up fiscal support to do the heavy lifting for now. That said it has left the door open for a reversal of its decision to slow its bond purchases should the outlook worsen. Which is all fair enough. But while we broadly agree with the RBA's forecast economic profile – slower growth this year but faster growth next year – its forecast for 4% growth this year looks a bit optimistic given the expanding lockdowns and seems to be assuming only a hit to growth this quarter of just a bit greater than -1% and then a very strong rebound of 3% or more in the December quarter. Our view is that the expanding lockdowns will lead to a bigger hit to the September quarter and threaten a slower rebound. So, the risk looks to be on the downside for the RBA's 2021 growth forecasts.
Our US Economic Activity Tracker
Our US Economic Activity Tracker was little changed over the last week and has been flat since May and our European Tracker was flat too although it remains out in front. Delta outbreaks could be starting to weigh a bit.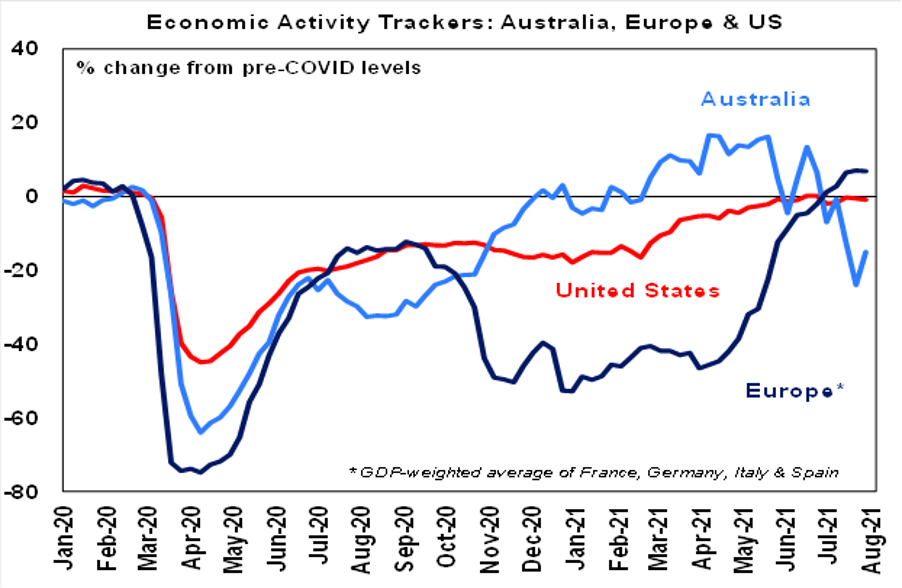 Australia has had a good Olympics – population-adjusted it looks even better compared to the other countries in the top 6! Of course, other countries with even smaller populations have done even better than us on a per capita basis – notably NZ!
Olympic Medal Comparison

And that's the way it is
1970 saw Elvis ditch feature films & focus on live concerts. However, he did make a documentary called Elvis: That's the Way It Is that turned me into a glued-on Elvis fan. It basically covers Elvis' August 1970 concerts at The International Hotel in Las Vegas along with rehearsals at the MGM Studios in Culver City. One of his best songs from this concert was I've Lost You – which contains amazing lyrics (like "we ought to talk it over but reason can't stand in for feeling") and a wall of sound backing. The Next Step Is Love is another – with this version being a composite of a rehearsal at MGM and a live version.