Global share markets were mixed last week being buffeted, among other things, by the rising number of new coronavirus cases around the globe.
Last week saw a continuing surge in the number of new global coronavirus cases - to be now running around 350,000 a day. The latest surge is mainly being driven by developed countries – particularly Europe, the UK and Canada but with all US regions also seeing an upswing.
Fortunately, the number of deaths in developed countries remains well down compared to earlier this year reflecting more testing, better treatments and better protections for older people and this should help avoid a return to hard lockdowns. See the next chart for Europe.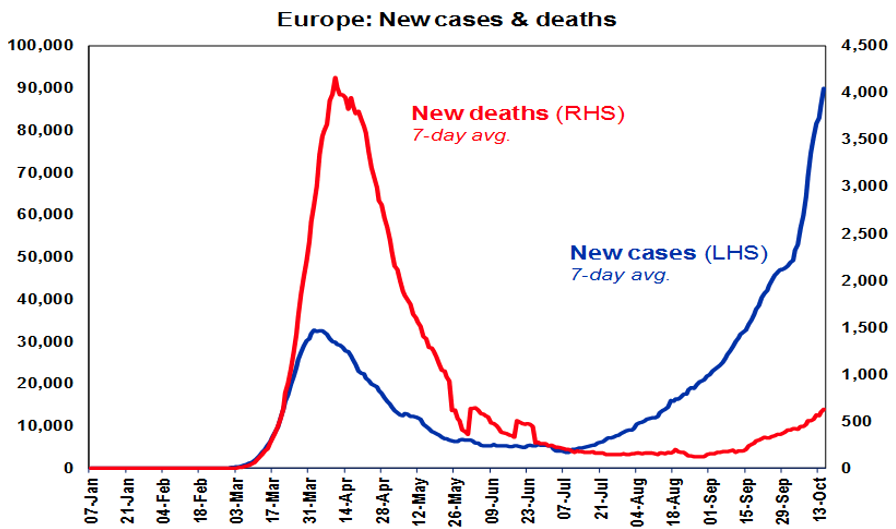 But we are nevertheless seeing a tightening in restrictions,evident in the percentage of OECD countries moving back into intermediate lockdowns, from moderate.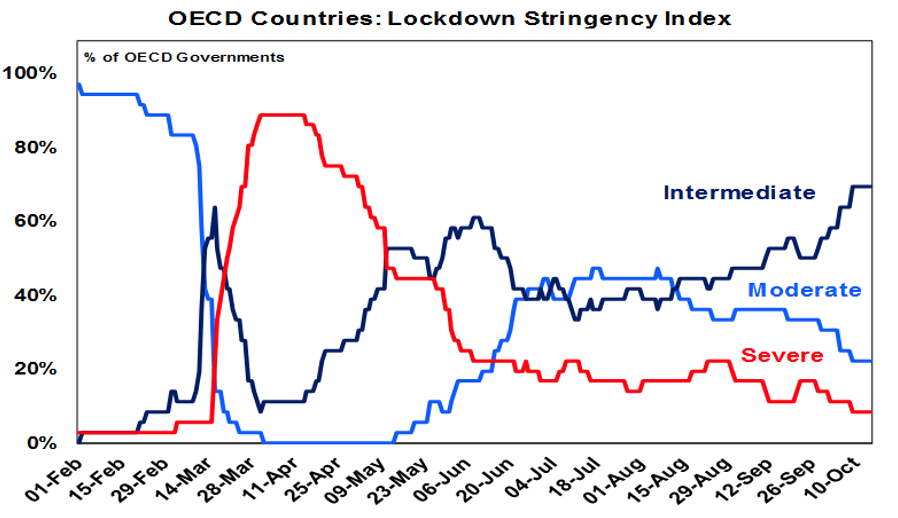 Possibly reflecting the latest rise in US cases, our US Economic Activity Tracker has been flat for several weeks now,suggesting the US recovery may be stalling again.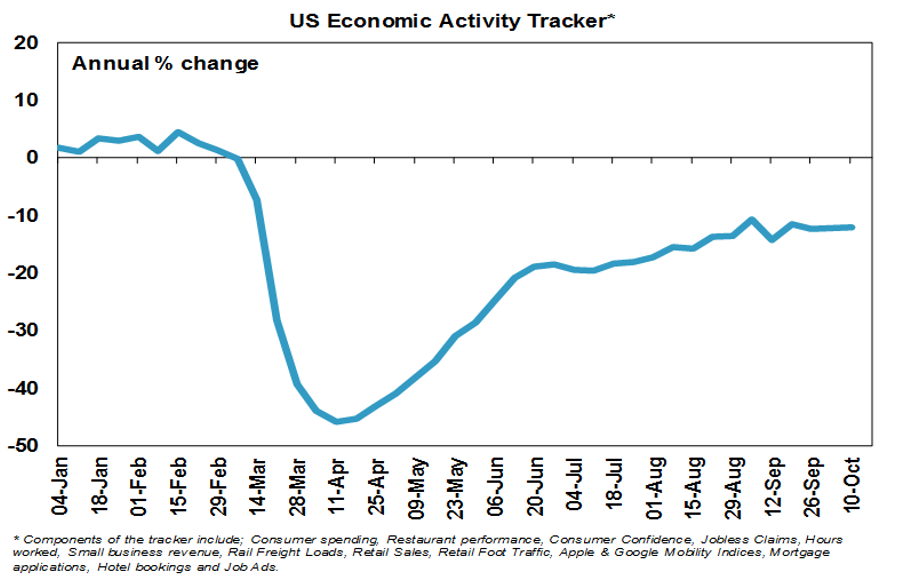 Australia is seeing new coronavirus cases remaining low and deaths have fallen.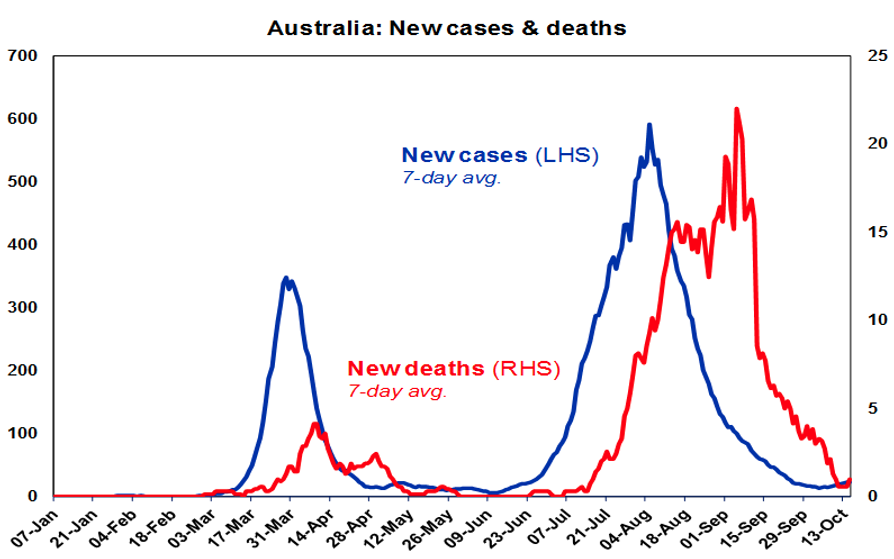 The decline in new cases has seen our Australian Economic Activity Tracker continue to hook up from August lows with gains over the last week in consumer confidence, restaurant bookings, traffic, retail foot traffic & credit card transactions. Expect the trend to remain up as Victoria gradually reopens and other states continue to recover.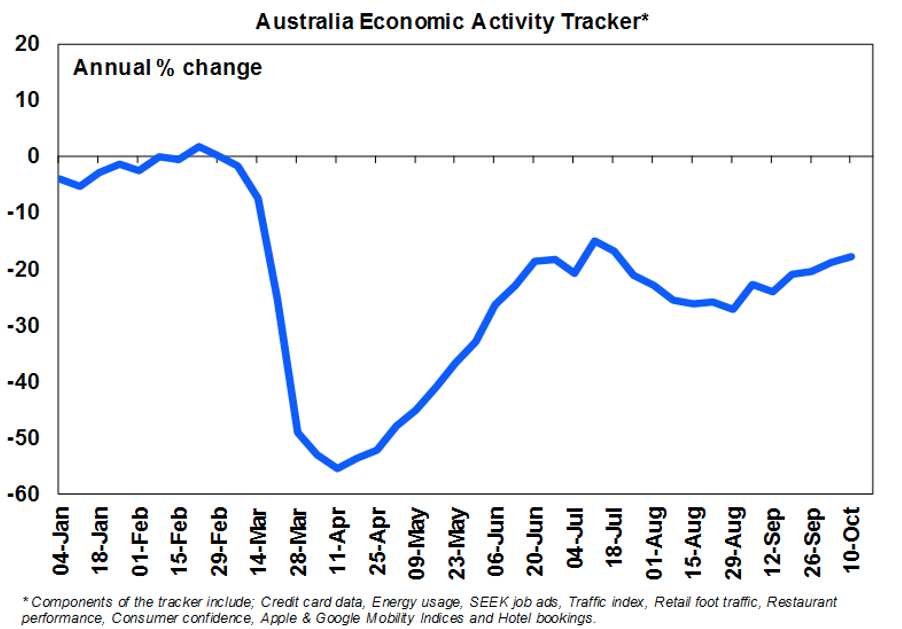 While the IMF revised up its 2020 global growth forecast to show a -4.4% contraction it revised down its 2021 forecast to 5.2%and noted the recovery will be prone to setbacks until coronavirus is tamed - we have heard that before!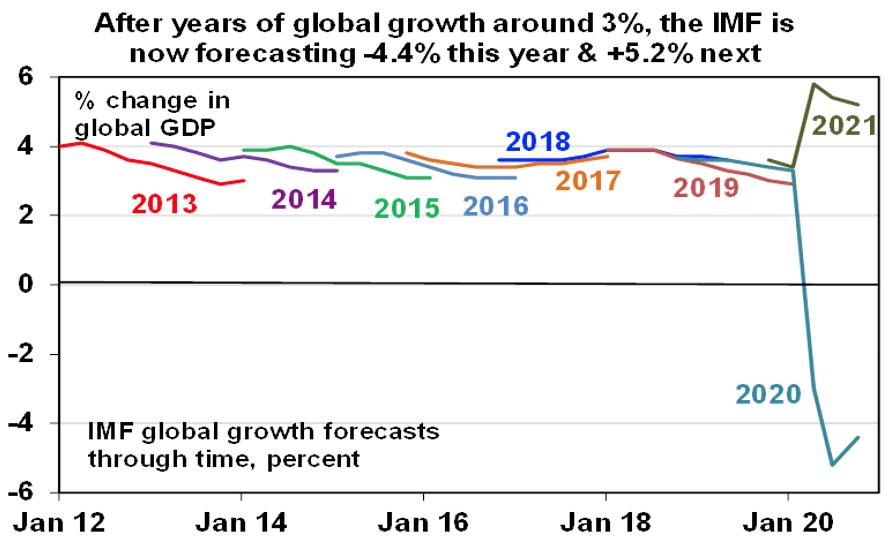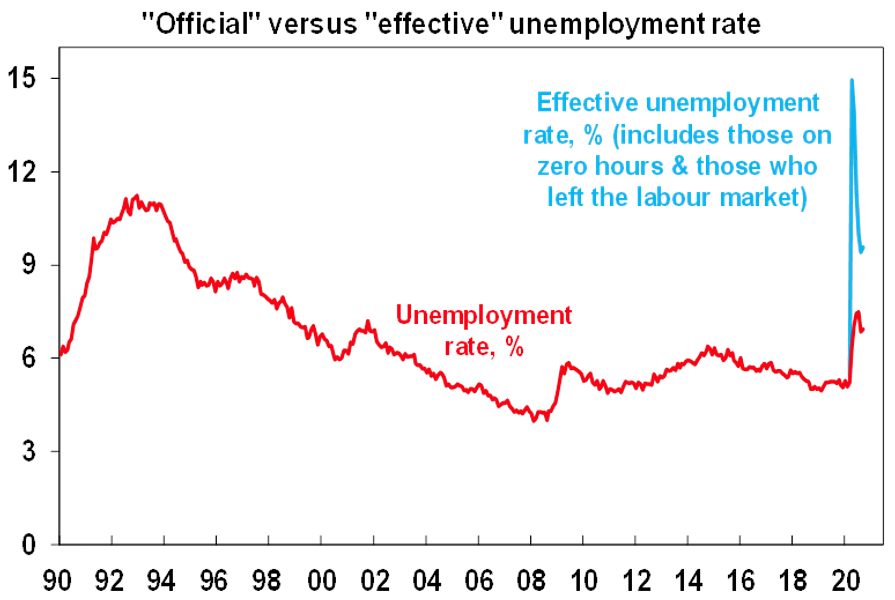 On the housing front continuing strength in new home sales in September confirm that HomeBuilder and other incentives to buy or build new homes are working – but note that arrivals data for September confirm that net immigration is starting to go negative.
Finally, reports suggest that China has stopped coal orders from Australia. This could be a temporary move similar to what occurred last year, or it could be reflective of a continuation of the political tensions between the two countries. Australian coal exports to China amount to around 0.7% of Australian GDP, just above education. Hopefully, it's resolved soon rather than allowed to spread further to iron ore and other products.
What to watch over the next week?
In Australia, the Minutes from the last RBA meeting (Tuesday) and a speech by RBA Deputy Governor Debelle (Thursday) will be watched for any clues regarding future monetary easing although the Minutes are now a bit dated given Governor Lowe's recent speech. On the data front payroll jobs data for the 3rd of October (Tuesday) will be watched for signs of further improvement, preliminary retail sales data for September (Wednesday) are likely to show only a 1% or so rise after August's 4.2% fall and the CBA's business conditions PMIs for October (Friday) are expected to rise.
Outlook for investment markets
Shares remain vulnerable to further short-term volatility given uncertainties around coronavirus, economic recovery, the US election and US/China tensions. But on a 6 to 12-month view shares are expected to see good total returns helped by a pick-up in economic activity and stimulus.
Low starting point yields are likely to result in low returns from bonds once the dust settles from coronavirus.
Unlisted commercial property and infrastructure are ultimately likely to benefit from a resumption of the search for yield but the hit to economic activity and hence rents from the virus will weigh heavily on near term returns.
Australian home prices at present are being protected by income support measures and bank payment holidays but higher unemployment, a stop to immigration and weak rental markets will push prices down by another 5% into next year. Melbourne is particularly at risk on this front as its Stage 4 lockdown has pushed more businesses and households to the brink. Smaller cities and regional areas are in much better shape.
Cash & bank deposits are likely to provide very poor returns, given the ultra-low cash rate of just 0.25%.
Although the $A is vulnerable to bouts of uncertainty about coronavirus, the economic recovery and US/China tensions, a continuing rising trend is likely to around $US0.80 over the next 6-12 months helped by rising commodity prices and a cyclical decline in the US dollar.
Eurozone shares rose 1.4% on Friday, but the US S&P 500 ended flat despite an initial 0.9% rally on the back of strong retail sales data was reversed as tech stocks fell on options expiries and House Speaker Nancy Pelosi said that the divide remains wide on fiscal stimulus. Despite the flat US lead ASX 200 futures rose 39 points, or 0.6%, pointing to a positive start to trade on Monday.