Despite concerns about the near term threat to growth from lockdowns in Europe and the US, most global share markets rose further over the last week, helped by positive news regarding a vaccine. Australia shares rose sharply again with a 3.5% gain helped by the positive global lead, a surge in energy stocks on the back of higher oil prices, corporate restructuring pushing up Telstra and strong gains in industrial, financial and property stocks.
We continue to see more upside for the Australian share market over the next 6 to 12 months.
More results are needed regarding the vaccine's safety and while distribution could start in months if it's approved it will probably take at least 6-9 months for broad enough coverage in developed countries (longer for the whole world) to get back to normal.
Meanwhile, the problem right here right now is that we are continuing to see a surge in global coronavirus cases. There is no sign of any slowing in the US (which is now running at the rate of a million new cases every 8 days) and even Japan looks to be going through a third wave.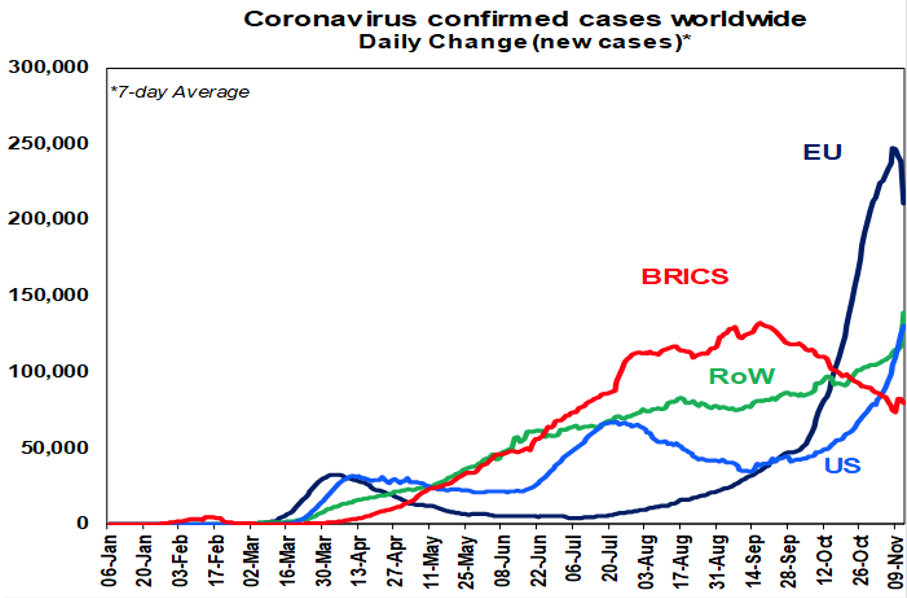 While deaths in the US remain well below prior peaks, the rise in hospitalisations to a new high is putting increasing pressure on the medical system indicating a rising risk that as we have seen in Europe some areas in the US may be forced to tighten restrictions despite political and economic opposition. While Trump has said "this Administration will not be going to a lockdown", a Biden Administration may take a tougher more comprehensive stance early next year to this if new cases haven't started to trend down by then.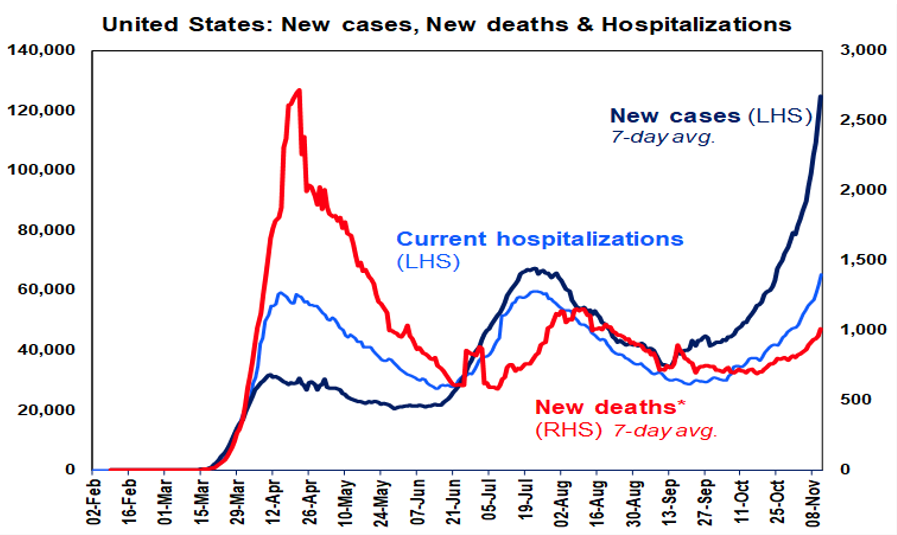 Our US Economic Activity Tracker dipped again with broad based weakness over the last week adding to the likelihood that the resurgence of new coronavirus cases in the US is starting to slow the economy.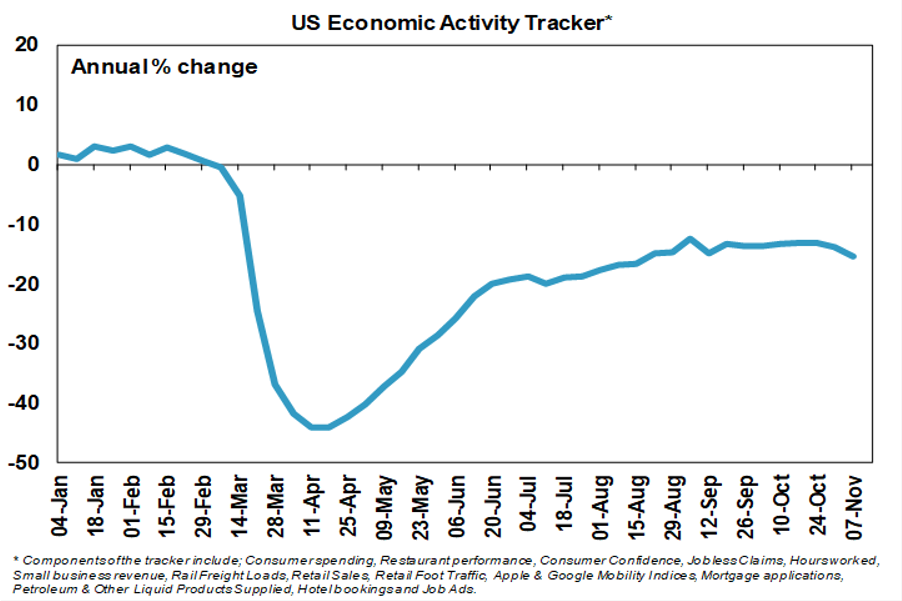 Australia is continuing to see new coronavirus cases stay very low with hardly any cases of community transmissionand deaths have collapsed. Our Australian Economic Activity Tracker rose further over the last week and is trending up nicely helped by Victoria's reopening consistent with ongoing recovery. Credit card transactions have accelerated sharply (driven by Victoria and NSW) in the last week or so but the gains in the Tracker have been broad based.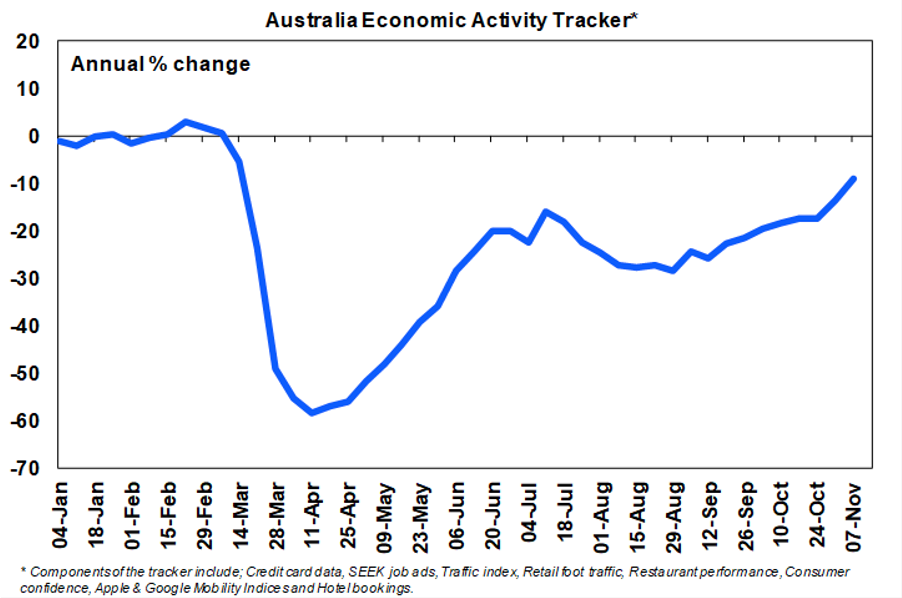 Trump hinting he might have been the loser – but still yet to concede. In normal times, the US election would be fading into history and we would be solely focussed on what a Biden Administration will mean. But with Comedian and Super-Spreader in Chief Trump these are not normal times. (Note that one study linked over 700 Covid-19 deaths to Trump rallies and that was just up to September.) Meanwhile, Biden is now more than 5 million votes ahead of Trump and with some news networks calling Georgia for Biden looks like winning with up to 306 electoral college votes. Normally the loser would have conceded by now but Trump never committed to accepting the result if it went against him and set up grounds to discredit it months ago by claiming mail in votes were fraudulent (as he knew Biden voters were more likely to vote via the mail). So, his refusal to concede is not that surprising. Trump's strategy appears to be a combination of: hoping that he wins Arizona where Biden's lead has fallen to 0.3%; legally challenging results in Pennsylvania, Michigan and Wisconsin; possibly convince the Georgia Secretary of State to refuse to certify its result (which is now being recounted under Georgia law anyway); maybe convince Republican state legislatures that the result was fraudulent so they should appoint their own pro-Trump electors to go to the electoral college vote; and maybe get the House of Representatives to vote on who won.
However, this strategy appears to be crumbling, with Trump appearing to acknowledge a "very close loss" in Arizona, Trump's legal challenges seeing setbacks in Pennsylvania, Michigan and Arizona and various state and federal election authorities claiming "utmost confidence in the security and integrity" of the vote. While comparisons are being made to the year 2000 challenge to George W Bush's result, Al Gore was only around 500 votes behind Bush in Florida whereas Trump is 11,000 votes behind in Arizona, 14,000 votes behind in Georgia, 21,000 votes behind in Wisconsin and 63,000 votes behind in Pennsylvania. Even Trump himself has hinted for the first time that he might have lost, stating on Friday that "whatever happens in the future, who knows which administration it will be, I guess time will tell" although he still hasn't conceded. It's funny that the Republicans are not challenging their better-than-expected results in the House and Senate – even though they were part of the same vote!
Trump's refusal to concede and his unsubstantiated allegations of election fraud are just creating more division in the US and trashing the US' reputation as a democracy. But it is increasingly looking likely Trump's options are exhausted, without success senior Republicans (who are currently standing by him so as to keep his supporters fired up to come out in the Georgia senate run offs on 5 January) will likely desert him in order to save their own reputations. Trump may be starting to come around to accepting his defeat, but it could still take weeks to finally resolve, although states have until December 8 to certify the results and the electoral college votes on December 14. So far markets don't seem too fussed, but it could create some volatility along the way, particularly if it is seen as preventing more fiscal stimulus in the face of the threat to the US economy from rising coronavirus cases.