Global share markets mostly fell over the last week being buffeted again by waxing and waning fiscal stimulus prospects in the US and ever rising numbers of new coronavirus cases. US shares fell 0.5%, Reflecting the messy global lead, Australian shares fell 0.2% as a rise in bond yields pushed down utilities, telcos and property stocks and materials and consumer staples also fell, which offset gains in IT, energy and financial shares. While the oil price fell, gold, metals and iron ore prices rose helped by a falling US dollar. This also saw the $A rise.
The rising trend in new coronavirus cases continued over the past week. While emerging countries have continued to roll over with a falling trend in India and Brazil, new cases in developed countries continue to surge higher. This is particularly the case in Europe and the UK, and the US is now seeing new cases approach their July high, making it hard to see how President can say its "turned the corner" in the US.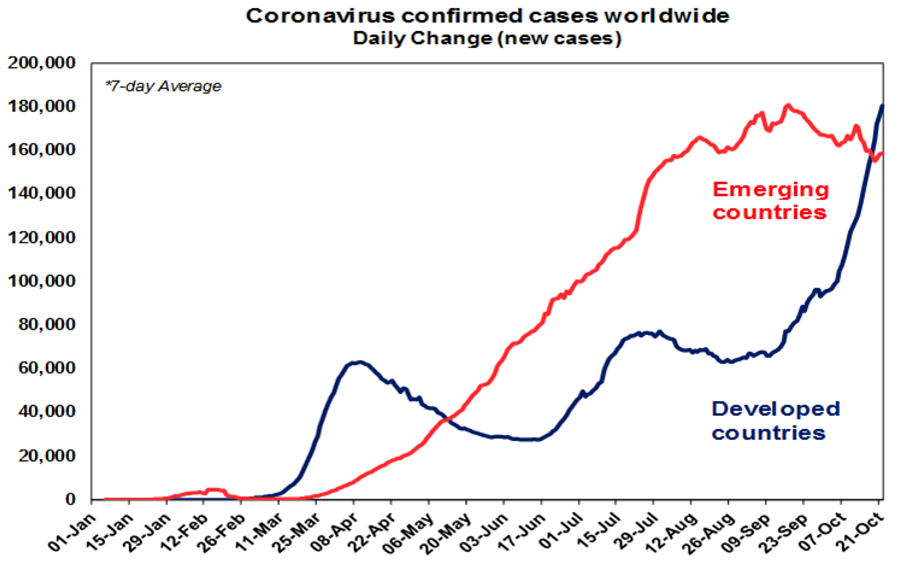 While new deaths in developed countries are starting to edge up, they remain well below their April high,reflecting more testing, which is resulting in more cases in younger people being identified, better treatments and better protections for older people. As long as this remains the case, a return to country wide hard lockdowns will likely be avoided in favour of more targeted measures. That said, tightening restrictions and self-regulation by consumers risks slowing the recovery and the risk of hard lockdowns is rising in some countries.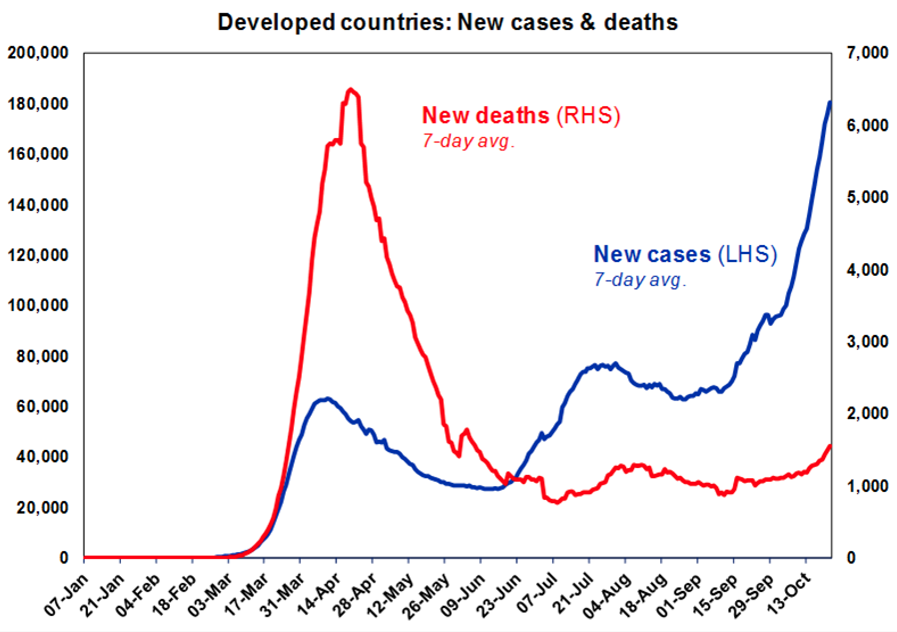 Likely reflecting the continuing rise in US cases, our US Economic Activity Tracker has been flat since early September, nowsuggesting the US recovery may be slowing and highlighting the need for more stimulus.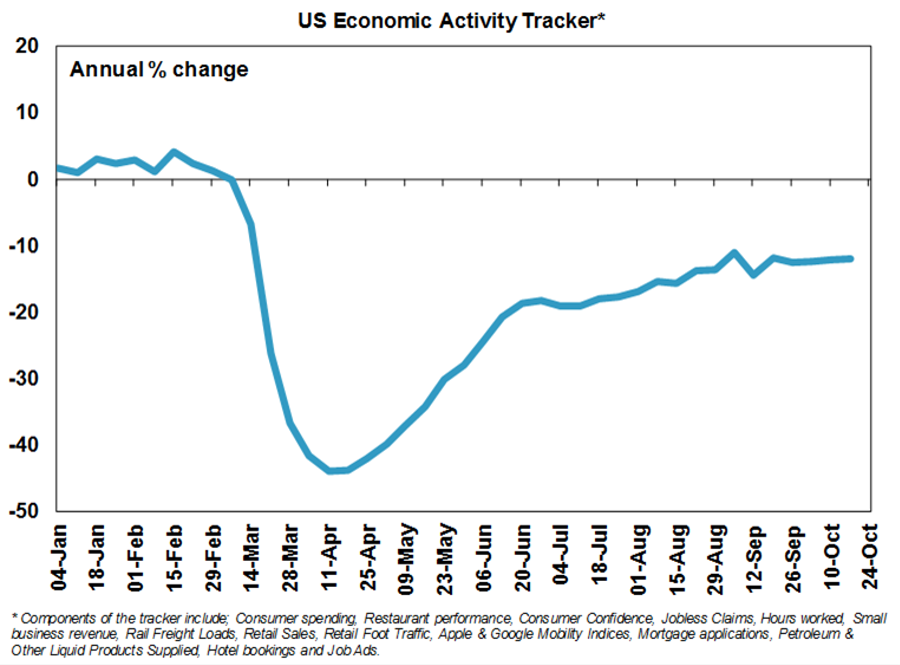 Australia is seeing new local coronavirus cases remaining very lowand deaths have fallen sharply. The decline in new cases in Victoria will likely bring forward the reopening of shops. Despite the second wave in Victoria, Australia continues to see coronavirus deaths per capita (of around 36 per million people) run very low compared to countries like the US, UK, Italy, Spain and Sweden (where it has been around 600 or more per million). Australia's better control of coronavirus should contribute to a more confident reopening of the economy, which should be positive for Australian assets.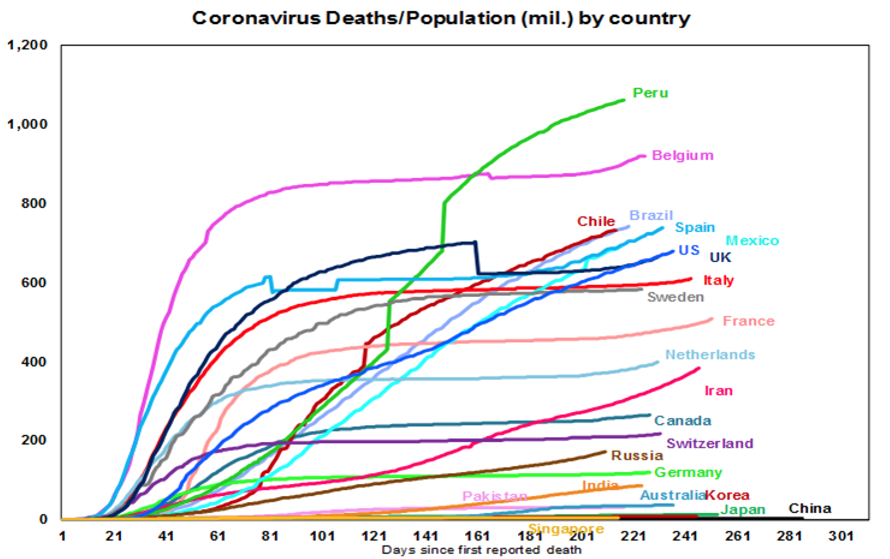 Our Australian Economic Activity Tracker fell slightly over the last week but remains in a rising trend. Expect the trend to remain up as Victoria's reopening becomes more meaningful economically, as, for example, shops reopen and more people return to work, and as other states continue to recover.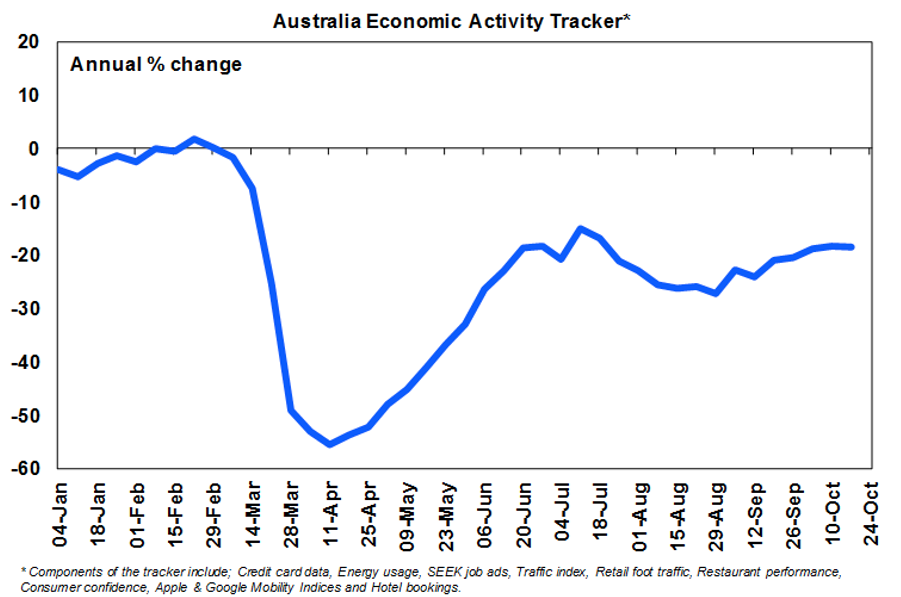 On the election front, the past week has seen Trump claw back some of Biden's polling lead to around 7.9 points. However, it remains in the same 6% to 10% range it has been in since June. Meanwhile, Biden's average poll lead in battleground states is 3.4%, which is down from 4.1% a week ago, Trump's approval rating is around 44.4%, the PredictIt betting market puts Biden's probability of winning at 64% and the probability of a Democrat clean sweep at 54% - both of which are down a bit. The final presidential debate didn't add anything in terms of what each would do. President Trump's relatively more civil, calm and reasonable approach this time around may have worked slightly in his favour and may have helped narrow Biden's average poll lead in battleground states. Biden messed up some lines (e.g. confusing "Proud Boys" with "Poor Boys" – or was that on purpose?!). But the best line of the debate probably goes to Trump: "I take full responsibility. It's not my fault..." in relation to the handling of coronavirus.
Trump has the benefit of incumbency - as incumbents usually get re-elected, crowds - as his big rallies generate enthusiasm, shy voters, his better rating on the economy and the fear that Biden will take a hard left turn if he wins and there is still more than a week to go.
Working in favour of Biden is the recession, the rising trend in coronavirus cases, a much lower level of undecided (presumably some of whom are shy) voters compared to 2016, record early voting (30 million so far compared to just 6 million at the same point in 2016) suggesting high (likely Democrat) turnout and Biden's wider more stable poll lead compared to Clinton's in 2016 (see the next chart). Financial markets are sending mixed signals: a rise in the US share market in the 3 months prior to the election has historically pointed to a victory by the incumbent and vice versa for a fall (with 87% accuracy) and so far it's up but the relative performance of US stocks likely to benefit from Biden versus those likely to benefit from Trump is also up according to research house Strategas pointing to a Biden victory.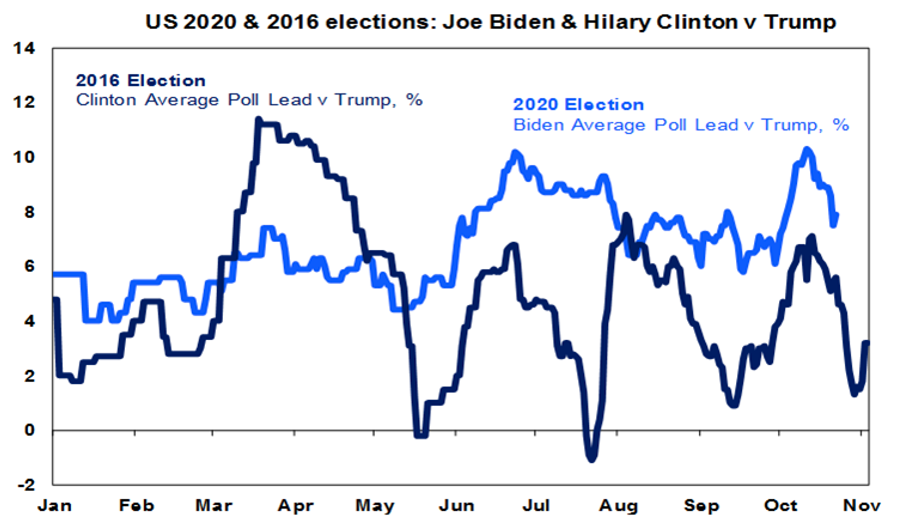 At a very high level, the main issues in the US election of relevance for global investment markets are tax, fiscal stimulus, regulation and trade wars. There are basically three outcomes:
Trump wins with Democrats retaining the House – taxes and regulation will remain low, which may provide a short-term knee jerk boost to US shares but trade wars with China and possibly Europe and Japan would likely ramp up again next year which would be relatively bad for global shares (including Australian shares) and good for the $US.
Biden wins but with the Republicans retaining the Senate – this would mean Biden's proposed tax hikes won't pass into law, less fiscal stimulus and periodic fiscal battles but less trade wars and more predictable US policies. This would be neutral for US versus global shares, but historically this combination has been the best outcome for share markets (beyond initial knee jerk reactions).
Biden wins with a Democratic clean sweep – this will likely mean significantly more fiscal stimulus, less trade wars and more stable US policies but higher corporate tax in the US and more regulation. Global shares would likely benefit more than US shares and the US dollar would likely fall. Historically this has been the second-best outcome for share markets.
Of course, the worst outcome for share markets in the short term would be a contested election, but a clear initial win by either side would head this off. Of course, the record level of early postal votes means that it may take longer to get a result as it takes longer to count them, and counting can't start till after polls close.
The soap opera around a pre-election fiscal stimulus continued over the last week. While there seems to have been convergence towards the Democrats desire for a $2.2 trillion package, differences still remain and it remains unclear that enough Republican Senators would support it. The main risk is that if it's not passed into law prior to the election it would get harder after the election in the event that Biden wins but Republican's retain control of the Senate (as Republican's would likely return to fiscal conservatism).
President Trump's comments over the last week that "people are tired of hearing [coronavirus adviser] Fauci and all these idiots [other health officials]" reminded me yet again of The Pet Shop Boys satirical song from last year "Intelligent people have had their say…Let's Give Stupidity a Chance." I know I have given this song a whirl before but perhaps this an anthem for our times. That said, Jacinda Arden's re-election in New Zealand reminds us that all is not lost. She reminds me of Try A Little Kindness. Such a middle of the road song from 1969 - but the lyrics are so insightful!