Global share markets mostly fell again over the past week on the back of rising new coronavirus cases in Europe and the US, new lockdowns in Europe, signs of a tightening election in the US raising the prospect of a contested result, the absence of any progress towards a pre-election fiscal stimulus in the US and uncertain earnings outlook comments from some tech stocks. Reflecting the weak global lead, Australian shares fell 3.9% led by declines in cyclical sectors including energy, industrial, retail and financial stocks.
Global new coronavirus cases continued to surge over the last week driven mainly by Europe, the UK and the US, which is now surpassing its July high.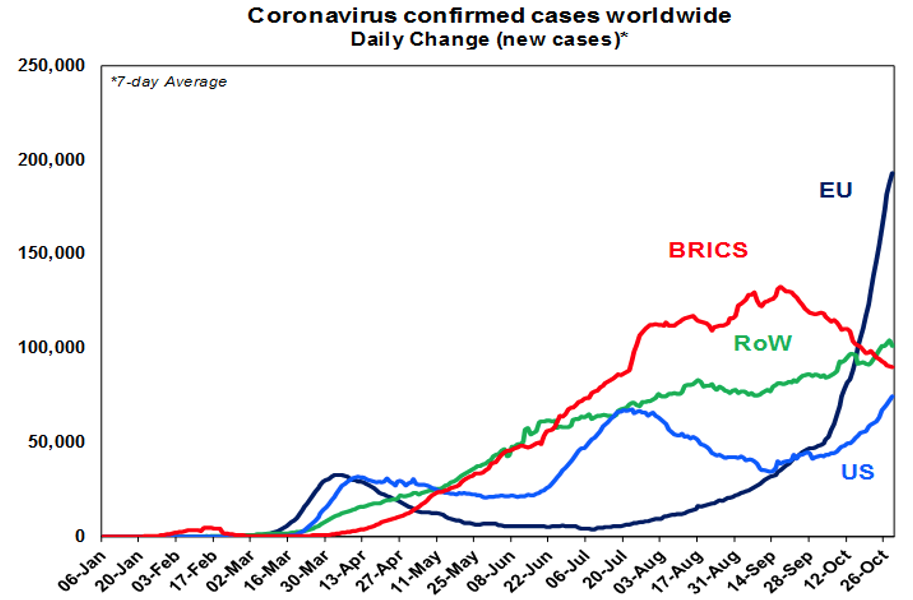 New deaths in developed countries remain way below April highs despite new cases being far higher. However, deaths are rising rapidly in Europe as are hospitalisations, which is threatening to overwhelm the health system in some countries.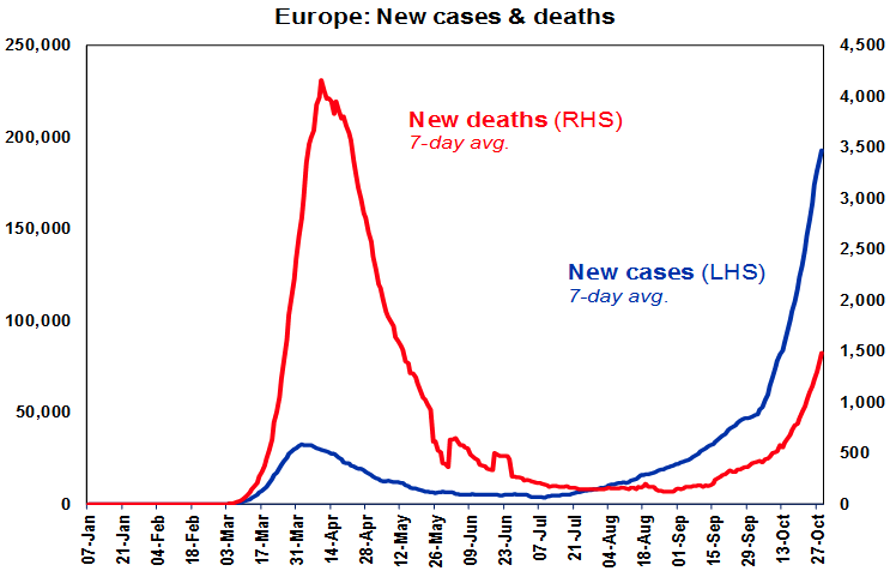 As a result, France and Germany have announced a return to lockdowns for at least a month. The risk is that they will need to be longer as was seen in Melbourne. The French lockdown looks a bit like that seen until recently in Melbourne in terms of severity and the German lockdown is more like that seen in regional Victoria. This will see a renewed progression from intermediate to severe lockdowns in terms of the next chart.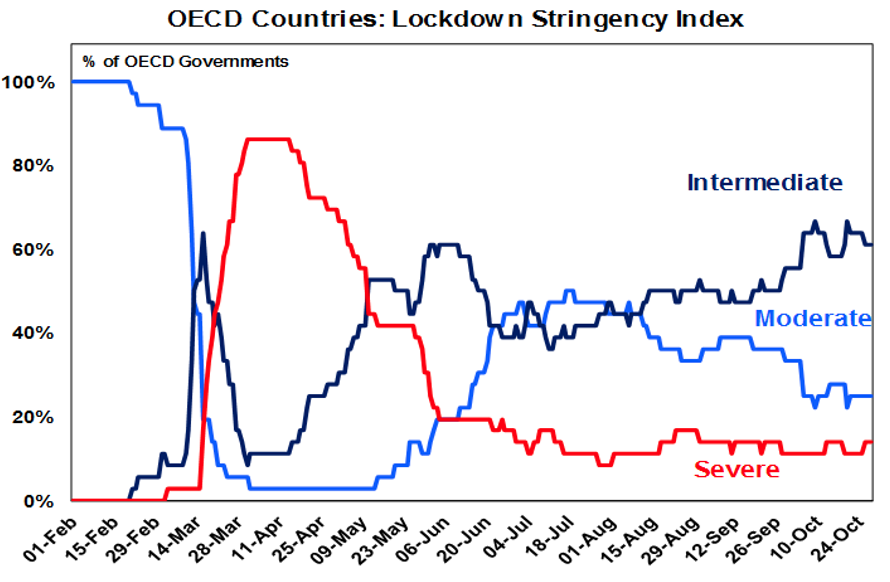 Assuming other countries in Europe do something similar to France and Germany, our rough estimate is that this could see Eurozone GDP contract by around 2% this quarter, after a 12.7% rebound in the September quarter.
The US is also at risk of seeing more stringent social distancing rules in response to its own renewed surge in cases. This may particularly be the case if Joe Biden wins the presidency, as he is likely to take a stronger approach to controlling the virus. In any case, likely reflecting the continuing rise in US cases, our US Economic Activity Tracker has been flat since early September now suggesting the US recovery may be slowing and highlighting the need for more stimulus. So far this is not yet evident in most other conventional economic data, but it comes out with a longer lag.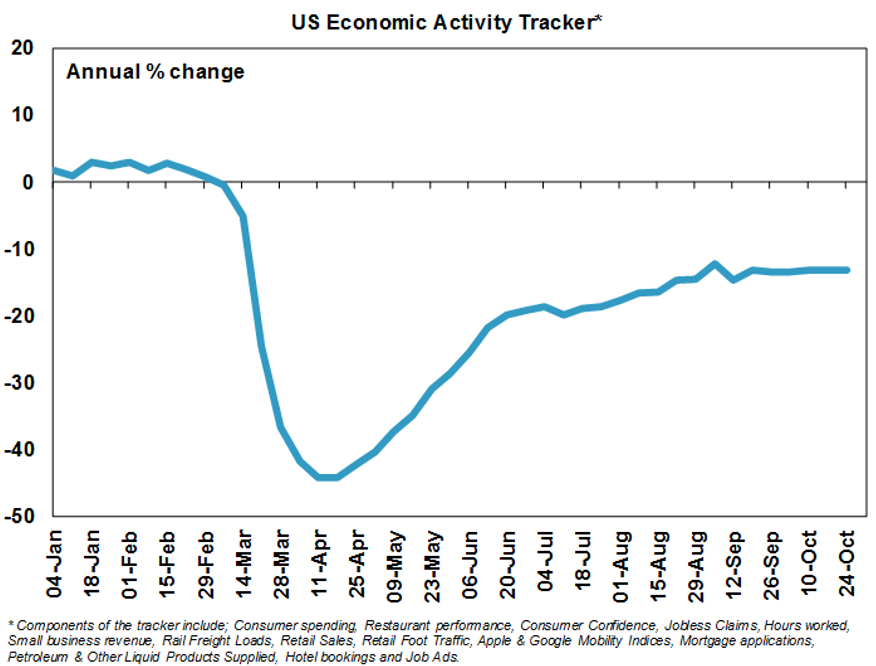 Australia is continuing to see new local coronavirus cases remain very low at around 20 or less a day with few cases of community transmissionand deaths have fallen sharply. This has enabled Victoria to substantially relax its hard lockdown enabling all shops and activities to return, albeit with restrictions on groups. Our Australian Economic Activity Tracker rose only slightly over the last week but is likely to accelerate higher following Victoria's significant reopening in the past week.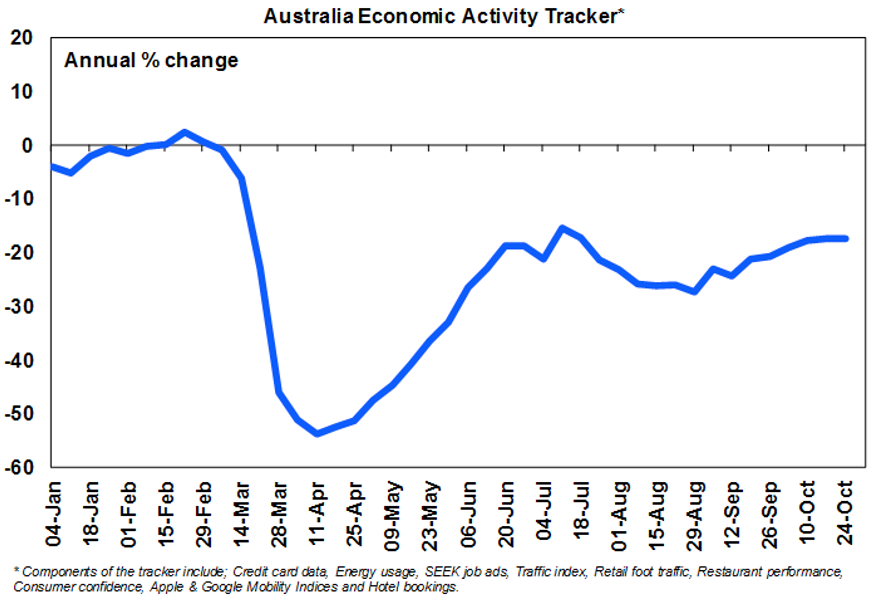 The US election has tightened further over the last week, making it harder to call. The tightening is likely weighing on shares as it implies an increased risk of a contested election and less chance of substantial post-election fiscal stimulus to the extent that a "blue wave" that sees the Democrats win the presidency, control of the Senate and the House may be somewhat less likely.
Will Trump win?
Trump has the benefit of incumbency - as incumbents usually get re-elected, crowds - as his big rallies generate enthusiasm, shy voters, his better rating on the economy, the economic recovery seen since the lockdown and the fear amongst some that Biden will take a hard left turn if he wins.
Will Biden win?
Biden has the benefit of the recession, high unemployment, low consumer confidence, the rising trend in coronavirus cases and a mostly wider and more stable poll lead compared to Hilary Clinton's in 2016 (see the next chart). And opinion polls have historically tended to be fairly accurate on sitting presidents but tend to underrate challengers.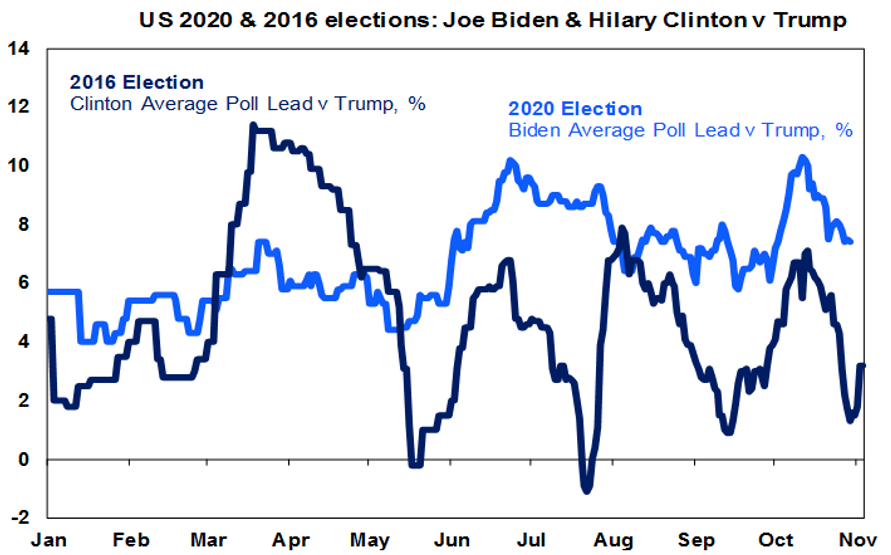 Who's the current favourite?
Record high early voting further complicates the picture as it may just reflect the virus and Trump motivating more to vote on both sides. But if anything, it's more likely to favour Biden. So far, over 86 million have voted early which is around 62% of all votes cast in 2016. Of that, nearly 56 million have been mail in and just over nearly 31 million have been in person. Based on data from states where its available, 46% of the early votes so far have been Democrats and 29% Republicans – but of course, this may just mean less Democrats voting on election day itself.
Who do I think will win?
All up these considerations lean in favour of Biden as does most polling and betting markets and for what it's worth I think Biden will win but it's a close call as the race has tightened in the last week or so. Biden's polling lead has fallen to around 7.9% from above 10% a few weeks ago, his average poll lead in battleground states which is what counts has fallen to around 2.8% from 4.1% two weeks ago and is now down to zero in some. That said, the PredictIt betting market puts Biden's probability of winning at 66% and the probability of a Democrat clean sweep at 56%.
What about financial markets?
Interestingly, financial markets are now sending more consistent messages: a rise in the US share market in the three months prior to the election has historically pointed to a victory by the incumbent and vice versa for a fall (with 87% accuracy since 1928) and after the falls of the last week, the US share markets is now down 0.7% since August 3 and the relative performance of US stocks likely to benefit from Biden (versus those likely to benefit from Trump) is up according to research house Strategas, pointing to a Biden victory.
Three possible outcomes
The main issues in the US election of relevance for global investment markets are tax, fiscal stimulus, regulation and trade wars. Since there is very little chance that the Republicans will retake the House, there are basically three possible outcomes:
1. Trump wins with Democrats retaining the House
Taxes and regulation will remain low which may provide a short term knee jerk boost to US shares but trade wars with China and possibly Europe and Japan would likely ramp up again next year which would be relatively bad for global shares and good for the $US. So, this scenario would likely be negative the Australian share market and the $A.
2. Biden wins but with the Republicans retaining the Senate
This would mean Biden's proposed tax hikes for high income earners, capital gains, dividends and corporates won't pass into law, less fiscal stimulus (as Republican Senators would likely revert to fiscal conservatism) and periodic fiscal battles but less trade wars and more predictable US policies. This would be neutral for US versus global shares, but historically this combination has been the best outcome for share markets (beyond the initial knee jerk reaction which may be negative on expectations for less fiscal stimulus).
3. Biden wins with a Democratic clean sweep (the "blue wave" scenario)
This will likely mean significantly more US fiscal stimulus, less trade wars and more stable US policies but higher corporate tax in the US and more regulation. Global shares would likely benefit more than US shares and the US dollar would likely fall. Historically this has been the second-best outcome for share markets. It would probably be the best outcome for Australian shares and the Australian dollar as Australia would benefit from more US stimulus, our companies would be relatively more attractive with a higher tax rate in the US and we would likely see less tensions with China.
What about a contested election? Of course, the worst outcome for share markets in the short term would be a contested election, but a clear initial win by either side would head this off. The problem is that the record level of early postal votes means that it may take longer to get a result as it takes longer to count them, and counting can't start till after polls close.