Share markets generally fell over the last week with first worries about the resurgence in global coronavirus cases and then reports that President Biden will propose a doubling in capital gains tax for high income earners weighing on markets. Although Chinese shares managed to rise from a double bottom after sharp falls since February, US, European and Japanese shares fell. Despite the weak US lead, Australian shares were little changed, with sharp falls in energy, IT and property stocks being partly offset by gains in health, industrial and material shares. Bond yields fell slightly in the US, Japan and Australia but were flat in Europe. The Australian dollar was little changed despite a further fall in the US dollar.
Bitcoin plunges
Interestingly, Bitcoin had its third 25% plunge so far this year, but this time has broken down through its rising trend seen since December. Maybe the new investors necessary to keep it going up are getting harder to find? Maybe some are getting out ahead of another major fall following the four-year pattern of tops it has seen – 2013, 2017, 2021? Maybe competition from other crypto currencies is weighing on Bitcoin? Or maybe it's just noise and its trip to the moon will once again resume?
Will shares keep rising?
Our assessment remains that share markets will head even higher this year as recovery continues and this boosts earnings. However, shares won't go up in a straight line, investor sentiment is very bullish, which is negative from a contrarian perspective and we are coming into a seasonally softer period of the year for shares as the old saying "sell in May and go away…" reminds us. A resumption of the bond tantrum, US tax hike concerns, coronavirus setbacks and geopolitical risks (around US/China tensions, Russia and Iran) could all provide a trigger for a correction. It would likely be just another correction though. Our ASX 200 forecast for year-end remains 7200 and we still see the risks as being to upside.
Geopolitical risk
Geopolitical risk could make a comeback after a period of relative calm following President Trump's demise with tension building in three key areas: around US and Russia with a risk being that Russia invades Ukraine again to shore up political support ahead of Russian parliamentary elections later this year; an increase in Middle East tensions ahead of a possible US return to the nuclear deal with Iran; and US/China tensions particularly in relation to Taiwan. The latter is probably the biggest risk - while the US/China trade war has not intensified under Biden, Trump's tariffs have not been reduced either and the Biden Administration has maintained a hard line. Tensions are now heating up again as the US is preparing to sell weapons to Taiwan with China undertaking military exercises and some in China threatening to reunify Taiwan by force. I can't see China undertaking a full-on invasion given the economic costs that would follow from trade sanctions, etc and it all sounds like a lot of posturing, but the risks have gone up and markets may start to focus on it more, particularly if there are any accidental military clashes in the area. As such, along with the issues around Russia and Iran, it could serve as the trigger for a correction in the months ahead. Trying to time geopolitical events though is not easy – they are often easier to respond to once they are fully factored into markets and they are assuming the worst, as the worst usually doesn't happen.
Australia/China tensions escalating
Almost on cue, Australia/China tensions seem to be escalating again too with the Federal Government cancelling Victoria's (yet to be used) Belt and Road Initiative with China, which could result in a further escalation in bans and tariffs on Australian exports to China. So far these have not had a major macroeconomic impact because the value of the products affected is relatively small and the impact has been swamped by the strength in iron ore exports and prices. This is likely to remain the case for a while yet and there is insufficient iron ore supply from other countries for China to move away from Australia. It could become more of an issue over the longer term though if the tensions are not resolved.
May Federal Budget
The Australian Budget is now just over two weeks away and is expected to see a faster-than-expected recovery and higher iron ore prices drive much lower deficits. Key elements are likely to include: an upgrade to growth forecasts; an extra $2.5bn a year in aged care spending; extra spending on mental health, skills and women's' economic security; a possible lifting of the home price caps for the First Home Loan Deposit Scheme; and an extension of the Low and Middle Income Tax Offset (LMITO). A failure to extend LMITO would see up to 10 million Australians miss out on income tax rebates of up to $1080 for the next financial year and this could slow the recovery. Since the rebates are not paid until the September quarter next year, the Government could always delay the announcement of an extension until just before the next election if it wants too. While the Treasurer is unlikely to announce budget repair measures, the budget deficit this year is likely to be around $125bn (down from $214bn projected in the October Budget last year) and $50bn next financial year (down from $112bn in the last Budget), thanks to the revenue windfall from faster recovery and higher iron ore prices and reduced welfare payments.
Update on the Coronavirus
Reported new global coronavirus cases broke out to a new record high over the last week. This is mainly being driven by emerging countries, particularly India (with only 8% vaccinated) which is accounting for more than a third of global new cases. New cases in the US remain well down from their recent high and Europe is trending down. New coronavirus cases in Australia remain very low and due to returned travellers – although there have been more concerns about returned travellers becoming infected while in quarantine, with one testing positive in Victoria after having left quarantine.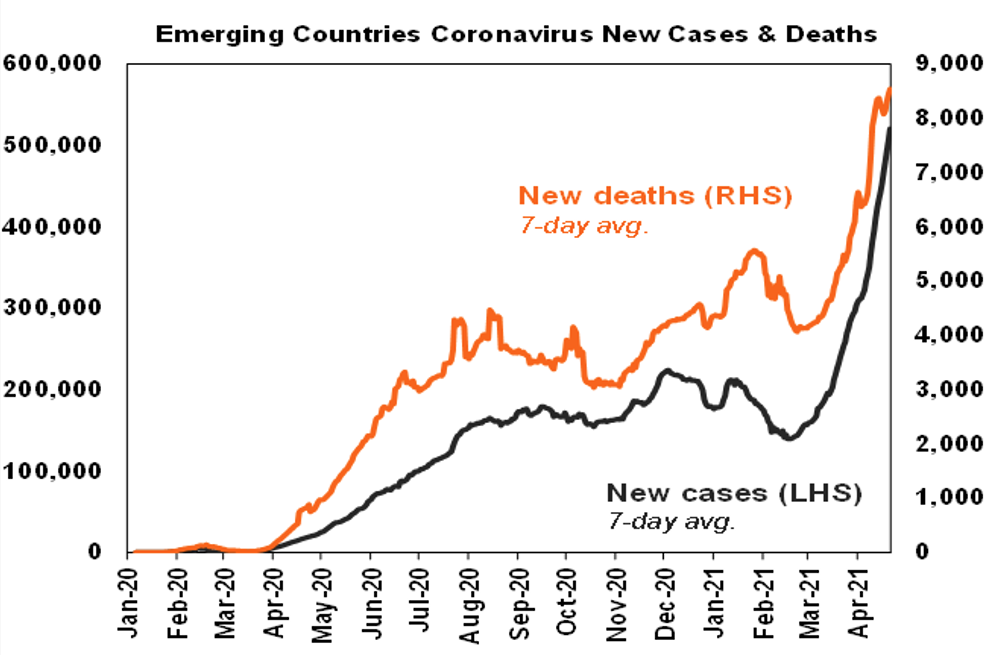 Vaccination update
So far around 7% of the global population has now received one dose of vaccine but this masks a huge divergence between developed countries at around 42% and emerging countries at around 5%. Within developed countries the UK is leading the charge at 50% and the US is at 41% with Australia well behind at around 7%. Europe is running at 20% but has been speeding up.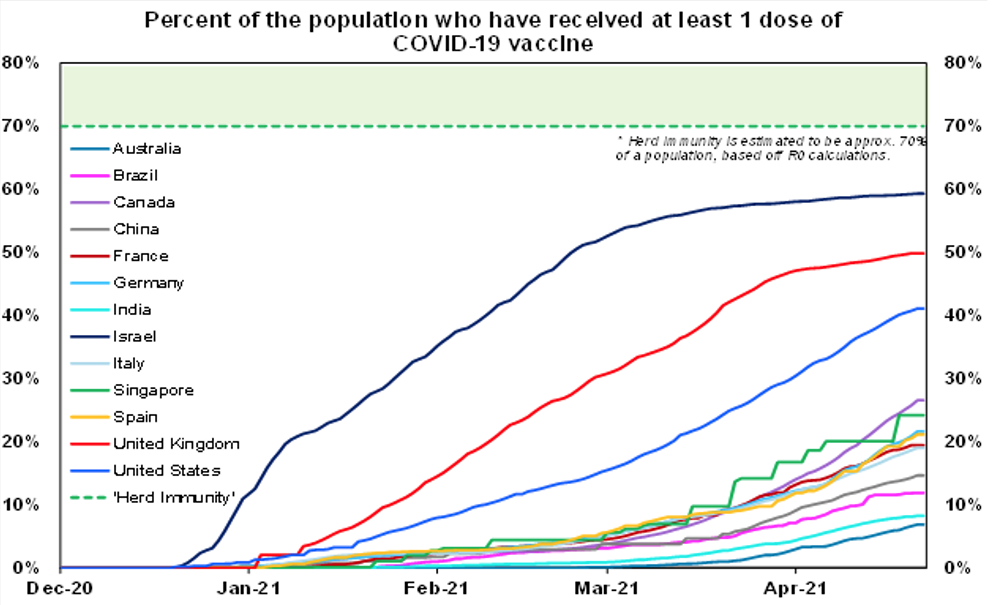 While issues keep popping up around the vaccines (eg, in terms of clotting risk with some vaccines, their rollout and take-up and the likely need for regular boosters), the evidence continues to suggest they are working. This is evident for example in the decline in hospitalisations in the UK, the US and Israel. While risks remain of a resurgence in new cases amongst the young in countries before herd immunity is reached, the impact can be minimised by vaccinating older/at risk groups and the issue of take up can be resolved by "vaccine passports". As production ramps up vaccination in laggard countries will accelerate – it's just that it will take longer than first expected and there is a risk that the longer it takes, the greater the risk new variants will develop. The bottom line for now though is that investment markets are right to look through the current resurgence in new global cases, to ongoing global recovery ahead.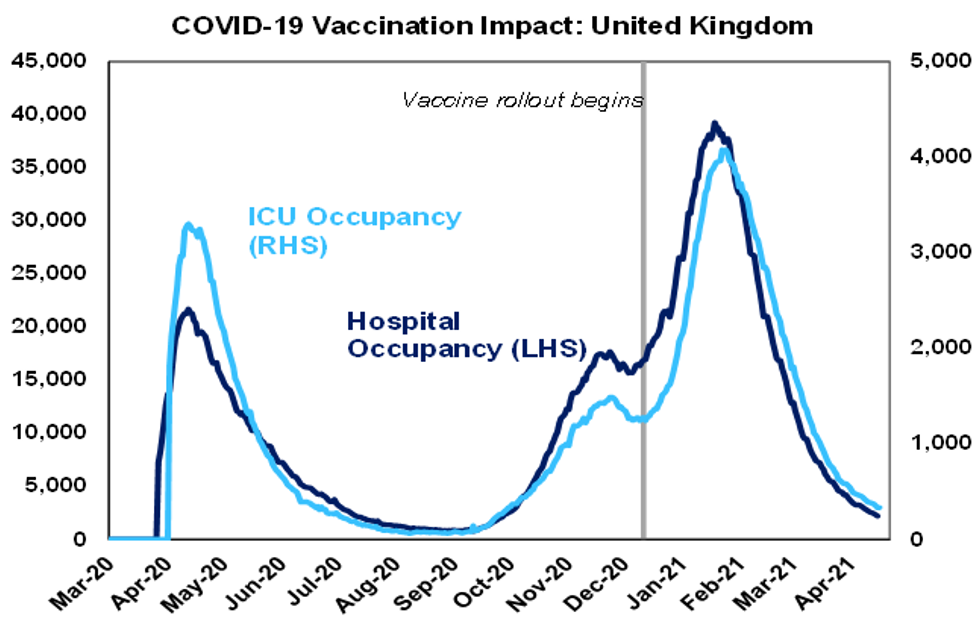 Our Australian Economic Activity Tracker
Our Australian Economic Activity Tracker fell slightly over the last week but remains very strong suggesting that economic recovery remains on track. Our US Economic Activity Tracker also fell slightly but our European tracker rose a bit albeit it remains very weak not helped by ongoing lockdowns.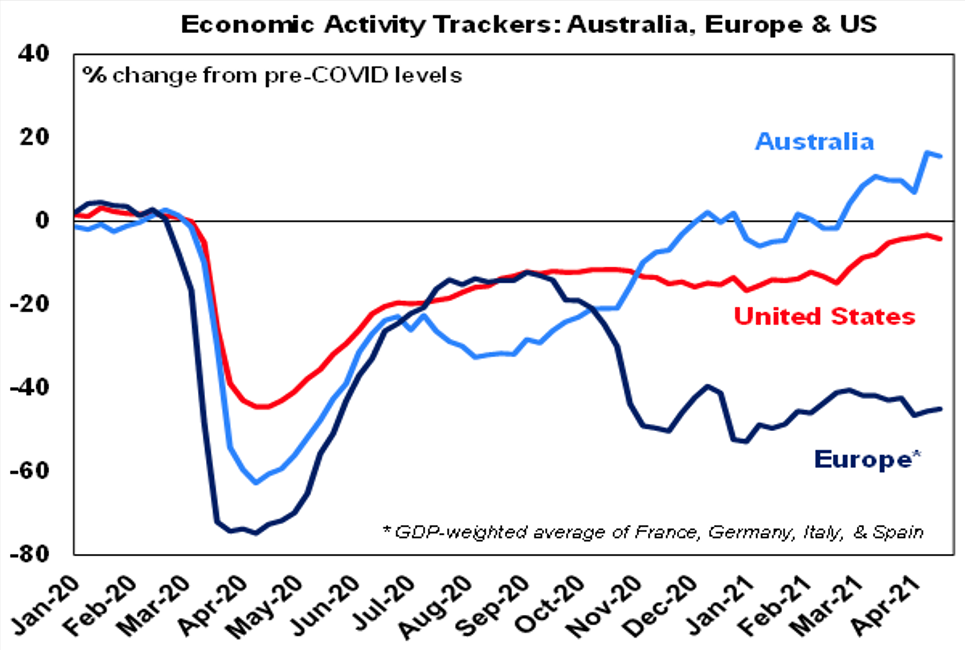 Bye, Bye, Baby
It's sad to hear that the lead singer of the Bay City Rollers, Les McKeown, passed away. I wasn't into wearing Tartan in 1975 and wasn't a big fan (being more into ABBA and Wings at the time) but I kind of liked the Bay City Rollers' version of Bye Bye Baby. Here's the original version of Bye Bye Baby from The Four Seasons.