Strong economic news continues to dominate in Australia. The big one was the 1.8% rebound in March quarter GDP which was driven by a combination of consumer spending, housing and business investment and inventory rebuilding. More timely monthly data – for retail sales, business conditions PMIs, car sales and trade – point to continuing strength through the June quarter at least up until Victoria's lockdown.
What's more the current account surplus expanded further in the March quarter – meaning that Australia remains a capital exporter and that Paul Keating's warning that we would become a banana republic are a distant memory - partly helped by Paul Keating's reforms including mandatory super which has led to increased investment in global shares and an income stream back to Australia.
Housing finance commitments boomed to a new record high in April driven by existing owner occupiers and investors. First home buyer finance fell for the third month in a row and is likely to have peaked as demand was pulled forward by incentives debt and poor affordability is now really starting to bite. Meanwhile investors are piling back in and taking over from first home buyers which means the property market is becoming more speculative. The continuing surge in housing finance is consistent with ongoing strong growth in home prices. It also points to a continuing acceleration in housing credit growth which along with a deterioration in lending standards -which will follow from the booming property market and the more speculative nature of the market implied by the greater role now being played by investors - will likely drive the RBA and APRA to tighten lending standards in the next six months.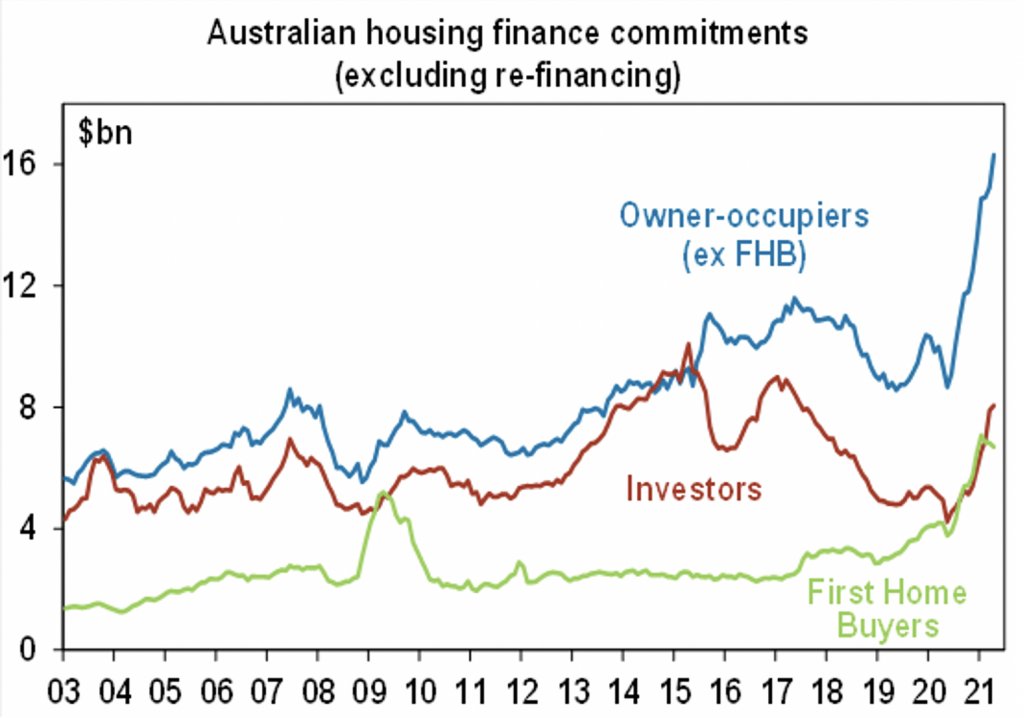 Source: ABS, AMP Capital
Meanwhile, the house price boom rolled on in May with average capital city home prices now up 12% from the low last September and Sydney house prices up 18% over the same period. Ultra-low rates, incentives, economic recovery and FOMO are likely to push prices up another 10 to 15% out to end next year but the pace of growth is likely to slow thanks to poor affordability, rising fixed rates, an APRA tightening of lending standards in the next six months and strong home building in the face of reduced immigration ultimately leading to an oversupply of property. In terms of the latter while building approvals fell in April this was due to volatile unit approvals with house approvals actually rising to a new record high and the recent surge in approvals points to strong housing construction for the remainder of this year at least.
What to watch over the next week?
In the US, the focus will be on May CPI data (Wednesday) which is expected to show a further acceleration to 4.6% year on year with core inflation rising further to 3.4% year on year as the price falls from a year ago drop out, and the impact of higher commodity prices, production bottlenecks and reopening continue to impact. Small business optimism and job opening data will also be released on Tuesday.
The ECB on Thursday is expected to leave monetary policy on hold but market interest is likely to focus on its intentions for its bond buying program.
The Bank of Canada also meets Wednesday and is expected to leave interest rates on hold.
Chinese trade data (Monday) is expected to show continued strength in exports and a further acceleration in imports. Inflation data (Wednesday) is expected to show a bounce to 1.6%yoy in the CPI with producer price inflation accelerating further to 8.4%yoy. Credit data will also be released.
In Australia, the NAB business survey (Tuesday) and the Westpac/MI consumer survey (Wednesday) are likely to show continuing high levels of confidence but both may show a bit of a dip on the back of the Victorian snap lockdown.
Outlook for investment markets
Shares remain vulnerable to a short-term correction with possible triggers being the inflation scare, US taper talk and rising bond yields, coronavirus related setbacks and geopolitical risks. But looking through the inevitable short-term noise, the combination of improving global growth and earnings helped by more stimulus, vaccines and still low interest rates augurs well for shares over the next 12 months.
Our year-end target for the Australian ASX 200 is now 7400 reflecting stronger than expected earnings growth, a faster than expected rebound in dividends and ongoing low interest rates keeping shares relatively attractive. The risk is probably on the upside.
Still ultra-low yields and a capital loss from rising bond yields are likely to result in negative returns from bonds over the next 12 months.
Unlisted commercial property and infrastructure are ultimately likely to benefit from a resumption of the search for yield but the hit to space demand and hence rents from the virus will continue to weigh on near term returns.
Australian home prices are on track to rise around 18% this year before slowing to around 5% next year, being boosted by ultra-low mortgage rates, economic recovery and FOMO, but expect a progressive slowing in the pace of gains as government home buyer incentives are cut back, fixed mortgage rates rise, macro prudential tightening kicks in and immigration remains down relative to normal.
Cash and bank deposits are likely to provide very poor returns, given the ultra-low cash rate of just 0.1%.
Although the $A is vulnerable to bouts of uncertainty and RBA bond buying and China tensions will keep it lower than otherwise, a rising trend is likely to remain over the next 12 months helped by strong commodity prices and a cyclical decline in the US dollar, probably taking the $A up to around $US0.85 by year end.