Here we go again with another illustrious expert — former Treasury Secretary Ken Henry, telling us we need a new tax to cover aged care. Meanwhile his old boss, ex-Treasurer Peter Costello, says specially earmarked taxes don't work because when governments see a big pool of money, they can't help themselves and they direct it to a new cause.
For example, the Building Australia Fund money ended up in the Drought Fund. Peter Costello says these special taxes (called hypothecated taxes!!!!) invariably raise less than what's needed. The Australian says the Medicare Levy only raises 15% of the money we need for public health spending!
In case you've never had to help an elderly person who needs government funded home-care services, let me assure you, this is the nightmare from hell!
In what was a smart initiative, governments in the past have worked out that older Aussies should stay in their homes for as long as possible, which is why they have this residential aged care service that's funded by both the Australian Government and contributions from residents. The Australian Government pays subsidies and supplements to approved providers for each resident receiving care from them. The greater the assessed need for a retiree, the higher the care subsidy for that resident.
The person in question has to go to a doctor, who rates how much the applicant is in need of help. This rating is done medically and via a set of questions, which helps the assessor work out how much care is needed.
The system relies on private providers and well-known names are involved, such as Anglicare, the Uniting Church and other specially setup private providers.
After the assessment of the applicant, a certain amount of money is allocated (depending on the need) and the service provider sends out people to help in the home, buy groceries and perform other needed services.
It sounds like a good idea in principle but in practice, problems result, such as:
The government has played tightwad with the money for the service.
The private providers are accused of taking too much of the allocated money to each 'home care' client. Some took 9% of the funds available but others went as high as 50%.
There are around 870 providers out there so you can imagine how easy it would be to control them.
The client often was confused about what they could get and what it would cost.
The waiting list to access help/funding is huge.
As you can see, the idea of helping older Aussies in their homes is great but when you let free enterprise be too free, you end up with a wide variety of outcomes — good and bad.
Back in early 2019, abc.net.au looked at a real-life example and the reading wasn't great. "Philomena Horsley has advanced Parkinson's disease and spent three years on a Level 2 home care package. Her daughter said it allowed for three hours of care a week for the $15,000 in government funding.
"Our experience was kind of shocking. Forty-one per cent of her package was going in administration fees and on top of that, there was exorbitant charges for hourly rates and she [my mother] thought, 'I'm getting half of what I'm entitled to as a package'," she said.
"The administration fees were not transparent," the daughter said. "Mum told me the support workers were being paid $18-$20 per hour and yet she was being charged $70-$80 per hour for that charge-out fee."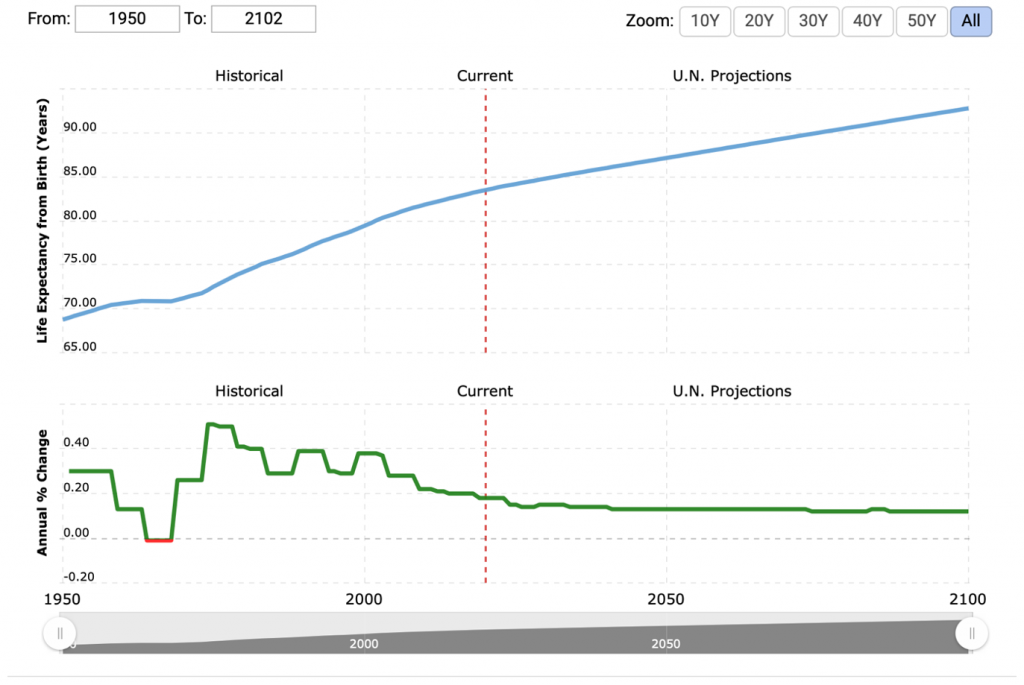 The debate over the need for a tax to fund in-home and other aged care services is about raising the money and getting Australians to progressively build up the money for a population that refuses to die. And that's a big part of the problem!
In 1950, our average life expectancy was 69. Now it's 83. And the United Nations graph on the subject says the problem won't go away. We're here for the long haul.
Raising the money is one thing. How we spend it and who we get to do the spending is another part of this nightmare problem. This is one of the most compelling cases for building up your wealth, your super and your knowledge on how to be financially independent.