JobKeeper will be ditched at the end of March but the Government is seriously considering 'HospoKeeper' to support the hospitality sector. And the Prime Minister has left the door open for what might be called 'TouroKeeper', which would be a wage-support program for the tourism sector.
All of these considerations are timely as there are a lot of Australians very worried about the so-called fiscal cliff that the economy could fall over when the government support payments of JobKeeper are no more at the start of April this year.
The Australian says the sector wants 'HospoKeeper' to target hospitality businesses struggling because of the Coronavirus restrictions and these eligible businesses will be able to pay full-time staff $1000 a fortnight and part-timers will get $650, just like JobKeeper right now.
These affected businesses would have to provide monthly proof that they're struggling via their Business Activity Statements and it looks like a good and fair idea.
It's one thing for a business to fail because the owner has difficulties making an idea work but it's another when the Government makes you unprofitable to reduce viral infections and deaths.
Over the holidays, I took my grandchildren to Scenic World in the Blue Mountains and it was a great experience, but the restrictions would be really hurting this great business.
Before the Coronavirus came to town, these guys won the contract for BridgeClimb and so the end of foreign tourism would have really given this business a double whammy slugging! The case for government support for tourism operators, who have become important export-earners and job creators, is pretty easy to argue.
But these proposed props for hospitality and tourism might be more affordable for Treasurer Josh Frydenberg with interesting work by some esteemed local economists who think our economic comeback could be better than what many are thinking. In fact, the work, if right, says to me that worrying about a fiscal cliff is unnecessary.
Michael Knox is the chief economist at stockbroker business, Morgans, and he's been looking at the work of Dr Brendan Markey Towler, who argues that there is a strong relationship between Australian hours worked and Australian GDP or how fast we grow.
Remember, a fast-growing economy in March will cancel out any worrying fiscal cliff, which really is about GDP falling after JobKeeper stops.
Before the Coronavirus, the hours worked peaked at 1.780 billion hours a month in December 2019 but then, when the pandemic was called and restrictions imposed, hours worked slumped savagely to 1.592 billion hours in May 2020.
"Then, another surge began," Knox writes in his newsletter. "By the time November had come around, hours worked had surged to 1.752 billion hours." This dramatic "V" shaped recovery can be seen clearly in the chart below.
The hours worked has definitely rebounded, creating a V-shape and when you link hours worked to the growth of GDP or the economy, you see there appears to be a close relationship. Check out the graph below.
GDP & Hours Worked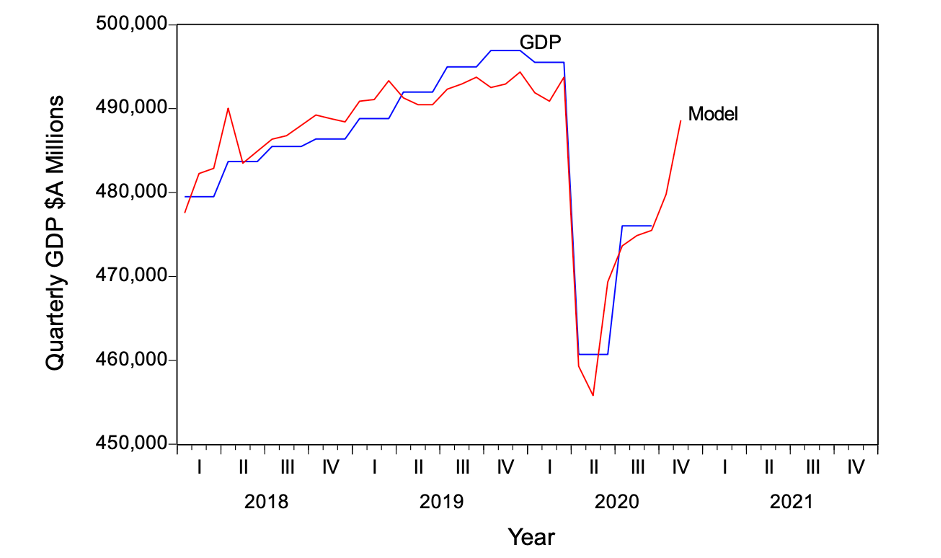 What these hours worked could be telling us is that our economy is growing much better than was expected. When the Coronavirus crash of the stock market and the ensuing recession happened, economists ruled out a V-shaped recovery. Some said it would be U-shaped — a slow improvement from March to say September, but then a faster pick up as the year went on into 2021.
Others said a W-shaped recovery of down and then up and then down again and then up but we look like we have avoided the down again scenario because we are the third best manager of the virus in the world behind New Zealand and Taiwan.
I know this pains many negative types but the economic data is suggesting strongly that optimism about 2021 is more rational than pessimism.
Michael Knox was the economist whose work made me write in July about the Oz dollar heading towards 80 US cents in 2021, when it was 69 US cents.
Australian Dollar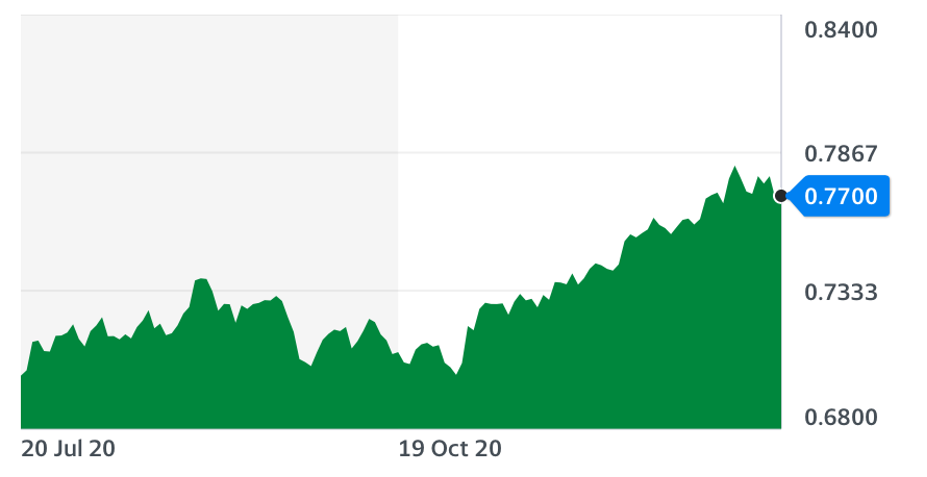 This is Knox's take on this V-shaped rebound of hours worked and how it leads our economic growth: "Movement in hours worked during 2020 shows that a rapid fall in output was followed by an equally rapid "V" shaped recovery. Our model of GDP, based on hours worked, shows us that a very strong increase in third quarter GDP, should now be followed by an equally strong recovery in the fourth quarter. The Australian economy is one of the better places to be right now."
Given the above and that the Government's HomeBuilder scheme has attracted $2 billion worth of renovation and building projects, when only $920 million was expected, I'm not worried about any worrying fiscal cliff in 2021.