The dramatic story of the day has to be what the Reserve Bank decides on interest rates today. As with most dramas, there are two competing sides — one group i.e. borrowers, rooting for another interest rate cut while on the other hand, there are savers who want rates to stop falling and start rising.
For the borrowers, it's simple — a lower official cash rate has to translate into lower repayments after their lender follows suit. Any bank wanting to not pass on any rate cut will be pilloried by the Treasurer Josh Frydenberg, with his boss, Scott Morrison, now a fallen angel in the most popular PM polls, following his Hawaiian holiday as the Aussie bush burned.
Banks played tightwad with rate cuts being a perfect target for a political party looking for love from voters. And the government has two years to get re-loved.
Historically, economists would have supported a rate cut because our economy is still struggling. Yesterday we saw that the AiGroup's Performance of Manufacturing Index fell by 2.9 points to a 4½-year low of 45.4 points in January. Any reading below 50 indicates a contraction in activity.
Last week we saw that the NAB business confidence index fell from a reading of zero in November to near 6½-year lows of -1.9 points in December. The long-term average is +5.8 points. And the week before, Westpac's consumer sentiment reading was a low 93.4.
This is how Westpac's chief economist, Bill Evans, saw the figure: "Since the lows of the global financial crisis, where the index averaged only 89 over a 15-month period from March 2008 to May 2009, there have only been seven monthly readings where the index has printed below 93.4," he said.
Against these bad readings for the economy, the job market is shocking many economists, with the last print showing telling us that the jobless rate is near eight-year lows at 5.1%. And yesterday the ANZ job advertisements rose by 3.8% in January — the biggest lift in seven months. Sure, ads were still down by 11.8% over the year to 149,544 in seasonally adjusted terms but it's the present readings that are more important for the economy going forward.
We also saw yesterday that council approvals to build new homes fell by 0.2% in December to 14,752 units but approvals are up by 2.7% from a year ago – the strongest annual growth rate in 19 months.
So you can see the RBA could be thinking things are changing for the better and another cut could over-excite homebuyers, with house prices already rebounding harder than the central bank would prefer.
All of this is why money markets are betting that the RBA won't cut today, even with the Coronavirus threatening to weaken the economy, with our key exports set to be negatively affected by China's economic challenges. This medical emergency is effectively closing global borders to its people and even its products in the short term. And they are even closing down businesses to avoid the virus going viral.
That said, some economists would argue that a weak Aussie economy is set to be weakened by a slower growing China, which will affect our exports. Our economy needs more growth from the local consumer and cutting interest rates is the usual way to do that.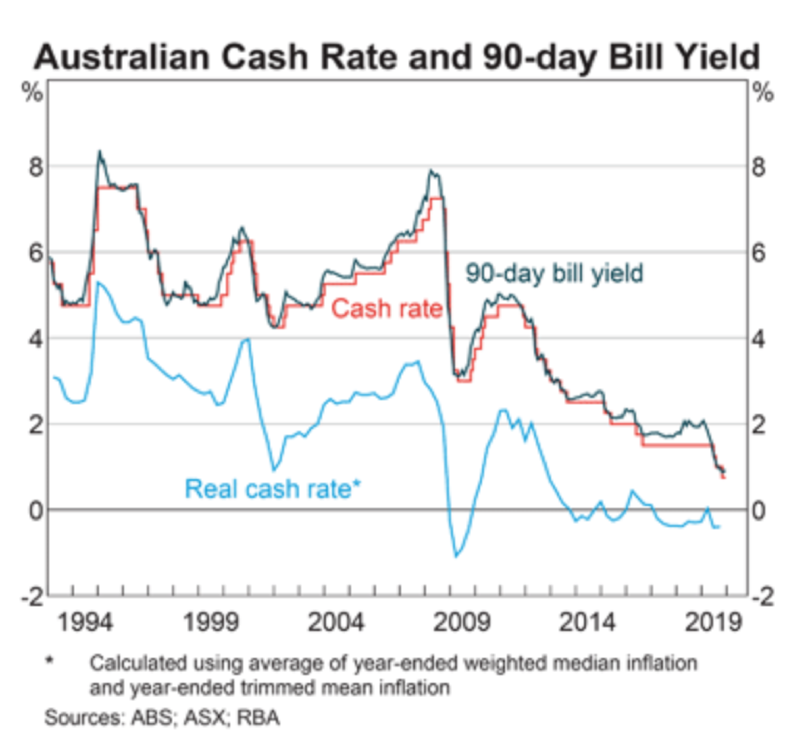 However, savers and retirees would argue that has been tried and has failed for years, as the chart above shows.
These unhelpful low rates are forcing retirees to take chances with their retirement income with stocks, bond funds and other fixed deposits, which are not Government-guaranteed and could end up killing their capital, if a global money market credit crunch created a worldwide recession.
This is the drama that the RBA board has to take on board. It's pretty clear that the Governor Dr Phil Lowe and, undoubtedly, his board, would prefer Treasurer Josh Frydenberg to forget about his Budget Surplus goal and undertake to spend more to ensure the economy kicks up a gear.
This would mean the cash rate would stay at 0.75% until our economy started to grow more quickly off fiscal stimulation from Josh and his Treasury tricks. This hopefully would deliver the happy ending of a faster growing economy, rising inflation, falling unemployment, rising wages and gradually increasing interest rates. What this describes is what we used to call a normal economy, which has gone missing since the GFC induced central banks to throw money at the global economy to avoid a Great Depression.
Right now, the US economy is starting to look more like a normal economy. The Yanks even got a better-than-expected manufacturing number overnight but the rest of the world needs more economic improvement and this China Coronavirus could not have come at a worse time!
I'm hoping for no change in rates today, with or without a Coronavirus.