Inflation has had many mad, strange and dangerous periods in its life, with the worst being in the 1970s when it hit about 16% thanks to OPEC and oil prices going sky high. And it was not helped by a very generous Whitlam Labor Government, who kept its pre-election promises to voters, which led to overstimulation.
Inflation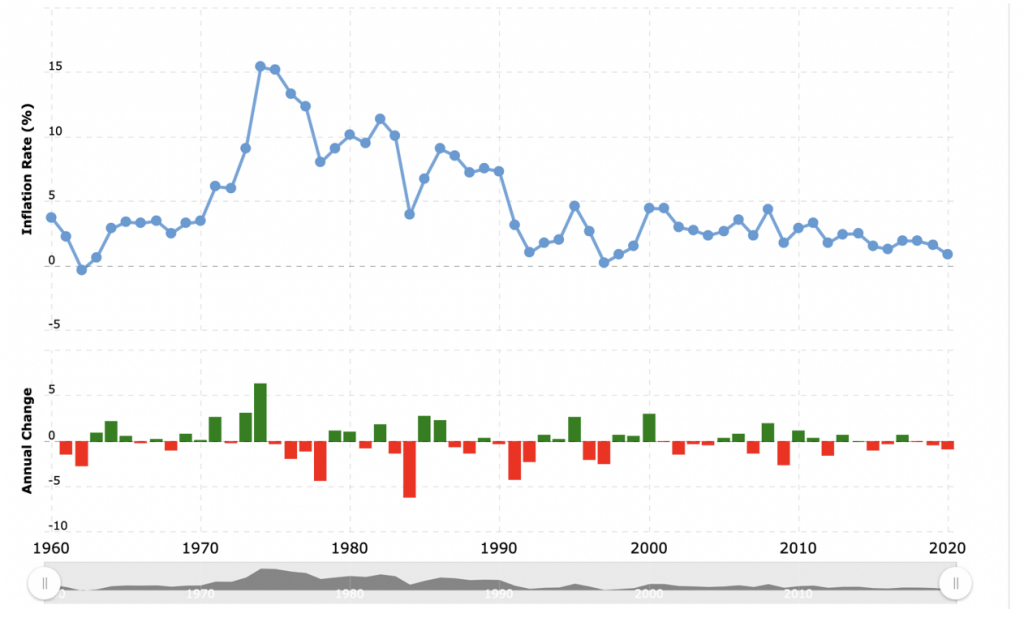 That was the worst period for inflation in my lifetime here in Australia but the following decade took this persistently high inflation into the 1980s and this was mixed into the new era of financial deregulation and we saw home loan interest rates at 18%! And yep, a lot of Aussies lost their homes and the impact of these ridiculously high interest rates for too long led to a recession that started in September 1990, ending a year later!
That recession was the one "we had to have", then-Treasurer, Paul Keating called it, which was not one of his most loved utterances.
So, when this inflation number comes out today there will be many experts trying to work out if we're heading for higher inflation, too many interest rate rises and possibly a recession!
Let me allay you of those fears — we won't see 18% home loan interest rates, even if inflation surprises on the high side — but whether we get three rate rises in the next 12 months or maybe more, will depend on the inflation reads for the rest of this year.
Luckily our inflation problem is not as bad as the Yanks, where inflation is running at 8.54%! Economists here think today's March-quarter-number will be more like 4.6%, which is a big spike from the 3.4% result we saw in the December quarter.
That's the headline number but economists will look for the underlying inflation rate, with tips from experts suggesting it will be 1.2% for the quarter or 3.4% for the year.
In the US this reading of inflation is a big 6.47% and it shows how inflation is a bigger threat there than here.
However, we are seeing more and more demands from unions for higher pay, with NSW teachers going on strike next week for a wage rise between 5% and 7.5%.
Be clear on this, if wage rises get out of hand, the Reserve Bank will give us more interest rate rises to stop inflation from taking root, as it did in the 1970s and 1980s.
By the way, there was a recession in the early 1980s and then the early 1990s and too much inflation was at the core of those periods at a time when lots of Aussies lost jobs.
Beta Shares chief economist, David Bassanese, thinks rate rises will start after the election.
"I think the RBA should and will conclude it makes more sense to start off slow with 0.15 per cent next week following the CPI, followed by a traditional 0.25 per cent move in June," he told the Australian Associated Press.
"Indeed, the only real argument for delay now is the current federal election - as was last the case in 2007, I think this is another good opportunity for the RBA to again demonstrate its independence."
To avoid a 1970s/1980s inflation-interest rate trap, the Ukraine war needs to end to lower oil prices. Then we need to see the Chinese Coronavirus lockdowns stop to help reduce supply chain costs. Add the 22 cents a litre cut to the petrol and diesel excise and this should bring down the inflation rate and reduce the chances of the RBA going MAD on interest rate rises.
However, if wage rises get out of hand, the war drags on and China fails to beat the pandemic, then we could be in for persistently high inflation and we will see much higher interest rates.
And yep, that could sow the seeds of the next recession and that's a crop I don't want to see come to fruition! A nice start would be an inflation reading lower than expected today and we need that because there are a lot of wage rises in the pipeline that could force the RBA's Dr Phil Lowe to raise rates more than he'd prefer.
His handling of interest rates and developments in the Ukraine and China, as well as what the US central bank does with its rate rises will determine if the current negative reaction by stock markets is temporary or a sign of things to come.
Right now I'm cautiously positive about the course of stock prices but as one of the world's greatest economists, Lord John Maynard Keynes, once said, when he was criticized for changing his forecast: "When the facts change, I change my mind. What do you do, sir?"
And if you want to worry short-term and ignore what stock markets do long-term, note this: "Looking at the S&P 500 from 2011 to 2020, the average S&P 500 return for the last 10 years was 13.95% (11.95% when adjusted for inflation), which is a little over the annual average return of 10%."
And that's despite the fact that down-years for stocks happen 2-3 years out of 10, which says if you worry about your portfolio, you may be doing yourself a great disservice.