There's less than a month before the May Budget and Treasurer Josh Frydenberg has to work out whether he wants to play Santa Claus and give out tax cuts or will he go Scrooge?
It comes as the political popularity of the Government and the Prime Minister is on the skids, following the vaccination rollout problems, the handling of the sexual behaviour of staffers in Parliament House and the Christine Holgate Cartier watches affair.
In case you missed it, on a two-party preferred basis, Labor is now at 52% and the Government is at 48%.
Happily for the PM, Scott Morrison is still seen as a better Prime Minister but look at those blue bars in the chart below — they're sliding and Albo's red bars are rising!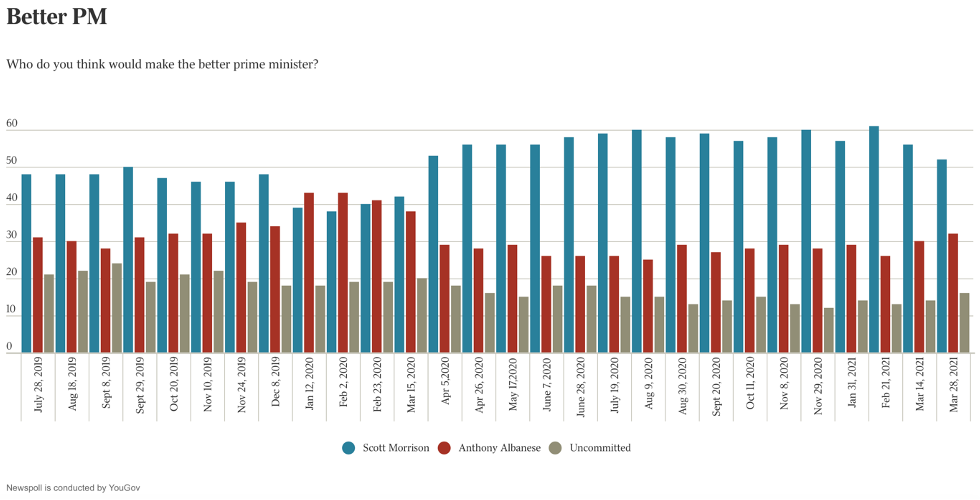 This comes as the SMH leads with a headline: "Don't interrupt your enemy while he's stuffing up: Inside Albanese's 'off broadway' election strategy."
This was what Napoleon Bonaparte adhered to when he said: "Never interrupt your enemy when he is making a mistake."
Given all this, the Treasurer can't afford a public relations nightmare post-Budget. He needs to win friends and influence voters with his economic and fiscal plan that he hands down at 7.30pm on May 11.
And one potentially politically popular move would be to extend the low-middle income tax offset that can reward those who earn between $48,000 and $90,000 and who complete their tax return with a $1,080 tax cut.
This was supposed to end last year but the Coronavirus concerns and the need to boost the economy meant Josh extended the tax offset. However, with the economy booming, the economically responsible approach might be that he should start whittling down the big deficit. Admittedly, it is shrinking from the $213.7 billion it was expected to be in last year's Budget, to $150 billion but that's figure is still way too big.
So what's the case for Santa Claus Josh? Well, for starters, 10 million taxpayers have been getting a lift in income and that's great for consumer spending. This has helped the economy grow at an annualised rate of 12% (3% per quarter times 4) and we've seen two quarters of growth 3% or higher.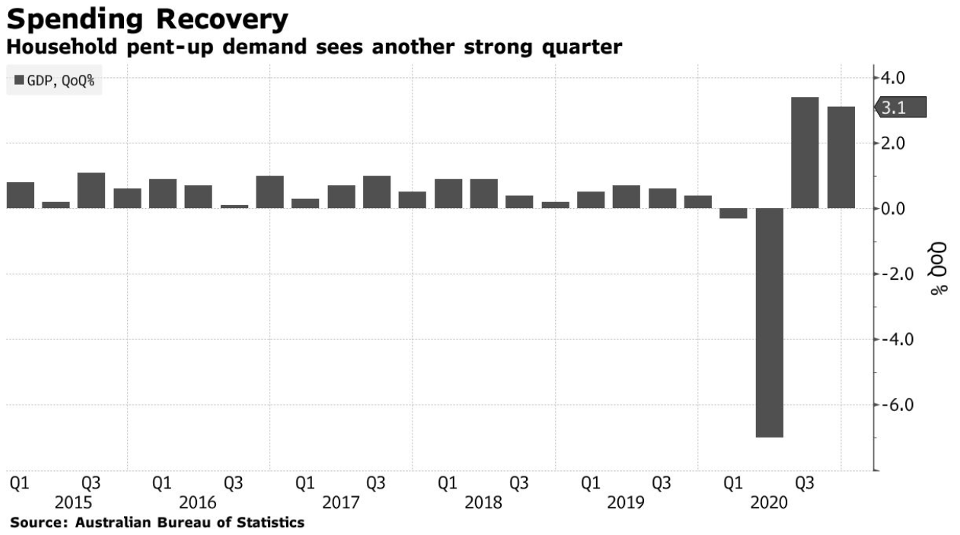 This tax offset actually helps 10 million taxpayers, who will end up paying more tax if the Treasurer plays Scrooge with this tax offset.
And there's both an economic and political sting in the tail if this tax offset is canned. The end of the low-middle income tax offset will hit women more than men as they're more likely to be earning less than $126,000 a year, which is the upper limit before the tax offset benefit disappears.
If Josh plays Scrooge, he'll cheese off a lot of important voters (women) whose average tax cut is around $502 a year. That will be a direct hit on their lifestyle bottom lines. Given the fact that a lot of women are rethinking their 'love' of the PM, a tax slug to this important voting bloc looks dumb.
Against this political concern, the economist in Josh will have to acknowledge that the offset costs the budget more than $7 billion a year so the Treasurer could be keen to save that money to reduce his deficit by even more.
However, taking that money away now could undermine the economic recovery, which is set to increase jobs, raise tax collections, reduce spending on the dole and actually make the Budget Deficit smaller.
My advice to Josh is to think about what one of the greatest economists of all time would say to him. That person was John Maynard Keynes, whose 'spend and prosper' economic theories are always the go-to blueprints when economies are facing a recession of huge proportions. Keynes would say, "extend the offset" and be Santa Claus for one more year.
In the Great Depression, many politicians in the US distrusted Keynes' policies but they worked until 1938, when conservative politicians made the White House give up on spending and increased taxes. What happened? A recession was induced in the middle of the Great Depression!
Kill Scrooge for one more year Josh and maybe by then the economy and your Government's political popularity will be such that you could bring that penny-pinching inspiration of Treasurers back to life.