It seems that nothing will stop stock market experts believing that 2021 will be good for share players. And even the win by the Democrats in the rerun of the Georgia Senate vote, which was expected to be bad for stocks, is now seen as positive for equities!
The normal non-market junkie (unlike yours truly) would be asking: "How come?" And it's a reasonable question. But the answer should make sense to a normal person.
You see, money speaks all languages and the stock market gets this. The change of attitude to the Georgia result, which was once thought to be in the bag for the Republicans, gets down to the fact that the Democrats will spend more money putting Americans back to work.
Over the weekend, President-elect Joe Biden said he will detail later this week a plan calling for "trillions" in more spending to help Americans hit hard by the pandemic.
And the AFR this morning told us that "Australian shares are poised to open modestly higher, with Wall Street resetting records yet again because of more stimulus spending the Democrats will provide."
Yep, stimulus spending is a big story for 2021 but it's aided and abetted by the vaccination story. Put together with the unbelievably low interest rate outlook and you have enormous reasons to believe that economic growth will be huge here and worldwide, which will drive share prices higher.
Last week, Bloomberg did its annual survey of the world's biggest investment banks, brokers and asset management operations, which covered over 50 assessments. The bottom line conclusion was to be long stocks! The likes of Goldman Sachs sees a 13% rise for US stocks and local market expert Shane Oliver from AMP Capital thinks our market will outperform Wall Street.
Why?
Well, given that the consensus is that the combined mega-hit of huge fiscal stimulus, record low interest rates and vaccinations will conspire to make stocks the assets worth chasing right around the world, the countries that are miles ahead on beating the coronavirus will be well-placed to grow stronger this year.
The chart below shows how much better we have performed with the virus battle. Australia is in the box seat as we are the third best performing country when it comes to beating the Coronavirus. New Zealand is number one, Taiwan number two and we take the bronze. This should set us for a quicker economic rebound than most countries and that will be good for company profits and share prices.
That said, we could see a pull back.
"Shares are at risk of a short term correction after having run up so hard recently (with coronavirus and associated lockdowns being the main near term threat) and 2021 is likely to see a few rough patches along the way (much like we saw in 2010 after the recovery from the GFC)," Shane Oliver suggested recently. "But looking through the inevitable short-term noise, the combination of improving global growth helped by more stimulus, vaccines and low interest rates augurs well for growth assets generally in 2021."
And this is why he thinks we'll do extra well.
"Australian shares are also likely to be relative outperformers helped by better virus control, enabling a stronger recovery in the near term, stronger stimulus, sectors like resources, industrials and financials benefitting from the rebound in growth and as investors continue to drive a search for yield benefitting the share market as dividends are increased resulting in a 4.4% grossed up dividend yield," he predicted.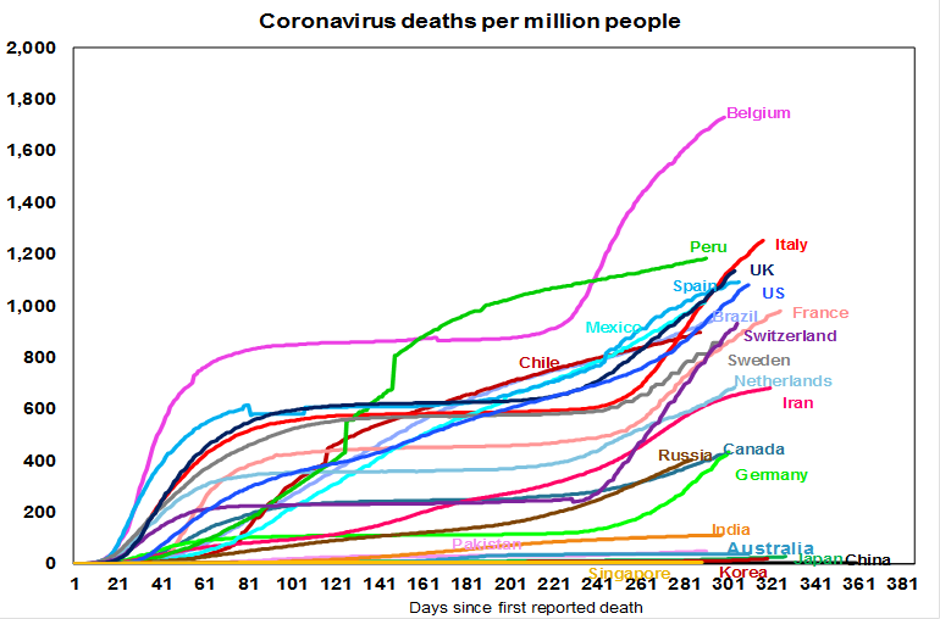 And Shane isn't alone. Former Treasury Secretary for the NSW Government, Percy Allan in his latest market assessment made the following arguments that will make market optimists smile. "Whatever the prospects for these opposing views, the current reality is that both the Australian and US equity markets are bullish on short-to-medium and medium-to-long term trend analysis," he said. "The arrival and rollout of multiple vaccines for preventing and curing the Covid-19 virus, record low interest rates and the willingness of governments and central banks to do whatever it takes to avoid another recession has got 2021 off to a strong start.
"The local share market is aided by a commodity price upswing that some analysts think could last for years and a perception that Australia has defeated the pandemic while the rest of the world has succumbed to it and may take some time to get vaccinated," he pointed out. "The main threats to Australia's recovery are the breakdown in its trade relations with China and the collapse of its population growth with borders closed to inbound migrants, tourists, guestworkers and students and a falling fertility rate."
I'm happy to remain long stocks for 2021.